James Alex is about to play to a mostly empty room and he's noticeably nervous. The lean, fortysomething singer-songwriter is pink in the face and fidgety, cradling his acoustic guitar. Judging from how often he's licking and curling his lips, his mouth is probably dry. He's sitting atop a bar stool, perched on a carpeted and slightly elevated stage, about to deliver a stripped-down performance for WRFF, a radio station that proudly identifies as "Philadelphia's Alternative."
The studio we're in is billed as "the Radio 104.5 Performance Theater" — that last word being a generous description. It's a single room filed away inside of a charmless, concrete-gray three-story building, just big enough to house the stage, several rows of chairs, and a soundboard. Trophies from past guest appearances (gear autographed by Fall Out Boy and New Found Glory, a framed photo of Courtney Love singing) decorate the walls. Alex is here, on this October afternoon, to strum two songs — one original tune, one cover — as part of the station's "Live at 5" series, which broadcasts brief live performances from local acts, every Friday at 5 p.m., right as listeners are leaving their jobs and settling into their cars for the commute home.
Typically, when Alex takes the stage he's accompanied by the other members of Beach Slang, the punk foursome that he fronts. His face is usually streaked with sweat, his voice quaking with emphasis, his guitar careening wildly. Normally, there's a good chance that he'll either faceplant or fall backwards, as if floored from simply feeling too much. But this isn't a standard Beach Slang show; it's an intimate, subdued affair — aside from myself, the audience consists of the group's drummer, JP Flexner; second guitarist, Ruben Gallego; and manager, Eric Osman. Also present is Wendy Rollins, the radio DJ who will interview Alex and (rightfully) compare his work to that of one of his musical heroes, Paul Westerberg, leader of drunk-punk demigods the Replacements. All of this is to promote the recently released The Things We Do to Find People Who Feel Like Us, Beach Slang's thrilling debut album, which is not only one of the most buzzed-about rock albums of the last few years, but even more impressively, the result of one man's refusal to give up on his rock'n'roll dream. Now he's living it.

"Rock'n'roll is so stupidly important to me," Alex says, a few hours before he sets up in the WRFF space. "It changed my life, it saved my life, it did all of the things that people write about in books and movies. I want to be a part of making sure this thing hangs around in a way that isn't embarrassing. I'm hoping we're at least a part of that movement."
Whether or not Beach Slang deserve the tag of "embarrassing" depends on how you feel about songs that run on loud guitars and louder emotions. Armed with refreshingly un-self-conscious anthems, the band occupies a realm that fewer and fewer musicians appear to be exploring: Theirs is a teenage wasteland, where the stakes always feel higher than they actually are, where sincerity is prized above all else, where beer never gives way to bloating, and sunrise only promises new opportunities, never a hangover. If that sounds like the same sort of salvation that Alex found in his favorite records, then bask in the light. If that sounds like the death throes of a genre on the verge of extinction, you'd best move along.
To be fair, though, Beach Slang's songs are anachronistic — and that's no small part of their appeal. They represent a lifeline for a certain species of musical expression that's been diminished in recent years. For kids who didn't get to grow up with the 'Mats, Hüsker Dü, or even golden-age Hold Steady, the ten tracks on The Things We Do could be the coming-of-age epics they need; for adults who were raised on the greats, these songs are a second chance to feel, as one title declares, "Young & Alive."
"I think one of the biggest compliments I've gotten so far is, 'I picked up my guitar again because of you.' Or 'I started up a band with my buddies because of you, seeing it can be done.' It's like, f**k yeah it can be done," Alex says. "If you're doing a thing in a moment that's lighting you up, do that thing. People that have had to compromise what they love are really horrible people to take life advice from. 'Cause they're going to be the people that are like, 'When are you going to grow up, when are you going to get a real job?' Because they've done that and they're unhappy, right?"
Curious as it may seem for a man in his early forties (who's also a husband and relatively recent father) to be rebelling against an imagined authority figure clucking its tongue, Alex wears the role — along with his schoolboy-punk uniform of an argyle sweater vest, short-sleeved collared shirt, and corduroy pants — very well. His protests are just too positive to come off as petulant. ("Jeez," he says after imparting a few life lessons, "I'm a walking inspirational poster.") It also doesn't hurt that he could easily pass for a man 12 years his junior: The faintest lines may be starting to set in, but his cheeks are still flushed with youth, his arms decorated with colorful sleeve art, his auburn cowlicks consistently poking out from underneath his trucker hat.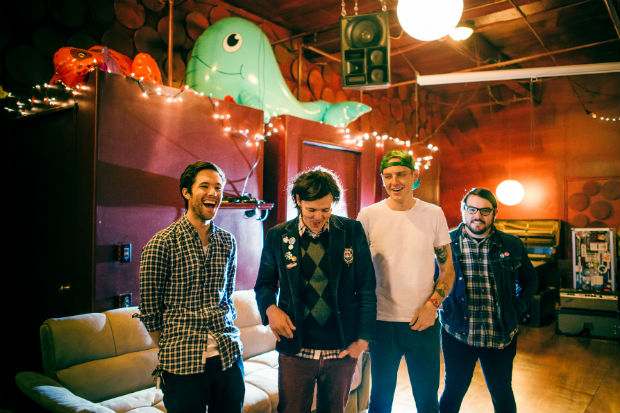 Jessica Flynn
But it's the tireless enthusiasm for music and, really, for life — the kind that, for many, fades after graduation — that helps Alex maintain the aura of some wide-eyed kid who has yet to meet disappointment. "Age, to me, has never been a definer," he says. "If you allow yourself to wither, you will; if you keep yourself in the game, there's a place for you."
So far, his excitement has been met in kind by fans. According to Alex, The Things We Do to Find People Who Feel Like Us ranks as the most pre-ordered album in the history of Illinois-based label Polyvinyl, whose roster includes comparative indie-rock vets like of Montreal and Japandroids. He says fans are already tattooing song lyrics onto themselves. (The most commonly inked line, he believes, is "I hope when I die I feel this alive," from last year's "American Girls and French Kisses.") Simply put, no other rock band issuing their debut this year has this kind of excitement surrounding and supporting them.

"I've been in enough bands that have not had this level of appreciation to really know that this is special on some level," says Flexner, 33. "I'm really happy to be a part of it and will enjoy it as much as I possibly can while it's here."
Asked about another solo radio gig that Alex played earlier this year — an installment of NPR's "Tiny Desk" series — Flexner says, "He knocked it out of the park, it was incredible. I almost started crying when he played 'Filthy Luck.' That was when it came rushing to me, as far as stuff popping off faster than anyone would have expected. A year ago we were three guys standing in my friend's house/practice space just making songs on the fly, and now we're four of us standing at NPR. That's pretty surreal."
The NPR footage exposes — more so than the recordings on The Things We Do or the two preceding EPs, 2014's Who Would Ever Want Anything So Broken? and Cheap Thrills on a Dead End Street — just how delicate Alex's songs truly are. Interpreted with a lone acoustic guitar, rather than a wall of electrics, Beach Slang's rallying cries become tender valentines, precious odes to adolescence sung by someone on the other side.

"When I was a little kid I used to be afraid to go to sleep because I thought I would die and the thought of living forever in some afterworld scared the hell out of me," Alex recalls. "Then my childhood, as I start to grow older, was a little bumpy. Then, your angsty teen years, you don't care if you live or die — I really was that person. And then you kind of crack the code of life where you trim the drama, surround yourself with people, do good work, and stick with what means something to you and all of a sudden you're like, 'I want to live forever.' I'm in that I-want-to-live-forever mode."
One of two sons to a couple that divorced when he was a toddler, James Alex was born James Alex Snyder and raised by a single mother. "She's a hell of a mom," he says. "What she is to moms, my dad's the exact opposite to dads." Growing up, Alex bounced around a cluster of small cities and suburbs located about 60 miles north of Philadelphia, while his mom held down a handful of jobs — among them, sterilizing instruments in a hospital and working laundry at a nursing home. They'd spend summers in Newport, Rhode Island, where his mother hails from originally; his father, a gunner for the Navy, wasn't really in the picture.
"I guess I was mandated by the courts to have to go see him, but he would pretty much ignore me when I was there; I'd end up spending more time with my stepmom," Alex tells me over the phone in late October. "He just was a really stern, hard, sort of emotionally cut-off guy. However, his father was amazing. I think my grandfather always felt guilty that his son was such a horrible father. He'd be the guy at my little league games, and he'd be the guy who would come to my birthday. He was my fill-in dad, so to speak."
Alex's father died last year, which is why he's changing his name to just be James Alex, not James Alex Snyder. "Things got better after [he died]," he says. "I know that sounds weird to say, but I felt like I no longer had this weirdo thing carving into me. It's kind of hard to be alive when someone you know is supposed to love you and just doesn't. And now I don't have to shadowbox with it anymore."
Was he an angry kid? "I think so," he says. "Again, no dad, seeing my mom just finger-to-the-bone working… I've always felt awkward almost everywhere I was, so it's hard to live with that tension." Alex found refuge listening to and playing music. "Not to overly romanticize punk rock, but it was the first place that I ever felt like I fit in because everyone was sort of accepted there. That's not anger to me — that was energy. Even though those songs are aggressive, we were just young and had this energy we had to burn off. We're all looking for a place to belong — punk gave me that."
His first serious stab at becoming a career musician came with '90s pop-punk ragamuffins Weston, which he was a dedicated fan of before the Pennsylvanian band asked him to join as a guitarist and singer. "I have never, in all my days, seen an expression of joy like I saw that afternoon," 41-year-old Dave Weston, the group's other singer-guitarist (and namesake), says over the phone, remembering the moment they invited Alex aboard. "Nor have I ever seen anybody jump as high as James did that day. I'm a tall drink of water — I'm about 6'2" — and he did a standing jump almost over my head."
Weston built a dedicated following, but only achieved minor success before dissolving in 2001. "Growing up and older made it a little tougher — it ran its course," Alex says. "Things that would have been utterly meaningless before started to take on a lot of weight and we were starting to jaw on each other. I remember very clearly asking ourselves, 'So do we want to remain a band or do we want to remain friends?' And we made the decision to remain friends, which we still are."
His band broken up, Alex participated in a few musical projects that didn't lead much of anywhere, and then chose to focus on visual art, graduating from the Art Institute of Philadelphia at age 34. But even while he worked in graphic design, Alex continued to tinker with songwriting, drawing from early Goo Goo Dolls records and the Replacements' latter-day output, with bits of inspiration found via two titans of hard-lived romanticism: Charles Bukowski and Hunter S. Thompson. Encouraged by Flexner to share his new material with the world, Alex met with Flexner and bassist Ed McNulty in the second half of 2013 for an impromptu jam that quickly turned into something much more permanent.
"I remember showing them the song 'Filthy Luck,'" Alex says. "And the first time we played through it, sort of immediately, I was reminded how damn good it feels to play in a band, you know? And then how right it felt playing with those guys… I remember stopping that song and we looked at each other and we were like, 'I guess we're a band.' It was unspoken, but we spoke it." 
For their name, the frontman latched onto a memory from his summers as a kid in Rhode Island: "I used to skateboard with this girl in Newport, and she made fun of the way I talked, 'cause I say 'rad,' 'totally,' 'stoked' a lot and she just called it 'beach slang,'" he explains. "Like I said, man, my childhood was a little bumpy and she was a real good part of it. I don't know, it was that getting-lovingly-picked-on kind of deal and it always had a warm place in my heart. It just felt right for this."
There was an added bonus to settling on "Beach Slang" — it now affords Alex the opportunity to thumb his nose at anyone dismissive of acts that still play with seaside imagery in 2015; it gives him a chance to spite anyone who would preemptively, and cynically, roll their eyes at a seemingly passé band name. "That solidified why I went with that name," he admits. "I read an interview with a band who said something to the effect of, 'Any band with 'beach' in their name can't matter,' or 'can't be taken seriously.' And it was probably that snotty little 12-year-old punk in me that was like, 'F**k you. I'm going to call this thing "Beach Slang" and I'm going to make it matter.'"
Alex's day job presented his new outfit with a serious obstacle, though: Before they even formed the band, he had already committed to a year-long stint doing design work for a firm in California. Despite believing nothing would come of it, they recorded their first EP and released it in the spring of 2014, after Alex had moved to the West Coast. The four-track set quickly drew — or, rather, demanded — attention. So around June of last year, Alex returned to the Philly area, turning down steady employment to follow his heart and once again pursue a life as a punk poet. "I had to ask myself, 'What is the thing that makes you happiest?' And it's always been guitars, so I broke my contract."
Soon enough, the second EP followed; then a slot opening for heady emo heavies Cursive on their 2015 reunion tour; then the fan tattoos; then the deal with Polyvinyl; then their first full-length; then a headlining tour booked across the U.S. and into Europe.

"We have to remind ourselves, 'It's not supposed to happen this way,'" Alex says. "People have asked me to explain it, or other bands will be like, 'Can you give me some advice on how you guys did this?' I'm like, 'I have no idea.' It's just magic and luck, and it makes no rational sense."
When he's live on the WRFF airwaves, Alex softens the lead single from The Things We Do, a chip-on-its-shoulder beauty labeled "Bad Art & Weirdo Ideas." With his eyes closed and feet dangling in front of the stool, he sings, "I'm always that kid, always out of place / I try to get found / I've never known how." For the cover song, he moves into Death Cab for Cutie's teary 2005 pledge "I Will Follow You Into the Dark." Alex had to choose from a list of station-approved tracks, but considering the subject matter — childhood memories stained by a stern grown-up, the promise of a love that transcends this life and carries onto the next, the strange allure of moving on into the unknown — it's not surprising that he landed on this one. Beach Slang's songs are rowdier, but no less heartfelt.  
"It's a rare thing to see a new band that is so fully developed," Eric Slick — member of the Philly bands Dr. Dog and Lithuania, the latter of which is currently opening for Beach Slang on tour — tells me on the phone. "I think people are afraid to be that vulnerable with their art — it's a huge leap to do that and say, 'No, I'm going to go onstage and give everything that I have.' People are just naturally attracted to that."
It's not only on stage where Alex gives his all. True to his DIY ethics, the singer-guitarist is now a published author (his 52-page collection, Even Trash Has a Place, binds "hazy-eyed, dreamer-headed stuff" and is set to ship out the week of November 18), and he also serves as his band's art director and social media manager. That last role leads to gushy posts on Facebook where he humbly thanks the writers of the many positive reviews of The Things We Do. To wit: "The only thing I ever wanted to do with my dumb life was to write songs and fix my friends when they got broken. All of that and all of you [fans] mean so much to me. I just never want to let you down. I promise I won't."
After the radio broadcast ends, we head back down to the building's lobby, and are greeted by an evening storm. The afternoon's clear skies have been corrupted by dark gray clouds, the trees beaten with wind, the office windows peppered with raindrops. Alex and I run through the rain, heads hunched, over to his car, which we'll use to follow Gallego and Osman to a nearby restaurant.

During the ride over, as we're moving through the storm, we discuss what lies ahead for Alex. He's going to play a trio of shows with Weston later this year, the latest development in a reunion that's come and gone a few times since 2006. Alex's son was born several months ago and while he's understandably shy to discuss his marriage and kid around a reporter, he does say that, even with a tour mapped out, he isn't letting himself get too worried about being away from home.
"Most people would be like, 'What are you doing at this age, man? You're just having a kid, you're going for this teenage dream?' To be fair, my mom definitely was like, 'Are you sure you know what you're doing?' Now my mom gets to really see it. I know it's like, 'Okay, yeah, it scared the hell out of me when he was going to quit the design job to play his guitar again. It made me nervous that he's going to have a kid and…' Now, she's just like, 'That son of a bitch knew what he was doing!' She's totally embracing it, which is really, really great."
James Alex has grown up. He has found a real job. These are the things he does to find people who feel like him.