U.K. post-punk trio Shopping are an unexpectedly silly bunch. "We're all pinching each other right now, you can't see, just beneath camera level," says drummer Andrew Milk, who is sitting for a Skype call with guitarist Rachel Aggs and bassist Billy Easter at London's Power Lunches Arts Café.
Explaining how they arrived at the title to their new record, Why Choose, Milk tells a story involving a friend, referring to her with an obviously fake pseudonym. "Madonna realized she wasn't going to get paid for a few weeks," he says. "She needed food, but she also wanted new clothes. She had this epiphany, 'Why choose?' So she just spent all of her money on both, and just kind of worked herself to death. Just to get that instant gratification of wanting to have it all."
Instant gratification has been a recurring theme on the band's two albums of wound-up dance-punk tracks: 2014's Consumer Complaints, which they self-released through their own MÏLK Records, then reissued this year via FatCat Records, and the just-released Choose. In fact, with skeptical, anti-consumerist lyrics like "Need something / Want something / Buy something / Need something,"  the media has at times   interpreted their mission as entirely political.
"I think it is quite easy to think of us as a political band," says Milk. "It gets written about a lot because it's quite obvious there in the lyrics. We're talking about consumerism and frustrations with modern life. But people miss out on all the fun that we have. We like to make fun of the system we're stuck in as well make fun of ourselves and how we are a part of that complex."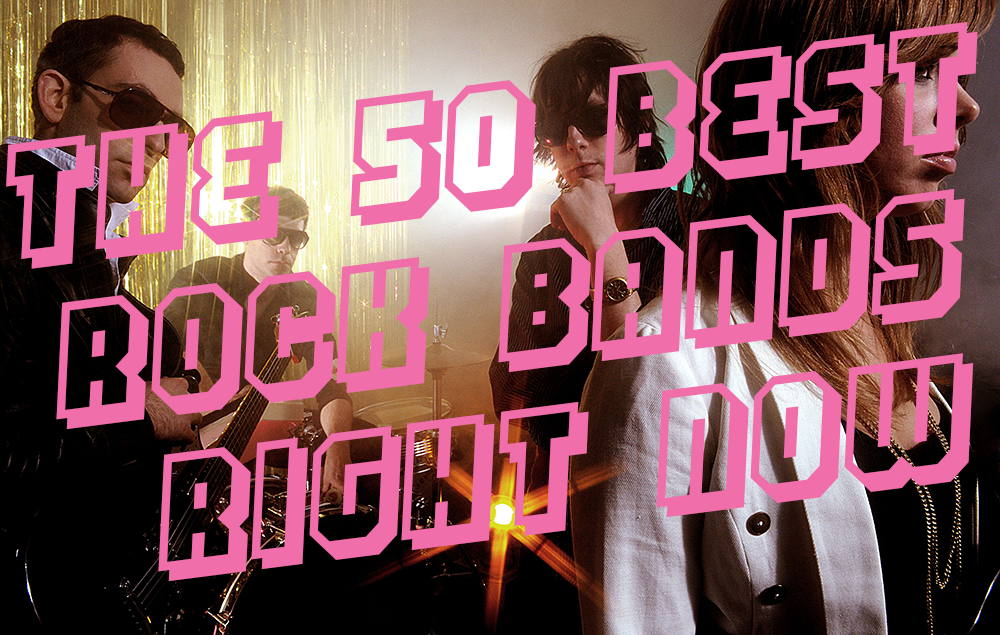 Rolling out twitchy, bass-driven punk-funk songs, Shopping first formed in 2012 when Aggs, Easter, and Milk met through the London DIY scene. Each were already playing in various bands, and eventually they came together in a now-defunct outfit called Covergirl, which "kind of disbanded because there were too many of us," laughs Easter. "So we got together in the basement of Power Lunches and decided to see what'd happen if we played with [just] us three. It worked well, so we stuck with it."
Though they each hail from different U.K. towns (Milk is from Dunstable, Easter from Tring, and Aggs from the English countryside), the trio grew up feeling a sense of isolation in their respective "dull" villages. So they decamped to art school, and later, to the young-and-creative enclave of East London.
Ironically, even University couldn't offer an open-minded enough setting for Aggs, who attended the Ruskin School of Art at Oxford. Identifying as queer, she noticed that her environment was mysteriously homogenous. "Everyone really just wanted to be part of this sort of posh boys club, like, drinking port," she says. "It didn't feel like an inclusive space. I didn't meet any people of color. It was like, no queers. It was a very oppressive Christian environment. I escaped from Oxford like a bat out of hell."
Before Milk relocated, he tried to make the most of his surroundings by booking DIY shows in his college cafeteria, a project he called Club MÏLK. "They were really fun and totally bankrupted me," he says. "No one bothered to come, so that was a bit s–t."
Taking his idea to a warehouse in London, Milk organized more shows, and eventually started putting out records and tapes, including Shopping's aforementioned first album. "Thank God for MySpace, 'cause that made me find all these amazing bands in London," he says. "That's how I met Rachel and Billy."
The musicians' camaraderie is rounded out by the diverse range of genres they enjoy. Though their name is inspired by a Pet Shop Boys song, Milk grew up listening mainly to hip-hop and R&B, and later, as a teenager, riot grrrl. Aggs, meanwhile, came of age playing violin and folk music. "My family was really musical," she says. "I got into punk really late. I wasn't into it until I came to London and saw people doing really weird music."
Better late than never: Shopping's material fondly evokes many of the most creative bands to emerge after the initial punk explosion. Tracks like the jerky single "Why Wait?" feature chaotic, angular guitar- and drum-work in the barely controlled vein of James Chance, matched with the anything-goes ethos of the Raincoats and the feminist slant of Delta 5.
Rhythm, most of all, is a key ingredient for Aggs, Easter, and Milk, who take a page from post-punk's pulsating mainstays (Gang of Four, Public Image Ltd., and even era revivalists Erase Errata), and are wholly invested in getting their audience to move. "Most music that I like is danceable," says Aggs. "If I don't like something, I won't dance [laughs]. So when people don't dance at gigs, I sometimes get offended. But I know that that's not what everyone does. It's really fun to play a gig if at the end of it people are dancing."
"I think that it's quite boring to go and just watch a band," agrees Easter. "It's music, and music is for dancing."