Nobody decides the sounds of the future quite like the producers and songwriters of the present. We saw the standard for present-day pop set last year with the synths and production depth of Taylor Swift's 1989, which used a dream-team of producers and writers (Max Martin, Ryan Tedder, Shellback) to blend familiar sounds and emotional beats with modern-day lyrics and studio advancements. It captured the world's imagination with a very 2015 blending of nostalgia and current innovation — throwback pop no longer has to sound plainly "retro"; even the past can pick up future sheen.
In thinking of Top 40 as a composite, SPIN interviewed a slew of today's biggest and best hitmakers over email — Diplo, Stargate, Benny Blanco, Ester Dean, Tedder, and more — about their predictions for which pop music of the present will last and which'll fall by the wayside.
For the next week, SPIN will be venturing into the great unknown to attempt to answer some questions (or at least hazard some guesses) about the future of music. Join us as we look at what the world of music — the sound, the technology, the business models — may look like ten, 20, even 30 years down the road.
What do you think popular music might sound like in a decade?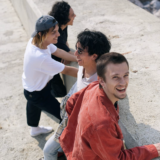 Tor Erik Hermansen (Writer/Producer, Stargate: Rihanna's "Diamonds," Fifth Harmony's "Worth It"): I think electronic music, in all its different forms, is here to stay. I think (and hope) that melodies and lyrics will still rule over sound and gimmicks.
Danja (Producer: Britney Spears' "Gimme More"; Writer/Producer: M.I.A.'s "Bad Girls"): It's hard to say. I pay a lot of attention to the trends in music. I see a lot of '80s and '90s influences now. If I had to guess, I would say ten years from now, people are going to be pulling from whatever was hot in the first decade of the 2000s. It seems we draw inspiration from 20 to 30 years back. I would love to see rock music come back into mainstream. I feel like we're unbalanced because there's a missing genre.
Harmony Samuels (Writer/Producer: Ciara's "I Bet," Ariana Grande's "The Way"): I think music will definitely evolve, and it won't be so color or gender-driven.

Noonie Bao (Writer: Charli XCX's "Breaking Up," Clean Bandit's "Dust Clears"): I think the remix culture will keep on growing. I also think J-pop will have a breakthrough over here in the west. But if it was up to me it would sound like a mix of Enya and [frequent Studio Ghibli score composer] Joe Hisaishi.
Diplo (Major Lazer and Jack Ü; Writer/Producer: M.I.A.'s "Paper Planes," Usher's "Climax"): I think it'll be more stripped down. We're already seeing that. The old pop architecture with "as much as possible in a record" is gone. Now we're at a place with simple, clever songs, and engineering and sounds being reinterpreted in a clever way.
Ryan Tedder (Musician, One Republic; Writer/Producer: Adele's "Rumour Has It," Taylor Swift's "Welcome to New York"): I think rock has been dormant long enough in the mainstream that it could make a big resurgence in the next ten years. I hope whatever it sounds like doesn't remind me of the mid-2000s emo scene.
Benny Blanco (Writer/Producer: Katy Perry's "Teenage Dream," Kesha's "Die Young"): Music works in cycles — some things that are popular today won't be popular tomorrow. Songs and styles come and go and there are only so many different ways to make a song, but I hope that there will be some new artists and creatives pushing the envelope in ten years, 20 years, forever.
Stephan Moccio (Writer: Miley Cyrus' "Wrecking Ball"; Writer/Producer, The Weeknd's "Earned It [Fifty Shades of Grey]"): Today, more than ever, we consume music and songs not entirely on their sound, but on how they look as well, on the fashion, style, the company they keep and the celebrity status or social media impact of the star. A little salt and sugar can go a long way these days; however, then you crash. Regrettably, I fear the majority of "pop" music — specifically music we hear at radio — will only become more sterile, cold, fabricated, and soulless because it is primarily driven and designed by commerce… Could you imagine the Mona Lisa as an album today? The lead single would probably be "the smile" and if that's as far as it goes; we'd possibly never get to see the whole painting.

Matthew Koma (Writer: Zedd's "Clarity"; Writer/Producer: Carly Rae Jepsen's "This Kiss"): It's always so hard to predict what will become "popular" or "next" but I think people are responding to sincerity and honesty in music more than they have in a long time. It feels like there's a shift towards people really seeking that connection to a truth regardless of the genre. I hope, despite what production model is in style, we continue down the path of the spotlight shining on people who have something pure that isn't dependent on a mold. I hope people subscribe to an artist for their perspective.

Ricky Reed (Producer: Jason Derulo's "Talk Dirty," Fifth Harmony's "Bo$$"): To quote one of my favorite songs, some of it will be "transcendental, some of it… just really dumb."
What recent genre trends could you see being major in five to ten years?
Tor Erik Hermansen (Stargate): The blending of genres will continue. Ten years ago, there was a clear divide between people that would listen to hip-hop and people that listened to electronic. They wouldn't even be played in the same club. That wall is coming down.
RØMANS (Writer: Mary J. Blige's "My Loving"): I think the sentiments of the punk scene will come back in some form. There's an abundance of angry music out there at the moment. I think of it as "post-Yeezus" music. I can't wait to hear the music of a generation of broke, disenfranchised youth with GarageBand who grew up with a million songs on their Spotify account.
https://youtube.com/watch?v=dT3swdCJrrg
Ricky Reed: It's more of a question of five to ten months. I think the fusing of what've been long considered "world music" sounds will get deeper into the mainstream, sounds from the Caribbean, South America, West Africa, etc. If any big radio conglomerates are still around, they'll build artificial intelligence to craft perfect songs that tailor to the demographic of any given market.
Stephan Moccio: Live music. We will crave it even more than ever ten years from now. With live music and touring being in demand, I would like to see more producers working with accomplished, passionate musicians and recording their performances, not just the clicking of computer keys making the performance "perfect"… Production that pays attention to all elements that make the songs and recording special should ultimately mean attention given to the human touch, character, and quality on all instruments involved.
Marcus "Marc Lo" Lomax (Writer/Producer, The Strangerz: Nick Jonas' "Levels"): I can easily see the resurgence of soul music in future popular records. That electronic soul has already caught the ears and hearts of young listeners. When presented with a unique, forward thinking soundscape, "hybrid" soul could be major in the years to come.
Benny Blanco: My mom used to say that rap was a fad and that it wouldn't be here in ten years. I think that all the genres we love will find new paths. Each musician that comes along has a different take on it and one of those many musicians will have such a fresh take on it that everyone will start copying it. Every time that happens I think it creates a new genre that will be bubbling. It might be called ghetto tech polka bounce. I have no idea.
Noonie Bao: PC Music and Yung Lean and the Sad Boys.

Sonny Digital (Writer/Producer: ILoveMakonnen's "Tuesday," 2 Chainz and Kanye West's "Birthday Song"): I feel like when you think about the Young Thugs and a couple of other artists like him, they're still on the come up. Like, when people do the comparisons between Wayne and Thug, Wayne's been around a long time, and Thug is just getting started. So in five or ten more years, Thug will be on another level of artistry, another level of business. His movement will be so far out of here — I'm thinking similar to the growth of Wayne over the years.
Are there any recently developed production innovations that'll prove to be game-changing in the years to come?
Diplo: Hopefully mix engineers will become robots so I can spend less time comping vocals! But everyone has access to relatively affordable programs that are easy to learn to create with. The future is bright! But just getting your sounds heard will pose a challenge. There are too many gatekeepers holding the keys and they all want to be compensated for being part of the process. The current big-name producers are lucky to be where they are simply because it's harder for everyone underneath them to reach the same level and it's going to keep being harder to break through to that top tier.
Benny Blanco: My entire career, I never used MIDI. It's like I was afraid of it, like an old grandma who won't use computers and is convinced that cell phones are the devil. I just started using it and the way you can link it with plug-ins — like these cool Antares harmonizers — is mind-blowing to me. It's like there is a whole choir with you while you are in your bedroom alone. My friend Cashmere Cat also does some vocal stretching and manipulating that is pretty groovy. Arca has opened a lot of doors for sound design as well. Some of his techniques are so different and cool.
Harmony Samuels: I think Pro Tools and Logic will always be somewhat ahead of the game. But FruityLoops is definitely making the younger generation speak, and I think it's gonna become one of the leading brands when it comes to software.
Fernando Garibay (Producer: Lady Gaga's "Born This Way"; Writer/Producer, Britney Spears' "Quicksand"): As technology for vocal production gets better and better, we become more used to listening to more polished-sounding vocals. In the future, vocal production technology will become so good that we will have a new perspective on what constitutes a vocalist, as well as an entirely new breed of vocalist and performer.
RØMANS: Software emulations of classic analogue equipment. We've used the term "warmth" for years to try to describe a quality in old music that, by comparison, makes modern music sound cold and soulless. That warmth is the sound of imperfection and randomness, of humans making music. I believe with software manufacturers like UAD we're finally able to impart those qualities on digital music and create music using the best of both worlds.

Toby Gad (Writer: Madonna's "Living For Love"; Writer/Producer, Beyoncé's "If I Were A Boy"): The major revolution has already happened: giving every kid a music studio in their iPhone or Android with the many apps we now have. This will definitely enable more creativity throughout the spectrum.
Sonny Digital: The art of producing is going to get a lot easier with software integration. Being able to use some of those programs together is making everything flow easier. And when you think about it, that's what life is about: advancement. And our generation is right here in the midst of it. That's what we're about. We're going to keep going forward. But you also have to remember that accessibility doesn't determine talent. Like [manager] Rico Brooks always says, "You can have the same shoes that Jordan played in, but that doesn't mean you can ball like him."
Jack Patterson (Musician/Writer/Producer: Clean Bandit's "Rather Be"): It's not that recent, but the software Melodyne has been a massive game-changer for me. It's a kind of black magic that allows you to move notes around within polyphonic material. For instance, someone made a completely minor version of "Bohemian Rhapsody" without access to the stems. It's crazy. It's main use is for pitching and timing vocals but I use it as a compositional tool a lot. It's very easy to move notes around and see what a different melody or harmony could sound like without needing to re-sing stuff.
What sounds and styles are huge in pop right now that you think will be all but nonexistent in popular music five to ten years from now?
Sonny Digital: I can't tell you what's not going to exist because I'm pretty sure when Fetty Wap came in, people didn't expect five more bangers out of him. But in the South, we're fortunate. We've been shaping the sound for a while. So while I can't say what won't exist, I can say that the South will have some influence in the sound.

Noonie Bao: Big-room EDM and Dubstep.
Tor Erik Hermansen (Stargate): The latest sounds will all go out of style. Side chain and Auto-Tune will die, and come back, but when is an open question.
Jordan Johnson (The Monsters): Pop music is heavily influenced by the '80s right now. As much as we love that sound, I think music will head in a different direction and keep pushing forward as it always does.
Ryan Tedder: Dance music is historically the most trendy and evolving sub-genre of pop, and also typically doesn't "age" that well. So it's a decent bet that whatever is the hot dance sound or style of the year will not be popular five to ten years from now.
Ricky Reed: I think there are some details of style that come and go as time passes. The drum sounds, the vocal effects, popular pockets and bops, these small things change from year to year. But we will still have rap, dance music, rock n' roll — and if they have anything to do with it, Drake and Taylor aren't going anywhere.
https://youtube.com/watch?v=IwH4E3qcjAU
Stephan Moccio: A tough question to answer because everything bounces back at some point and gets recycled somehow. Ten years from now, we will want to pay homage to today's sounds, whether it's a cheeky ode or a game of poking fun at the over-saturated reverbs, the stacked vocal sounds which only continue to get bigger and bigger. I don't think anything truly disappears. It all comes back to haunt us at some point.
Diplo: Well, everything! But then all of that will come back again. I don't focus on trends, I try to create new ones. Most of the time I fail but every once in awhile, I get a breakthrough.
If the Taylor Swift of 2040 made an album called 2015, what would it sound like?
Tor Erik Hermansen (Stargate): Extensive use of Abelton, software synths like massive and nexus, vocal chops, 32-triplet hi-hats and 808 drums. One-line choruses.
Danja: Ha! I like this question. It seems urban music becomes the basis for pop as the years go by, so I'll say 808s and sub basses, moody pads and vocal samples, urban based hip-hop style production. Hints of EDM but nothing heavy. If it doesn't sound or feel like drugs, they should scrap the project!
Diplo: Probably like a cheerleader of an alien football team.
Ester Dean (Writer: Rihanna's "Rude Boy," Nicki Minaj's "Super Bass"): Real writers singing the songs the way they felt it and sharing true stories from the heart: Ed Sheeran, Taylor Swift, the Weekend, Jason Derulo. F**kin' amazing.
Harmony Samuels: Probably sampling Future and using it in the future.

https://youtube.com/watch?v=6BRTIvyFYwA
Fernando Garibay: Well to answer that question I would look at which producers today are moving the needle of popular music culture. I would have to definitely consider DJ Mustard, Diplo, and Kygo as producers who are setting their sonic footprint today.
Jordan Johnson (The Monsters): Taylor, the Weeknd, and Nick Jonas are some examples of what producers will take inspiration from — that warm sound with that mood. I'd be lying if I said I knew how any of that would translate in 2040. What I do know is the Taylor Swift of 2040 will be writing amazing songs.
Sonny Digital: They will be calling on me, Metro, Southside, and TM88 to ask us what we used. Ha!
Ricky Reed: It wouldn't sound like the Taylor Swift of today. We'll probably be calling it "classic" EDM with "old-school 2015 drops." It will be a few shades watered-down from the current pioneers and suited to fit how people are feeling in their self-driving cars.
Benny Blanco: Yeezus mixed with the Dixie Chicks. I think producers will call on the same things we call on today. Music is supposed to move you — in a good way, a bad way, any way — you're just supposed to feel something. That will never change in music: A great song is a great song. We could listen to the same song recorded in the '40s, '60s, '90s, and today, the only difference in the production is going to be sound design. If I knew what was going to age, I wouldn't listen to things I did four or five years ago and be like, "Damn… that s**t sounds so dated." It's always the drums that feel dated to me… the world will never know.
Who among today's veteran producers and writers will still be leading the conversation in pop five to ten years from now?

RØMANS: In terms of people who specifically make music for other artists, I'd say Jimmy Napes and Labrinth.
Tor Erik Hermansen (Stargate): Max Martin will be songwriter of the year for the 15th year in a row. Skrillex will be the biggest producer in pop.
Ester Dean: Max Martin. Everyone else, included myself, pray for the longevity [he's] had and will continue to have.

Noonie Bao: Everyone who's open to working with younger talents, and stays curious about what the kids are listening to. For instance: Max Martin and Stargate.
Fernando Garibay: ?I believe Max Martin and team have proven their staying power on the pop side. Sia for sure as a creative entity as a whole.?

Benny Blanco: Guys like Rick Rubin and Max Martin could really be here not only five years from now but until the day that they die. Those guys just get it. They have had hits and amazing records in different decades — I mean f**k, that's what we all strive for. They are relevant, and when they start slipping, they listen and work with new and young talent. They are my heroes.
Stefan Johnson (The Monsters): I think they all have a chance of sticking around and leading the conversation. Max Martin's camp is strong. Luke is doing great. Stargate is staying consistent. I'm sure they will all still be here. I can't wait to see the producers and writers who are starting to shine now become seasoned veterans in five to ten years. I'm excited to see Jason Evigan, Ian Kirkpatrick, Nolan Lambroza, Sean Douglas, Sam Martin, as well as any of the other great writers/producers in this amazing songwriting circle in L.A. The future is bright!
Ryan Tedder: Easy — the writers and producers that have already stuck around for the last five to ten. As for news ones, it's anybody's guess, but one thing I know for certain: Being attached to any one "sound" or defining movement is dangerous. Once the public is over it, they're over you. Versatility is gospel.
Stephan Moccio: Some producers and songwriters who come to mind making records where music lovers will continue to study, rip apart and "decode" their productions are: Paul Epworth, Mark Ronson, Rick Rubin, and the Weeknd.

Matthew Koma: This is going to sound like a weird answer, but the ones who are not only good at what they do, but open-minded and humble enough to learn from the next aspiring writers and producers, and most importantly, the ones who are good people to work with. Life is long and careers are waves. I think guys like Pharrell are on top for a reason. Artists and producers like Ariel Rechtshaid and Tim Pagnotta who are stretching the confines of what "pop" is, Jeff Bhasker… The ones with the staying power to me are the ones whose foundational pieces are built with the gift of experience, heart and desire to keep challenging.