49. "Frail and Bedazzled" (Pisces Iscariot, 1994)
Even Pumpkins agnostics realized early on that it was possible to find Billy Corgan's official album tracks staid while plenty of his castoffs, well, go'd. "Frail and Bedazzled" was one of Corgan's many wise documentations of rippage that didn't squeeze neatly onto his conceptualized full-lengths, with the band's jerkiest, Bonham-est drum blasts to date, astrophysics-ready guitar squeals, and soaring vocals from a time when Corgan couldn't not sound anthemic. There are at least two things wrong with that title indeed. — D.W.
48. "Tarantula" (Zeitgeist, 2007)
The lead single from 2007's Zeitgeist was the band's last big modern-rock hit, peaking at No. 2 on the Billboard alternative charts. The position was well-deserved: The song alternates seamlessly between unabashedly metal-inspired, teeth-baring hard-rock verses and cathartic, power-pop-leaning choruses. — A.Z.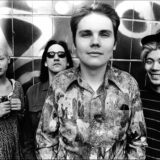 47. "Beautiful" (Mellon Collie and the Infinite Sadness, 1995)
The bejeweled music box tucked away near the bottom of Mellon Collie, "Beautiful" begs to be cherished, to have its feelings of starry-eyed adoration reciprocated. And it's easy to oblige, considering the twinkling piano, the comfort of hearing Billy and D'Arcy's voices right beside each other, and the song's perspective on love, which develops from a purely childlike POV ("With my face pressed up to the glass, wanting you") into something far more mature ("And I'm sure you know me well / As I'm sure you don't / But you just can't tell / Who you love and who you won't"). — K.M.
46. "Daydream" (Gish, 1991)
D'Arcy got one true shot at playing Belinda Butcher for the Pumpkins, and she aced it, with this out-of-nowhere, heartcrushingly yearning dream-pop ditty at the end of Gish that's over far before you're ready for it to end. The song is Glider-worthy and then some, making its lack of a sequel on Siamese Dream virtually unforgivable. — A.U.
45. "Doomsday Clock" (Zeitgeist, 2007)
Sometimes you have to judge a song based on its intent. For Smashing Pumpkins' "No, for real this time" Return To Rock LP Zeitgeist, Corgan wrote his most Audioslavish post-post-grunge riff and a chorus of "Please don't stop / It's lonely at the top / These lonely days when will they ever stop? / There's a doomsday clock ticking in my heart." It appeared in the first Transformers movie twice, once during the Bumblebee vs. Brawl fight and again in the credits. Judged on that outcome, "Doomsday Clock" is the most successful Smashing Pumpkins song ever written. — I.C.
44. "Daphne Descends" (Adore, 1998)
Adore is the band's murkiest and moodiest record, which also makes it their most polarizing. One of the album's unqualified standouts, however, is "Daphne Descends," whose antique-parlor synth drones, hollowed-out drums, and flat-affect vocals convey spellbindingly fatalistic grandeur. — A.Z.
43. "Obscured" ("Today," 1993)
In the Pisces Iscariot liner notes, Corgan writes, "what a pretty song. sunday in the park music chicagofest," referring to the two weeks of continuous live performances held at the Navy Pier every year between 1978 and 1982, with the final one in 1983 at Soldier Field. "Through these eyes, I rely on all I've seen, obscured," Corgan sings, likely unaware of the fraught political history that ended ChicagoFest. Still, Corgan was between the ages of 11 and 16 during its run, and so "Obscured" scans as a gorgeous reminiscence of youth on the landing in the summer, missing the innocence he's known, beautiful and stoned. — I.C.
42. "Stumbleine" (Mellon Collie and the Infinite Sadness, 1995)
Flickering from the depths of Mellon Collie's fourth side, "Stumbeline" arrives just in time after the combined 12 minutes of "Tales of a Scorched Earth" and "Thru the Eyes of Ruby" to save the album from Corgan's most oppressive crunge. Probably second only to the "Landslide" cover in terms of Billy + acoustic loveliness, "Stumbleine" survives its nonsense chorus ("I'll be your Stumbleine / I'll be your super queen") to land as one of the band's most affecting teenage lullabies. Then it's back to "X.Y.U." — oh well, pretty while it lasted. — A.U.
41. "Once Upon a Time" (Adore, 1998)
The Pumpkins were essentially starring in their own fairytale for much of the '90s, but Billy Corgan knew it couldn't last, and he was determined to write his own ending with Adore. "Time" was gently indicative of the band's retreat from the Alternative Nation limelight, a 3/4-time ballad that swayed much more than it rocked, sounding less like the soundtrack to America's youth than the soundtrack to Shakespeare in Love. "Once upon a time in my life," whimpers Billy, and it's clear he knows it's already over. — A.U.
40. "The Boy" ("1979," 1996)
Pumpkins go Britpop on this "1979" B-side, more or less inventing the idea of the Pains of Being Pure at Heart's Flood-produced Belong in the process. "The Boy" is so far and away James Iha's best song with SP that, if it wasn't for "Take Me Down," his next-best would appear more than 100 spots further down on this list. — I.C.
39. "One and All (We Are)" (Monuments to an Elegy, 2014)
Monuments to an Elegy was a mostly successful introduction of the synth as a worthwhile lead instrument for the Mk. 3 (or maybe Mk. 4, it's hard to keep track) Pumpkins, with keys dominating tracks like "Being Beige," "Tiberius," and "Run2Me." But "One and All" proved that the six-string was still king for SP, its massive riff ripping through the album's back half with forgot-about-Dre indignation, proving that Corgan could still bring the heat with his primary pitch. It's convincing enough that you can almost keep from chortling at Billy's "We are so young" rasping. — A.U.
38. "To Sheila" (Adore, 1998)
In its own understated way, "To Sheila" was a bold move for the Smashing Pumpkins. After the blockbuster mood swings of Mellon Collie, the trio — now just Billy Corgan, James Iha, and D'Arcy, after Jimmy Chamberlin was fired following a heroin overdose in '96 — more or less stripped their sound and sold it for parts. To introduce their new iteration in full-length form, the band opened their fourth album with nighttime ambiance — the cricket-like humming that reveals itself when everything else has fallen silent. With that foundation set, Corgan softly sings with rare elegance of "blushing brilliance" and "passing vapor trails," matters of grace and bruising faith, all accompanied by acoustic guitar, piano, and traces of percussion. "To Sheila" wasn't exactly a hard reboot — muted as Adore is, no other song on the LP mimics this level of intimacy — but it did expose an alternate version of the Pumpkins; here, they favor mood and subtlety over grand, chest-thumping gestures. — K.M.
37. "Hummer" (Siamese Dream, 1993)
Smashing Pumpkins developed their ability to balance tranquility and noise early on, judging by this Siamese Dream beauty. Distorted and shimmering guitars coexist peacefully, before the former acquiesces to an extended, dreamy coda steeped in undulating, psychedelic waves. — A.Z.
36. "The Everlasting Gaze" (Machina: The Machines of God, 2000)
1993: "Cherub Rock"
2000: "The Everlasting Gaze"
2007: "Doomsday Clock"
2014: "Drum and Fife"
Point being that every seven years, Billy Corgan has to show up to say, "Hi, haters." So if you thought Corgan had given up rock after Adore, he tuned down to C, brayed, "You know I'm not dead" to those who weren't feeling his vampire look, and had the prodigal Chamberlin go Bonzo on the chorus with his most ridiculous drum fills. Oh, and that a cappella break… consider this "Zero" multiplied by a million. — I.C.
35. "Quiet" (Siamese Dream, 1993)
To the abused, "quiet" is an action of survival: Do nothing, the thinking goes, and your tormenter won't find a reason to lash out. Such self-protective eggshell-walking is arguably the root of this churning Siamese Dream cut, which comments with wrenching clarity ("Silent / Metal mercies / Castrate / Boys to the bone") on the emotional and physical abuse Billy Corgan's stepmother inflicted on him as a child for more than a decade. "Helpless," Billy understandably cries over whining guitar slides, but when it came to forming his still-developing narrative, Corgan found alterna-rock gold in a cave of early anguish. — RACHEL BRODSKY
34. "Where Boys Fear to Tread" (Mellon Collie and the Infinite Sadness, 1995)
Mellon Collie's best remembered for its glazed-over emoting, but there were more than a few occasions to screw pedal to metal. There's no highwire guitar work on "Fear to Tread," nor tolling bells, just Billy, shredding his adenoids as ever, atop the open-wheeled overdrive of his buzzing riffery. The lyrics are the usual sort of existential boho poetry, but the images are potent ones, and "king of the horseflies" may be the best insult he ever penned. — C.J.
33. "Geek U.S.A." (Siamese Dream, 1993)
Whether or not "Geek U.S.A." is Jimmy Chamberlin's best drumming, Siamese Dream producer Butch Vig called it "one of the most amazing drum performances I had ever heard." Go look up some of the drum performances to which Butch Vig bore witness. — I.C.
32. "Ava Adore" (Adore, 1998)
Leave it to grunge's preeminent classic-rock aficionado and perennial brooder to write the most troubled love song of the '90s. Here, long before beef with both, he's slurping up the industrial runoff of Reznor and Manson to create an unsteady and seeping bedrock for prickly meditations on some deeply ingrained Madonna/whore complex. Like all of the best Pumpkins songs, they're transforming doom and gloom into a defeatist's anthem; it's love, in spite of all the odds. — C.J.
31. "Stand Inside Your Love" (Machina: The Machines of God, 2000)
The Smashing Pumpkins carried what remained of their '90s momentum into the '00s with the massive modern-rock hit "Stand Inside Your Love," which merged the nostalgic longing of "1979" with more streamlined, synth-heavy dream-pop, resulting in the last classic-sounding single of their original lineup. — A.Z.
30. "Jellybelly" (Mellon Collie and the Infinite Sadness, 1995)
In 1998, Billy Corgan told the now-defunct SP discussion board Listessa that Mellon Collie and the Infinite Sadness was meant to capture "the human condition of mortal sorrow." (I.e., all the blood-and-guts emotional junk generally experienced by people between the ages of, as Corgan intended, 14 and 24.) That in mind, the grunge-thrash maelstrom known as "Jellybelly" achieves peak inner-torture with intensely sorrowful lyrics like "Welcome to nowhere fast / Nothing here ever lasts." And words aren't enough: SP turn the intensity up to 11 via their manic guitar solos and Jimmy Chamberlin's head-splitting percussion, which communicate the adolescent need to make everything — even complete hopelessness — kind of romantic. — R.B.
29. "Silverf**k" (Siamese Dream, 1993)
Love 'em or hate 'em — the thing about the Smashing Pumpkins that inspires either reaction is their utter punklessness, their savvy marrying of '70s arena excess with the emotional excess of '90s emo-grunge. Billy Corgan has no on-record tantrum that isn't blown out into a full-on champagne supernover, and Siamese Dream's longest, most appropriately titled cut, "Silverf**k," accesses the full emotional and electrical spectrum between "She was my lover so sweet" and "Bang bang you're dead / Hole in your head" like f**king Queen or something — reverse echo treatments on the quiet part and all. Pavement were cooler, no one contests that. But the Pumpkins were uglier, and when you listen to this no-indulgence-left-unrecorded prog-operetta, it's hard to believe they were the ones with the hits. — D.W.
28. "Disarm" (Siamese Dream, 1993)
Lots of superlatives for this one: best use of timpani in a pop song, Siamese Dream's most devastating lyrics, the easiest Smashing Pumpkins song to play on guitar and, also, one of the subjects of Corgan's best jokes — at the '94 VMAs, he claimed it won "best art direction in a sad video." They weren't in such a good mood when they had to play it, though; forced by MTV to perform the track, Corgan unleashed the killer in him with one of the most visceral, frightening live performances the channel would see until Unplugged in New York. (Of course, now it's impossible not to think of this picture whenever you hear "I used to be a little boy, so old in my shoes.") — I.C.
27. "Appels + Oranjes" (Adore, 1998)
In 2001, Bernard Sumner invited Billy Corgan to do guest "special guest vocals" on "Turn My Way," though it would've been tough to tell without reading the credits. It was the first and last time Billy Corgan's vocals didn't overpower someone else's — he did not, to paraphrase one of the most quotable lyrics of that year, murder Sumner on his own s**t. Four years earlier, however, "Appels & Oranjes" did pretty much just that: If you choose to believe the rumors that Billy Corgan played all of D'Arcy's bass parts in the studio, turns out his Peter Hook impression can be just as good as his Sumner. And while Brad Wood will always be known for the dry, economical production that defined '90s indie touchstones Exile In Guyville and Diary, for a few glorious minutes on Adore, he thought he was Stephen Hague. — I.C.
26. "Rocket" (Siamese Dream, 1993)
Siamese Dream's most underrated single, "Rocket" takes off like quintessential early, noisy Smashing Pumpkins: Warm, fuzz-coated guitars buzz and whine like a beehive, as Corgan triumphantly, repeatedly mewls, "I shall be free!" — A.Z.
25. "Rhinoceros" (Gish, 1991)
Most of Gish found the Smashing Pumpkins kicking their broken-hearted classic-rock evocations into interstellar overdrive, but "Rhinoceros" was always a little more damaged, a little more like "Brain Damage." Flanged guitar lines flip and flutter around young Billy Corgan's splatter-painted poetry. These are 'I Am the Walrus"-esque proclamations of "ice cream snow," "trees and balloons" — but Corgan has a knack for turning those abstract images into deeply cutting nostalgia, like he's ripping split seconds straight out of your childhood. The anxious yearning, wide-eyed wonder, and unrepentant despondency all in equal measure, the key ingredients to the best Pumpkins songs for years to come, so consider this the urtext for their greatness. — C.J.