Why do the Lyons keep hanging out with one another? Well, the answer is because it's a TV show, and the scenes in which Lucious and Cookie are playing power-chess against each other are highly entertaining. But it really doesn't make much sense that these people would meet up to shoot the s**t as often as they do, given how often they've betrayed one another.
So when you have a family of characters who all hate another for very good reasons, what do you do to get them back together? You call the feds. Empire Records is getting raided as the episode opens, and Cookie is ecstatic when she hears the news. As she gallops about on her high horse planning revenge on Lucious (and Becky G), she's nearly hit in the face as the feds slam open the doors to Lyon Dynasty. Besieged by the law, the Lyons have to come together once again — this time with a joint music video staring Hakeem and Jamal. The theme is a Mad Max–style battle between Black Panthers and police officers. It's a big, charged metaphor, but it rings uncomfortably hollow.
"It's not a time for subtlety," Marissa Tomei's Mimi Whiteman explains. "It's time for the Lyons to send a clear message they will not tolerate police harassment of people of color." Thing is, Whiteman, a white woman, kinda seems like she's exploiting this very real, important struggle just to make sure that her investment in Empire Records stays profitable. And Lucious, who 100 percent committed the murder the state is accusing him of, is trying to save his skin and keep Empire together. All this to say that it's an uneasy platform upon which Empire is broadcasting a message that hopefully isn't being undermined.
https://youtube.com/watch?v=0iZZFEjty3g
Thankfully, Empire greys the line somewhat by making the law semi-shady and willing to go to extremes, even though they're largely in the right with this case. During the course of the video shoot, prosecutor Roxanne Ford has Cookie arrested under sketchy circumstances and threatens her with jail time that Cookie's not sure she could survive. While Cookie is behind bars preparing to spill a bogus story to throw Lucious under the bus and get outta jail, the tenuous Lyon alliance falls apart. Jamal is getting ready to be on the cover of Rolling Stone and Hakeem, without the guidance of his mother, throws a tantrum and stabs a painting before walking off the set.
Meanwhile, Andre realizes he has an ace in the hole for getting back in Lucious' good graces — specifically a six-foot-deep hole. See, the state is counting on talking to Uncle Vernon for their case, so Lucious wants him out of the picture. In a happy bit of circumstance, Rhonda accidentally murdered Vernon last season, so Andre and his pregnant wife go to dig up the corpse to show to Lucious, only to hit an unintentionally hilarious roadblock when, after hours of digging, they realize that ALL THE TREES HAVE HOLES IN THEM and they can't find the body. For a minute there it seems like Empire was suddenly going to be a show about a demonic, sentient forest, but then Lucious and his smarmy lawyer show up to help. Together they bond while digging up the body, set to a montage of music by a jazz singer that Hakeem discovered while (sadly) drinking whiskey like a big boy.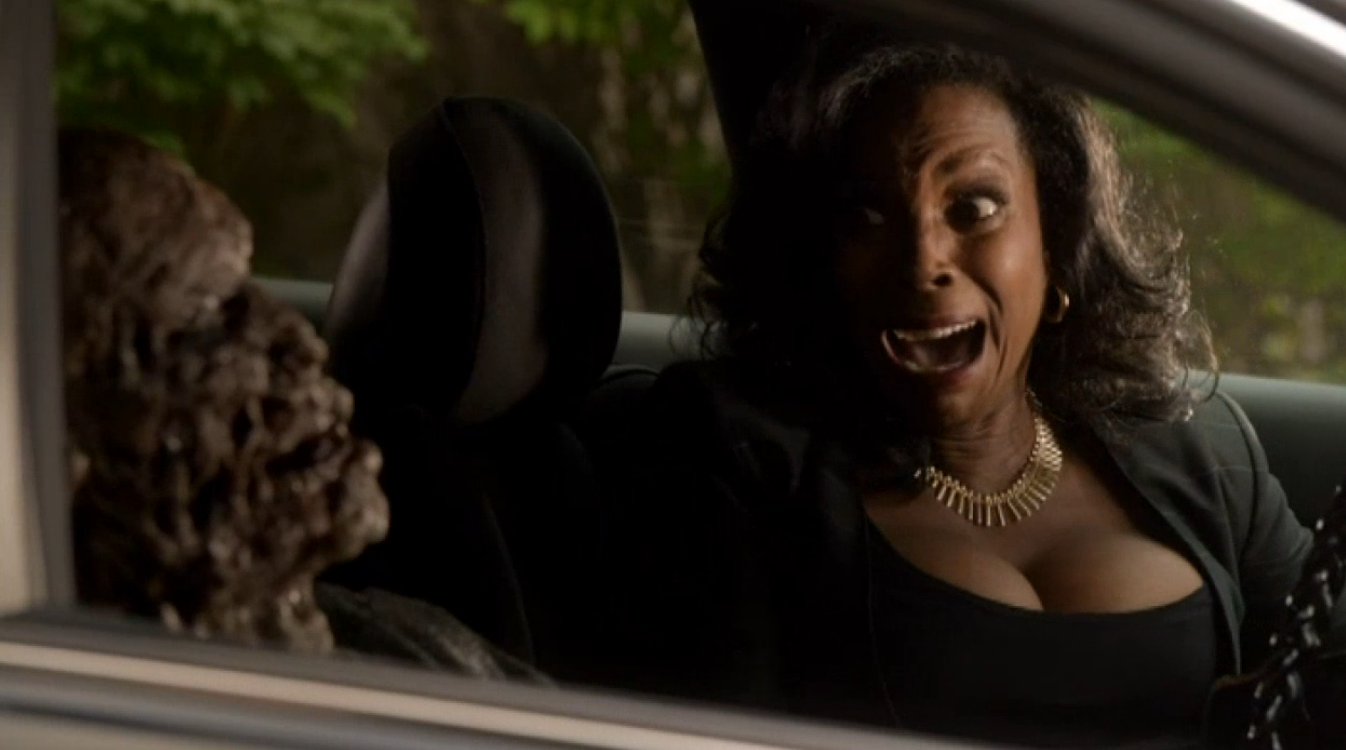 And then they put Vernon's disgusting rotten body in prosecutor Ford's car. It's an exciting episode that once again changes the layout of the various riffs between the Lyons while also painting the feds as the real Big Bad. Hopefully the Lyon family's drama doesn't contradict the massive show's real-world impact too much as the case moves forward.