Update: In other weird Billy Corgan news, he also appeared on TNA Wrestling — for which he serves as Senior Producer — announcing a new tournament to replace the previous champ Matt Hardy, who was unseated due to an "injunction." Watch the announcement below via Pitchfork.
Something's up with Billy Corgan. The Smashing Pumpkins' frontman, who is also known as William Corgan, deleted his Twitter account yesterday, giving up his coveted @Billy handle to go off and start a website about people and their cars. The site, www.peopleandtheircars.com, is essentially just an image-based Tumblr of old, faded pictures of people and their cars, hence the blog's name, People and Their Cars.
"After mulling this for a while," he wrote in a now-deleted tweet, "I'm deleting this account. So many thanks to those that have followed. Find me at: PeopleAndTheirCars.com."
There's an option on the site to join the "Red Border Club," which "offers you not only the chance to receive additional images, but to be 'first-in-line' for updates on new merchandise and forthcoming People And Their Cars/Hexestential books."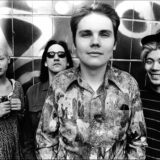 You can see Corgan's growing collection of pictures of people with their cars right here, at peopleandtheircars.com. None of this makes a lick of sense.

You can enjoy this playlist on the go! Download MixRadio for free here