About 70,000 people descended upon a Nevada desert this year to camp within a dried-up prehistoric lake to form Black Rock City. This pop-up city is home to the event many people know as Burning Man, or, a pilgrimage of individuals from around the world celebrating human connection, self-expression, and self-reliance.
First held in 1986, this once-small San Francisco beach gathering has drastically evolved over the years. The organizers behind Burning Man deny any affiliations of being a "music festival," but, for all intents and purposes, this is the wildest music festival in the world.
The denial of their identity as a music festival lets Burning Man rely heavily on crowdsourcing the 24-hour, over-the-top productions, visuals, DJ booths, sound equipment, and world-class music performances to ticket holders. To that end, the festival's overall layout is broken down into different camps with specific art contributions and various themes. Some camps provide morning waffles to attendees, while others offer improv comedy nights, art sculptures, massage, interactive flame throwers, and even a few sex workshops.
Sound camps, meanwhile, are formed to provide dance floors with a specific focus on the expression of music and dance. Although these sections play various genres, electronic music is the dominant sound. Attendees of sound camps, either producing stages or performing, must all provide their own equipment.
Attendees being responsible for their own entertainment is exactly what separates Burning Man from any other music festival. You bought the ticket, and have to do all the work. So then, why are there hundreds of sound camps at Burning Man each year providing extraordinary light shows, massive LED screens, sound speakers, and performances by artists like Paul Oakenfold, Skrillex, Tiësto, Bassnectar, Major Lazer, and Diplo? Syd Gris can be seen as one of the major pioneers for evolving the music community of Burning Man to what it is today.
Gris is the co-founder, lineup curator, and overall production director for more than 13 years with the sound camp known as Opulent Temple. This camp has seen performances from several of the aforementioned DJs (Tiësto, Diplo, Skrillex, and Bassnectar) Carl Cox, Infected Mushroom, Sandra Collins, and more.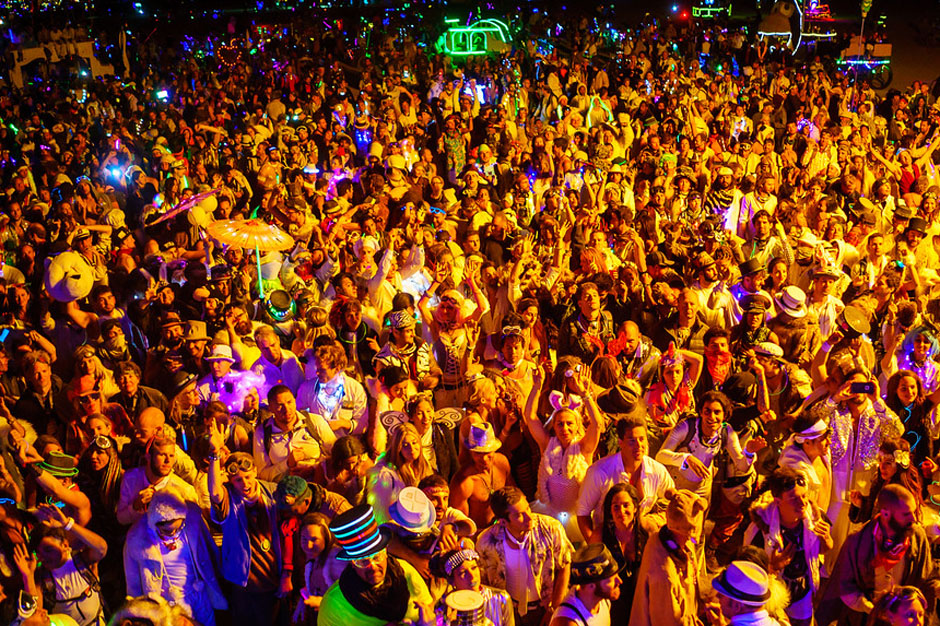 Opulent Temple is the longest-running large-scale sound and art camp which first began with a mere core group of about eight people and a handful of supporting campers. Now they consist of 15 core members, 30 annual "do-ers," and an endless list of campers that come out to help.
Opulent's major objective is twofold: to provide a platform for spiritual dance expression and for DJs to explore the more artistic (and perhaps unacknowledged at other commercial festivals) side of their craft. Because of this, major DJs from around the world looking to become a part of the "burner" community seek out Syd Gris directly.
Unfortunately, many past attendees of Burning Man tend to look negatively towards sharing their unique gathering with too many outsiders, especially big-name celebrities and musicians. Opulent Temple, though, maintains an openness to freely sharing their stage with these performers providing restrictions towards avoiding commercial sets and a focus on providing a unique musical experience complimentary of true, expressive meaning of Burning Man.
Infected Mushroom is an Israeli psytrance electronica duo and one of the world's top DJs, having played at festivals around the world such as Ultra and Coachella. They have also performed numerous years at Burning Man with Opulent Temple. "Our manager told Syd that the Infected boys were thinking about coming to Burning Man — I think in part influenced by DJ Paul Oakenfold, who played with Opulent Temple previously," said Infected Mushroom. "So either through Oakenfold or Opulent Temple's playa reputation, our manager knew to get in touch with Syd about performing out there and the rest is history."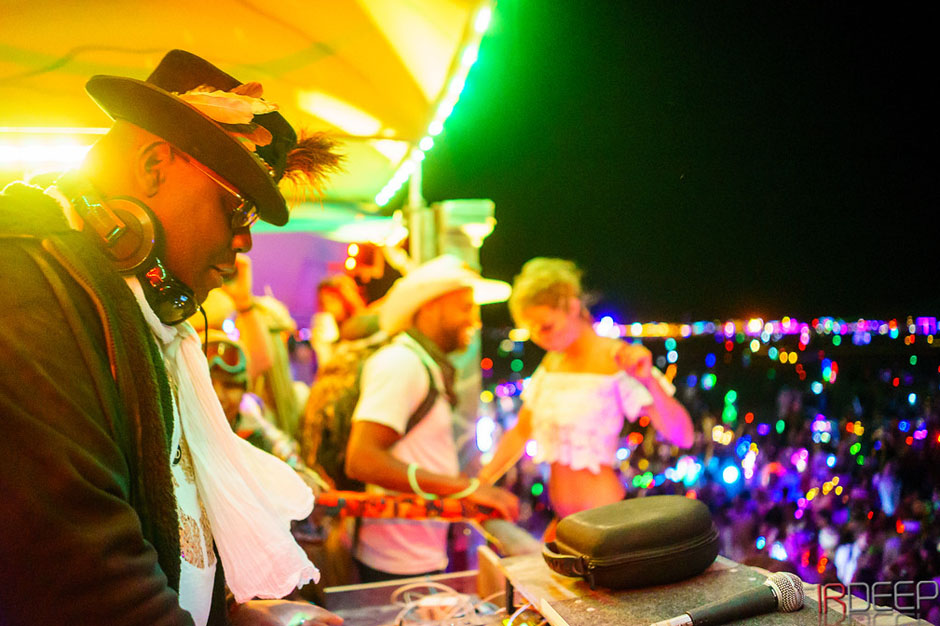 "We love the free environment," Infected Mushroom continued. "We came from a generation of crazy desert parties in Israel, this was like that on steroids. We have always enjoyed trippy shit, and Burning Man is the epicenter of crazy art, music, and people. It's right in our wheelhouse. It's one of the only parties we would consider going to, even if we weren't on the lineup."
This year, Opulent Temple took a step away from their typical stage build for their popular Wednesday night "White Party." Instead, they provided attendees a truly magical alternative that captured the true essence of Burning Man by forming a commutative stage consisting of multiple art cars from other camps. The Opulent team set up their DJ stand on top of an art car, outfitted with large speakers, to drive deeper into the open center area of Burning Man. Various cars from other camps outfitted with large speakers met them at a specific location and linked up wirelessly through RF technology to form a makeshift half circle dance floor. While each car was synced directly to the Opulent DJ performance, additional art cars unaffiliated with the camp would drive in and the Opulent workers would link them up to join the party as well.
Syd Gris is both humble and gracious when describing the tireless work he's devoted to provide a unique and art-filled dance experience for Burning Man attendees. SPIN caught up with Gris for a brief interview during this year's 2015 Burning Man.
What was the sound camp scene like when you arrived at your very first Burning Man?
Back in 2001, there were certainly less of them and most every scale of production was downsized compared to current standards of Burning Man sound camps, especially the scale of sound systems. I say that mostly because camps such as "Lush" in 2004 and "Sol System" that same year (fondly known as Sol Henge) were even by today's sound camp's standards massive productions, but those were definitely outliers and seemingly burned both crews out because neither ever came back after that year. The first Opulent Temple in 2003 had a huge open air steel tension dome, as well as other art projects for the camp such as papier-mâché statues, a stage we built but never really completed so never made it up, and fire lanterns that leaked kerosene on the playa.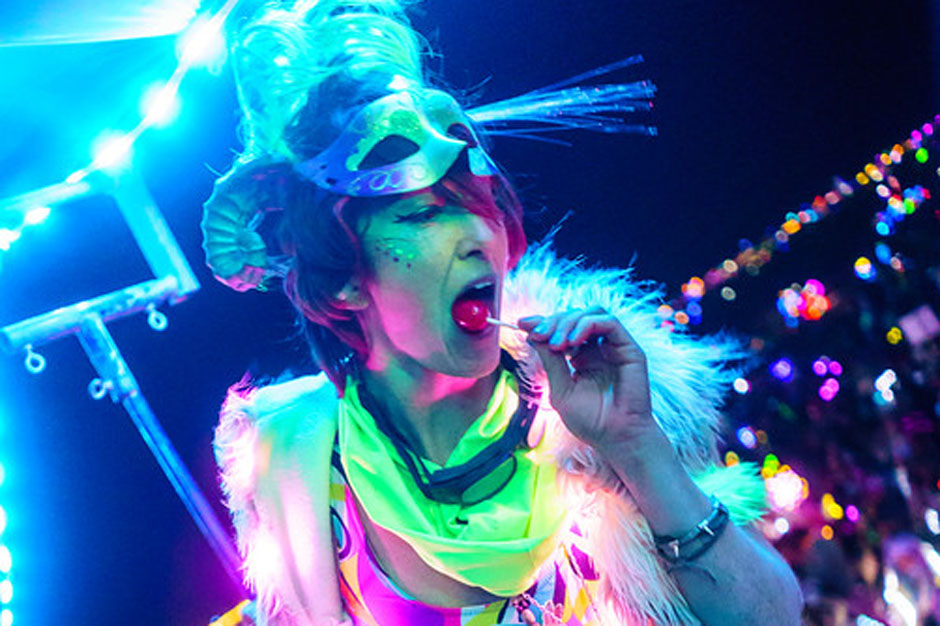 What was the goal of Opulent Temple when you first set out to create it?
The mission statement was always articulated and true from the beginning. The night of our first party at OT, which was our Wednesday night "White Party" — we thought we'd be ready Tuesday, but we weren't — I gave my girlfriend at the time a spoken-word script I had written for her to read while she hid behind the DJ booth so no one would know where the voice was coming from or who was speaking. The message was directed towards realizing one's divinity and taking that knowledge into social action. But the less idealistic motivations were also present from the beginning as well — to create a sound camp so I could DJ at it, to put my own musical taste imprint on the soundscape options at Burning Man, and to have a platform for own creative contributions to the event.
Is it true that you fought for the rights of sound camps at Burning Man?
Yes, I organized a bunch of camps in 2008 including representatives from camps like El Circo, the Deep End, Green Gorilla, and others to approach the Burning Man organizers to request some changes and support. The premise was basically that collectively we've felt like we give a lot to the event. Which, of course, is fine; it's why we started creating such camps in the first place. But we hoped we might get more support and resources from the organizers to do what we do since it is our perception the role of the Large Scale Sound & Art Camps had evolved to be an integral part of a large number of attendee's experience and reason for coming. What we asked for and what we got for our efforts were different. Spoiler alert: not much!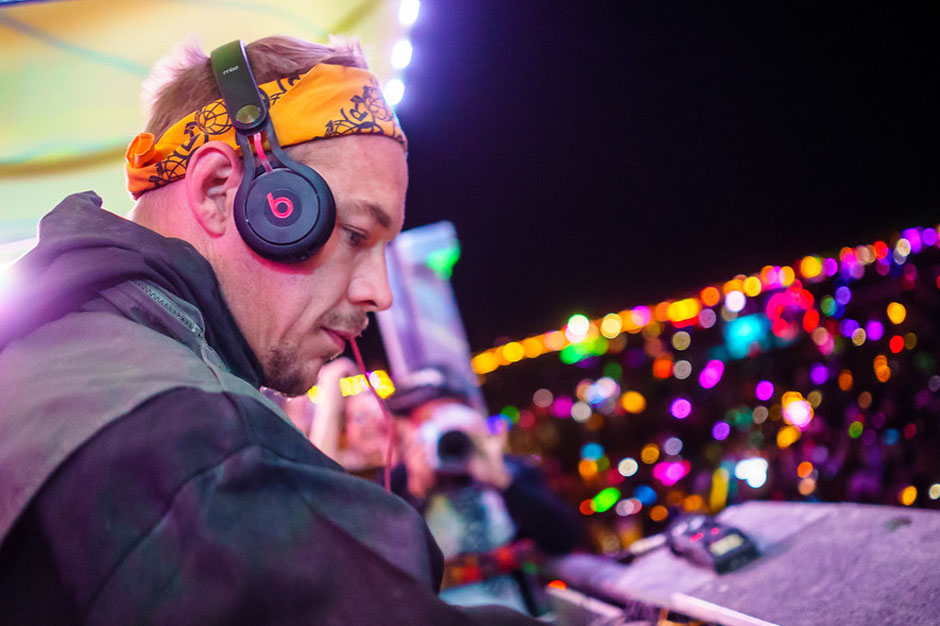 You've attracted some highly sought after DJs. How did you get them to come out to the desert and give a free performance?
Burning Man is unique because it's various parts including atmosphere, unparalleled DJ set environment, and playing in the desert with a group quality party professionals who are there to dance for six-plus days.
Scumfrog first showed up without a ticket with the impression he was on the guest list because he was performing — not his fault as he was new to Burning Man and it wasn't as popular at the time. There was no service at Burning Man back then, so he was forced to buy himself and his whole crew tickets to get in. He never asked for reimbursement afterwards and has been back almost every year since.
Did artists like Tiesto find it unique having to purchase their own ticket?
Yes. We are a volunteer and fundraising camp. All the equipment, food, shelter, and electricity comes out of our own pockets, while we all have day jobs outside of Burning Man. He provided a donation to our camp debt after he played for us in 2005, he said, "It's the only time I've paid someone to play for them."
Can you describe some of the special effects you've added over the years?
Just about every year we have built some new art element for the camp. We're big on making our own production offerings — i.e., instead of renting LED screens, we make our own unique visual frames or 3-D mapping screens — and we're big on our own homemade flame effects.
Is there a sense of camaraderie between various sound camps?
By and large yes, though at times we can't help but be competitive for talent, placement, and spectacle, though people are very supportive and help each other in inevitable pinches.
What did Opulent Temple do to set the standard for today's music scene at Burning Man?
What we did to raise the bar was really just building on the precedence of the great camps that came before us but taking it to a higher level. We make our own art and the production pieces that make up our camp, and we build new stuff every year to add to our recognizable look. We were the first to have a DJ-operated flame-throwing booth, and [we were] the first to consistently bring out an eclectic range of so-called 'big-name' DJs, and we did it all year round through volunteers building the camp and making the art.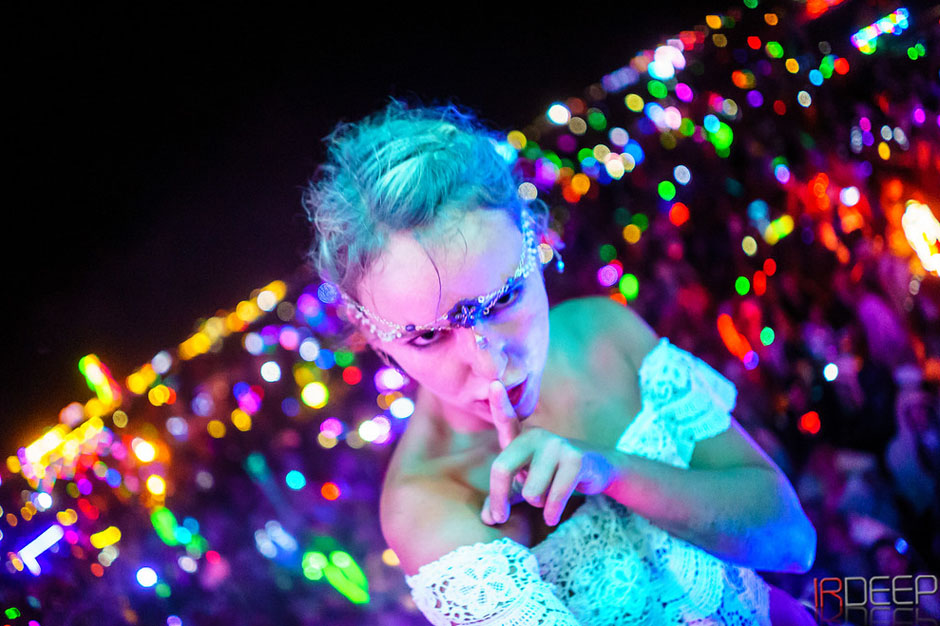 What was the initial feedback when your camp began to bring in these big-name DJs?
Like most things, I'd describe the response as a bell curve. Some absolutely hated it, some absolutely loved it, and most were somewhere in the middle. Because we tried to offer something for everyone, I think it helped people accept that if they didn't care for what we had going on one night, they might [care] the next night. Plus, it's important to remember in a typical night filled with 11 hours of non-stop music, only two-three [acts] would be so-called guest headliners, and the rest were performances by the camp members who built the camp.
What's the future of the music community of Burning Man? Will the music be too much and eventually take away from the art as it slowly becomes the main attraction?
I think people's association and experience of Burning Man — unless something drastically changes — is always one of art and music. For now, it is by far primarily dance music. Though it sounds ironic to say, in one light you could say the organization has gone to great lengths to do nothing to support music at Burning Man beyond allowing it to exist. They do a lot to nurture the art scene, so I don't see it becoming too much.