SPIN Rating:
Release Date:
September 11, 2015
Label:
Nuclear Blast
Given Slayer's legendary status, a smidgen of deference was to be expected upon the arrival of Repentless, the 11th studio album from the thrash-metal icons. Slayer has more than earned our love and respect over their three decades of uncompromising existence, and after the loss of co-founding guitarist Jeff Hanneman and split with key drummer Dave Lombardo, no one would've blamed them for coasting into retirement. The fans didn't ask for a new album — we're more than happy to spin well-worn copies of Reign in Blood and cheer along once the Slaytanic Wehrmacht rolls into the nearest concert hall — but were given one anyway, a gift as welcome as glitter shower gel at Christmas, when the machine that powers Slayer the brand as well as Slayer the band decreed that it was time for them to scrabble together a new album. Nevertheless, we dutifully remain listening long after ambition is outranked by obligation.
Given the band's own unflinching legacy, handling a frustratingly middling new album with kid gloves seems like more of an insult than a kindness. They're big boys; surely they can handle the criticism. Simply put, Repentless rings hollow. Paul Bostaph and Gary Holt know a good meal ticket when they see one; Tom Araya just wants to go home to his kids, and Kerry King is the only one who really seems determined to keep pumping out Slayer jams. Now that Hanneman is gone, King's taken over the lion's share of the songwriting to adverse effect. With Hanneman alive, even 2009's World Painted Blood had its moments, but Repentless mostly falls flat.
Despite a clenched fistful of highlights, the songwriting feels bogged down in too many of the boneheaded nü-metal chugs that plagued their '90s output, which have sadly proven irreversible over time. Speeds vacillate between mid-tempo plodding and a few faster gems like "You Against You," which snaps and bites with punk audacity, seasoned with screaming solos over top. Even better is the title track, a bracing homage to their fallen friend that's the most compelling song they've churned out in a decade. "When the Stillness Comes" is satisfyingly murky, anchored by a robust performance from Araya, and the Hanneman-penned "Piano Wire" conjures up a groove that feels more sinister than schlocky, but that only makes his absence more gutting. From there, it's slim pickings though: King's riffs feel gutless, and Araya's voice loses its gravitas when barking out skin-crawlingly silly lyrics as on "Vices"; if I wanted to hear a man as old as my father yelling, "Let's get high!" it certainly wouldn't be over a recycled Machine Head riff — you're better than this, Tom.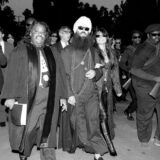 Make no mistake: These four men are consummate professionals, a couple of them even hall-of-famers. There's no universe in which Slayer 2.0 will ever release an outright unlistenable album; they're too steadfast and committed to what they know even with the rust. Repentless was never going to be Lulu, though the lack of surprises amongst diminishing returns is almost as bad. There's a strong possibility that they'll just continue to release uninspired but serviceable albums once every few years, stocked with okay songs designed to pad out the set between "Angel of Death" and "God Hates Us All" — and that's exactly what they've done on Repentless.