SPIN Rating:
Release Date:
September 25, 2015
Label:
Matador
"I could be one thousand miles away / But still mean what I say." That's a line that many reviews of the latest Kurt Vile album, b'lieve i'm goin down…, are likely to latch onto and extrapolate from (or should, at least). No other lyric from b'lieve better encapsulates the dynamic at work in Vile's songwriting: that of the level-headed daydreamer, someone whose perspective remains down-to-earth even as his head finds a cloud to rest upon. The many who have pigeonholed the 35-year-old Philadelphia native as a "stoner" aren't paying close enough attention; yes, his eyelids often appear heavy and yes, the Stay Puft Marshmallow Man does show up in the middle of the new record, but, as he indicated in a recent interview with Grantland, Vile rarely smokes weed. He just happens to enjoy philosophizing and vanity spelling.
There's a distinct lexicon to Vile's output. Strumming guitar is "All in a Daze Work," per one song title; people can't ever really know if someone else is just faking their way through the day-to-day, but "That's Life, tho (almost hate to say)." And Vile matches these off-key clichés with a singular speak-sing rhythm, drawling out observations and testing the elasticity of his syllables. Less patient listeners may find his songs aimless, kindred spirits will happily drift along.
The making of b'lieve i'm goin down… — Vile's sixth album and fourth of his fruitful tenure on Matador — brought the singer-songwriter out to the California desert, specifically to Joshua Tree's Rancho de la Luna, a recording studio frequented by Queens of the Stone Age (among many others) and mythologized on Dave Grohl's HBO documentary series from last year, Sonic Highways. He laid down tracks in a few other locations (studios in Brooklyn, Los Angeles, and Athens, Georgia), but it's the desert setting that blankets the album and looms largest in Vile's mind — at least that's the impression he gave when talking to SPIN earlier this year. "I recorded one of my favorite songs ever," he said. "Everybody went to bed and I couldn't sleep. I kept listening and then the sun came up and all of a sudden I just looked around me and I could see everything for miles and I was like, 'Man, I just recorded my best song ever and I'm here in the middle of nowhere in the most beautiful, mystical, magical desert.'"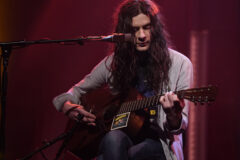 The song in question — as he clarified in an A.V. Club Q&A — is the nocturnal "Wheelhouse," the album's elliptical, six-minute centerpiece, which is content in its solitude ("But you gotta be alone to figure things out sometimes," Vile sings, "Be alone, when even in a crowd of friends and not so") and relieved to stir within itself. But it's a testament to the overall quality of b'lieve and the talent of its creator that, had he not explicitly said so, it wouldn't be readily apparent which song he was crowning his best to date. Opening number "Pretty Pimpin" (the source of that "thousands miles away" line) is a worthy challenger, easily the most engaging and jaunty-sounding single Vile's bothered to push to radio yet (OK, SiriusXMU, but still). At just under seven minutes, "Lost my Head there" stands out not just as the longest piece on the 12-track LP, but also the lushest, coating its piano strut with rippling sound effects and subtle horns that swell and dissolve — all this after Vile opens by singing, "Lost my head there / I don't wanna sit around, walk around today / I'd much rather levitate."
Lyrically, Vile plays to type on b'lieve i'm goin down…, grasping at ideas that often feel just beyond words and grounding them with uncomplicated language, blending a sense of the cosmic with the reality of the quotidian, and demonstrating a way to be by playing with adages. (See the low-key victory that is "Life Like This": "Wanna live, wanna live / Live a life like mine / Well I been doin' it, baby, all the time / To do so you gotta roll with the punches.") From a purely musical standpoint, Vile's at his most varied here, dabbling with piano and banjo in places and eschewing the gold-toned guitar that dominated his fifth full-length, 2013's fawned-over Wakin on a Pretty Daze. As sublime and enveloping as that 70-minute beauty was, it was a wise move to shy away from that same sort of density; it's telling how much lighter b'lieve feels, despite being just nine minutes shorter. 
B'lieve bears a much closer resemblance to Vile's true breakout, 2011's Smoke Ring for My Halo. But even though the late-night atmosphere carries over, the haze isn't quite the same. The production on b'lieve i'm goin down… (largely handled by the man himself along with Rob Laasko, who plays in Vile's backing band, the Violators), feels cleaner, more open, even outdoors-friendly; all the better to bask in the nighttime desert sky and get lost in the stars.