Las Vegas' Life Is Beautiful festival, now in its third year, ironically features no gambling. What it does have, though, is a lengthy list of veteran musicians (Stevie Wonder, Duran Duran, and Weezer all headlined), local artists, chefs, and speakers.
Held in Downtown Sin City, as opposed to the Strip, the fest happened a few blocks beyond the kitschy-trashy Fremont street, which entices tourists with a cartoonish array of tabletop-dancing sirens and nightly sing-alongs of "America the Beautiful."
Once we pushed past the initial throng of Chippendales men and kiosks selling "Big Balls" (a.k.a. oversized Mardi Gras beads), we found a promising selection of musical up-and-comers: Top Dawg's SZA, R&B chanteuse Pia Mia, retro-soul songstress Andra Day, alt-pop powerhouse Meg Meyers, low-key dance master Giraffage, and more. Here are SPIN's Best Bets from Life Is Beautiful 2015.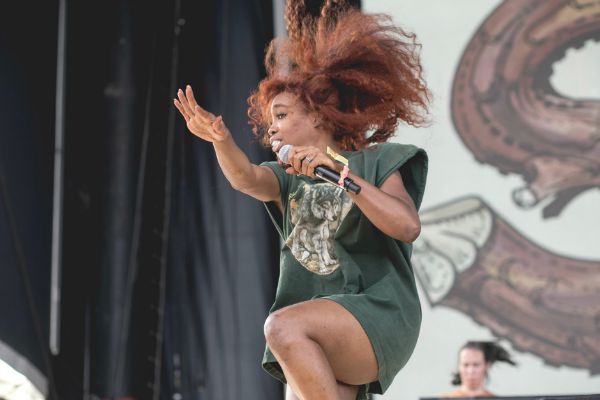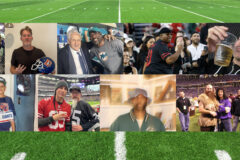 SZA
Alt-R&B spark plug SZA (born Solana Rowe) caught Perry Farrell's attention during her Lollapalooza set back in August. Mid-interview backstage in the press tent, the Jane's Addiction singer interrupted himself and said, "I want to know who this is," he said. "She's got a good voice."
And that's true even when SZA's sick with the flu. During her Vegas set, the wild-haired singer bounded across the stage and praised the audience for attending her set in 100-degree heat before admitting to feeling ill. Though her condition didn't appear to directly impact her set (save for a few throaty coughs), her health finally caught up with her about 20 minutes in. At first, the New Jersey-bred talent high-kicked and undulated her way through shuddering slow jams like "Babylon," "HiiiJack," and "Child's Play," but soon she turned to one of her keyboardists, shook her head, and mouthed something that seemed to indicate that she wasn't going to make it all the way through. No one blamed her. After all, one can only Tina Turner-dance in triple-digit weather so much before suffering heatstroke — flu or no flu.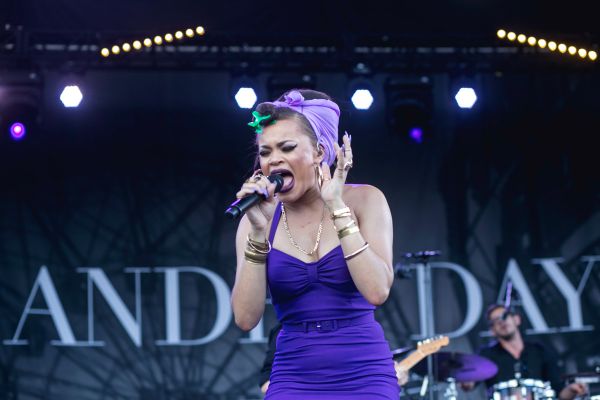 Andra Day
Downtown Las Vegas already has something of an aesthetic love affair with '50s rockabilly fashion, and retro-soul singer Andra Day embodied Sin City's beloved look and sound with total precision. With clipped-back hair wrapped in a kerchief and slinking around in a purple sweetheart-necked dress, Day also demonstrated her mid-century sonic tastes with Eartha Kitt- and Billie Holiday-influenced jazz-pop tracks. The horn-accented "Only Love" sounded like it could've come straight off of Amy Winehouse's Back to Black, the gospel "Rise Up" gave Day's remarkable vocal chops room to stretch, and the audience even got treated to some traditional hip-hop and reggae with covers of Bob Marley's "Could You Be Loved" and Eminem's 8 Mile anthem, "Lose Yourself."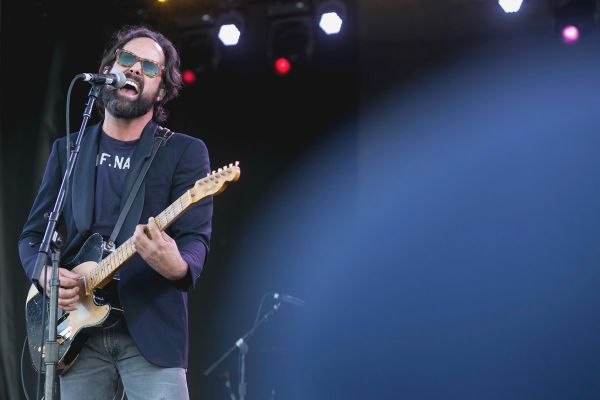 Big Talk
It's not often that you get to hear a drummer sing lead vocals, but Killers percussionist Ronnie Vannucci, Jr. did so with aplomb in his pop-rock collective Big Talk. The songs, which included tracks like "Getaways," "I've Been Sentimental Lately," and "Katzenjammer" were nothing especially groundbreaking as far as sugary, feel-good guitar fare goes, but each track went down warm and familiar.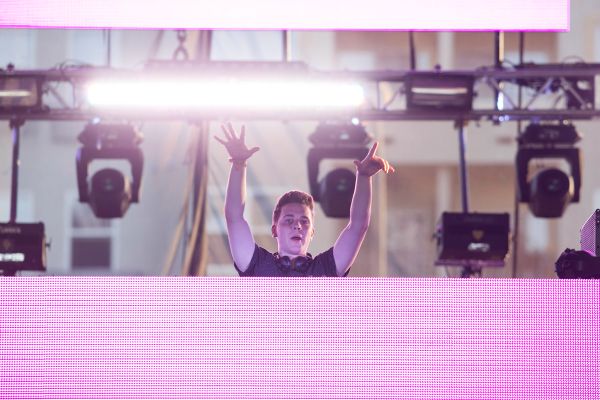 Felix Jaehn
Some tents at Life Is Beautiful were explicitly marked with "21 and over" signs. The Troubadour tent, where German deep-house producer Felix Jaehn spent an hour, may as well have been marked "25 and under." Fortunately, Jaehn's good-natured, peace sign-throwing moves were so contagious that I shook and swayed with every crop-topped girl and facial hair-free guy to reworked tracks like Major Lazer's "Lean On" and the Weeknd's ubiquitous "Can't Feel My Face." On the other hand, it was hard to miss the irony of a crowd in Dr. Martens and tattoo chokers barely registering Jaehn's end-of-set throwback to Corona's 1993 jam, "Rhythm of the Night."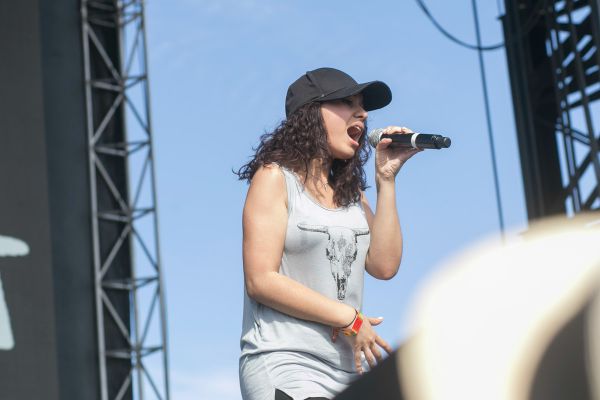 Alessia Cara
It'd be a glaring understatement to say that retro-R&B up-and-comer Alessia Cara has got some buzz surrounding her and her recently released EP, Four Pink Walls. Boasting accessible could-be hits that touch on universal coming-of-age issues like not feeling a party ("Here") and learning to stay grounded ("Seventeen"), Cara gave a perfectly enjoyable performance, often pausing to converse about the boiling weather ("Are you hot? 'Cause I'm hot"). Her greatest asset is the immense positivity she brings to the stage, both with friendly banter and tracks that deal with body image and the importance of being the truest you you can be.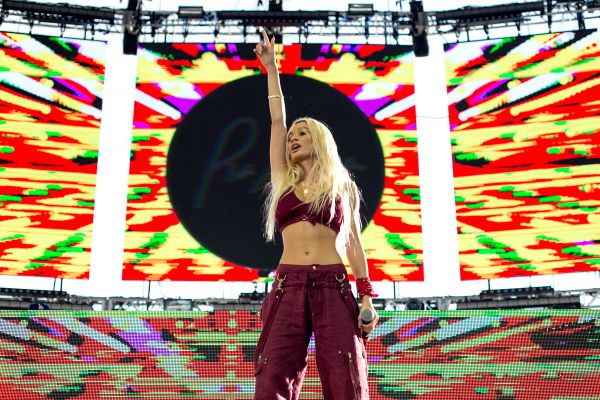 Pia Mia
If you absorb anything from this blurb, let it be that the doll-like Guamanian pop'n'b singer has a lot more going for her than the tabloid company she keeps. (The 19-year-old reportedly hangs out a lot with Kylie Jenner and Tyga.) Rolling onstage with a posse of booty-popping backup dancers, Pia Mia — whose full name is Pia Mia Perez — popped plenty on her own during silky tracks like "Do it Again" and "F–k With You." When not singing her own material, Mia found time to unleash a full-bodied cover of Drake's "Hold On, We're Going Home" and a rippling dance routine to Fetty Wap's "Trap Queen." Keep an eye on this one — she's a born entertainer.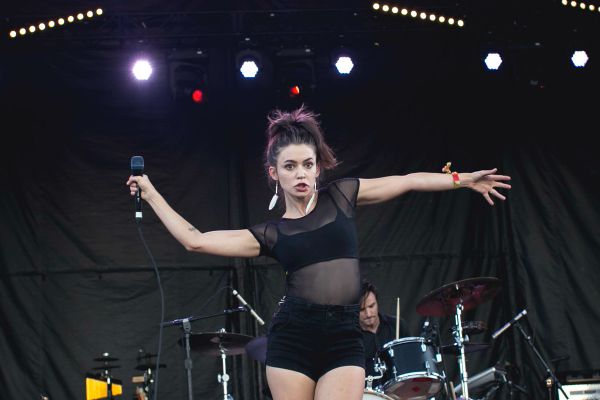 Meg Myers
In town to promote her just-released debut LP, Sorry, Meg Myers didn't make eye contact with anyone as she approached the microphone. It was a bit of a departure from all of the artists profusely thanking their audiences for showing up to their mid-day sets in the unforgiving heat, but it soon became obvious that Myers' deadpan demeanor is a key ingredient to what makes her presence so jarring.
Playing across a spectrum of modern alternative pop, Myers' stiff-puppet dance moves and glass-shattering shrieks ("Lemon Eyes," "Motel," "Desire") can and should earn comparisons to such contemporaries as the perpetually scowl-faced Sky Ferreira or '90s dramatists like Sinead O'Connor and Fiona Apple. She might want you to hate her, but good luck trying.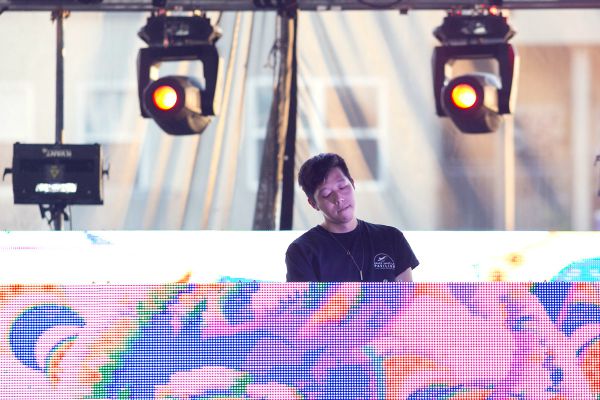 Giraffage
After a mess of fist-throwing roof-raisers at the Troubadour stage, Giraffage (real name: Charlie Yin) may as well have swapped Molly for muscle relaxants with some easygoing lo-fi electronica. Even the audience's energy had noticeably changed: bodies stopped jumping and started wavering in the shade. Instead of unfurling visual homages to the now-retro '90s, Yin blasted '80s Commodore-looking animation to accompany his eight-bit blip arrangements and slo-mo R&B reimaginings. After so many DJs getting good and turnt up at the Troubador, Yin's set was a welcome cool down.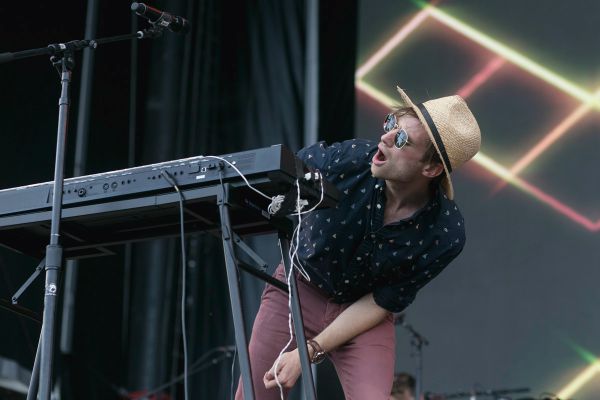 Saint Motel
If it was piano-pop troupe Saint Motel's intent to make their audience leave the festival grounds with a smile on the final day of L.I.B., then let the record show that they succeeded. Frontman A.J. Jackson was all grins as he alternated between guitar and keys through bombastic, sax-tinged cuts like "My Type," "Cold Cold Man," and "Daydream/Wetdream/Nightmare." It takes a certain kind of hyper-posi (but not overly cheesy) energy to jerk a beleaguered crowd awake from their desert-heat stupor.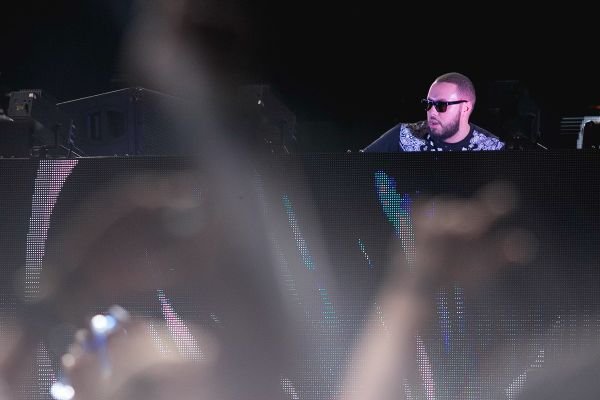 Mercer
Back in the kiddie tent (also known as the Troubadour stage), French DJ Mercer spun a batch of hard-hitting electro-house topped off with dizzying strobes and loud, proud "M"s on the projectors. Even a fresh strain of outlandishly styled audience members rolled in to greet their leader; one girl exercised her right to free the nipple (does it count if duct tape covers the areola?), and onlookers gawked, then promptly pretended not to gawk. What happens in Vegas, right?
All photos by Mallory Turner