I was flattered, of course, when SPIN decided to put my 5,000-word thinkpiece contrasting the 25th anniversaries of Woodstock and the Manson Family murders on the cover of the September 1994 issue (if I recall correctly, I think it bumped off Kate Moss), but also a little embarrassed. After all, my essay culminated in a screed decrying the lazy, persistent use of Charles Manson as a countercultural signifier, and now here was Charlie on the cover of SPIN in a bloodcurdling stop-sign red and white, casting his witchy glare from newsstands yet again. Kind of a mixed message, no?
Looking back, the apex of the knee-jerk negativism I was exhorting against was still a few years off, probably cresting with the "Break Stuff" nihilism of Woodstock '99, while the poster child for the cruel kitsch I termed "concentration camp" would ultimately turn out to be Marilyn Manson, then still a neophyte who I actually interviewed for the story but ended up cutting out because he had nothing remotely interesting or original to say (surprising, eh?). Even though my article was published long enough ago that it recently celebrated its own 15th anniversary, Charles Manson remains a durable icon of lurid fascination — on weekends he's still the "M" in MSNBC — but does anyone remember who in the helter skelter Evan Dando was?
— Mike Rubin, as taken from SPIN Greatest Hits: 25 Years of Heretics, Heroes, and the New Rock'n'Roll
[This story was originally published in the September 1994 issue of SPIN. We originally republished this piece as part of our ongoing "30 Years, 30 Stories" series in honor of SPIN's 30th anniversary, and are resurfacing it for Woodstock's 50th.]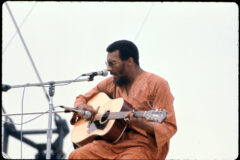 "Well it's 1969 OK / All across the U.S.A. / It's another year for me and you / Another year with nothin' to do…" — The Stooges, "1969"
It's a bit unfair to use the benefit of hindsight's bifocals to cast doubt on the Nostradamic abilities of Iggy Stooge, but in retrospect 1969 was anything but just "another year" for me, you, or anybody. Although 1968 — with its tragic assassinations of Martin Luther King Jr. and Robert Kennedy and violent upheaval in the streets — is generally considered the most turbulent year in modern American history, 1969, specifically its summer months, has proven to have had a more lasting resonance among the various streams of  popular culture.
Consider these cataclysmic happenings. On June 28, 1969, a routine harassment raid by police on a gay bar called the Stonewall Inn in New York City's Greenwich Village touched off several days of rioting, inaugurating the modern gay-rights movement. On July 19, on an island off Martha's Vineyard named Chappaquiddick, Massachusetts Senator Ted Kennedy deep-sixed his presidential hopes permanently when his car swerved off a bridge and into the drink; Kennedy escaped, but his companion, young campaign worker Mary Jo Kopechne, remained trapped in the car and drowned. Astronaut Neil Armstrong's stroll on the surface of the moon on July 20 neatly marked the end of the first era of human progress, as man physically reached past the confines of Earth to touch another celestial body. And somewhere in Canada, Bryan Adams got his first real six-string, bought at a five-and-dime, and played it till his fingers bled.
The summer of '69, however, is most closely associated in the collective memory with Woodstock, the legendary concert festival that has come to symbolize the breakthrough of rock culture into the mainstream as an unchallenged commercial force. From August 15 to 17 in Bethel, New York, a sleepy rural hamlet 90 miles north of New York City, a 600-acre dairy farm and alfalfa field was transformed into what was advertised as the "Woodstock Music and Art Fair Presents: An Aquarian Exposition." Organizers planned for a crowd of 100,000 paying $18 each, but when almost 500,000 young people showed up and stormed the gates, the event became a celebration of things free: music, expression, spirit. A million and a half more concertgoers remained in traffic gridlock for 20 miles outside the site, but those who got in braved a steady downpour and a sea of mud to enjoy a lineup of 27 of rock's top acts, including the Who, Creedence Clearwater Revival, Janis Joplin, Crosby, Stills, Nash and Young, and, lest we forget, Sha Na Na, before Jimi Hendrix brought the festival weekend to a close with an electrified rendition of "The Star Spangled Banner" which for many heralded the dawning of "the Age of Aquarius."
But just how long a cultural moment was this Aquarian Age? Across the country in Los Angeles, less than a week before the festival, on the evening of August 9, intruders snuck into the Benedict Canyon home of filmmaker Roman Polanski and brutally murdered his wife, actress Sharon Tate — eight months pregnant — and her guests: Hollywood hairstylist Jay Sebring, coffee heiress Abigail Folger and her boyfriend, Polish emigré and pharmaceutical enthusiast Voytek Frykowski, and wrong-place-at-wrong-time teenager Steven Parent. The next night in L.A.'s Los Feliz neighborhood, grocery-store owner Leno LaBianca and his wife, Rosemary, were similarly slaughtered. Linking the two crime scenes was the barbarity — a total of 169 stab wounds between the seven victims — and the bizarre messages scrawled on the walls in the victims' own blood.
Three thousand miles apart, the crimes and the concert seemed to have no connection, aside from some festival-goers hearing about the murders on the radio as they drove up through the country toward Bethel. But the subsequent arrests of hippie doppelgänger Charles Manson and his confused and drug-addled band of youthful followers proved to be far more sinister and pervasive than any brown acid making the rounds at Max Yasgur's farm, serving to symbolically bum out all the good vibes that the Woodstock Nation had wrought, and subsequently giving birth to a persistent nihilism and knee-jerk cynicism that dogs rock's underground circles to this day.
Twenty-five years later, the anniversary of Woodstock is being marked by a fanfare of media memoirs, CD and movie reissues, and at least two different festivals in the general vicinity of the original show. The anniversary of the Tate and LaBianca murders, however, is being celebrated in its own determined, if less spectacular, fashion, especially by a growing subculture that views Manson as some sort of a misunderstood hero. Mythologized, if not lionized, by the likes of Axl Rose, Evan Dando, and Trent Reznor, among others, Manson is now a familiar figure on album covers, poster art, and T-shirts. As the most enduring symbol of the death of flower power, he's earned a high countercultural Q-rating as an unwitting theoretician of punk, exerting an influence on rock's anti-establishment attitude that has yet to be fully measured.
To get to the bottom of the purportedly pessimistic outlook of Generalization X (and then go back to the top of the slide), one has to start with Charles Manson. Approaching the silver anniversary of his crimes, Manson is the only figure who can compete with Malcolm X for the kind of iconic power that attracts disenchanted, disenfranchised, and disaffected white kids. Given the option between Woodstock's and Manson's subtexts — love or hate, peace or war, tastes-great or less-filling — young people are making a surprising choice, perhaps not even fully certain of who Manson is and what he stands for. In the words of graphic artist and subcultural observer Frank Kozik, "Charlie's winning."
[featuredStoryParallax id="163977″ thumb="http://static.spin.com/files/2015/09/woodstock-1969-1-145×145.jpg"]
Sorting out all its historical significance 25 years down the line, 1969 flickers as a schizophrenic year full of contradictory messages. Of course, the number "69" visually resembles a yin-yang symbol, so a sense of duality does seem implicit. Thus, it's somehow fitting that there will be not just one, but two anniversary concerts to mark Woodstock's first quarter-century.
On August 13 and 14, on the original Sullivan County site of Yasgur's farm, a rather modest show with the name of Bethel '94 will take place, featuring Woodstock '69 veterans like John Sebastian, Richie Havens, Melanie, and Country Joe McDonald. Meanwhile, on the same weekend in Saugerties, New York, 50 miles to the northeast, the promoters of the '69 festival will present Woodstock '94, "Two More Days of Peace & Music," with a lineup of over 24 bands including Aerosmith, Metallica, Arrested Development, the Red Hot Chili Peppers, Bob Dylan, Porno for Pyros, and, according to the concert's press release, "the greatest array of port-a-johns' in the history of Western civilization." The Saugerties show is planned as a massive affair combining good-ol'-days cause-thumping (excepting the booking of unrepentant homophobe Shabba Ranks) and state-of-the-art technology, with an interactive theme park, food markets, an environmental awareness area, pay-per-view satellite hookup, and a feature film and soundtrack album already in the offing. Virtual utopia, anyone?
All the nostalgic hoopla, of course, is predicated on the notion that Woodstock '69 was an event worth emulating. After all, there were other large music festivals at the time; why doesn't the zeitgeist cry out for "Monterey Pop '92" or "Isle of Wight '95?" According to Woodstock '94 co-producer Joel Rosenman, Woodstock ushered in an understanding of "Aquarian qualities," which he defines as "a heightened sense of importance placed on the attributes of community, neighborliness, love for other people, respect for the planet… and tolerance for diversity."
"It seemed like the dawn of a new age," says Rosenman. "Kids who had previously been convinced by the establishment that they were aberrations stood up, looked around, and saw half a million of themselves as far as the eye could see, and suddenly realized that they were not weirdos, that they were the new generation."
"It was the high-water mark of people's ideals actually coinciding with their behavior," says Atlantic Records' president, Danny Goldberg, who covered the '69 fest for Billboard. "It became a symbol of what people can do as a community, even if most of the time we don't."
"It was the first time so many people were together without it being a demonstration," muses Rick Danko of the Band, who performed at Woodstock '69 and may also play at the Saugerties show.
"The goal," says satirist Paul Krassner, who watched the show from the press tent, "was to try to bring the feelings that you had at Woodstock into the real world."
Ed Sanders, author of The Family, calls Manson "a performance artist" who "probably polishes the swastika on his forehead" when he knows that Barbara Walters is coming.
Back in the real world, not every observer among the countercultural critics present was so enamored of what they had witnessed. Ellen Willis, reviewing the festival for the New Yorker, warned that "before history is completely rewritten… [it should be noted that] the cooperative spirit did not stem from solidarity in an emergency… so much as from a general refusal to adopt any sort of emergency psychology," adding that "by Sunday I couldn't help suspecting that some of the beautiful, transcendent acceptance going around was just plain old passivity."
"Had helicopters not airlifted food and doctors, had water purifiers not been hastily installed, had the locals not caught the sharing spirit, Woodstock would have become Lord of the Flies," remembers underground journalist Abe Peck in his book Uncovering the Sixties.
"'I left one thing out of my Woodstock article,'" critic Robert Christgau quotes writer Tom Smucker as saying. "I left out how boring it was."
Musician, poet, and journalist Ed Sanders remembers that even shortly after the fact, Woodstock seemed of little significance to the bohemians on New York's Lower East Side. "The light from Woodstock did not reach 12th Street and Avenue A." The ex-Fug attributes Woodstock's eventual media rhapsodization to "the visual gestalt of it, you know, two naked kids in a pond washing each other."
At some point after the festival, however, history was indeed rewritten, and the concert became WOODSTOCK in bold capital letters, something approaching paradise on earth for those hip enough and old enough to have been there (or claim that they were). And the proof that there was a nation of millions (or at least 500,000) ready and able to gather and peacefully partake of this crazy rock'n'roll music also meant there was a substantial new market to be catered to and exploited. Everyone wanted to get a piece of the Woodstock mystique, and it was sold in millions of units. There was a feature film, a three-record soundtrack, then another double album of music left off the first soundtrack. Woodstock lent its name not only to a generation, but to the inscrutable yellow bird in Charles Schultz's Peanuts, who in turn became a fowl-feathered shill for Met Life. This summer, Hendrix's "Star-Spangled Banner" has been appropriated by Budweiser to hype the World Cup. Somewhere in the translation, Woodstock's idealism got stuck in the mud.
Young people have been force-fed Woodstock's monumental importance — its hipness, its bigness, its wowness, its nowness — until it has become an official gospel of the rock'n'roll church, to be swallowed like an Owsley blotter communion wafer. You either jealously wish you had been there to partake in history, or you deny it was anything more than a rustic version of a weekend at MTV's Beach House. What's more, the age schism which in the '60s pitted young against old is still with us, albeit in a more benign manifestation. The generation gap may have been replaced by the Gap Generation, but kids and their parents still march to the beat of a different drum machine.
Bassist Mike Inez, who will perform with his band Alice in Chains at Woodstock '94, experienced Woodstock like most of his peers, through the soundtrack albums and the movie. "With all those heavyweight musicians thrown into one place at one time, it was kind of magical," says Inez. While he's honored that his band was chosen to play at Saugerties, Inez feels that ticket prices — $135, a considerable leap from the $18 that was charged (and rarely paid) in 1969 — are "pretty steep." Inez adds, "It would be really unfortunate if kids went down to experience Woodstock and got this corporate jerk-off moneymaking thing."
Many observers fear that's just what the Saugerties show has become; with a projected cost of $30 million, about $20 million underwritten by PolyGram, some locals have taken to calling the event "Greedstock." The product of extensive market research, Woodstock '94 has been meticulously plotted, with regard to transportation, security, and concessions. The concert's TV ads trumpet the show as a "convergence of generations," but it's more a convergence of corporations; even the commercial itself features the familiar dove of peace sitting on a guitar neck, now cloned into two birds, intertwined with a Pepsi logo. "It's just a gig, except that they're putting 'Woodstock, Inc.' on it," remarks Henry Rollins, also scheduled to play Saugerties.
The "gig" is expected to draw a sellout crowd of 250,000, partly a result of the strength of the lineup, and partly due to nostalgia and mystique. The power of the myth of the shared rite is so strong that people are willing to pay the hundred-dollar-plus initiation fee to experience the "magic," even if it's a prepackaged simulacrum of the Woodstock vibe. "The idea wasn't to go to a shopping mall and buy and consume," says Michael Wadleigh, director of Woodstock, the Academy Award-winning documentary of the original festival. "I have passed on being involved in any of these Woodstock events because all they are trying to do is cash in and make money… We do this to everything — Mom, apple pie, the flag. I guess that's the American way."
"Many people I know in Los Angeles believe that the '60s ended abruptly on August 9, 1969, ended at the exact moment when word of the murders on Cielo Drive traveled like brushfire through the community, and in a sense this is true." — Joan Didion, The White Album
[featuredStoryParallax id="163978″ thumb="http://static.spin.com/files/2015/09/charles-manson-1970-2-145×145.jpg"]
Despite 25 years of celebrated killers with flashier stats and higher body counts, America's hate affair with Charles Manson continues unabated. He's done the talk-show circuit from Tom Snyder to Geraldo, all without leaving the prison grounds. Comedian Ben Stiller turned him into a gibberish-spouting but lovable Lassie-surrogate on his now-defunct Fox sketch series. When ABC wanted to inaugurate Diane Sawyer's new Turning Point series this past March, they sent their camera crews behind bars to stage a Family reunion, and the result was the highest-rated debut of a newsmagazine show ever. Manson's Nielsen following is longstanding; when the made-for-TV docudrama Helter Skelter aired back in April 1976, it earned the top ratings ever for any television show up to that point.
"It's the most bizarre murder case that we have ever had in America," says Vincent Bugliosi, the former L.A. deputy district attorney who prosecuted Manson and later went on to write about the case in Helter Skelter, still No. 1 among True Crime books with over six million copies sold. "If you compare the Manson Family's lifestyle to other mass murderers, it's certainly much more appealing to kids who want to drop out." Poster artist (and societal dropout) Frank Kozik agrees: "Most people would like to be Charlie for a day; have a bunch off fine hippie chicks sucking your dick all day long, taking acid, getting off on the system. It has its appeal." (Ironically, Manson owes a great deal of his durability to the forces of liberal humanitarianism; Manson and his female disciples were all sentenced to be executed, but California repealed the death penalty less than a year after the guilty verdicts. Instead of getting the chair, Manson receives four letters a day in prison.)
Still, all hedonistic fantasies aside, Manson makes for an unlikely role model. At five feet two inches, he was nasty, brutish, and short; a con man, pimp, and car thief who spent most of his formative years buried within the penal system. Released in 1967 after spending 17 of his 32 years behind bars, he headed straight to San Francisco's Haight-Ashbury district, where he quickly donned the costume of a Summer of Love casualty and began recruiting the middle-class cast-offs who, in L.A., would become the bedrock of his Family. Through a combination of prolific psychedelics and even more prolific sex, Manson built a loyal posse of lotus-eaters who were willing to do his bidding, whatever the whim; unlike his co-defendants/co-dependents Susan Atkins, Patricia Krenwinkel, Leslie Van Houten, and Tex Watson, Manson was charged and convicted not for taking part in the actual slayings, but for masterminding the murders through mind control.
Although their messages were antithetical, Manson and Woodstock are inextricably linked, with Manson considered the Grim Reaper of the Woodstock dream. If the murders and their portrayal in the press didn't end the Aquarian Age, they at least splattered blood on the moon in the seventh house — one for each of the victims in the Polanski and LaBianca homes.
"It was horror on parade," remembers Ed Sanders, who headed out from New York to L.A. to cover the trial, with his reportage later becoming the basis for his book The Family. "The right wing couldn't have bought with a trillion dollars a better death to the '60s scenario." After the murders, recalls Paul Krassner, "people stopped picking up hitchhikers, police raided communes." Older folks who already didn't trust anyone under 30 now had their worst fears made flesh. "Your whole system is a game," shouted Van Houten after hearing her guilty verdict. "Your children will turn against you." It was youth subculture on trial, and President Nixon — elected with a mandate to "restore law and order" — was only too eager to pronounce a nation of defendants guilty.
Manson and the other Family members were indicted in the first week of December, the same week that concert promoter Bill Graham attempted to out-Woodstock Woodstock at a racetrack southeast of San Francisco called Altamont. When Hell's Angels, acting as security, beat the life out of a young black fan at the front of the stage, it was the spirit of Manson all over again; those observers who weren't yet convinced that Charlie Company had offed the '60s now settled on Altamont as the cause of death. An anecdotal story in Christopher Andersen's 1993 Mick Jagger biography even places Manson backstage at Altamont, smoking a joint and telling Mick what a big Stones fan he is. While totally spurious — Manson was in jail, after all — it is wishful allegorical thinking to place prime suspect Manson right there at the murder site.
Manson, though, was hardly a newcomer to the music scene; his has always been a rock'n'roll saga. In 1968, Manson was linked to Beach Boy drummer Dennis Wilson — the two shared a mutual taste for controlled substances, wild orgies, and good vibrations — with Charlie even living out of Wilson's pad for some months. Manson tried to use Wilson to jump-start his own career, and one Manson composition, "Cease to Exist," was indeed rewritten and recorded by the Beach Boys, appearing on their 1968 album 20/20 as "Never Learn Not to Love."
But Manson's troubadourial endeavors were basically a bust. Manson's "debut album," Lie, seems less the work of a twisted, criminal mind than that of someone who doesn't know how to tune. "Kids buy it thinking they're going to get devil-worship music," says Stephen Kaplan of New Jersey's Performance Records, the distributor of Lie for the last ten years. "But when they get home and find they have an album of mediocre folk songs, a lot of them are disappointed." Charles Manson Live at San Quentin, a bootleg on the British label Grey Matter packaged as a parody of the Beach Boys' Pet Sounds, has none of the cellblock charm of, say, Johnny Cash live at the same venue. In 1970, the Family even recorded its own album, imaginatively titled The Manson Family Sings the Songs of Charles Manson, a collection of lightweight campfire sing-alongs occasionally punctuated by demonic laughter. These records have some merit as artifact, but are eminently forgettable as art.
Except that rock'n'roll never forgets. Over the years, performers have consistently stepped forward to perform Manson's songs, invariably for some reason that has little to do with the music itself. Last December, most notably, came the fallout from Guns N' Roses' "secret" cover of Manson's 1968 "Look at Your Game Girl" at the end of The Spaghetti Incident? As "Charliegate" unfolded, it was unclear which the media found more repellent: the idea of Manson earning an estimated $62,000 in royalties for every one million Spaghettis sold, or Rose's recommendation to "do yourself a favor and go find the originals." Although Spaghetti eventually sold 1.1 million copies, the royalties issue ended up a bust. A 1971 federal court judgment diverts all of Manson's mechanical royalties to Bartek Frykowski, son of murder victim Voytek Frykowski.
More than likely, it was Manson's punk-rock street cred that brought Rose to perform the song in the first place. Since punk's inception, Manson's image has retained a powerful presence in no-future circles. As Johnny Rotten snorted, "The only good hippie is a dead hippie," so what better poster boy than the man who had symbolically laid waste to them all en masse? "If you think about it, punk rock is about no rules: making your own culture, making your own thing," suggests Kozik. "Well, he did that." Oppositional, confrontational, and violent, Manson's story is a classic punk-rock text.
Not surprisingly then, Manson references abound in the underground. Redd Kross, then still teenagers who could spell Red Cross, cut a version of Manson's "Cease to Exist" on its 1982 debut album, Born Innocent, as well as its own irony-driven Tate-house tribute called "Charlie" ("Flag on the couch / Lady on the floor / Baby in the gut / Widdle biddy boy"). British proto-industrial pranksters Psychic TV recorded a 1983 cover of Manson's "I'll Never Say Never to Always" retitled "Always is Always." Sonic Youth, with Lydia Lunch along for the ride, explored the taboo territory in "Death Valley 69" on 1985's Bad Moon Rising. SST Records was rumored to be releasing an album of Manson's prison recordings in the mid-'80s, from tapes that Manson had sent to pen pal Henry Rollins, but according to Boston lawyer David Grossack, who was trying to find Manson a deal, the label got cold feet. (A spokesperson for SST denies any such project.)
https://youtube.com/watch?v=RgfILrd8HjE
On a different front, the avant-garde composer John Moran, a protégé of Philip Glass, staged his The Manson Family: An Opera at Lincoln Center in 1990. George Clinton has a Manson skeleton in his closet. Both Funkadelic's 1971 Maggot Brain and 1972 America Eats Its Young include liner-note essays adapted from writings by the Process Church of the Final Judgment, a Satanic cult with reputed links to Manson that flourished in the late '60s and early '70s. Manson mania might even be emigrating to the hip-hop nation: The name of the upcoming collaboration between Dr. Dre and Ice Cube is Helter Skelter.
But few performers have worked as hard at cornering the market on Manson name checks as the Lemonheads' Evan Dando. The band's 1988 album, Creator, includes a cover version of Manson's "Your Home is Where You're Happy," a photo of Dando posing in front of a picture of Manson, and CD booklet thank-you's to family members "Susan; Lynnette; Gypsy: Katie; Mary, Sandra; Leslie; Snake; Ouish; little Paul; of course, Charlie," as well as the note "Evan would like to thank No Name Maddox a.k.a. Jesus Christ a.k.a. Soul" — all pseudonyms of Manson. More recently, Dando discussed Manson on "Ballarat" on 1990's Lovey and, last year, posed with a copy of Manson's Lie in a promo spot for MTV's 120 Minutes. Dando refused to comment for this article, but in a December 1993 interview with Request he explained his fascination. "Charlie is just like really, really good black humor," he declared. "I was born in 1967, and it was, like, Manson and Altamont… the one-two punch. It was the first image I saw…of America that really stuck with me."
Despite Dando's best efforts, however, first prize in the Man(son) of the Year competition goes to Nine Inch Nails' Trent Reznor. In 1992, Reznor rented the Tate house on 10050 Cielo Drive where the first night of murders took place, building a portable studio there named "Le Pig," where most of The Downward Spiral was recorded, including the songs "Piggy" and "March of the Pigs." "PIG," of course, was the message written on the front door in Sharon Tate's blood. Not content with realizing the '90s version of Jimmy Page renting Aleister Crowley's mansion, Reznor started but never completed shooting the video for "Gave Up," from the the 1992 EP, Broken, in the house. "It had bad karma all around," says a crew member who worked on the aborted shoot. Moreover, in order to keep his, ahem, stranglehold on the title, one of Reznor's first signings to his own Nothing Records label is the South Florida group Marilyn Manson, whose debut album, Portrait of an American Family, includes the song "My Monkey," which borrows four lines of lyrics from Manson's "Mechanical Man."
More and more, Manson's mug is turning up in the unlikeliest places, as the now familiar image of him from the cover of Life — the mushroom cloud of hair, the A-bomb stare that follows you across a room — has creepy-crawled out of the fringes and onto a variety of "Mansonia" memorabilia. "That's one of the most charismatic photos of the f–king century," says Kozik. "For good or bad, people react to it." Manson turns up as a frequent muse in Kozik's poster art, as well as in the work of artists like Joe Coleman and Raymond Pettibon, best known for his work on early Black Flag record sleeves. Rise Records, an Austin, Texas, label, uses Manson's eyes as their logo ("Rise" was one of the "witchy" messages painted in blood on the living room wall of the LaBianca home).
Perhaps the entrepreneurs most responsible for boosting Manson's product placement are the Lemmons Brothers of Zooport Riot Gear in Newport Beach, California. For two and a half years, Zooport has been plastering Manson's face on the front of T-shirts with messages like "Charlie Don't Surf," "Support Family Values," and "The Original Punk" on the back. They've sold more than 30,000 Manson shirts, over 20,000 since Axl Rose wore a shirt throughout GNR's 1993 tour and their "Estranged" video. Zooport's edge on the competition is that it's the only Manson merchandising company with a signed royalty agreement with Charlie. The brothers got their share of bad press last year when they sent over $600 to Manson in prison, before Bartek Frykowski's lawyers interceded. "Why should we give money to a drug dealer's son?" protests Dan Lemmons. The brothers, who are fundamentalist Christians, instead donate the proceeds to the anti-abortion group Operation Rescue.
The support Manson enjoys from right-wingers should come as no surprise. Manson's white-power agenda was hardly a secret. Helter Skelter, Manson's concept of an impending race war based on messages he thought the Beatles were transmitting to him through The White Album, would be frightening if it weren't so harebrained. He forbade his followers to listen to Jimi Hendrix, calling him "black slave music." "He hates women, hates blacks, hates Jews, likes guns," says Sanders. "He's a guy, a real guy." Manson's Aryan vision thing is a big hook for folks on the racialist fringe, where he's a mascot for neo-Nazi groups like the Universal Order.
Meanwhile, in the world of mass murderer bubble-gum trading cards, Manson is a Mickey Mantle rookie card. Serial killers are big business these days, not just in the cultural margins, but in literature (Bret Easton Ellis's American Psycho, Stephen Wright's Going Native) and film (The Silence of the Lambs, Kalifornia, Natural Born Killers). Manson's name recognition makes him the spiritual figurehead of serial-killer chic espoused in such au courant white rage hate 'zines as Answer Me! Romanticizing killers such as Manson is a way for these pomo rednecks to lash back against the perceived "marginalization" of white men, asserting their manhood against women, gays, and minorities.
One would assume that Manson fandom tests the limits of irony, to say nothing of good taste; for most people, especially the victims' families, Manson's legacy is only viciousness and dread, not a cheap laugh. But in a milieu where John Wayne Gacy is the next Jasper Johns and "political correctness" is portrayed as the greatest threat since the Red Menace, there are no longer any sacred cows. Anything that society would likely find repellent is exalted as a kind of cruel kitsch — call it "concentration camp." In this mindset, nothing is too touchy to be a potential target for humor, from child molestation to murder. But while making sport of tragedy may seem to rob it of the ability to hurt, it also robs one of the ability to feel at all, not only for others, but for oneself. And that theft takes away something much greater — our humanity.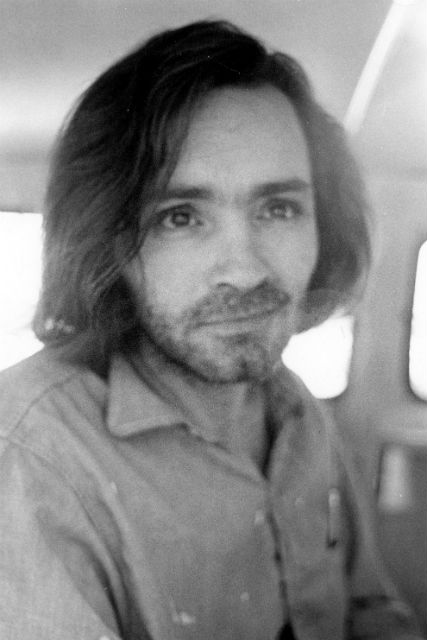 For a society that thrives on violence as entertainment, Charles Manson is a centerfold pinup. A defective product of the system, his own fallibility enables him to spit society's hypocrisy right back at it: You don't like me? Well, you made me what I am. And the more authority figures or the media cluck disapprovingly at him, the more his taboo appeal grows. He's been chosen by a jury of his peers to be America's bogeyman, and he plays the role to the hilt. (Ed Sanders calls him a "performance artist" who "probably polishes the swastika on his forehead" when he knows that Barbara Walters is coming.)
Rock has had a rich tradition of collaboration with the devil since Robert Johnson made his fateful deal back in the '20s, but in an age where authenticity is key, a "realer" devil is needed. Not some abstract horned figure of lore and legend, or a mystical object of gobbledygook incantations and incense burning, but an actual, live devil in the flesh. We may not have Nixon to kick around anymore, but we still have Manson, an original gangsta.
The question of how Manson resonates in the culture as compared to Woodstock tends to break down along generational lines. Baby boomers cling to Woodstock like the Holy Grail, the defining sociocultural statement of their leafy-green salad days, while younger folks in general reluctantly cast their metaphorical vote with negative creeps like Manson. Invoking Manson is a way for young people to exert their displeasure at boomer co-optation of countercultural milestones, at the fact that their very identity is measured in terms of their parents' anniversaries.
However, the fact that Woodstock is widely considered hippie counterculture's peak means that everything has been downhill from there — and it has been, at varying rates of velocity, depending on personal perspective or organizational allegiance. Today's wet-behind-the-ears Mansonites are fueled by the spirit of betrayal, the sense that somewhere along the line the Woodstock generation copped out. For some, hitching their wagon to Manson is not merely wallowing in shock value or patented post-adolescent rebellion, but a reaction against those who are presumed to have dropped the ball. After all, if everything were still at the pristine natural state of the Aquarian Exposition, a new set of young turks would feel no need to disrupt the bliss.
"Look around you," demands Kozik. "Do you see, like, love and togetherness and positive growth, or do you see everything f–king disintegrating at an exponential rate? You tell me. The empire is crumbling, buddy." One wishes that this view were wrong, that the Woodstock ideal were the rule, but reality would seem to hold that violence and antipathy are more the norm. Crime and intolerance are on the rise. Nation rises up against nation. Nine Inch Nails is performing at Woodstock '94.
But just because everything is coming down fast doesn't make Charlie the winner. Anomie may seem to have carried the day, but that's hardly cause for rejoicing; it's tragedy. Even as a figure of righteous resistance to boomer oligarchy, even acknowledging the stuff that makes intellectual and emotional sense, Manson's nihilistic equation only adds up to weak-ass s–t. In the end, everything he stands for is abhorrent and bankrupt; everything he endorses bitter, empty, reactionary. Is that all there is? Is that the best we can offer as a revolutionary warrior soul? The hippies may have failed, but there's no bigger failure than Manson himself. He may be put forward as a symbol of insurrectionary power, of getting the fear, but ultimately he's the very embodiment of cowardice. The Manson saga is fascinating, but only to a point. No matter how it's retold, he's still a convicted murderer, still a bigot, still a zero. He's a loser, baby. So, if only figuratively, why can't we kill him?