Welcome to SPIN's Singles Mix! SPIN staffers have rounded up their favorite, must-hear tracks for your personal playlists. Collecting the finest from Danish post-punks, teeth-baring '90s revivalists, noise-rock veterans, and more, these are the songs you need to know right now.

Booka Shade, "Wildest Thing" (Blaufield Music)
Booka Shade's low, short horn riffs toe the line between fun and flirty  on "Wildest Thing," the newest single from the Berlin-based DJ duo. "You cute and sexy wildest thing!" catcalls a vocal sample during the chorus, as a four-on-the-floor kick catwalks low and slow throughout the track. Like sexual tension, the pace slowly ramps up, as the words dissolve into mechanical distortions and the horns melt into higher-register blasts. — HARLEY BROWN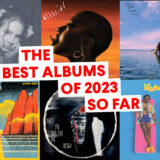 Jamie Woon, "Sharpness" (PMR Records)
This British singer's got an army of support behind him (Disclosure and Jessie Ware included), and it's not hard to hear why. "Sharpness" is a D'Angelo slow jam nestled softly in the embrace of a smooth, slinky, tittering drum. It's the sort of totally polished song that sounds stripped back when it's really a cleverly layered construction. Woon's falsetto howls and murmurs are equally as masterful. — BRENNAN CARLEY

Jamie xx, "I Know There's Gonna Be Good Times (Smalltown DJs Remix)" (Self-Released)
The quietest xx member's most rocksteady track off his full-length, In Color, is almost unrecognizable at first in the hands of West Coast's Smalltown DJs, who hammer it into disco-ball shape with a hard house pulse. In fact, the only thing they keep intact is Jamie xx's original sample of the Persuasions' "Good Times"; and even that has been chopped and distorted into individual words to stay out of the way of the rampaging beat. — H.B.

Johanan, "Go On (Let It Go)" (Neon Gold)
Give it a smooth three months before this song's in every Honda, Juicy Juice, and Life Alert Bracelet commercial on TV. It's accessible, yes — sort of like if Of Monsters and Men weren't always so predictable. But about a minute in, swelling strings and a skittering clap-clap backdrop lift the song by its haunches and let it soar free of restraints. "All alone and oh so vulnerable," Johanan sings before the Where the Wild Things Are beasts come storming on through with their wild rumpus, a majestic cacophony that doesn't outstay its welcome.  — B.C.

Media Jeweler, "No Exit" (Fire Talk)
A delightful 2:33 instrumental romp of twinkling guitar dueling, slap bass, and race-you-to-the-finish drums — complete with an "A little bit softer now" fakeout a minute in, and a double-time (or at least double-intensity) switch-up to close. It's the kind of song most rock bands — and Media Jeweler do insist on being referred to simply as a Rock Band, qualifiers be damned — save for a one-off interlude, but you always wish their albums contained more of. Good thing this is the Santa Ana quartet's lead single, then. — ANDREW UNTERBERGER

Nocturnal Sunshine, "Believe ft. Chelou (Curses remix)" (I/AM/ME)
As Nocturnal Sunshine, U.K. producer Maya Jane Coles dips icy fingers into the fringes of ambient techno, forgoing more overtly club-ready cuts for heavy-lidded tunes more befitting her alter-ego's title. As part of New York techno label Safer At Night, then, DJ Curses is the perfect remixer for "Believe," off Nocturnal Sunshine's self-titled LP earlier this year. He doubles the BPM, giving the track a steadily blinding pulse like watching cars flash by on a slick, busy city street.  — H.B.

Potty Mouth, "Cherry Picking" (Planet Whatever Records)
Potty Mouth's latest single, "Cherry Picking," represents a new move for the Massachusetts punks a decision to poison rather than pull from the '90s nostalgia well. Lazily drawled lyrics and buzzsaw bombast will feel familiar for those who're into their pile of peers, but singer/guitarist Abby Weems able to imbue an otherwise posi song with a dose of unsettling with her queasy spoken-word incantations between tart choruses. Yeah, all those revivalists other were missing was a bit of venom. — COLIN JOYCE

Visionist, "Victim" (PAN)
Visionist's "Victim" is a surprisingly comforting effort, considering both its title and the sort of boundary-pushing electronic acts in the artist's orbit. Unlike the needly judders of Arca's Xen or the blown-out clatter of his PAN labelmate M.E.S.H., this one uses hushed synth smears and otherworldly percussion to soothe rather than unsettle. No wonder he chose to call his LP Safe. — C.J.
Wolf Eyes, "Enemy Ladder" (Third Man)
Few label pickups have been stranger in 2015 than the scuzzy weirdos in Wolf Eyes joining up with Jack White's Third Man Records, but "Enemy Ladder" makes a little sense of the whole affair. The group's gradual creep toward structure comes to a head on the new single which shapes and molds their delirious ooze into something that resembles a rock song, before dissolving back into primordial goo right when a chorus should come. — C.J.

Yung, "Blue Uniforms" (Fat Possum/Tough Love)
Danish post-punk quartet Yung shape-shift through genres on "Blue Uniforms," which is set to appear on the band's These Thoughts Are Like Mandatory Chores… EP. At first, you could be listening to mid-aughts guitar pop (Franz Ferdinand is the first example that comes to mind), but things quickly veer off course, as they ditch the usual verse-chorus-verse structure and sail into a into thudding, hazy, garage-gaze stream of instrumental consciousness. — RACHEL BRODSKY