Welcome to SPIN's Singles Mix! SPIN staffers have rounded up their favorite, must-hear tracks for your personal playlists. Collecting the finest from British psych supergroups, retro-blues chanteuses, ebullient-sounding hardcore acts, and more, these are the songs you need to know right now.
Sexwitch, "Helelyos" (Echo/BMG)
After an eerie game of social media Hangman, Bat for Lashes, a.k.a. Natasha Khan, has resurfaced with a new all-Brit band, Sexwitch — comprising herself, producer Dan Carey, and psych-rock outfit TOY — and single that, at first listen, might best soundtrack your annual fertility ceremony or Summer Solstice hoopla. But there's a lot more to "Helelyos": A cover of Iranian singer Zia Atabi's '70s funk track, the updated rendition has swapped the original's horns and Iranian verses for looping guitar licks, grooving drum-work, and English lyrics. — RACHEL BRODSKY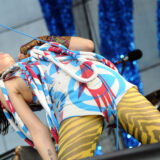 Becky G, "Break a Sweat" (RCA)
With 2014's disgustingly overlooked "Shower," a glistening Katy Perry stepsister of a song, teenage try-hard Becky G seemed poised for massive success, but the track didn't quite make the impact it needed to, resulting in diminishing returns over her next few singles. Now, the 18-year-old has shed her excess baggage (ahem, Austin Mahone). This fall, she'll appear on Empire in a guest role, and with her uptempo, "Hollaback Girl"-cribbing "Break a Sweat," Becky's obviously got her priorities straight. Her candy-sweet vocals stretch like taffy, spiking the highest notes of her register into the air as a jump-roping drum twirls around her. — BRENNAN CARLEY

Eryn Allen Kane, "Slipping" (Self-Released)
Eryn Allen Kane's biggest moments to date have come on low-key numbers by otherwise boisterous stars. She showed up on Prince's mournful police brutality ballad "Baltimore" and as one of a few mellifluous vocalists in the Social Experiment's orbit on Surf. The Chicago resident's latest solo effort, "Slipping," is similarly laid-back despite the urgency of its message. She needs to "ditch this town before [she] drowns," but the beauty comes from her placidity as the water rises. — COLIN JOYCE

Foals, "Mountain At My Gates (Jagwar Ma Remix)" (Transgressive/Warner Bros)
Foals, one of the better and more enduring U.K. buzz bands of the last decade, are releasing fourth album What Went Down on the 28th. The album's solid, but has few moments as sky-scraping as this remix of second single "Mountain at My Gates," courtesy of Jono Ma, frontman of Aussie indie-dance trio Jagwar Ma. Over Jono's acid squelches and ca-cawing bird echoes, singer Yannis Philippakis' repeated cries of "When I feel low…" sound about as euphoric as such a sentiment ever could. — ANDREW UNTERBERGER

Justin Jay, "Hit It" (Dirtybird)
The youngest member of San Francisco booty-bass label Dirtybird, 22-year-old Justin Jay makes no secret of his age: "Hit It" is the A-side of a release entitled Mom, I Graduated! But don't the '90s birth date fool you: Jay is a master, stringing together pounding pianos, crashing hi-hats, and a headboard-rattling thump behind the fitting (and appropriate for a college student) phrase "Hit it/ Quit it." — HARLEY BROWN

Larry Gus, "I Need New Eyes" (DFA)
Polyglot Greek producer Panagiotis Melidis, a.k.a. Larry Gus, has put together something of a sequel to last year's Sergeant Pepper-esque "With All My Eyes Look." "I Need New Eyes" — which also comes from Proust's quotation about "seeing with new eyes" — is a little darker, weirder, with stop-start tambourines and organ blares that shoot out like errant laser beams. It's certainly an innovative vision. — H.B.

Loma Prieta, "Never Remember" (Deathwish)
If happy hardcore weren't already an ecstatic dance genre, Loma Prieta might have invented it on "Never Remember." The San Francisco punks turn their otherwise gloomy compositions skyward, sailing straight for the heart of the thunderclouds, but breaking through, making something sunny in spite of the static. — C.J.

Matt Lange, "Lying to Myself" (mau5trap)
When he's not spewing ironic vitriol on Twitter, Deadmau5 is quite the curator of up-and-coming talent on either end of the electronic dance music spectrum. Matt Lange's "Lying to Myself" floats on an ambient sea of whistles, sproings, clicks, and blips, while his ethereally altered voice eventually wafts to the forefront of the mix. — H.B.

Nikki Hill, "Struttin" (Deep Fryed Records)
Carolina roots singer Nikki Hill looks back to the most confidently grizzled retro sounds for "Struttin'," pushing her crisply textured voice to its breaking point atop a Down South blues riff. Hill's got too much passion to tidy things up, but she knows exactly what she's doing. She wouldn't be struttin' if she didn't. — JAMES GREBEY

Pony Time, "Really Nice Guys" (Self-Released)
Fear not, the garage-rock duo behind this forthright 10th Avenue scuzz-out and its jerky one-chord verses really don't seem like the fedora type. If they're really nice guys, you'd never know from these lean and dirty hooks, and good. — DAN WEISS

Spencer Radcliffe, "Yankee" (Run For Cover Records)
As Blithe Field, Chicago resident Spencer Radcliffe has built up a catalog ambient-leaning compositions whose tenderness and humanity is communicated through gentle piano samples and stormy drones, but under his own name he's gently reaching for something bigger. See "Yankee," the latest single from his forthcoming debut for Run For Cover, whose lonesome acoustic guitar abstractions blossom into catchy celestial celebrations ("I'm ready for the grandest chariot to arrive"). — C.J.