What do the videos for Michael Jackson's "Thriller" and Nirvana's "Smells Like Teen Spirit" have in common? Well, aside from being the only two videos you're likely to see occupying the top spot of any MTV countdown of the greatest music videos of all-time, there's this: Both were nominated for Video of the Year at the VMAs, but lost to significantly less timeless clips. (The Cars' "You Might Think" took down the former, Van Halen's "Right Now" the latter.) And they're certainly not alone: Similarly enduring visuals from Madonna, the Beastie Boys, Jay Z, and countless others have had to endure the honor of just being nominated, while inferior clips took home the marquee Moonman.
Just like every major award show, the VMAs have had more misses than hits when it comes to giving out their top prize. So we've decided to level the playing field here, with our ranked list of all 160 videos ever nominated for Video of the Year, across the soon-to-be-32-year run of the VMAs. Winners are noted with asterisks, but only nine out of the 31 winners thusfar received our highest ranking from their respective years. Read through over three decades' of music video history below, and see if our top-ranked video from 2015's crop of nominees wins big this Sunday night. (Spoiler: It probably won't.)
160. *Panic At the Disco, "I Write Sins Not Tragedies" (Dir. Shane Drake, Year Nominated: 2006)
159. Def Leppard, "Let's Get Rocked" (Steve Barron, 1992)
158. Puff Daddy & the Family feat. Lil Kim, The LOX, and the Notorious B.I.G., "It's All About the Benjamins (Rock Remix)" (Spike Jonze, 1998)
157. Eminem, "We Made You" (Joseph Kahn, 2009)
156. The Pussycat Dolls, "When I Grow Up" (Joseph Kahn, 2008)
155. Will Smith, "Wild Wild West" (Paul Hunter, 1999)
154. Paul Simon, "Boy in the Bubble" (Jim Blashfield, 1987)
153. *Britney Spears, "Piece of Me" (Wayne Isham, 2008)
152. Chris Brown, "Forever" (Joseph Kahn, 2008)
151. Justin Timberlake, "What Goes Around… Comes Around" (Samuel Bayer, 2007)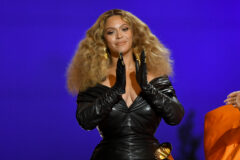 That Panic! At the Disco's grating, obnoxious "I Write Sins Not Tragedies" (No. 160) actually won this thing while My Chemical Romance — the band whose videos "Tragedies" seemed to be aiming for (and missing) — could never even score a nomination goes down as one of the great injustices of VMA history. Def Leppard's "Let's Get Rocked" (159) is the closest thing to a hair-metal video to ever score a nod for top honors; shame, since that was maybe the lamest (and definitely the most poorly dated) clip the genre ever produced. Britney's "Piece of Me" (153) is pretty non-descript and strangely low energy for a Video of the Year winner, and for a video that was hyped like it was gonna be his "Thriller," Justin's "What Goes Around… Comes Around" (151) is disappointingly empty and callous.
150. Linkin Park, "In the End" (Nathan Cox & Joe Hahn, 2002)
149. *Taylor Swift, "Bad Blood" (Joseph Kahn, 2015)
148. Eminem, "Not Afraid" (Rich Lee, 2010)
147. B.o.B. feat. Hayley Williams, "Airplanes" (Hiro Murai, 2010)
146. Bruce Springsteen, "Tunnel of Love" (Meiert Avis, 1988)
145. Ed Sheeran, "Thinking Out Loud" (Emil Nava, 2015)
144. Katy Perry, "Wide Awake" (Lance Drake, 2012)
143. P.O.D., "Alive" (Francis Lawrence, 2002)
142. USA for Africa, "We Are the World" (Tom Trbovich, 1985)
141. Coldplay, "Speed of Sound" (Mark Romanek, 2005)
https://youtube.com/watch?v=M9BNoNFKCBI
Linkin Park's "In the End" (150) is much better than you remember, but its video is even worse. Taylor Swift's "Bad Blood" (149) ends up choking on its cavalcade of cameos, while Ed Sheeran's dull "Thinking Out Loud" (145) could've probably used a little of that celebrity juice. Bruce Springsteen's "Tunnel of Love" (146) and Coldplay's "Speed of Sound" (141) were both too-little-too-late lone Video of the Year nominations for artists who had much better claims to worthiness for previous videos. USA for Africa's "We Are the World" (142) is easily the most important video of this block — and the only one to feature Dan Aykroyd, certainly — but nobody's pulling that one up on YouTube these days for any reason outside of historical curiosity.
140. Steve Winwood, "Higher Love" (Peter Kagan and Paula Grief, 1986)
139. Steve Winwood, "Roll With It" (David Fincher, 1988)
138. Ricky Martin, "Livin' La Vida Loca" (Wayne Isham, 1999)
137. Will Smith, "Gettin' Jiggy Wit It" (Hype Williams, 1998)
136. U2, "Beautiful Day" (Jonas Akerlund, 2000)
135. 'N Sync, "Gone" (Herb Ritts, 2002)
134. Janet Jackson, "All For You" (Dave Meyers, 2001)
133. *Green Day, "Boulevard of Broken Dreams" (Samuel Bayer, 2005)
132. KoRn, "Freak on a Leash" (Todd McFarlane, 1999)
131. Christina Aguilera, "Ain't No Other Man" (Bryan Barber, 2006)
Yep, not one, but two Steve Winwood late-'80s videos (140 & 139) received consideration for top honors — just be thankful neither won. Even more incredibly, the jarringly choppy clip for "All for You" (134) was the lone Janet Jackson video to ever be so nominated, a sad testament to the sexism and racism still pervasive at MTV in the channel's early days. Green Day finally took home the top prize for "Boulevard of Broken Dreams" (133), their dullest video ever, while "Freak on a Leash" (132) helped cement KoRn as MTV superstars, but its bullet-tracking effects make it look pretty ridiculous today.
130. *Katy Perry, "Firework" (Dave Meyers, 2011)
129. Macklemore and Ryan Lewis feat. Wanz, "Thrift Shop" (Jon Jon Augustavo, 2013)
128. Drake feat. Rihanna, "Take Care" (Yoann Lemoine, 2012)
127. Britney Spears, "Womanizer" (Joseph Kahn, 2008)
126. Gwen Stefani, "Hollaback Girl" (Paul Hunter, 2005)
125. *Miley Cyrus, "Wrecking Ball" (Terry Richardson, 2014)
124. Queensryche, "Silent Lucidity" (Matt Mahurin, 1991)
123. Bruno Mars, "Locked Out of Heaven" (Cameron Duddy and Bruno Mars, 2013)
122. Beyoncé feat. Jay Z, "Drunk in Love" (Hype Williams, 2014)
121. *Christina Aguilera, Lil Kim, Pink, & Mya, "Lady Marmalade" (Paul Hunter, 2001)
"Firework" (130) was disappointingly tame and boring for a Katy Perry video, and despite "Take Care" being his lone Video of the Year nod to date, Drake didn't really start making above-average vids until Nothing Was the Same a few years later. Despite being as iconic as just about any video this decade, "Wrecking Ball" (125) just isn't that good, the naked emotion of its Sinéad-like closeups failing to mesh with the more literal nudity of the sections where Miley rides the title instrument. (Shoulda gone to "We Can't Stop" instead.) "Drunk in Love" (122) is surprisingly unmemorable for a Bey and Jay trip to the beach, and the Moulin Rouge All-Stars' "Lady Marmalade" (121) has some unforgettable costume choices but not a whole lot else going on.
120. David Lee Roth, "California Girls" (Pete Angelus & David Lee Roth, 1985)
119. Peter Gabriel, "Digging in the Dirt" (John Downer, 1993)
118. Kanye West, "Jesus Walks" (Chris Milk, 2005)
117. Madonna, "Hung Up" (Johan Renck, 2006)
116. Taylor Swift, "I Knew You Were Trouble" (Anthony Mandler, 2013)
115. Florence + the Machine, "Dog Days Are Over" (Georgie Greville, 2010)
114. *Justin Timberlake, "Mirrors" (Floria Sigismondi, 2013)
113. Brandy and Monica, "The Boy Is Mine" (Joseph Kahn, 1998)
112. Bruno Mars, "Grenade" (Nabil Elderkin, 2011)
111. Eminem, "Lose Yourself" (Eminem, Paul Rosenberg, and Phillip G. Atwell, 2003)
Peter Gabriel's "Digging in the Dirt" (119) had a little bit of the visual verve of "Sledgehammer," but virtually none of its sense of fun. "I Knew You Were Trouble" (116) tried to give Taylor Swift her own "We Found Love," but it lacked the true sense of danger or excitement that made Rihanna's video such a livewire. (Taylor never seems to be nominated for the right videos, for whatever reason.) "Dog Days Are Over" (115) was a more memorable VMAs performance than a music video, and since all of 8 Mile basically serves as the video for "Lose Yourself," there's no reason to bother with the Eminem co-directed clip here.
110. Usher feat. Lil Jon & Ludacris, "Yeah!" (Mr. X, 2005)
109. 30 Seconds to Mars, "Kings and Queens" (Jared Leto Bartholomew Cubbins, 2010)
108. Kanye West, "Stronger" (Hype Williams, 2007)
107. The Ting Tings, "Shut Up and Let Me Go" (Alex and Liane, 2008)
106. George Harrison, "When We Was Fab" (Godley & Creme, 1988)
105. Britney Spears, "Toxic" (Joseph Kahn, 2004)
104. Jonas Brothers, "Burnin' Up" (Brendan Malloy and Tim Wheeler, 2008)
103. Beyoncé, "Irreplaceable" (Anthony Mandler, 2007)
102. U2, "With or Without You" (Meiert Avis and Matt Mahurin, 1987)
101. R.E.M., "Man on the Moon" (Peter Care, 1993)
Pretty ridiculous that 30 Seconds to Mars were ever Video of the Year nominees, but damn if "Kings and Queens" (109) doesn't have some absolutely gorgeous widescreen cinematography in there amidst Jared Leto's rock-star posturing. George Harrison's "When We Was Fab" (106) is fun though frivolous and dated; so is Jonas Brothers' "Burnin' Up" (104), but for very different reasons. U2's "With or Without You" (102) and R.E.M.'s "Man on the Moon" (101) are both great songs, undoubtedly, but neither are exactly among the liveliest videos ever made by their respective artists.
100. Mark Ronson, "Uptown Funk!" (Bruno Mars and Cameron Duddy, 2015)
99. Red Hot Chili Peppers, "Dani California" (Tony Kaye, 2006)
98. Shakira, "Hips Don't Lie" (Sophie Muller, 2006)
97. Don Henley, "The End of the Innocence" (David Fincher, 1990)
96. Lady Gaga, "Poker Face" (Ray Kay, 2009)
95. D12, "My Band" (Phillip G. Atwell and Eminem, 2004)
94. Divinyls, "I Touch Myself" (Michael Bay, 1991)
93. U2, "I Still Haven't Found What I'm Looking For" (Barry Devlin, 1987)
92. C+C Music Factory, "Gonna Make You Sweat (Everybody Dance Now)" (Marcus Nispel, 1991)
91. Backstreet Boys, "I Want It That Way" (Wayne Isham, 1999)
Don Henley certainly didn't need a second Video of the Year nomination, though at least the dolorous "The End of the Innocence" (97) had some David Fincher visuals to recommend it. "Poker Face" (96) seemed striking at the time, but Lady Gaga evolved so rapidly immediately following its success that it seems virtually unrecognizable as her these days. Michael Bay made a sex symbol out of Divinyls lead singer Chrissie Amphlett for about 15 minutes with the mildly gratuitous cleavage shots in the "I Touch Myself" (94) video. The video for Backstreet Boys' "I Want It That Way" (91) is so saturated with brightness that its visual optimism almost becomes annoying, but it was a pretty accurate representation of the group's outlook at the turn of the century.
90. Fine Young Cannibals, "She Drives Me Crazy" (Philippe Decoufflé, 1989)
89. Green Day, "Basket Case" (Mark Kohr, 1994)
88. Pharrell Williams, "Happy" (We Are From LA, 2014)
87. Adele, "Rolling in the Deep" (Sam Brown, 2011)
86. Aerosmith, "Livin' on the Edge" (Marty Callner, 1993)
85. *Neil Young, "This Note's for You" (Julien Temple, 1989)
84. Amy Winehouse, "Rehab" (Phil Griffin, 2007)
83. Beck, "The New Pollution" (Beck Hansen, 1997)
82. *Madonna, "Ray of Light" (Jonas Åkerlund, 1998)
81. Nine Inch Nails, "The Perfect Drug" (Mark Romanek, 1997)
Adele's "Rolling in the Deep" (87) clip is more stately than stunning, but there's no good reason why it lost to "Firework" in 2011. Meanwhile, there will probably never be a more random Video of the Year winner than Neil Young's "This Note's for You" (85), a decently humorous selling-out satire from a rock legend who would have essentially zero relationship with MTV, before or after, and certainly had no business beating Madonna and Michael Jackson in '89. Beck's "The New Pollution" (83) and NIN's "The Perfect Drug" (81) were essentially both makeup nods for MTV whiffing on recognizing "Loser" and "Closer" a couple of years earlier, though both videos were pretty cool in their own right. And "Ray of Light" probably doesn't make Madge's all-time Top 20, but better late than never for the channel to finally recognize arguably the greatest music video artist in its history.
80. Blink 182, "All the Small Things" (Marcos Siega, 2000)
A perfectly timed parody of then-TRL favorites that became nearly as big of a TRL hit as any of the band's targets, on-point enough that you might genuinely mix up some scenes from this and "I Want It That Way" in your head. (Maybe not the one with Tom DeLonge on the toilet, though.)
79. The Police, "Every Breath You Take" (Godley & Creme, 1983)
As dark and shadowy as the love song it soundtracks. Best use of cigarettes outside of the Replacements, too.
78. *Lauryn Hill, "Doo Wop (That Thing!)" (Big TV!, 1999)
Something of a surprise winner over Backstreet Boys and KoRn in '99, "Doo Wop" has undoubtedly aged the best of the three, a generation-spanning split screen that made a simple-but-effective point about the timelessness of Hill's breakout solo hit. (Team 1967 Lauryn all the way, BTW.)
77. Justice, "D.A.N.C.E." (Jonas & François, 2007)
The requisite Cool Nominee With No Chance of Actually Winning in 2007, "D.A.N.C.E." is a cute and creative concept — animated T-shirt designs, shifting in motion to the song's hook like a Gaspar Noé credit sequence — that over time has mostly come to feel like a particularly well-crafted lyric video.
76. Nas, "One Mic" (Chris Robinson, 2002)
Scenes of riots, incarceration, and police chances, but nothing hits as hard as Nasir sitting on his own in that dingy room, gripping the mic like his life depends on it — which, apparently, it does.
75. Alanis Morissette, "Ironic" (Stephane Sednaoui, 1996)
It became an endlessly mocked cliché so quickly that it's pretty hard to remember today just how successful Alanis' schizophrenic sing-along is at approximating the sensation of being so excited to hear a song in your motor vehicle that you attempt to recreate the full-band experience entirely on your own.
74. Godley & Creme, "Cry" (Godley & Creme, 1986)
The face-morphing concept would be adapted a lot more seamlessly by Michael Jackson about a half-decade later, but it lacked the gut-punch humanity of Godley & Creme's original. As real as MTV gets, and probably for good reason.
73. Red Hot Chili Peppers, "Under the Bridge" (Gus Van Sant, 1991)
A collection of striking framing shots — a knit-capped John Frusciante soloing among the clouds, a flailing Flea lurking in the gratiffi-covered tunnel — whose memory is all but erased by the unforgettable sight of a shirtless Anthony Kiedis, bosom heaving as he runs towards (away from?) nothing in particular. More action-packed than his Point Break cameo.
72. Eminem feat. Dido, "Stan" (Dr. Dre and Phillip G. Atwell, 2001)
Devon Sawa going Single White MC on Eminem as the title character, terrorizing poor girlfriend Dido and eventually hydroplaning into a watery grave. The most disturbing image of all might've been Em, at the height of his parental-advisory infamy, answering fanmail at the end: Calm, collected, wearing glasses.
71. Beastie Boys, "Make Some Noise" (Adam Yauch, 2011)
The last great Beastie Boys video, fun enough with its roster of celebrity Beastie proxies to get a trio of late-fortysomethings — who hadn't cared about being cool for at least a decade — on MTV one last time.
70. 50 Cent, "In da Club" (Phillip Atwell, 2003)
"In Da Club" didn't have to do much to set up 50 Cent as rap's newest superhero: a Batman-like entrance from the ceiling, some beefcake shots on the treadmill, and the chilling behind-the-curtain sight of Em and Dre, observing their progeny in silent approval. The mid-'00s didn't stand a chance.
69. *Aerosmith, "Cryin'" (Marty Callner, 1994)
Probably the least of Aerosmith's Alicia Silverstone-starring video trilogy in the '90s — not as geekily fantastical as "Amazing" or as intoxicatingly freewheeling as "Crazy" — but still, only so many music videos in history have ended with a bungee-jumping Silverstone offering a pixelated bird-flip to the camera, and they should be acknowledged for it.
68. Talking Heads, "Road to Nowhere" (David Byrne and Stephen R. Johnson, 1986)
The two most iconic Heads videos ("Once in a Lifetime" and "Burning Down the House") predate the VMA era, but "Road to Nowhere" is a solid bronze medalist, as existentially meandering and curious as eventual David Byrne feature flick True Stories, but without that movie's shrugging attempt at an actual narrative.
67. Iggy Azalea feat. Charli XCX, "Fancy" (Director X, 2014)
Don't hate.
66. Kanye West, "Love Lockdown" (Simon Henwood, 2009)
Kanye has surprisingly few iconic videos for a visually minded artist of his stature, but "Love Lockdown" is among his most indelible; the American Psycho decor and thundering drum-circle diversions illuminating Kanye's 808s & Heartbreak-era turmoil better than any other clip he's made.
65. Missy Elliott, "Get Ur Freak On" (Dave Meyers, 2001)
The video that proved Missy as the most adaptable figure in hip-hop — somewhat literally, since Missy's head worming ten feet out of her body to better leer "IS THAT YOOOO CHIIIIIICK???" stands as a career-defining moment.
64. *Van Halen, "Right Now" (Mark Fenske, 1992)
The video that beat Nirvana in 1992, and as historically daft as that victory remains 23 years later, it's hard to really hold it against "Right Now," a video charming enough in its chest-beating over-seriousness to redeem the latter half of the Sammy Hagar era. (Even if Hagar himself hates it.)
63. M.I.A., "Bad Girls" (Romain Garvas, 2012)
Maya Arulpragasam's ultimate rock-star moment; filing her nails with a pocket knife while two-wheel surfing the four-door sedan on the Moroccan strip, eternally unimpressed.
62. Michael Jackson, "Leave Me Alone" (Jim Blashfield, 1989)
A stop-animated funhouse ride through MJ's late-'80s public paranoia, including the King of Pop dancing with the Elephant Man's bones and getting chased by a surgeon's scalpel. Scarier than "Thriller," really.
61. U2, "Where the Streets Have No Name" (Meiert Avis, 1988)
Most '80s U2 singles just feel like the band is scaling buildings to disrupt the neighbors with widescreen proclamations of their desire to reach out and touch the flame; this is the video where they actually went and did it. Self-aggrandizing, sure, but it would be another couple of years still before they started failing to back it up.
60. 'N Sync, "Bye Bye Bye" (Wayne Isham, 2000)
Nothing more dangerous in pop music than a boy band turned self-aware: "Bye, Bye, Bye" is supposed to be directed at a manipulative ex, but the rage at being puppeteered is obvious music-industry frustration, and the tension between machine and monster is scintillating throughout. 'N Sync were bound to fall apart not too long thereafter, but this was a peak few groups of their ilk ever reached.
59. The Verve, "Bitter Sweet Symphony" (Walter A. Stern, 1998)
Yeah, they got it from Massive Attack, but the artist-walks-obviously-through-life video conceit always made more sense for a sweeping ode to crippling mundanity like "Bitter Sweet Symphony" — not to mention a frontman as seemingly narcissistic as Richard Ashcroft. There is triumph in distraction, for sure.
58. Bone Thugs-n-Harmony, "Tha Crossroads" (Michael Martin, 1996)
Unforgivably, it took until '96 for a rap video to get nominated for the VMAs' top honors, a full decade after Run-DMC broke down the race barrier at MTV. At least the genre's way-too-late inaugural nod was a worthy one: Bone Thugs' uber-cinematic treatment of their ode to late mentor Eazy-E helped turn the Cleveland quartet into superstars, and made a generation weep over the loss of Uncle Charles, y'all.
57. *Eminem, "Without Me" (Joseph Kahn, 2002)
Dre and Em as hip-hop Batman and Robin; too bad Blutnman and Chronic was already taken. As always with Marshall, the cultural references have not dated brilliantly, but the sense of gonzo s–t-stirring was still more fun than mean-spirited at this point, and the revelation of the superduo's ultimate mission — preventing a kid from listening to a CD stuck with a Parental Advisory label — was one of the final times Slim Shady could plausibly play the lovable underdog.
56. En Vogue, "Free Your Mind" (Mark Romanek, 1993)
The only non-rock video among 1993's five nominees, "Free Your Mind" was easily the ballsiest of the bunch, with an eye-popping runway strut even badder than Jinx Jones' buzzsaw guitar riff. In addition to solidifying the quartet's status among the pop elite of the early '90s, it also made a star out of director Mark Romanek, who would go on to be one of the most important auteurs of MTV's second decade.
55. *Sinéad O'Connor, "Nothing Compares 2 U" (John Maybury, 1990)
//www.dailymotion.com/embed/video/x2cdyy
Sinéad O'Conner let you get as uncomfortably close in the "Nothing Compares 2 U" clip as any MTV star of her era, forcing you to experience every emotion on her tear-stained face during her painful reliving of the seven hours and fifteen days since her ex took their love away. Real tears, claims Sinéad, not like it really matters.
54. Snoop Dogg, "Drop It Like It's Hot" (Paul Hunter, 2005)
The return of classy B&W to the hip-hop video palate, all fizzing Chandon, tumbling bands of hundreds, and falling silk bathrobes. Pay no attention to the luxury liner hovering inexplicably in the background, by the way; happens all the time around these parts.
53. Jewel, "You Were Meant for Me" (Lawrence Carroll, 1997)
Free brilliant Halloween costume idea: Jewel in the "You Were Meant For Me" video. All you need is a white dress, a magic marker (and a friend you trust to legibly write "He said I feel like home to him" across your back shoulder blades), and a look of indescribable longing and desperation in your eye. Sad rowboat optional.
52. Red Hot Chilli Peppers, "Californication" (Jonathan Dayton and Valerie Faris, 2000)
RHCP: The Video Game. The graphics have naturally dated some in the 15 years since its release — though not as badly as Kiedis' peroxide-blond hairdo  but the spark is still there, with the band's personality and the directors' attention to detail coming through brilliantly in the faux-gameplay. Well overdue for a sequel.
51. Foo Fighters, "Big Me" (Jesse Peretz, 1996)
The clip that cemented the Foo Fighters as totally independent from Nirvana; Kurt was funny, but he wasn't "Spend a whole music video parodying a Mentos commercial campaign"-type funny. The video's concept may be understandably alien to anyone under the age of 25 in 2015, but you don't have to have lived through the Freshmaker's reign of terror to be charmed by the Foos' commitment to silliness.
50. Beyoncé, "7/11" (Beyoncé, 2014)
Despite the immaculate choreography, dozens of costume changes, and blink-quick editing that must've taken hundreds of takes to splice together, the pervading sense of "7/11" is that of Beyoncé just getting loose; having a low-key chill sesh with her buds at the hotel and montage-ing the results. Sure, it probably wouldn't actually look quite like that, but you wouldn't really know, now, would you?
49. *Rihanna feat. Jay Z, "Umbrella" (Chris Applebaum, 2007)
For at least one album, Rihanna was a one-hit wonder. Then she was a two-hit wonder, then three-hit, and then the "Umbrella" video came, with its body paint, flying sparks, and, uh, provocative costuming. By the time it was over, she was just a pop star, straight up.
48. Cyndi Lauper, "Girls Just Want to Have Fun" (Edd Griles, 1984)
Future pop stars don't get intros much better than Cyndi Lauper's in this video, first with her split-second shimmy across the screen, then with her kick-stepping dance down the street and into her home (and millions of others across America). Captain Lou Albano could do nothing do stop her and her army, and neither could anyone else.
47. Robin Thicke feat. Pharrell & T.I., "Blurred Lines" (Diane Martel, 2013)
Before accusations of sexism and Thicke's own real-life douchebaggery swallowed it whole, this one was on the track to being one of the most iconic videos of the decade, a clip whose more titillating aspects were counterbalanced by the sinister edge and surreal sense of humor signature to its director, Diane Martel. It was problematic, probably, but it was also funny and weird. And it inspired some great parodies.
46. Gotye feat. Kimbra, "Somebody That I Used to Know" (Natasha Pincus, 2012)
The rawest Video of the Year nominee since "Nothing Compares 2 U," and even more visually stunning, as its two singers get painted into the walls, fading into the background of each others' lives even as they scream at one another. "Somebody" ended up being a kind of throwback to MTV's early days, when an artist like Gotye would arrive from overseas with an unusual pop song and a striking music video, temporarily take over the public consciousness, and then maybe never be heard from again.
45. *Pearl Jam, "Jeremy" (Mark Pellington, 1993)
https://youtube.com/watch?v=MS91knuzoOA
One of the most controversial videos in MTV history, a teen-suicide tale that so overwhelmed its accompanying song that Pearl Jam stopped making videos altogether for the majority of the '90s. The thing is still a wallop today — just as much for the demonic look on Vedder's face at the climax as for its bloody denouement — though some of its unnecessarily heavy-handed imagery (the newspaper-clipping opening, the American flag Jeremy drapes himself in) leave it somewhat timestamped as '90s melodrama.
44. David Lee Roth, "Just a Gigolo / I Ain't Got Nobody" (Pete Angelus and David Lee Roth, 1985)
David Lee Roth's answer to Cyndi Lauper; not only does he parody her "Girls Just Wanna Have Fun" (along with other MTV megahits by Billy Idol, Michael Jackson, and Culture Club), but he one-ups her in terms of sheer maniacal energy. Roth had always been one of the channel's most spirited cheerleaders as a frontman, but given actual choreography and stage-blocking as a breakout solo star, he unveiled himself to be MTV's Gene Kelly as well as its Robert Plant.
43. *Jamiroquai, "Virtual Insanity" (Jonathan Glazer, 1997)
The final Video of the Year winner whose popularity was almost entirely contained to its visual: "Virtual Insanity" barely even scraped the modern-rock charts in the U.S., but its unforgettably trippy video — with its moving walls and bleeding furniture — ensured that frontman Jay Kay and his goofy-ass top hat would be an eternal part of '90s pop culture Stateside just the same. It certainly made an impression on Austin Mahone and FIDLAR, anyway.
42. *TLC, "Waterfalls" (F. Gary Gray, 1995)
Mercilessly messaging in its cautionary tales of drug dealing and unprotected sex, but saved from being overbearing by the broad-daylight shots of TLC boogieing on water like it's no big deal, like a trio of crazysexycool guardian angels. The first non-white winners of the award, and they could've won two more that year for "Creep" and "Red Light Special," too.
41. Aerosmith, "Janie's Got a Gun" (David Fincher, 1990)
A new standard for feature-film quality in music videos; no surprise given what the director would eventually go on to do. Today, it has more in common with a Lifetime movie than anything, but from its opening image of police tape rippling in the wind to its final crane shot showing a near-Field of Dreams array of police cars lined up outside the family estate of the title character, it was riveting. And no frontman could rise to the histrionic occasion like Steven Tyler, providing nearly as much drama with each wide-mouthed shriek as any slo-mo shot of Janie running through traffic.
40. Deee-Lite, "Groove Is in the Heart" (Hiroyuki Nakano, 1991)
Not too many videos out there that match their sonic accompaniment quite this spectacularly; it's basically impossible to listen to "Groove Is in the Heart" without envisioning the deee-groovy technicolor psychedelia of Hioryuki Nakano's visual. Fun, funky, and unapologetically cheesy, it's no surprise the clip made stars out of the group (and its one-woman conga line singer, Lady Miss Kier), and almost as predictable that it would improve impossible to properly follow up.
39. *OutKast, "Hey Ya!" (Bryan Barber, 2004)
Essentially the solo debut of OutKast right-brain André 3000, but even if it was just him, himself, and he for the first time, that was apparently still enough to put together a full band in the "Hey Ya!" video. The clip still maintained a light enough touch to seem more amiable than megalomaniacal (or just downright creepy), and 'Dre would soon be as unavoidable on radio as he was in this video, turning the obvious Beatlemania of both song and video into a self-fulfilling prophecy.
38. *Lady Gaga, "Bad Romance" (Francis Lawrence, 2010)
The clip that established Gaga as the preeminent video artist of her era, as ambitious and high-concept as the leading lights of MTV's early days. The video resisted straight reading but encouraged multiple views just the same, with choreography, art direction, and even special effects that essentially left her without peer. Ironically, as iconic as the video was, the image it's best remembered for didn't occur in the clip at all, but rather at the '10 VMAs, where Stefani first wore her famous meat dress as "Bad Romance" owned the night.
37. No Doubt, "Don't Speak" (Sophie Muller, 1997)
The masterpiece of director Sophie Muller, MTV's premier auteur of high drama, and the video that turned No Doubt into pop stars. Or maybe just their frontwoman — the soap-worthy clip was inspired not only by the breakup of leader Gwen Stefani and bassist Tony Kanal, but by the band's resentment of the attention that Stefani was getting at their own exclusion. Wouldn't help: Any impeccably lit and framed individual shot of the luminescent singer made it abundantly clear her orbit would break free of No Doubt's center before long.
36. Jay Z, "99 Problems" (Mark Romanek, 2004)
A back-to-basics clip for Jay that wisely saw him shed the glam-rap trappings of most of his early-'00s videos in favor of the humbler street-level connection he initially established on MTV with "Hard Knock Life" — this time with Vincent Gallo in tow, for some reason. Mark Romanek's camera keeps the action kinetic throughout, and even though the video ends with the unnecessarily controversial and symbolic imagery of the Jiggaman being riddled with bullets — he was about to retire, you see — it doesn't ruin the So Brooklyn thrill of the rest of the clip.
35. Justin Timberlake, "Cry Me a River" (Francis Lawrence, 2003)
A video of such tremendous fan service that it would probably cause Twitter to become self-aware and declare its own sovereignty if it was released today. Timberlake's relationship with fellow pop megastar Britney Spears had ended in 2002 amidst cheating rumors; later that year, the "Cry Me a River" vid featured Timberlake spying on a two-timing Spears lookalike, then breaking into her house and filming himself hooking up with a new girl, leaving the video for not-Britney to find. The clip impressively managed to have it both ways — making its star look both righteous and petty, wounded and violent, victim and perpetrator — but left J.T. firmly in control of his popular narrative. He hasn't relinquished it since.
34. Genesis, "Land of Confusion" (John Lloyd and Jim Yukich, 1987)
It sometimes seems like one out of every five music videos filmed in the mid-'80s was made about Cold War paranoia, but the only one to get nominated for Video of the Year was Genesis' innovative "Land of Confusion" clip. The video's garish puppet caricatures of political figures like Ronald Reagan and Mikhail Gorbachev remain nauseous to the sight today, and the fear of an infantilized Reagan sleeping with his finger on the button getting played for the darkest of comedy leaves it as something of a Dr. Strangelove for the MTV generation.
33. Sia, "Chandelier" (Sia and Daniel Askill, 2014)
The video that introduced Sia as a singularly enigmatic modern-day pop star, able to represent herself as a symbol via her signature blonde bob, so that she could utilize the young legs of Dance Moms alum Maddie Ziegler as a proxy. Ziegler's mixture of veteran grace and youthful over-exuberance gives her a frantic energy perfect for the song's unhinged melisma, making the clip transfixing even as it disquiets. As with the singer herself, pop culture had never seen anything quite like it before.
32. *Missy Elliott, "Work It" (Dave Meyers, 2003)
Missy could've won for any number of turn-of-the-century collaborations with Hype Williams or Dave Meyers, but "Work It" was probably best of all, featuring Elliott in an array of surrealist poses — beehive DJ, apocalyptic playground MC, upside-down B-girl — but establishing her most important role: all-powerful narrator. She demands a glass of water, and one is given to her; she references Prince, and a lookalike appears to mime tonguing her from head to toe. Missy's grip on the world was like that in the early '00s, and it was good of her videos to start capturing that.
31. *Smashing Pumpkins, "Tonight, Tonight" (Jonathan Dayton and Valerie Farris, 1996)
In 1996, Smashing Pumpkins were superstars, and they'd started filming videos to reflect it: "Tonight, Tonight" remade the 1902 French short film A Trip to the Moon as a sort of high-budget community-theater production; worlds away from the lazy-afternoon tomfoolery of "Today." The clip was sweeping in its ambition but endearing in its lo-fi-ness, and the Pumpkins' spectral presence in the clouds made Corgan & Co. seem like the grand conductors of all alt-rock. Amazingly, it wasn't even their best video that year.
30. Tom Petty & the Heartbreakers, "Don't Come Around Here No More" (Jeff Stein, 1985)
Mad Hatter was a good look for Tom Petty, a no-frills '70s rocker who was too intrinsically cool to let himself act above the music-video era. Instead, he had fun with it; never moreso than on "Don't Come," where he and Eurythmic buddy Dave Stewart gleefully terrorize a perplexed Alice, before eating her like birthday cake. It could be read as misogyny if it could be read, period, but really the video is the most dream-like clip to ever reach its level of MTV rotation, a spellbinding evocation of insecurity that just sees Petty, game as ever, willing to play the monster rather than the hero.
29. *Don Henley, "The Boys of Summer" (Jean-Baptiste Mondino, 1985)
Filmed as a gorgeous collection of fading black-and-white photographs by French shutterbug Jean-Baptiste Mondino, "The Boys of Summer" seems to be dissipating from memory even as it unfolds — to the point where its ending reveals the entire experience of the video to be fraudulent, showing that Don Henley has been singing in front of a filmed backdrop all along. Like the man says: Don't look back, you can never look back.
28. *R.E.M., "Losing My Religion" (Tarsem Singh, 1991)
The beginning of R.E.M.'s long-delayed embracing of their MTV-icon status, and possibly the artiest clip to ever win Video of the Year. (Quasi-litearlly, as the video was directly inspired by the works of Italian painter Carvaggio.)  The sumptuous (if heavy-handed) religious imagery and dramatically staged tableaux were made pop-accessible by the revelation of frontman Michael Stipe as a shimmying, camera-captivating dynamo. If this was indeed R.E.M.'s fall from indie grace, the landing was pillow-soft.
27. *INXS, "Need You Tonight" / "Mediate" (Richard Lowenstein, 1988)
A slightly awkward melding of live action and animation, made fluid by the imagination of the free-roaming visual style of director Lowenstein and the star-making presence of leather-jacketed (and otherwise shirtless) frontman Michael Hutchense. Then, a smoky transition and we're off to an empty industrial yard for the band to run through a two-minute "Subterranean Homesick Blues" pastiche and a closing sax solo. The video's logic was entirely its own, but that's what made it so beautiful.
26. Kendrick Lamar, "Alright" (Colin Tilley, 2015)
A breathtaking combination of the brutal and the ecstatic, Kendrick levitating above the fray of the streets (both on his own and with an actual lift from white cops), and even overseeing his city from a high perch like Bruno Ganz in Wings of Desire. He gets shot down, of course, but lands with a smile on his face. Like To Pimp a Butterfly, it defies easy interpretation, and is both endlessly quotable — K-Dot and his boys wiling in his car became an unsurprising Twitter meme — and compulsively replayable.
25. Madonna, "Like a Prayer" (Mary Lambert, 1989)
The climax of her first decade of MTV ownership, "Like a Prayer" hasn't aged quite as well as some of Madonna's less conceptually overstuffed videos — stigmata, the Ku Klux Klan, a murder and wrongful arrest, it's a lot — but remains a larger-than-life experience from one of the few pop stars capable of ably fronting such a production. It's a song that demands huge emotional swings from its accompanying visual, and director Mary Lambert is up to the task, transitioning from its burning-cross low to its gospel dance-party climax with surprising fluidity. Let the choir sing.
24. Nirvana, "Heart-Shaped Box" (Anton Corbijn, 1994)
Doubling down on the morbid artiness of "Losing My Religion" with an appropriately wicked sense of humor, "Heart-Shaped Box" was a brilliant way to introduce Nirvana's second act on MTV. Dutch photographer Anton Corbijn was the perfect choice of director to shoot the band in stark but eye-popping landscapes, making even the image of the trio sitting by a hospital bed a Vertigo-worthy visual composition. The vid's surprise star was bassist Krist Novoselic, who with lavender pants and swiveling hips proved himself a supporting player with latent, alternate-universe frontman potential.
23. *Eminem, "The Real Slim Shady" (Dr. Dre & Phillip Atwell, 2000)
The Slim Shady Army was first propagated with "My Name Is," but by "The Real Slim Shady," they had been mobilized. The video showed Eminem growing into his mythology, manufacturing his own battalion, pitting himself against the pop elite, even putting Dr. Dre's face on a milk carton for no real reason. By the time he and his clones staged their coup at the 2000 VMAs, the takeover had long since commenced, and it would be years before the parents of America could feel safe again.
22. *The Cars, "You Might Think" (Jeff Stein and Charlex, 1984)
The first-ever Video of the Year winner, and a worthy one — in a slightly lesser year, anyway. The Cars made a seamless transition to the MTV era by allowing the carefree ingenuity of their pop songs to be properly manifested in the visuals from some of the period's most creative directors. Jeff Stein took the reins for the group's most famous clip, the free-associative live/animation mix of "You Might Think," which features frontman Ric Ocasek as a new-wave Pepe Le Pew, buzzing around in romantic pursuit as his intended tries (in vain) to swat him away. It's definitely creepy, but cute too, and it's hard to react to any video in which its singer removes his sunglasses (along with the rest of his face) to have a waterfall gush out with anything but an incredulous chuckle.
21. *Dire Straits, "Money for Nothing" (Steve Barron, 1986)
Computer animation that seemed mindblowing 30 years ago and hasn't aged as poorly as some 30 years later, largely because most of the care went into crafting the video's two everyman main characters, essentially the Mario and Luigi of music television. The more sardonic elements don't pack the same punch three decades on, but the clip is still a funny and visually exciting satire of MTV culture — down to the unnecessarily sexualized fictional video the characters watch on TV — and even frontman's Mark Knopfler's glowing neon headband remains kinda boss in its own super-'80s way.
20. Fatboy Slim, "Weapon of Choice" (Spike Jonze, 2001)
"Weapon of Choice" worked, not just because a post-cowbell Chrisopher Walken could make anything funny — or because Walken had more moves than expected — but because Jonze's bookending shots of the actor's existential dread at being alone amidst the white noise and cold architecture of an empty hotel made the surrounded action feel so much more fanciful. Or, it worked because of course it did.
19. Michael Jackson and Janet Jackson, "Scream" (Mark Romanek, 1995)
The most expensive video in MTV history, an honor that, with video budgets now in a perpetual state of shrinkage, seems unlikely to ever be eclipsed. The money didn't go to waste, however: Twenty years later, "Scream" holds as an event without peer, its morphing effects, zero-gravity dance numbers, and games of intergalactic pong and racquetball all still plausible as "futuristic" in 2015. More importantly, the video's less-highwire imagery (Michael smashing guitars, Janet zipping up her pants after an implied piss, both bro and sis mean-mugging at the camera together) remains just as striking, and the video's implied overall message — we had to travel to outer space and the future to escape you all, and it still didn't work — leaves the most chilling impression of all.
18. Weezer, "Buddy Holly" (Spike Jonze, 1995)
Jonze's simplest, most ingenious melding of pop-culture expertise with technological innovation, managing to insert alt-rock's cuddliest quartet into an old episode of Happy Days, as seamlessly as if they were Potsie's cousins visiting from the West Coast all along. Nineties nostalgia for a '70s show set in the '50s should have been one cross-generational hurdle too many, but the awesome power of Rivers Cuomo's guitar solos and Arthur Fonzerelli's dance moves proved unifying enough to make it possible. So good, Al.
17. Chris Isaak, "Wicked Game" (Herb Ritts, 1991)
https://youtube.com/watch?v=XXmlJQN5Pm8
The sexiest music video of all-time: not just for the obvious attractiveness of its two leads and their undeniable charisma together, but for the ephemeral nature of their moment together, the feeling of paradise invariably slipping away. Chris Isaak has said the video was great because he doesn't get the girl at the end, and he's right.
16. Herbie Hancock, "Rockit" (Godley & Creme, 1984)
"Rockit" as a song was already something of a marvel — in the 2001 documentary Scratch, several DJs talk about it being the first time they heard actual scratching on record — so it made sense for its Godley & Creme visual accompaniment to attempt to further push the envelope. The video is jaw-dropping even in 2015, mostly because its sense of robotic technology maintains a cleverness and lo-fi aesthetic that has allowed it to age gracefully; the only part of it that really feels dated is the milk bottles showing up at the doorstep in the beginning. It's music video as contemporary art installation, and it's hella funky.
15. D'Angelo, "Untitled (How Does It Feel)" (Paul Hunter, 2000)
A virtually unprecedented display of male sexuality for music television; director Paul Hunter said he and D'Angelo "made this for the women," and he wasn't kidding. As much as any glistening muscle, the roving curiosity of Hunter's camera and the consuming rapture of D's facial expressions (enough to start Those Rumors about what was really going on underneath the camera's line of vision) contribute to the carnality, a reminder of an eternal MTV truism that less — in this case, a whole lot less — really is more. The video created D'Angelo's star almost as quickly as it destroyed him, a moment as transcendent as it was unrepeatable.
14. R.E.M., "Everybody Hurts" (Jake Scott, 1994)
https://youtube.com/watch?v=ijZRCIrTgQc
To say a video like "Everybody Hurts" would've been inconceivable coming from these mumble-mouthed obscurants a decade earlier would be a gross understatesment; even from a band like Poison or Extreme, the concept would seem cheesy. But like the song it soundtracks, the Jake Scott-directed video goes for universal sweep and succeeds unequivocally; its thought-subtitled traffic jam is a too-true portrait of crowded alienation, its climax as everyone exits their vehicles in solidarity is impossibly stirring. As schmaltzy as R.E.M. — really, all of '90s alternative — would get, and about as comfortingly cathartic.
13. Lady Gaga feat. Beyoncé, "Telephone" (Jonas Åkerlund, 2010)
The apotheosis of Gaga as Unquestioned Weirdo Leader of Pop Music, so powerful in her tractor-beam pull that she even got the biggest star of the 21st century to play along as sidekick. Never again will we see a silly three-minute pop song about not wanting to answer your phone in the club blown out to these proportions: a nearly ten-minute saga that's part self-aware Caged Heat and part Thelma & Louise: The Musical, powerfully feminist and quintessentially other, with a props-and-makeup budget to dwarf the entire shooting receipts for 99 percent of videos from Lesser-Thans, the "Telephone" clip took one of Lady Gaga's most disposable singles and made it an essential piece of 2010s art. Even the Virgin product placement feels like a statement.
12. Johnny Cash, "Hurt" (Mark Romanek, 2003)
https://youtube.com/watch?v=vt1Pwfnh5pc
Johnny Cash was able to make his way back into MTV's inner circle — not that he was really ever there before — by drawing on the weight of shared history, turning us all into June Carter: watching, waiting, trembling. The blood-curdling video for his "Hurt" cover was essentially a living eulogy for one of the most beloved musical artists of the previous century, delivered by the man himself in a final ballsy attempt to prevent either God or Satan from having the last word. When "Cry Me a River" beat this for Best Male Video — just weeks before Cash would die at age 71 — Justin Timberlake called his receiving the award a "travesty" and demanded a recount. "Travesty" is a strong word, but yeah, Justin, give that thing back.
11. Tyler the Creator, "Yonkers" (Tyler Okonma, 2011)
The clearest example we've had this decade of video's ability to make the unlikeliest sorts of pop stars. Tyler, the Creator was a nihilistic underage rapper with no radio airplay, but all it took was a self-directed, out-of-focus B&W clip of him eating a roach, vomiting blood, getting a nosebleed, and hanging himself to turn him into something like a household name. At the time, the visual was dark and unique enough to feel like the coming of the next Eminem; didn't quite work out like that, but it still announced Tyler as one of the most exciting new talents of his generation, and brought a too-rare element of true unpredictability to the '11 VMAs.
10. Robert Palmer, "Addicted to Love" (Terence Donovan, 1986)
Likely the most parodied and referenced video in the history of music television, but that's what happens with a concept this straightforward and ingenious: a full-band army of stunning, stone-faced, and identically dressed femmebots, under the command of general Robert Palmer. The video was instantly singular, but not for long, as Palmer himself would double-dip into the concept with his next few videos, soon being joined by Bruce Willis (!), Tone Loc, Paula Abdul, and countless others. Today, the clip is kept vital not just for its perfect visual representation of a bulletproof one-line pitch, but for the clear nervousness lying underneath Palmer's veneer of Michael Douglas-like grown-man superiority, rightly terrified that his band could (and probably should) overthrow him at any moment.
9. Madonna, "Vogue" (David Fincher, 1990)
Combining old-Hollywood glamor with supermodel-era high fashion, "Vogue" set the tone for Madonna's '90s, hopping from one high-art collaborator to another, no two looks the same. The video is as classic as any of the film legends mentioned therein, and as iconic as any spread in the mag of the same name, containing any number of signature Madonna outfits — the sheer lace dress, the cone bra, even the full suit. The fact that it might not even be the most iconic video from either artist or director — maybe not even their best collab — should tell you all you need to know about the way the duo ruled MTV at the end of its first decade.
8. The White Stripes, "Fell in Love With a Girl" (Michel Gondry, 2003)
Before getting bogged down in old-school-audio missives, overly gothic looks, and generally excessive self-seriousness, the White Stripes took the nation by storm because they were fun, dammit. "Fell in Love With a Girl" was a rock song pure and explosive enough to deserve a video of similar vibrancy, and Michel Gondry was certainly the manchild for the job. Like most technologically dependent clips that have stayed timeless, "Fell in Love" works because its mind-blowing visuals carry with them a DIY ethos and energy; at its core, the clip is just a kid acting out a romantic fantasy with his toys, not at all dissimilar from what Jack himself does with his guitar. The duo had bigger hits, but would never glint with such innocence again.
7. *Peter Gabriel, "Sledgehammer" (Stephen R. Johnson, 1987)
The biggest winner in the history of the VMAs, and it's not hard to see why — few, if any, music videos have ever been bursting at the seams with this many visual ideas. The promise of blending live action with animation, as previously seen in classic videos by the Cars and Dire Straits, reached its logical conclusion here, with a stop-motion Gabriel riding a chalkboard rollercoaster, turning into a mask of fruit, and eventually finding his place as a constellation among the stars in the night sky. It's exhausting but exhilarating, and it set a new standard for artistry without restraint at the channel: Not hard to picture a young Lady Gaga watching an egg turn into two dancing chickens on her TV and nodding knowingly without quite understanding why.
6. *Rihanna feat. Calvin Harris, "We Found Love" (Melina Matsoukas, 2012)
For Rihanna's biggest adrenaline rush of a single, she commissioned a video that could match it pulse-for-pulse, a hyper-kinetic three-minute montage of the greatest hits and most dizzying lows a relationship could produce. The ante was high enough with the video's implications of excessive drug intake, passionate screwing against the wall, ribbon vomiting (!), and possible domestic violence, but Rihanna and Matsoukas went and doubled it anyway by casting a Chris Brown double in the role of RiRi's paramour, throwing all of the fallout from their real-life amour fou behind the clip as well. It's a Trainspotting for romantic addiction, and it's more electric than any other hit video this century.
5. Nirvana, "Smells Like Teen Spirit" (Samuel Bayer, 1992)
Kurt Cobain supposedly hired director Samuel Bayer to film their first major-label video because he wanted the clip to mostly suck. Oh well: No one will ever confuse "Teen Spirit" with "Janie's Got a Gun," but the thing was still powerful enough to all but upend MTV's regular rotation, all moshing and anarchic cheerleaders and bile-yellow haze, suddenly making Warrant and Winger seem very much a generation ago. The video was the best teen movie since The Breakfast Club, the consummation of that movie's conclusion that there was no point in kids fighting one another when there were so many bigger, more adult enemies to band against.
*4. Beyoncé, "Single Ladies (Put a Ring on It)" (Jake Nava, 2009)
Kanye wasn't wrong. It's surprising that it took Beyoncé almost a decade into her solo career to come up with such a career-defining video, but "Single Ladies" was a no-doubter; a clip whose SNL parody you could already envision in your head after one watch. Like most of Bey's best, it borrows liberally from the past, but emerges as legendary on its own merits, just from the unexpected shifts in lighting, the subtle variations in costume and makeup, the easily imitated hand gestures, the not-so-easily imitated hip gyrations. It's like an OK Go video where the gimmick is just Beyoncé being Beyoncé — watching her is more captivating and suspenseful than seeing any of that group's filmed Rube Goldberg devices through to their resolution anyway.
3. Beastie Boys, "Sabotage" (Spike Jonze, 1994)
All of the best Spike Jonze videos — or all of the best '90s rock videos, because it's basically the same list — are impossibly simple ideas carried out with pitch-perfect execution, and none was simpler or more brilliantly realized than '70s-cop-show parody "Sabotage." Most directors would've spent $50 on cheap wigs, clumsily blocked a couple of action sequences, written some schlocky dialogue and called it a day. But Spike and the Beasties practically went method with it, inventing their own characters down to their disheveled suits, devising their own plots and their own subplots, packing an entire season's worth of allies, villains, and both real and implied action into one heart-racing, sub-three-minute credit sequence. At the end of the day, the only inauthentic thing about the "Sabotage" clip might've been how good it was. No mid-vid donut break has ever been so well-earned.
2. Michael Jackson, "Thriller" (John Landis, 1984)
Both the Citizen Kane and the Star Wars of MTV: An unforeseeable artistic, technical, and commercial achievement that proved just how much more the music video could be. Even as the longest video on this list at nearly 15 minutes, it'd still take longer to list the parts that haven't become iconic, with just about every scene including some move, some look, some maniacal cackle that we'll still associate with MJ, and '80s pop entire, for eons to come. "Thriller" proved that music videos could go head-to-head with feature films in thrills, laughs, and star power — even nabbing Landis, one of the most popular movie directors of the period, to drive the point home — and its status as the most famous music video of all-time remains unchallenged three decades later. Without it, not only would we not have this list, we never would've made it to 30-plus years of the VMAs in the first place.
1. A-ha, "Take On Me" (Steve Barron, 1985)
So how can you possibly ever put anything above "Thriller" on a list of the greatest music videos ever? Well, by saying that as brilliant and ambitious as "Thriller" was, and as much as it cemented Michael Jackson as pop music's eternal Chosen One, it's maybe not the clip that's most in the spirit of what the music video is really about. MTV's early days weren't as much about making the successful and famous even more successful and famous; it was about finding stars in the unlikeliest corners of the globe, as long as they had a catchy song and an even catchier visual to go with it. It was about Split Enz, Men At Work, Culture Club, Musical Youth, and the Eurythmics. Even if only by necessity — many stars were slow to the music-video format at first, and MTV only had so many non-Rod Stewart and REO Speedwagon videos to go around — MTV had to get weird to get relevant. Hell, the first video they ever played was by the Buggles.
And so, "Take On Me," the video that could be seen as the platonic ideal for MTV's first half-decade: A video from a band that came out of nowhere — Norway, anyway — and captured the country's attention for exactly the one song length, and no longer. It was as economic as "Thriller" was expansive, telling the entirety of an inter-dimensional love story in under four minutes, but certainly no less imaginative; blending animation and live action in a more innovative and visually enchanting way than even "Sledgehammer" managed, using it to enhance the sweep of its fantastical love story rather than just dazzling as a parlor trick. The song was sparkling and soaring and slightly nonsensical, the video even moreso. Just as a song, "Take on Me" might've still been a hit, but it's the association with the video that makes it an all-time classic, one with just as recognizable an imprint on pop culture an entire generation later.
"Thriller" is still the preeminent music video, and always will be. But "Take On Me" is much closer to what people really think of when they think of the music video: A clip so transportive, so inspiring, so inexplicable, and so unlike anything that's come before it that it can make an ephemeral pop act immortal for four minutes at a time. And while a run through all 13:43 of "Thriller" will never not feel like a commitment, if you have some spare time to kill on YouTube, it's never a bad idea to grab singer Morten Harket's pencil-sketched hand and get sucked into A-ha's world of wonder one more time.