The MTV Video Music Awards needs Miley Cyrus more than she needs it, though the two entities have become completely intertwined following the telecast two years ago when the singer's ass-shaking "We Can't Stop"/"Blurred Lines" duet electrified the outrage of a PC nation. Their symbiosis carried over into last year's ceremony too, when MTV invited the then-21-year-old provocateur back and gifted her the Video of the Year Award for "Wrecking Ball," a moment in the spotlight that she instead ceded to a homeless youth she'd brought as her date.
This Sunday at the Microsoft Theater at L.A. Live, MTV's letting Cyrus return to the VMAs for her third year in a row, but this time  — allowing for maximum screen time and constant opportunity for "scandal," prefabricated or otherwise — she'll host the whole damn thing. Only minor snippets of information about the ringleader's show have trickled out thus far: She'll involve drag queens from Ru Paul's Drag Race in some capacity; she'll likely perform long-awaited new material, perhaps even with Flaming Lips frontman Wayne Coyne, who's been spotted on the show's set — but the network and its usually forthcoming host have remained closed-lipped.
Based on Cyrus' Lisa Frankian aesthetic of late, expect the 2015 VMAs to be a wildly colorful affair, studded with sprinkles and rhinestones and glitter. But if the Bangerz singer wants to really aim for the emcee hall of fame, there are a few tactics she can (and likely will) take to cement her success as the VMAs' biggest tentpole star since Madonna.
Lean All the Way Into the Camp
Miley Cyrus is a gigantic presence, a woman who doesn't care for a second what you think about her besides the plain and simple fact that — yes, it's true — you're thinking about her. Her Bangerz tour found the singer cavorting around with scantily clad dancers, weeping at the foot of an oversized inflatable dog modeled after her dearly beloved pup Floyd. Why should the VMAs lack any such inflated grandeur? It sounds like she's actually going full-scale Miley too, enlisting drag queens like Miss Fame, Willam, and Alyssa Edwards for the proceedings. To what extent isn't known yet, but Cyrus certainly isn't simply coopting the performers' oeuvre, having been a vocal fan of Drag Race for a while now. Bringing the girls to play at the VMAs feels like the next logical step in her lifelong homage to John Waters and all things camp.
Bring It Back to the Music, Though
This too should be no problem, as Cyrus seems poised for a welcome return to releasing music. At this March's South By Southwest, she strolled onstage during a Mike WiLL Made-It set for a three-song shakedown, and everything we've heard post-Bangerz — a likely cutting-room floor leftover called "Nightmare" and last week's leaked psychedelia-strewn demo, "Freaky" — has been weirdly, fantastically promising. Earlier this week, "news" emerged about everything musical she's got in the can — including that surrealist Wayne Coyne collaborative project — and where better to debut a song (or an album, Beyoncé-style) than on one of the biggest stages in the music industry?
Please, Please, for the Love of God, Don't Let Robin Thicke Into the Arena
This should be self-explanatory, but we wouldn't put it past MTV to invite Cyrus' former onstage grinding partner into the proceedings as a way of lighting up Twitter. This is a very bad idea; in the two years since twerk-gate (ugh), Cyrus' star has only grown in magnitude. Thicke's faced a major lawsuit from Marvin Gaye's estate, plus a divorce, struggles with addiction, a failed comeback attempt (Paula, we remember you), and now a second comeback attempt. MTV (and hey, SPIN too) is all about a good comeback story, but only one of the two parties needs the press. Cyrus doesn't need a gross male sponsor onstage with her to make the show sparkle. Security: If you see this man, ban his entry.
Use Your Star Power for Award-Show Good
The Tennessee-born singer's arguably one of Hollywood's biggest names, and she often goes toe-to-toe with the rest of that esteemed club. One of the best things Ellen Degeneres has done recently was her crowd work at the 2013 Academy Awards, chumming it up with Brad Pitt and Lupita Nyong'o. Let Cyrus into the audience to chop it up with the attendees. She's got the charisma (and the connections) to make it work. Who wouldn't stay glued to their couch knowing at any minute that the tongue-wagging host could soon be playing improv with Nicki Minaj or Ed Sheeran?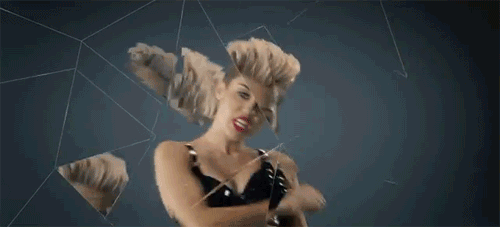 Don't Lose Sight of the Night's Intent
The joke's been beaten to death — MTV doesn't play music videos anymore. It hasn't for years, so stop griping and let the VMAs be what they are: a celebration of musicians and their star power as they (drunkenly) unite under one roof for a three-hour, debauchery-stuffed affair. Kanye West will accept the Michael Jackson Video Vanguard Award. Nicki Minaj will likely make some sort of speech about the value of black women's bodies in pop music if she wins a trophy, and it'll stop everyone in their tracks. Taylor Swift will cart out a special guest for "Bad Blood" (calling Katy Perry) and we'll all lose our collective hive-mind over the whole thing. And Miley? She'll walk away knowing she's still got us all hanging off her every word.