I have never seen a Montana license plate until today. We're in the parking "lot" of Legend Valley, a grassy farmland in Thornville, Ohio, a road-heavy region replete with 30-cent wings on Tuesdays. It's the most recent place on earth to host the Gathering of the Juggalos, the Insane Clown Posse's annual four-day festival, which everyone has an opinion on, including everyone who learned I'd be attending. Now in its 16th year, this convention is mythical — literally. Unlike most subcultural festivals, your friends and possibly family know what it is, and they all have tales of what it must be like, without ever having witnessed it with their own eyes. It's biblical. It smells like pig s—t.
Five years ago, my good friend (and this article's photographer) Jason Shaltz explained the appeal of the Juggalo identity to Village Voice's Camille Dodero in the most universal terms possible: "People who identify with this culture have had some relatively turbulent times in their lives and it helps them deal with it."
Shaltz has attended the Gathering six times and shot a video for ICP proteges Twiztid; I have to admit that, while me and my friends have joked for years that we should go to this thing, it wasn't a serious consideration until I met him. The 35-year-old Flint native-turned-Brooklynite exhibited a photography show in Brooklyn in 2010 called The Juggalo, all portraits of you-know-whos. Now here we are, spending four days hanging with what some believe to be the worst people on earth.
[featuredStoryParallax id="155909″ thumb="http://static.spin.com/files/2015/08/gotj-2015_day-4-2164-145×145.jpg"]
A girl in makeshift clownface asks a white guy with dreads, "Do I look like I belong here more than I did yesterday?" After he answers in the affirmative, she mutters, "I've got psychos in my family." There are levels to that statement; "family" is one of the key words of this weekend, chanted almost as often as the trademark "Whoop whoop!" greeting (one of the first vehicles we walk past is a pickup truck with the license plate number WHOOPX2) and "psychos" could mean brothers in arms. Psychopathic Records is ICP's DIY operation after parting ways with the majors who infamously allowed their parent company Disney to interfere with the vulgar 1997 breakthrough The Great Milenko. Just the same, everyone has psychos in their family.
I am actually nervous to say "Whoop whoop!" to someone, like they're going to know I'm a few Joker Cards short of a Dark Carnival deck. I feel like Taylor Swift fumbling to craft the most perfectly affable @ to Nicki Minaj. But the guy who earns my first one is Sam, a 44-year-old security guard from Newark, Ohio, who tells us about how a huge line of people showed up Tuesday, the day before any official admission, and the Gathering personnel just let them in to start unpacking their campsite. That set the tone for the martial law to follow. All weekend, people wear cardboard signs that read things like "LSD $10," or "SHROOMS (THE LEGIT STUFF) $25," out in the open. One topless woman has the words "MOLLY 4 SALE" scrawled in Sharpie between her boobs. Someone else is hawking morphine. It was the least discreet drug dealing I've ever been privy to — cheap, too. We'll cross that drug bridge when we come to it, I joke to no one.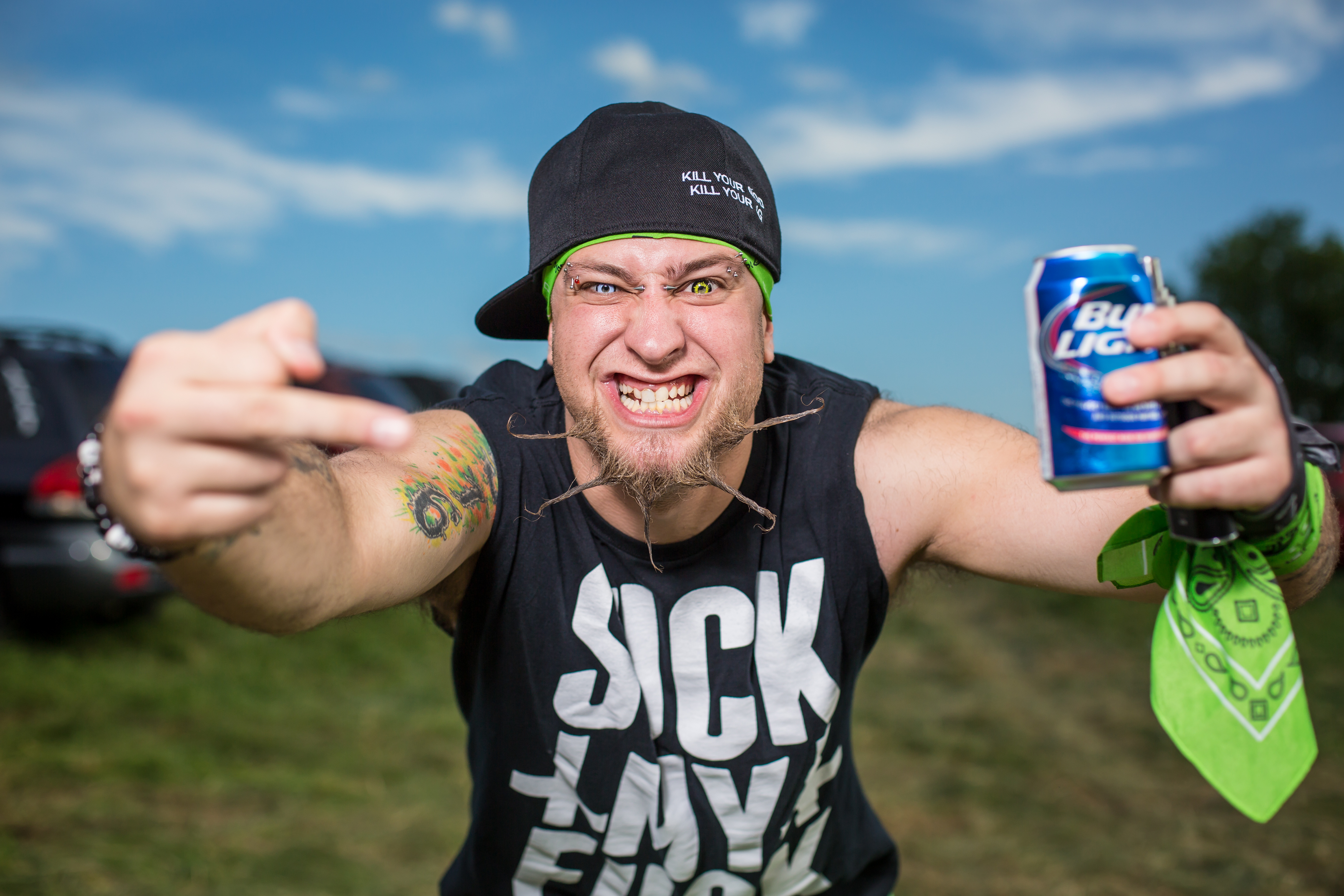 Cops circle the grounds in small, golf-cart-like vehicles and appear to leave everyone be, despite the abundance of nudity and controlled substances and endless illegal fireworks going off between Wednesday and Saturday. Anyone who's watched the Sandra Bland video need not look further than this festival to see the difference in how white and black young people are treated by police, who are seen riding small vehicles among this chaos but rarely spotted intervening over four days of open law-breaking. (It's worth noting that more people of color are spotted at the Gathering than expected, and definitely more women, who in 2015 look to the naked eye to be one in three attendees. There's also a weird number of people on crutches.)
One of the crowd members for Tech N9ne, our first set of the weekend, introduces himself as Zeus and says, "I created a religion in that line, that's how long it took." In what will quickly be recognized as a hallmark of what's truly a "gathering," the audience begins to chant "FAM-UH-LY, FAM-UH-LY," waiting for the rapper to go on. Tech N9ne has released 15 albums in 15 years, garnering a hard-won placement on Lil Wayne's Tha Carter IV, and attracting T.I. and Eminem in 2015 for his new album, Special Effects, drawing out the most technically skilled verse from Slim Shady in years. Tech is said to write to a beat by breathing out complicated rhythms first, and piecing together the actual words later. His nickname is "Technician" and nobody challenges it. He takes the stage in Lucha Libre-style white makeup, with a live band (including an animated drummer who stood on his kit) and hypeman Krizz Kaliko (who harmonizes impressively with some of Tech's most complicated speed-raps live). While Tech gnashes his way through favorites like "Am I a Psycho?" a mosh pit that's more mosh portal opens in front of us.
[featuredStoryParallax id="155956″ thumb="http://static.spin.com/files/2015/08/gotj-2015_day-1-20021-145×145.jpg"]
During "Dysfunctional," Tech and Kaliko synchronize jogging in place, while a crowd member with Christmas lights strewn through his dreadlocks periodically drinks from a gasoline can. Then I take my first beer can to the head; it's lighter than you'd think. Watching firsthand as crowd participants quaff from full-sized bottles of Jack and Fireball and send them up in the air as well, I'm lucky enough to spend the rest of the weekend without finding out how glass feels against my skull. It isn't, however, the last time the budget-priced, Juggalo-championed soda Faygo is splashed onto my phone.
Tech tells the crowd about getting drunk at P.F. Chang's, then pulls a woman up to exit stage left with Kaliko because she allegedly "promised to suck his d—k." His next song, "Areola," is a Miami bass throwback à la "Whoomp! There It Is," if a second-grader rewrote it accordingly: "Whoomp! Ar-e-o-la / Whoomp! Air-ee-oh-la." He finishes off the set with his traditional "Tech N9ne gun salute" — wherein he raps along with the sound of an actual gun unloading its clip — and a declaration of purpose you won't hear at any other festival: "I'm a G, I'm a clown, I'm a king." Then we go off to watch a girl staple a four of spades to a man's bare stomach.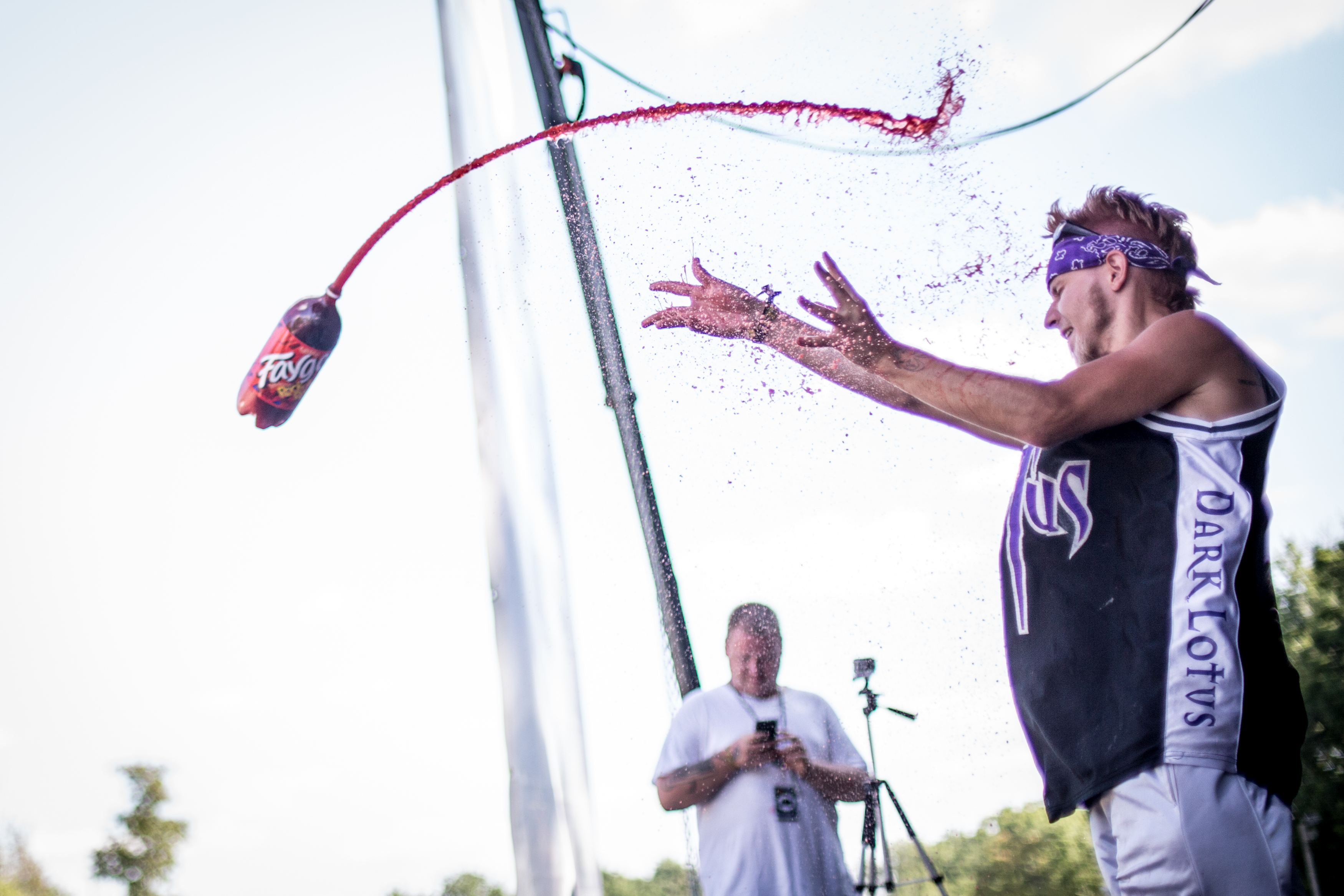 Taking in the sights and offerings of the Legend Valley grounds on an unlit walk, there's an $8 "stoner bowl" you can purchase with either steak or chicken. There's a cavalcade of "Busey Beauties" corralled by Gary Busey's nephew, Mike, who will give you a free lap dance in a bronzed wheelchair if you buy a t-shirt. There's a blonde cracking a whip that's literally on fire to the sounds of a drum circle, for spectators seated on hay bales. Throughout the weekend it remains difficult to describe how the festival is Exactly What You Expect while simultaneously being an utter surprise at every turn. One recurring creative catalyst remains the drug culture; someone shills "Electric Faygo" (Faygo with LSD) while another craftsman has brought along a piñata filled with candy, some of which has been infused with psychedelics and some hasn't.
"If you're on cocaine let me hear you scream!" bellows Stitches, a very tattooed, muscular rapper who galvanizes the Carousel Tent at 3 a.m. and looks far beyond the age of what turns out to be 20. He enjoyed a viral hit last year with "Brick in Yo Face," probably the best-known thing to come out of the face-painted rap sphere since ICP themselves, mostly for the outrageousness of it. He's deadly serious, but no less outrageous during his brief, four-song set, which is one of the most memorable of the weekend. "F—k a job," is his enduring catchphrase, and judging by his face tats, he means it. He performs a lust paean to Miley Cyrus ("Put molly in her ass!") and invites a dude onstage to give him 500 dollars in cash. The kid holds out his phone to take a selfie before even reaching for the money. For the climactic "Brick in Yo Face," Stitches and his hypeman heave Ziplock baggies of flour-resembling-cocaina onto the front row. One vehement convert of many behind me yells approvingly: "That's a man right there!"
[featuredStoryParallax id="155921″ thumb="http://static.spin.com/files/2015/08/gotj-2015_day-1-2599-145×145.jpg"]
At this point it's important to note that we're having a good time. All questions of irony or who's being laughed at or with, disappear in the spirit of what ICP have correctly modeled as a circus. You just watch in awe. Which isn't to say that boundaries aren't pushed; during Tech N9ne, two clowns (loaded word here) shone their flashlights over my shoulder, officer-style, while I took notes on a soda-sticky iPhone. At one point, the rapper called for hands up and each of them took one of my arms and swung them up in the air. They kind of marveled and thanked me afterward for being a good sport. Later on, some kids will shout "computer repairman" at us. Shaltz had warned me that "Juggalos will f—k with you, but they won't hurt you." I doubt that's been the constant experience for 16 years. But it's what mine is.
On Thursday, we carry our instruments over to the Carousel Tent for the Gathering's version of the Gong Show. One reason I brought my own band's drummer Pete, 29, along for this festival is because I wanted to actively participate in the Juggalo events. At our own shows, he's the one to watch, launching a stick into the air and catching it, or choreographing high-fives with a bandmate between hits. Sporting the bushiest beard of his life and an American flag bandana, with a metalhead pedigree, his sincere desire to attend this thing was never in question. Pete signs up for the talent show twice: to play a song with me, and to shred on my guitar by himself. A tall, neon-pigtailed hostess named Triple Six shows us where to go; the band waits to go on fourth, Pete solo is billed fifth.
A large gong is wheeled out, with a Chuck Barris impersonator hosting in a bowtie and fake tux, alongside some fluorescent-haired Juggalettes and a topless little person with pierced breasts. From behind the stage, we watch the contestants perform, like a teenager who played bassoon, seated, with sheet music. He isn't gonged, but the judges don't approve. Another performs a monologue from Titus Andronicus. One of the judges notes, "You get points for being a Juggalo who knows Shakespeare… but Shakespare sucks!" But he relents on his low score because the kid was from "Lansing, Michigan, which rules." Then it's time for us, except we get skipped. "Pete G" gets called up solo, and he improvises some Van Halen-style, two-hand tapping on my guitar. They love him; all three judges award him with a perfect score. He's nicknamed "Tommy Chong Jr." for his resemblance to the heavy-lidded comedian.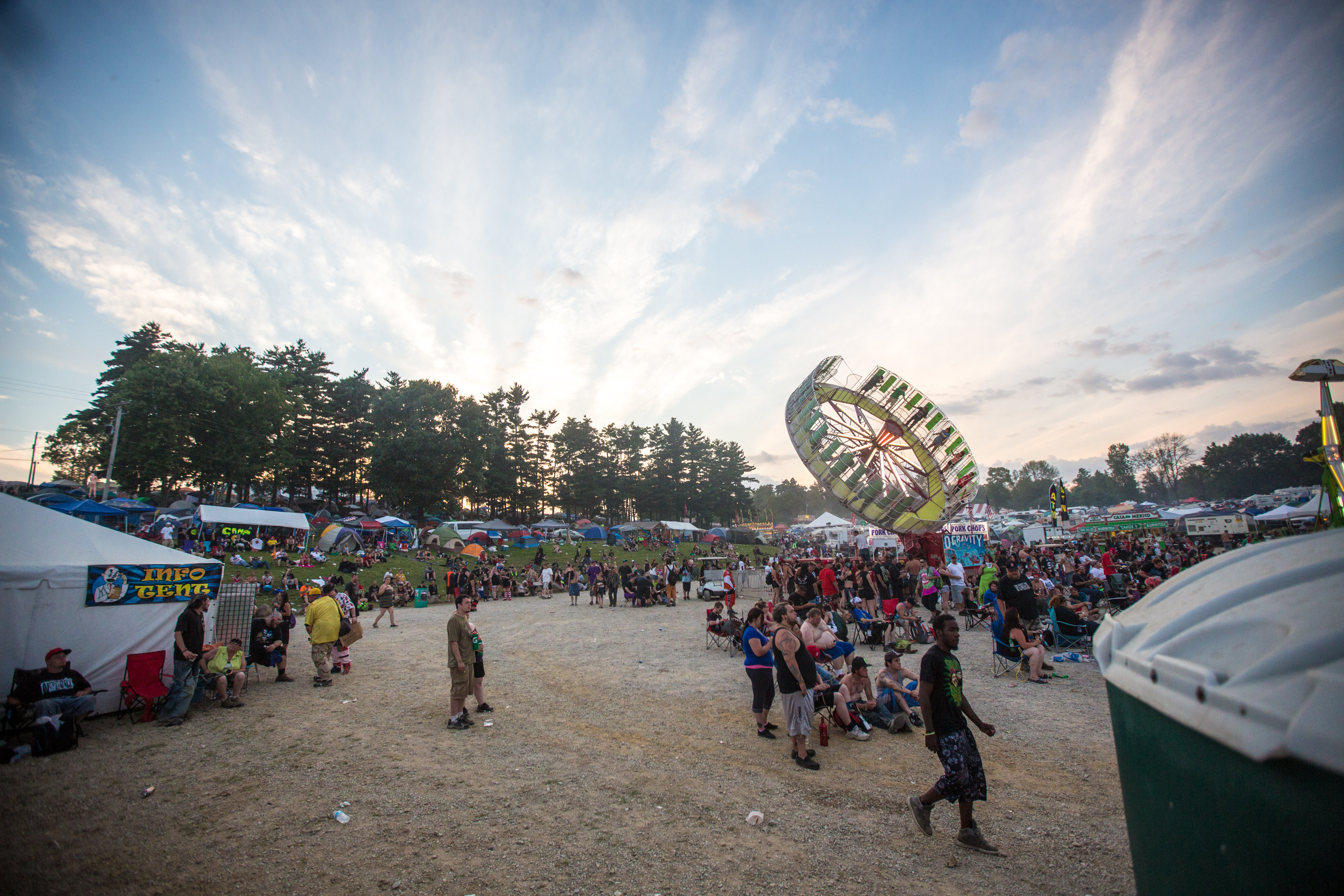 Few of the other contestants are so well-liked, though one face-painted girl who couldn't have been older than nine seems a threat to Pete's grand prize of a gold Juggalo plaque, a Pringles can filled with $73.25 in nickels, and a tube of Preparation H. She freezes in front of the audience, and with some positive cheering on, eventually sings a strange song in self-described "gibberish." The crowd swoons. Then the first judge asks, "What the f—k was that?" and shockingly awards her a score of one out of ten.
When my band finally gets our turn, we don't get the dreaded gong, but neither the crowd nor the judges know what to make of the original indie-punk song I hedged my bets and shouted through. The first judge asks the crowd what they thought, and they largely gesture a bored thumbs-down. He gives us a five. The second judge gives me a two and Pete a ten, which in Juggalo math averages out to an eight. Triple Six gives us a five. All told, it beats a bottle or feces to the head. Shortly after, they announce that Pete's solo guitar act won first prize, and he receives his plaque and Preparation H. No $73.25 in nickels; that goes to the little girl.
Heading back to throw our instruments in the car, we spy a guy laying on an air mattress in the parking area, whom a car is about to back up onto because he's laying too low to see in the rear view. "Car, car!" Pete exclaims, and the guy rolls over backwards, taking the whole mattress with him, with a grin suggesting that stupidity is underrated.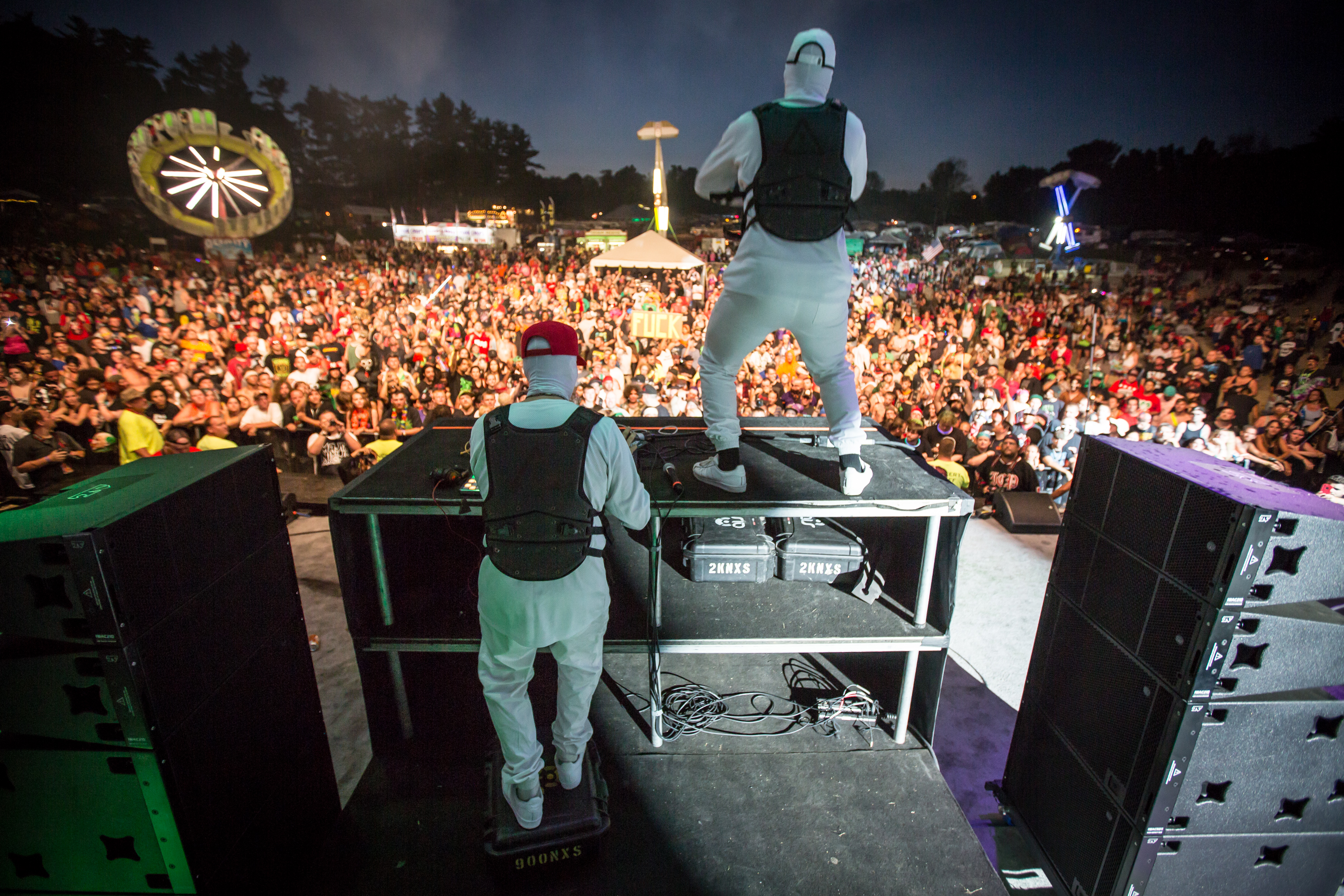 This wasn't the most controversial GOTJ bill, but I wanted to see if there was an act in attendance who would get the bottling and terrorizing treatment of past performers like Tila Tequila and Kurupt. Figuring the widely reviled Puddle of Mudd was our best bet, we catch the end of their set; the Stones' "Gimme Shelter" and their own "She Hates Me" are probably the best they had to offer anyway. The latter is especially well-received. An emaciated-looking Wes Scantlin kind of car-dances with just his arms like the goofy dad he probably now is. His band turns the finale double time while he sits down in front of the pit to smoke a J.
Any presumptions about how Juggalos will react to EDM are quelled by Flosstradamus. Josh Young and Curt Cameruci play off each other well, clad in matching tactical vests over white bodysuits, and swirling together the more contemporary and turnt likes of Danny Brown, 2 Chainz, and Jack Ü with the classic rabble of DMX's "Party Up (Up in Here)" (which will make several appearances over the course of the weekend), and "Ruff Ryders' Anthem," as well as Lil Jon's "Get Low." They sing along with Young Thug's "Stoner" hook and declare, "We gonna take this bitch from zero to 420 real quick!" It's the closest a large swath of Juggalos come to out-and-out dancing all weekend.
The last band we see on Thursday before packing it in is Dark Lotus, a supergroup of ICP, Twiztid, and Blaze Ya Dead Homie. We talk to several Juggalos who tell us they prefer them to ICP.
[featuredStoryParallax id="155934″ thumb="http://static.spin.com/files/2015/08/gotj-2015_day-2-2320-145×145.jpg"]
"I feel like Dark Lotus is the spiritual [side of ICP]," says Dustin Chadbourn, 27, a beer draft technician from Arizona who doesn't actually like beer. Their set is definitely more subdued and more serious in appearance and sound than ICP's Faygo-spraying circus spectacle. This doesn't make them "darker" per se, but the rapping is noticeably more textured and shadowed.
Later, we sit down at a small campfire with a 36-year-old bar bouncer from Denver named Patrick Berry, who details the aspects of Juggalo culture you won't read in an FBI report: "People show up here with no money, have no way out of here. People help them out like family, cook food for them, set up tents, they'll take care of you like family."
Berry, who's also a fan of country and jazz, sums up ICP's appeal succinctly: "Just because they are stars, I don't feel like they're better than me." He doesn't listen to the radio. "The only person I like off the radio lately is Meghan Trainor, because she sounds like that '40s candy-shop, ice cream shop thing."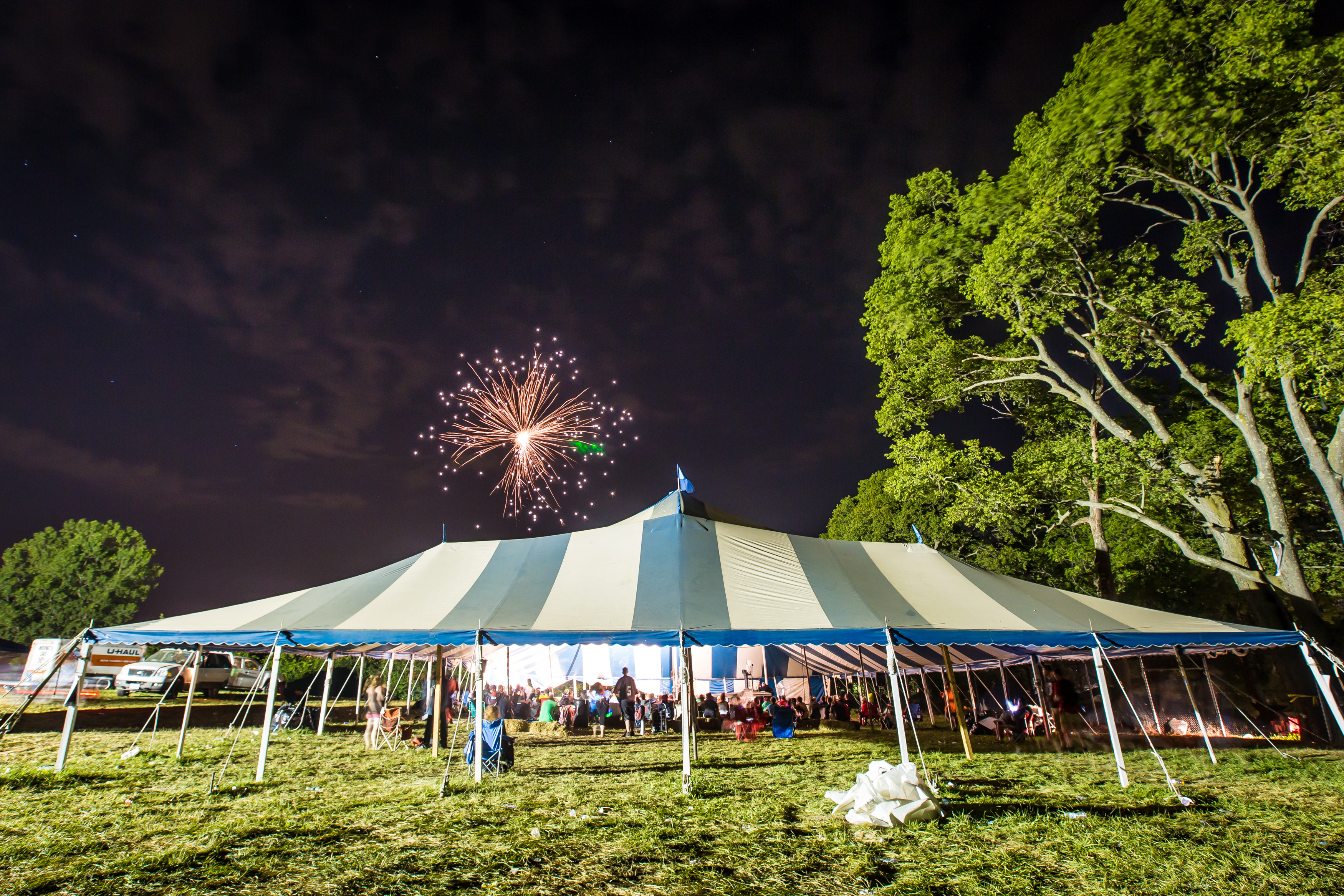 Friday morning, I force Pete to enter the Flow Master Rap Battle, which is exactly what it says it is, held in a literal ring, normally used for JCW, a.k.a. Juggalo Championship Wrestling. The very first battle is between a guy named Joker Luke D, and a man with no legs from Oxford, Pennsylvania who goes by the moniker Lex Bison. Despite the two contestants' comparable freestyling abilities, the judges (who include Michelle "Sugar Slam" Rapp, wife of ICP's Violent J) choose Luke as the winner, who overcame the unenviable task of dissing a man who crawled under the ropes of the ring from his wheelchair. It's not out of the question that Bison enters this thing to get the supportive but brutally honest critique on his actual rapping that the rest of the world is too patronizing to grant him.
Other matches take place, including characters like Foolish, an aptly named white dude who used the N-word in his verse, and a guy who's too drunk to rhyme and ends his turn by putting his opponent in a surprise headlock. I would not agree on the judges' choice of winner in several of the matches. Then there's Pete. He's capable of rapping, in a frat-house-y, Whose Line Is It Anyway? sort of fashion, and he's a slight cut above most of these guys. His first round goes decently, but on the second one, he's eliminated by a guy named Flames from Brooklyn, one of the few amateurs here who could hold his own in a "real" rap battle. Pete surprises the crowd by sticking in a PSA for pets to get neutered at the end of his verse, to lots of applause, and the ref openly points out that he's surprised the bid doesn't sway the judges.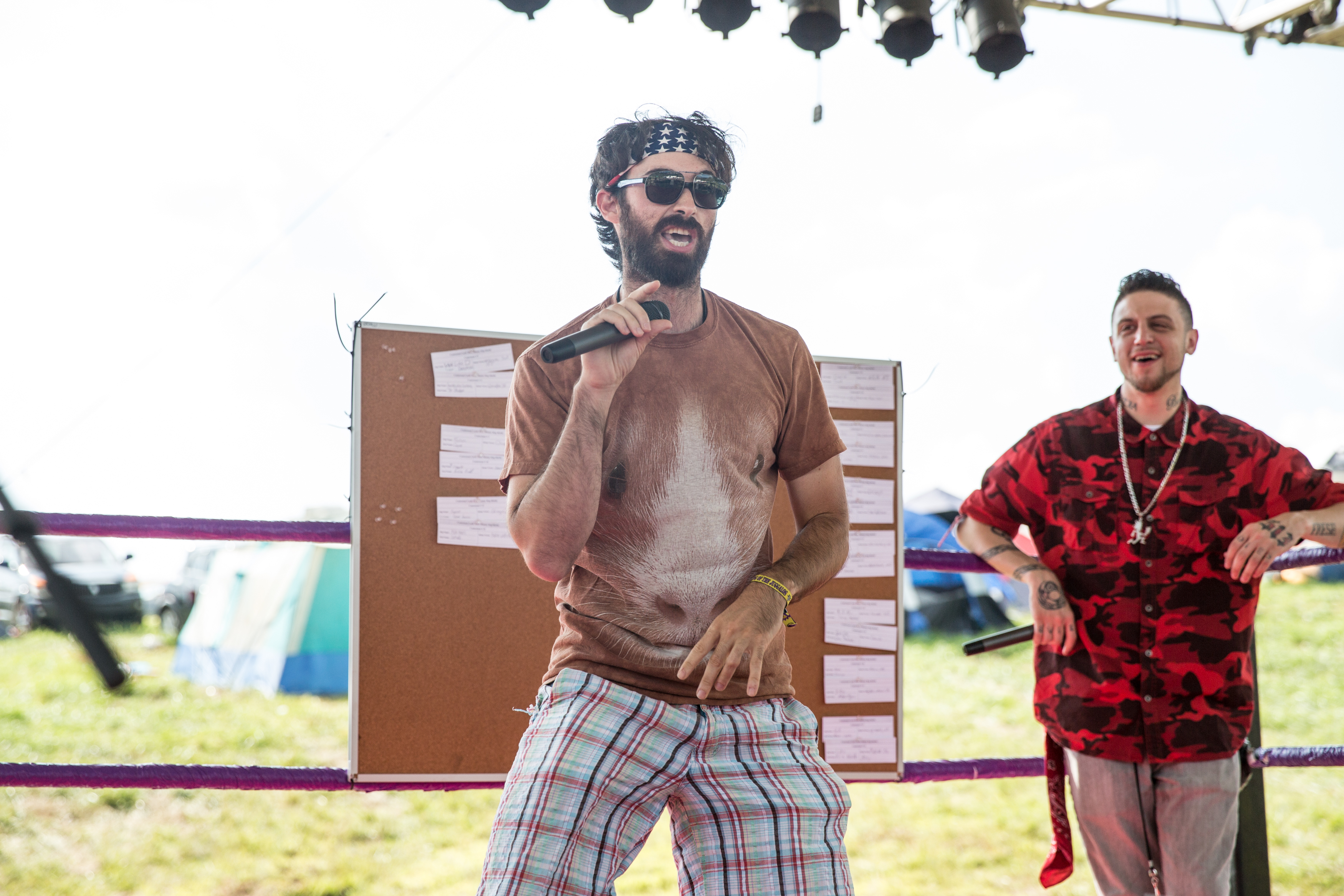 One of the most amazing moments of the entire festival turns out to be nü-metal stalwarts In This Moment's walkout music on Friday: Journey's "Don't Stop Believing." To our astonishment, a few thousand Juggalos and Juggalettes know, and sing, every word. It's fascinating what shards of the mainstream cross over to this alternate universe — Lil Jon and DJ Snake's "Turn Down for What" is a big festival favorite — and Wu-Tang Clan's mystical hijinks prove more universal than anything by Kanye, Jay Z, Lil Wayne, or Biggie, most of whom go entirely unheard among Gathering intermission music or DJ sets.
In This Moment's Maria Brink herself is a star, with cabaret-style choreography and Lady Gaga-esque costume changes after every song, including a giant dunce cap donned for "Whore." At one point, a masked nurse stalks the stage with a giant hypodermic needle. The spectacle draws about three times as many women to the front row as, for instance, the bro-filled Archers of Loaf show I attended two weeks before. With songs called "Sex Metal Barbie" and "Dirty Pretty," one could say all that stands in the way of Brink's crossover success is her need to pigeonhole herself; her set is the closest thing to a stadium-pop extravaganza that I've ever seen from a guitar band, much less an under-the-radar one.
[featuredStoryParallax id="155944″ thumb="http://static.spin.com/files/2015/08/gotj-2015_day-3-19111-145×145.jpg"]
At two in the morning is Ill Niño, a second-string Ozzfest band back when I was aware of them, whose Latino heritage informs several nylon-string guitar solos (an alert roadie places the acoustic instrument in front of the band's guitarist for their many Latin-flecked pastiche sections). "We're bringing it back to 2001… before there was so much hate in this world!" announces singer Cristian Machado confusingly, before they rip into "What Comes Around," a highlight and the only song by them that I know. "Thank you for being metal!" yells a front-row dude, acknowledging the same surprising dearth of metal that I notice at this festival. Toward the end of their set, Machado thanks anyone watching who "doesn't know who the f—k we are" in hopes that he made some converts, and reprises his utopian mantra: "Most importantly I like to see multicultural people interacting and having a good time." Only a hater could argue.
I decide to camp out Friday night to get the full experience (and my first ever in a tent), but other than passing out at a 45-degree angle on a hill and waking up to the not-great sight of a mosquito inside the tent there isn't much to tell. I resurface around 7:00 a.m. on Saturday, way too hot, and when I leave the camp in a daze, one guy calls out to me. "You look like you could use some water," he says, handing me a bottle. Cold. I have never been to a music festival in my life where a fellow attendee gave me a free, cold bottle of water.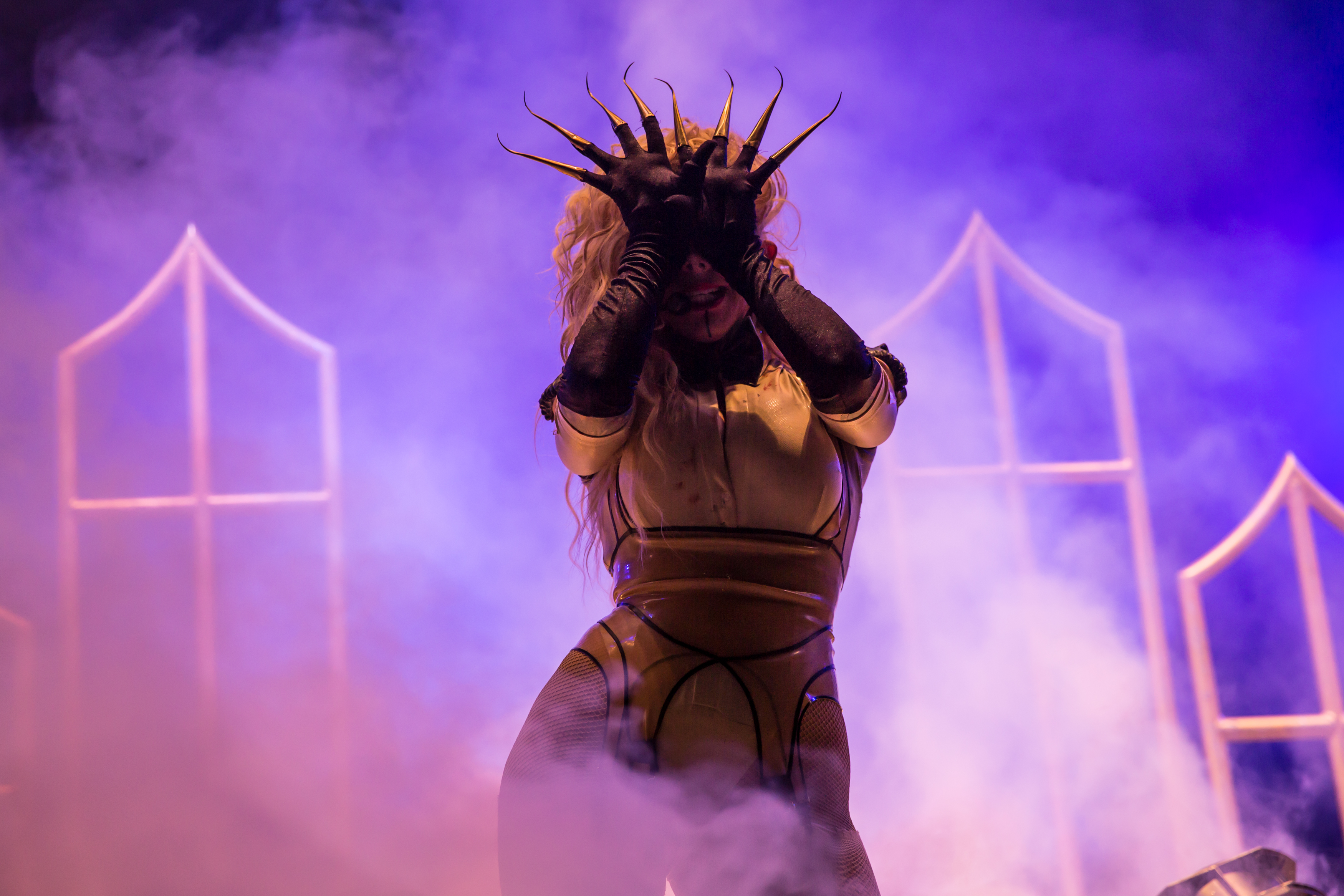 On Saturday morning, Pete enters 2 Tuff Tony's Fishing Tournament, for which he's brought rods and everything. When I go to meet him at the pond there's a shirtless Juggalo shouting at a bullfrog: "You're supposed to be on my grill! You're mocking me you son of a bitch!" I don't think he's actually competing. Another guy with braids has waded into the pond himself, and someone yells to him, "Watch your dick, there's turtles in there!" A spectator in a golf cart reveals that he's scared of fish.
"I'm here to show my buddy he's not the best fisherman in the world just because he owns a boat," says Bloomington, Illinois resident John Rowe, 32, who owns a tattoo studio called Psychopathic Ink. The fish in his hand keeps gasping for air as two crew members weigh it. 2 Tuff Tony is apologizing for the small fish, promising bigger ones next year.
There are carp up to 40 pounds in the pond, but Pete explains to me that they're easily spooked: "Some people are throwing heavy lures, and sometimes it would hit them, but they get scared pretty easy." He quickly realizes to switch to a small jig (a weighted head with a small fake worm) as his lure, and just by catching three blue gills, ranging from 0.8 and 3.6 ounces, Pete beats out a couple dozen other Juggalos to first place again, along with a second gold-record plaque.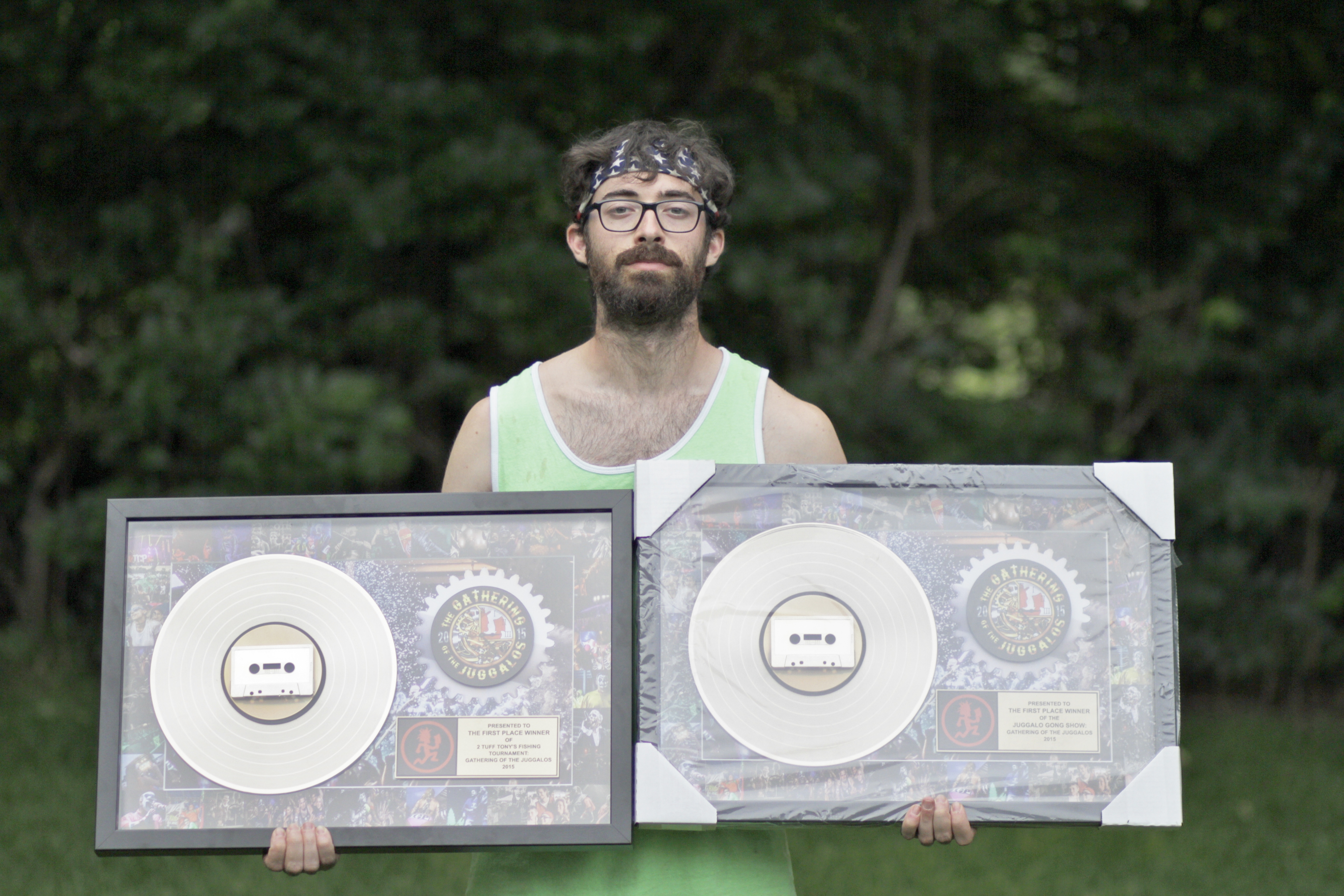 I opt to sleep after catching some of the Neden Game, the Juggalo version of the Dating Game, which features male contestants with aliases like Swamp Nuts and Balls Nasty, and female ones who boast of sex dreams about Draco Malfoy and Pop Rocks-enhanced fellatio, and I nap through the Miss Juggalette pageant altogether. Call it a hunch — "neden" is ICP-speak for "pussy" — but after mostly succeeding in avoiding the casually misogynistic underbelly of this stuff it seems safe to miss.
A 42-year-old Juggalette who goes by the name Queen Ester is quick to dispel the notion of inherent objectification in the culture. "When I show my tits, I ask for balls in return," she says, grinning. This is her ninth Gathering.
[featuredStoryParallax id="155952″ thumb="http://static.spin.com/files/2015/08/gotj-2015_day-4-1816-145×145.jpg"]
"If you don't give a fuck, put one gun up!" shouts Waka Flocka Flame as we arrive back at the Big Top Stage. The bravest act of the entire weekend taunts the crowd, "You got something, throw it!" They launch dozens of glow sticks, roman candles, water bottles, and hot dogs at the stage, some of which Waka catches. "Someone get me a hot dog with ketchup on it!" he exclaims between bullheaded favorites like "Bustin' at Em."
"We like to fuck with people, not intentionally hurt them," Berry had said. "But sometimes our pranks do end up hurting people."
One beer can narrowly misses Waka's DJ, though I catch my second and final one of the weekend in the back of the head. One guy's affixed a two-liter of Faygo to his Super Soaker. Waka seems so f—ked up that his DJ handles the second, surprisingly EDM-heavy portion of the set, dropping his own verse over "Turn Down for What" and reinterpreting O.T. Genasis' infamous "Coco." Even the projectile-oriented audience members love him, not least for chanting things like "Get f—ked up! Get f—ked up" and, oddly, the repeated couplet "I can't trust my friends / Cause they set me up," a rare moment of distrust among this fam-uh-ly retreat.
"My booking agent is like, 'Waka Flocka, you sure you wanna do this motherf—king show? These peoples are crazy!'" he recalls at one point, pausing for just a second before responding to himself: "I love crazy, motherf—ker!"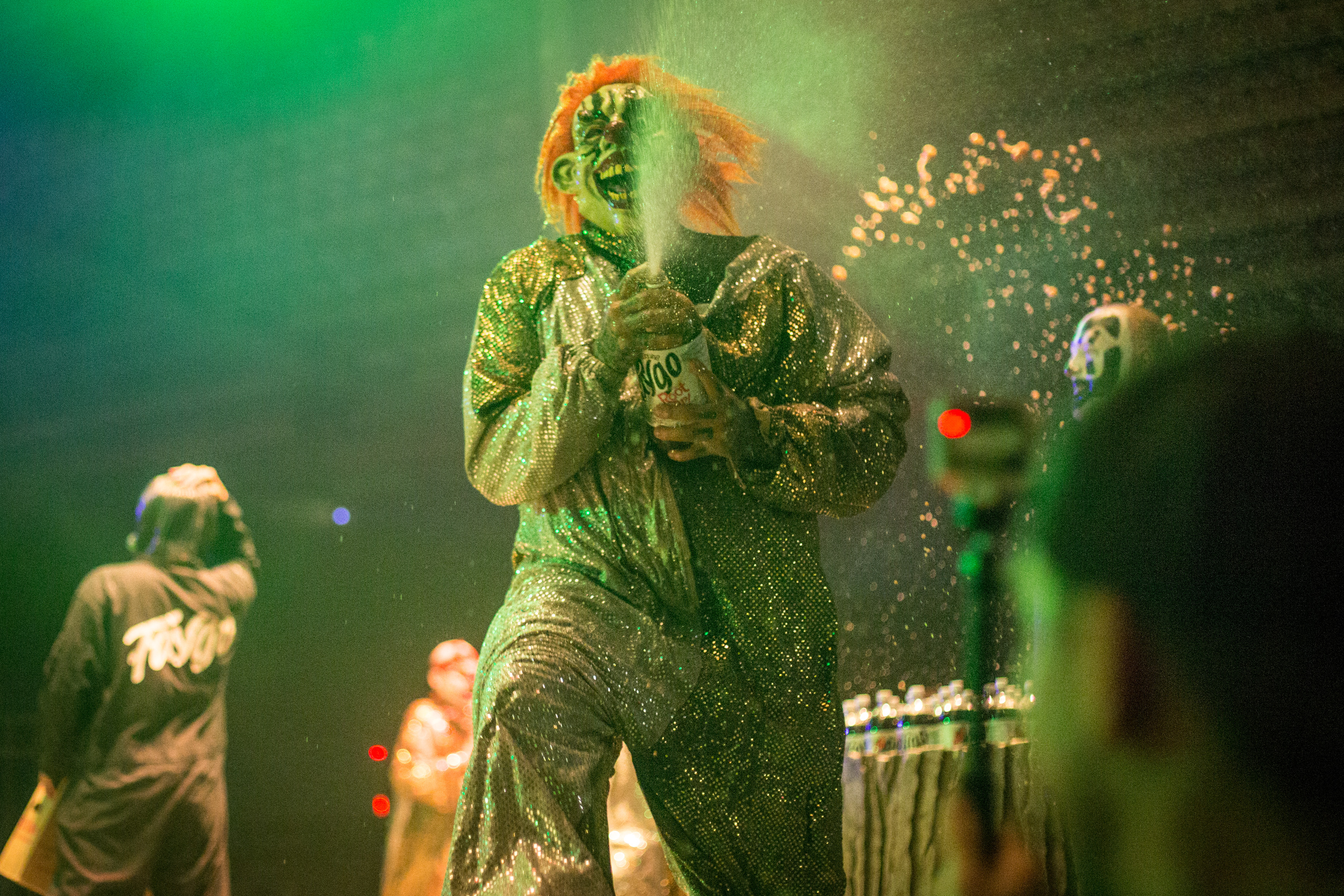 It's around this time that I take up one friendly Juggalo couple sitting on the hillside on their face painting services. First, I'm implored to wipe off any sweat. Then they apply white and black paint in the style of Violent J's makeup. The process takes about 15 minutes and costs me ten dollars, and I'm surprised how happy I am with the results. The paint breathes nicely, dries quickly, and feels heavenly on my sunburns. It looks good with my fading orange hair dye. I'm ready for ICP.
If Jason Shaltz didn't warn me how soaked we will get as I enter the photo pit, the clear plastic bags over everyone's cameras would've. The most infamous duo in all of music is barely onstage for minutes before the huge, kiddie pool-sized barrels of Faygo on each side of the set go flying, spraying, warring. Insane Clown Posse wish their own festival a happy 16th birthday, and, contrary to what some Dark Lotus-preferring Juggalos told me this weekend about "see [ICP] once and you've seen it all," every single person at this event is watching this show, not selling drugs or passed out in their tents. The crowd knows every word, from 1997's rudeness peak "The Neden Game" to this year's just-released "I F—ked a Cop," which is kind of like a dumbed-down take on Lil Wayne's "Mrs. Officer" ("All I gotta do is call 911").
Musically, their horrorcore schtick is nothing to write home about, though it's bombastic enough in this setting to drown out the everydude rhyming and B-movie beats. And neither Shaggy 2 Dope nor Violent J possesses the stage like festival MVPs Stitches or In This Moment, much less previous Gathering honorees Danny Brown and Ice Cube. But as schlubs conducting a shared experience they pioneered (and really, how many subcultures can you trace back to two exact people?), they own this depraved wonderland, this Best Weekend Ever for thousands of morphine-testing Burning Man analogues who enjoy displaying their breasts for four days a year without consequence. They own this synthesis of carnival rides and lap dances, of acid-tinged soda and drunk freestyle rapping that culminates in a headlock. We are gathered here today in unholy matrimony, not reverently and soberly, but unadvisedly and lightly. It's a good time. It's biblical. It smells like pig s—t.