One Direction's Harry Styles made headlines today for falling while performing on stage, because people are evil and want to watch celebrities slip and fall (SPIN included). It would be one thing if it were Styles' first tumble, but this is actually the second time he's wiped out onstage this summer. In fact, it's been quite a dangerous year for musicians, as a bunch of them have taken a plunge over the stage's edge — including the Edge himself. SPIN rounded up nine of the best (worst?) falls of 2015 for your sick viewing pleasure. Hopefully this'll encourage musicians to be more careful.
Updated 11/12/15 to include 5 Seconds of Summer and Florence + the Machine's falls.
Florence Welch was performing at the Sidney Myer Music Bowl in Melbourne on November 10 when she let her energetic performance get the best of her, appearing to graze one of her backup singers and lose her balance. Oh well, at least she didn't break her foot.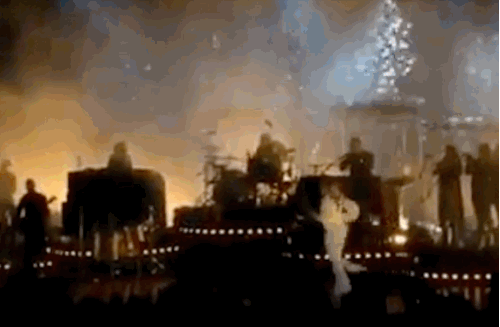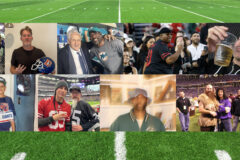 During a July show in San Diego, the One Direction heartthrob picked a fight with a mic stand and lost.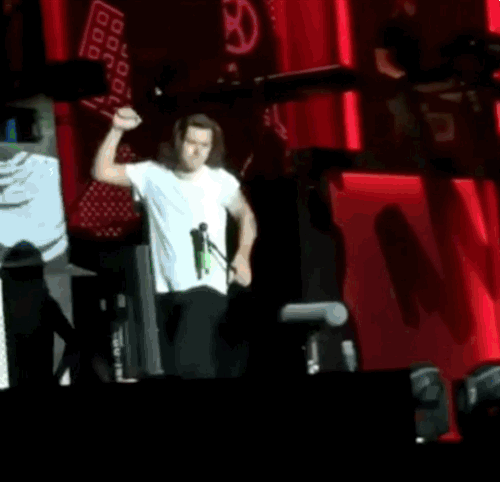 While kicking off the promotional tour for her Max Martin song "Cool for the Summer" this past June, a poolside Lovato bellyflopped on the cold hard ground with a sickening "thwack" before popping back up, apparently uninjured. "#NOTCoolForTheSummer #F**kIt," she tweeted afterwards.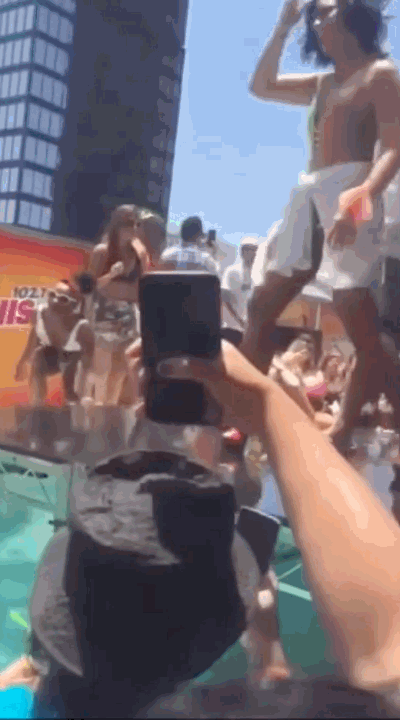 8. Puff Daddy
Lil' Kim emerged from a hole in the stage during the BET Awards, and shortly afterwards, Diddy fell ass-first into it while strutting away. He bounced back quickly though.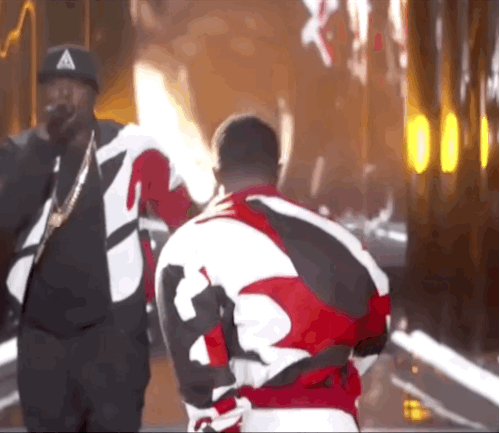 Harry Styles is not the best on his feet, it would seem. At a concert in Toronto 0n August 20, he managed to make his ankle contort in ways that it seems no ankle should.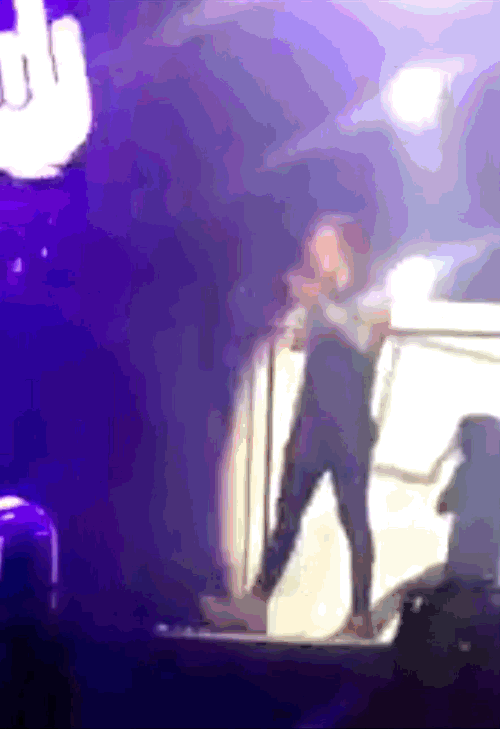 Oops!… Brittney Spears twisted her ankle during an April 29 date of her Las Vegas residency.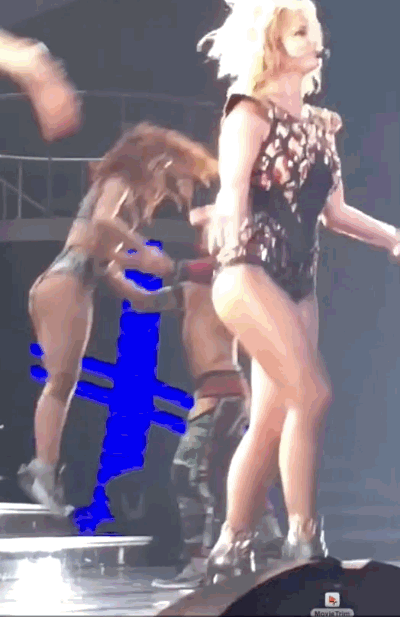 Michael Clifford strolled off of the side of the stage Looney Tunes-style mere seconds into 5 Seconds of Summer's performance closing out BBC Radio 1's Teen Awards on November 8. "WHY DO I ALWAYS HURT MYSELF" he tweeted after the incident, referencing that time this summer when his hair caught on fire during a show. Yeesh, kid. Be more careful.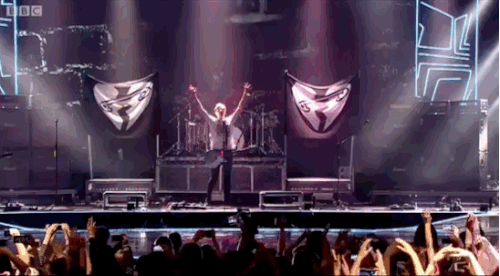 After coming onto the stage like a poised, boss-ass-bitch, Madge was violently yanked off her feet and down some stairs during this year's BRIT Awards. Props to her for getting back up after being dragged, both IRL and online.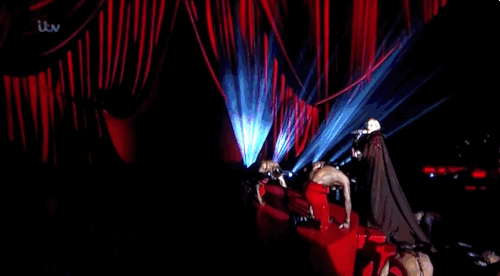 U2's the Edge casually walking over the edge of the Rogers Arena in Vancouver during a May concert remains one of the most comedically perfect instances of schadenfreude to ever occur.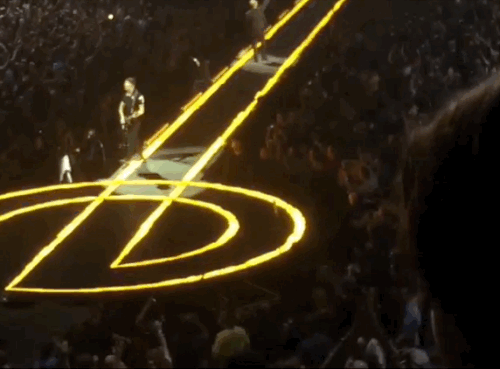 The Foo Fighters frontman went careening offstage this June during a concert in Sweden, breaking his leg in a truly nasty way. Luckily, the injury gave Grohl a chance to perform from atop a massive, crazy rock throne that he designed while "high as a f–cking kite."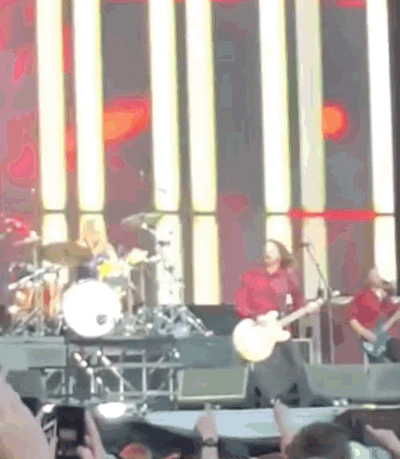 During the rainy first day of Governors Ball, Slim Jimmy — of the brotherly hip-hop duo Rae Sremmurd — attempted to liven up the drenched crowd by walking along the speakers to bring his energetic performance closer to them. It was going well, until he stepped on a light which couldn't support him, fell, and sustained a deep, deep cut to his leg 😖.