Two years ago, the punk world bid farewell to one of the best things it was ever gifted. Chaos in Tejas was an annual summer affair, SXSW for the studded and brand-less. Organized by renowned booker Timmy Hefner, the Austin-based shindig became a destination festival, one still under the radar enough to be enjoyable. It began as a strictly punk/grind fest and grew to be more eclectic, mirroring the ever-changing nature of the four-letter word. Near its end, rappers, indie rock bands, singer/songwriters from all corners of the world were making their way to the Texan city. It shuttered before it could implode. Hefner ran his fest with the utmost respect for artists and fans alike, and it began to grow exponentially. Sometimes it's best to kill off something before the world destroys it.
One year later, Berserktown was born, this time near Los Angeles, a city slowly becoming a hub once again for all things punk. Like New York, it's a town of ex-pats; you move there looking for something. This festival fought to pick up where Chaos in Tejas left off, continuing in a tradition of inclusive, outsider music. And in its second year, that's exactly what it's accomplished.
Finding your way to the Santa Ana venue is strange. It's at a place called the Observatory, in the middle of a medical strip mall. If it wasn't late at night, you could feasibly run into an optometrist before making your way inside. Unlike Chaos, whose fest took over the smallish venues of downtown Austin (and some not venues, who could forget Hoax at the recycling plant), Berserktown is three stages, three days, in one central location. It's massive, cool, and professional. The sound rivals any decently sized club in the United States. That's decidedly unpunk.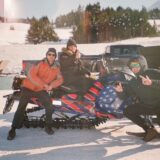 Upon entry, attendees are greeted with an army of security. Schedules are read right to left, mirroring the style of traditional Japanese. It makes it harder to figure out what's happening and when, but succeeds in creating an atmosphere of artful pretension.
The first night is slow. DIN, Pupka Frey's textured synth-noise project is a strange live experience at 7:00 PM on a Friday. When it gets loud, it's piercing, and even the bravest attendees back up against the bar, earplugs in tow. Half an hour later, it gives way to the Cure vibes of post-punk prodigies Wax Idols. At this point, the fest finally shows promise of picking up about two hours in. Frontwoman Hether Fortune tells the crowd she "won't bite," and they heed her non-warning.
DIÄT, a band based both in Melbourne and Berlin that rarely ever plays live, follows. That however, is unfortunately reflected in their set: It could be a combination of the cool attitudes, or the performance anxiety that naturally befalls newcomers to the stage, but something is off. It's quite the upgrade between their set and that of Appleton, Wisconsin's Tenement, whose 2015 album Predatory Headlights is a massive double LP, one that spans time, space, and genre. But live, they stick to their power pop-punk tunes, perhaps to keep the energy up; when you're battling out with hardcore acts, you've got to keep the crowd interested.
Moments later, noise legend Nate Young of Wolf Eyes performs solo. The loudness alone empties the room. Berserktown feels like a war zone — sometimes it's actually physically draining to enjoy a set, regardless of genre. Hours later, Destruction Unit play the same stage, to an equally as exhaustive crowd. The noise is different, the levels aren't.
All the while, Echo Park Rising is happening downtown. It's a completely free festival in Los Angeles proper, one that's been described as mini SXSW or CMJ — the venues open to the public. You'd think it would work in competition with Berserktown, but instead, seems to grow the sort of communal camaraderie L.A. has been fostering the last couple of years. Whether you're into the power-punk of Upset and Slutever, the shoegaze metal of Deafheaven, or the post-hardcore of White Lung, you can find a home here. It's no wonder all those bands call this place home.
The second day of Berserktown feels like a happy meeting of the two events. When I walk in, Rival Mob are on the stage with their uncomplicated, addictive punk. Shouts of, "Do I Fucking Care" and "Hardcore for Hardcore" dominate the room. At one point, frontman Brendan Radigan sits on the stage and remarks, "Not to diss the dance tent… I'm just jealous. I'm not good looking enough." He's joking, but he's onto something. Nearby Body of Light and Jock Club, the dark, techno-heavy acts from Destruction Unit's Tempe, Arizona art collective Ascetic House play behind a plum of smoke, definitely in line with his description. Lust for Youth play somewhere in the middle between the two, and dedicate their set to rapper Antwon. Near the end of it all, No Hope For the Kids perform their first show in almost a decade. In that time, their set is furious and fast, but sounds antiquated: Punk's not dead; it's just changed form.
The third day might be the most popular — it's definitely the most welcoming to those who only flirt with punk from the outside: molten power trio Screaming Females, the heavily Thin Lizzy-fueled Sheer Mag, the highly anticipated reunion of scuzz-core duo Royal Trux. But the standout act is Connecticut's Downtown Boys, a sax-heavy quintet who marry dance-y, asymmetrical sounds with the hardcore world they grew up in. Their live shows double as educational sermons of town hall proportions, frontwoman Victoria Ruiz using every opportunity to draw attention to social injustice. When it's time to launch into "Monstro," arguably the greatest tune on their bilingual breakout LP, Full Communism, Ruiz takes full advantage of her mic's amplification abilities to shout, "Blackness is the brightest thing in any of our futures," before kicking off the tune and its memorable chorus of "She's brown! She's smart!"
Royal Trux close the night, their first show since disbanding in 2001. It's interesting, watching Neil Hagerty and Jennifer Herrema reunite once more as a powerful reflection of punk's past shape. It's a reminder of the genre's real power, how loose and expansive it can be. Leaving the fest feels like an epiphany; punk used to be considered a limiting, stubborn sound. There's a uniform, a leftist political idea, some chords, and a lot of angst. But Berserktown is another harbinger of punk's frequently multiplying spaces to grow into and explore. If the technology is there, the people will follow.