PWR BTTM  have noted their influences as "Kylie Minogue" and genre as "Cheekbones" on their Facebook page, yet the sound of duo Ben Hopkins and Liv Bruce is far from reminiscent of the Australian pop star. Although the two perform in face paint and drag, accentuating desirable facial contours, a more accurate description of their music would be something along the lines of prickly pop-punk. Drawing inspiration from gender, drag, and growing-up pains, PWR BTTM's title track for their upcoming LP Ugly Cherries explodes with clear-cut, buzzy riffs and Darwin Deez-y vocals.
Their first full-length, Ugly Cherries (out September 18 via Miscreant Records and Father/Daughter Records) follows their two EPs, Cinderella Beauty Shop and Republican National Convention, a split with Jawbreaker Reunion. Of the track, Hopkins says, "Rather than writing about my experiences with other people, 'Ugly Cherries' is the first song I've ever written about myself. It's a confrontation: an attempt to unpack my own queerness with humor and self care. I just got so fucking tired of wishing I was different so I decided to scream, 'She's all right' until I actually was."
Listen to "Ugly Cherries" and check out the album's full track listing here.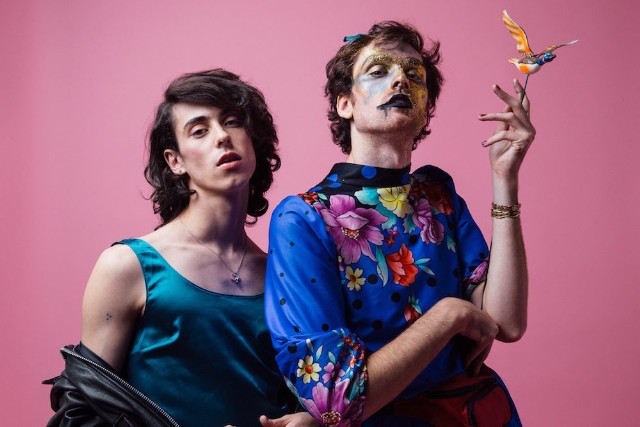 Ugly Cherries track list:
1. "Short-Lived Nightmare"
2. "Dairy Queen"
3. "I Wanna Boi"
4. "Ugly Cherries"
5. "Serving Goffman"
6. "Nu 1"
7. "West Texas"
8. "1994"
9. "C U Around"
10. "All The Boys"
11. "House In Virginia"