Philadelphia-based songwriter Kurt Vile has announced a new record called b'lieve i'm goin down… for Matador on September 25. The former SPIN cover star described his curiously punctuated LP as "all over the place" earlier this year, but lead single "Pretty Pimpin" is chock full of the acoustic guitar sighs and vocal shrugs that he's made his bread and butter over the course of the last half decade. The album was recorded in various studios across the states, including in Los Angeles and Joshua Tree. Listen to that here, paired with an eerie, dreamlike video helmed by Daniel Henry.
b'lieve i'm goin down… track list:
1. "Pretty Pimpin"
2. "I'm an Outlaw"
3. "Dust Bunnies"
4. "That's Life, tho (almost hate to say)"
5. "Wheelhouse"
6. "Life Like This"
7. "All In a Daze Work"
8. "Lost my Head there"
9. "Stand Inside"
10. "Bad Omens"
11. "Kidding Around"
12. "Wild Imagination"
Longtime Vile fan Kim Gordon also released a statement about the record which you can read in full below.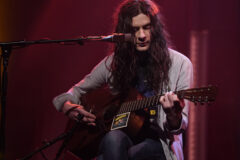 Kurt does his own myth-making; a boy/man with an old soul voice in the age of digital everything becoming something else, which is why this focused, brilliantly clear and seemingly candid record is a breath of fresh air.  Recorded and mixed in a number of locations, including Los Angeles and Joshua Tree, b'lieve i'm goin down… is a handshake across the country, east to west coast, thru the dustbowl history ("valley of ashes") of woody honest strait forward talk guthrie, and a cali canyon dead still nite floating in a nearly waterless landscape. The record is all air, weightless, bodyless, but grounded in convincing authenticity, in the best version of singer songwriter upcycling."