Three years ago, director Agata Alexander finally convinced Gary Richards to let her make the lineup announcement video for 2013's HARD Summer the way she wanted: with dogs dressed as the performers. A 2 Chainz bulldog slouching in chains and a hoodie, cocker spaniels wearing leather jackets as Justice, a Doberman pinscher for Azealia Banks. "You know, you type in 'cute kitten' and it's got 78 million plays of a kitten tackling a piece of yarn," the HARD Events founder tells SPIN. "But everyone at the company was like, 'That's the dumbest idea we've ever heard.' Then it came out and boom, everybody loved it."
The 44-year-old has always done things in his own way. Now in its eighth year, his electronic music empire's flagship event and EDM's resident "fringe, hipster" festival, as described by Richards — who, under the moniker Destructo, also spins industrial techno that bangs bodies into dancing submission as if they were possessed — has nearly doubled in size from last year. HARD Summer 2015 has sold out all 135,000 tickets to its unprecedented mix of artists, bands, and producers like the Weeknd, Jack Ü, the Chemical Brothers, and DJ Mustard, serving as a kandi- and fuzzy boot-free antidote to the beats-and-bass blowout that is Electric Daisy Carnival. "I consider myself a music person in the music business, and I just felt with this whole EDM thing, it's getting beyond ridiculous," he says. "People who have half a song think they're f—king Led Zeppelin."
Rather than focusing on Avicii and Tiesto's power to draw crowds in the multiple hundreds of thousands, the industry veteran focuses on curation, recruiting his favorites from independent-leaning but dance music zeitgeist-defining labels like Boys Noize's BNR (repped this year by Spank Rock, Erol Alkan, Djedjotronic, and more), Los Angeles electro-rap collective WeDidIt (RL Grime, Salva), and French DJ Brodinski's Bromance Records, which includes his brother and Yeezus producer Gesaffelstein (who is not playing at HARD). "I've been to other festivals where they try to do what I do, and they don't know how to program it the right way," says Richards. "Everyone just goes to see Calvin [Harris], and you're over in the cool room playing to 12 people, like, 'Why the f—k did I just fly ten hours to be here?'"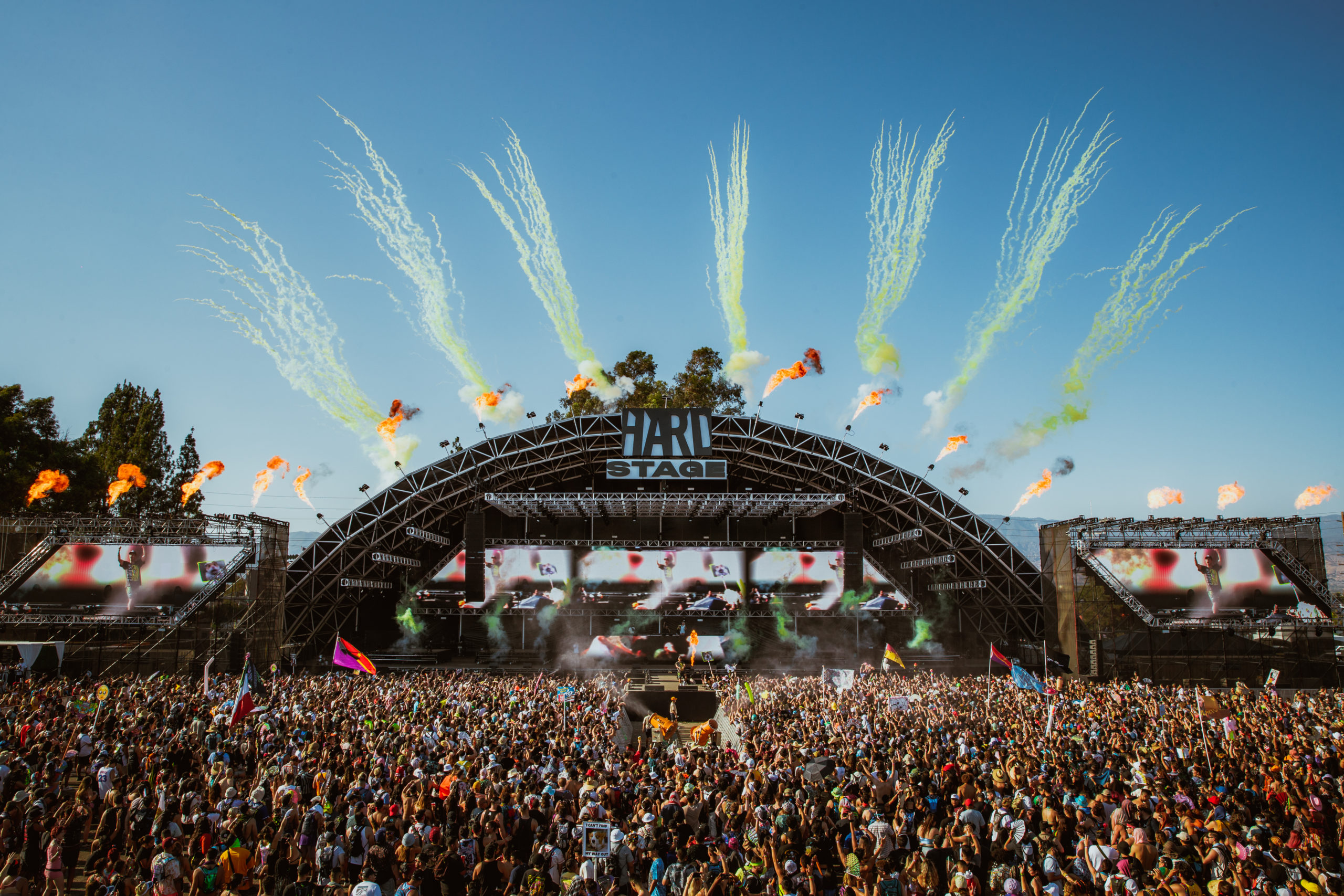 With an indoor and outdoor space, five stages, and zero light-up owls, HARD Summer makes it easy for attendees to find their new favorite DJ. "People are figuring out that the stuff at the bottom is really dope, and it doesn't just need to be that biggest name for them to like it," says Richards. Read SPIN's interview with the former "little punk kid," who discusses his daughter's love for Calvin, black boogers, and why techno will never die.
When does everything start to ramp up for the festival?
To be honest, it never really stops. The main thing that really gets crazy is the guest list. Last minute, everybody needs a f—king ticket and you're just like, "F—k you." It's funny, the second show I ever did, I partnered with Bill Silva (who runs the Hollywood Bowl), and he turned in his list — it was three names, and mine was 980 [people]. I come from the club world and in the club world, in the beginning, you're always trying to get people to come and fill the place. He's trying to sell tickets. It's been a challenge merging festival with club. Everybody wants to be on the stage. Our first show, the fire department was like, "Who the f—k are all these people on the stage? I am going to shut you down right now." People don't understand it's not some little club where you can just do what you want. One of my friends said, "It's not show buddies, it's show business."
What have you learned, or had to unlearn, from being involved in the warehouse scene in the early '90s and running HARD events now?
When I was a little punk kid I wasn't savvy enough to figure it out, but with HARD, I went right to the fire department and said, "What can I do to make this better for you?" They gave me all these rules and different things and I followed them to a T. Those guys really know about public assemblage and putting people together on this scale. I don't know that shit. I know music. The first thing I learned with HARD is that you have to keep a 20-foot fire lane. That's just Events 101. I planned to put the stage right across the street, one of these streets that was small, like a 30-foot street. They're like, "Okay, well where does the fire lane go?" Then I could only have a ten-foot stage, so I had to get the parking lot next door and another street. I guess you learn baptism by fire.
Has California's drought crisis affected you at all?
It did last year at Whittier [Narrows Recreation Area] because it was so dry. When we advertised, one of our tag lines was "greener," like "Bigger, stronger, greener, harder," you know? Then get to August and there's no rain, and you put 40,000 people in there and then all of sudden you just got a f—king dust bowl. Fairplex is cement, so your dust factor is down by about 90 percent. A lot of people were complaining about having black boogers, and I used to say when I was 19 that was the sign of a good party. [Laughs.] You're in some f—ked-up warehouse and you can't breathe. If you're blowing black snot, it's pretty disgusting, but that s—t was underground. I'm hearing that, 100 to 90 percent, we're going to have a major El Niño this winter, which will bring huge storms here and we'll be saved from the drought.
What's the worst catastrophe that could befall HARD?
I don't want to jinx it, but last year, on the radio someone was complaining that the VIP parking valet had gotten stabbed, so I got in my cart and I rode over there, and there was this guy holding his hand, bleeding. The police pulled me to the side and they said, "This guy didn't get stabbed." "Well, how do you know that?" 'Cause the police and the fire, they see everything; me, I see someone bleeding and I freak out. And they were like, "If he had been stabbed, his demeanor would be way different. He was way too calm." If somebody got stabbed, you had to find the person with the weapon, and you can't have somebody running around with a f—king weapon, in or outside the event. So he finally 'fessed up: He climbed the fence to sneak in and then he cut his hand on the fence. That's the kind of s—t you deal with all day long. It's so annoying.
Obviously, a lot of people noticed in the trailer for this year's event the distinction between a rave and a music festival. Why did you do that this year?
For me personally, I have a music background — when I was little, my dad took me to see Led Zeppelin and Black Sabbath. Last night my wife was like, "Let's go to the Hollywood Bowl with our friends." The group that opened for Death Cab for Cutie, tUnE-yArDs, were killing it. I was kind of ashamed that when I go up there, I just DJ. Watching this girl play rhythms on the drums, and the bass player's sick, and the way they harmonize. Music is why HARD, and everything I do, is successful — because I base it around music, not bulls—t. I felt like it was time to try to make that point. We've had Bootsy Collins play, [Giorgio] Moroder, Bloc Party, f—king James Murphy. You can't have electronic music if you don't have musicians. To me, EDM is pop s—t. For me, electronic music is Aphex Twin, Kraftwerk. It's important for people to know that there is quality electronic music that is not part of that hype bulls—t other people are a part of.
What I would have to do to have tUnE-yArDs [play HARD] is expand, like open a new area. I think people would appreciate it. Who wants to go to a festival and see all the same s—t? When I started, it was Boys Noize and Bloody Beetroots and Crookers. Then I realized, "Wait a minute, we have two stages, let's go four stages and do disco, or weird bass s—t, and draw in hip-hop and Flying Lotus and stuff like that." As I started doing that, the crowds started getting bigger because I'm giving people different options. If I'm gonna get tUnE-yArDs, I'd have to get seven other acts and have that area be like the chill, hippy, trippy, dippy kind of thing. I'd bring out System Of A Down just to freak the f—k out of everybody.
I know you have a couple kids — do they listen to electronic music?
My daughter is at an age now where she is into pop so, like, Taylor Swift, One Direction. She loves Calvin [Harris]. Calvin met her at [HARD] Day of the Dead and she was over the moon. "Daddy is pretty damn cool now!" My son, he likes rock more: AC/DC. I show them these Rush documentaries and I quiz them, like, "What's the drummer's name?" and they're like, "Neil!" "What's the bassist?" "Geddy!" I give them a dollar if they get it right. [Laughs.] If anything is electronic, they're like, "Did you make this song, Daddy?" I'll take them to school and listen to my mixes I did in the studio the night before, and so they know all my stuff. Martin Garrix's "Animals" is a big song in their preschool, and when they were really little, we used to put on Skrillex and jump around and act stupid.
Do you have a studio in your house where you practice what you're going to be spinning onstage at HARD?
I have a makeshift one where I can get ideas and s—t, but it's not too conducive to real deal stuff. I can't get certain sounds myself, but also, I'll be working on something and my kids are like, "Daddy, how many points does [Los Angeles Clippers player] Chris Paul have?" and he wants to go through his basketball cards and show me the hula hoop and then I'm hanging with the kids. I can [practice at home] when everyone goes to bed. Sometimes, the last couple times I've had guests come out, I did a rehearsal with Too $hort and Problem. The thing that I use to DJ is called Record Box, and they have a new function on there where you can mix two tracks together to hear how it sounds. When I did "The Sermon" on Holy Ship!, I literally planned that for months, just finding old records no one has heard of. I don't need to practice DJing anymore, I just need to make sure that the songs work together.