Every year when the MTV VMA nominations happen, several predictable things occur. Chuckleheads on social media make the same, super-original joke about MTV still playing music, and several good videos go unrecognized in favor of more mainstream pop picks — or, in some cases, a two-year-old Arctic Monkeys video. Still, if there's one category that sometimes highlights some more unexpected choices, it's Best Video With a Social Message. This is the award that aspires to some higher level of importance, so it's upsetting that the hands-down best choice for the award didn't even get a nod — that'd be Run the Jewels' brutal and stark visual for "Close Your Eyes (And Count to F—k)."
When SPIN put together a list of five videos we knew would get snubbed at today's nominations, we left off "Close Your Eyes," naively hoping it might get recognized. We did, after all, call it the most powerful video of the year when it dropped in March. The short film is a pretty direct response to the events of Ferguson, Missouri, and police killings of Eric Garner, Tamir Rice, Freddie Gray, and (sadly) several others. "It is tough to re-create moments that are so fresh and prevalent in our world today," director A.G. Rojas said in a statement when the video came out.
The black-and-white video directly and unflinchingly tackles the intertwined issues of police brutality and race relations in America, depicting an exhausting and painful street fight between a white cop and an unarmed black man. Nobody started the fight — it's just happening, and neither is able to gain the upper hand on his rival. Actors Shea Whigham and Keith Stanfield make the larger, pressing social issue personal as viewers identify with the blood and sweat they shed during their drawn-out brawl. Nothing comes of it. It's a pointless fight, the message important, and the message clear.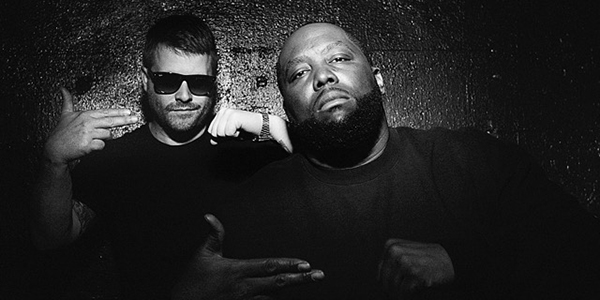 "Close Your Eyes (And Count to F—k)" is operating on a whole other level from the videos MTV actually nominated, though the majority of the picks admittedly are pretty good — just not the best. Jennifer Hudson's "I Still Love You Video," is an emotional and eventually heartwarming endorsement of marriage equality, while Colbie Calliat celebrates women, empowerment, and beauty of all sorts in the equally uplifting "Try." Big Sean's "One Man Can Change the World" explores growing up as a black child amidst difficult surroundings, and Wale makes a somewhat muddled statement about street violence and, uh, sneakers in "The White Shoes." To varying degrees, all of these videos deserve the nomination, though none of them are nearly as straightforward — presenting a powerful message absent a saccharine, uplifting ending note — as "Close Your Eyes."
The only nominated video that comes close to rivaling Run the Jewels' abrasiveness is Rihanna's "American Oxygen," which confronts viewers with real images of America's various highs and lows — including the Statue of Liberty, Wall Street, "I Can't Breathe" rallies, and 9/11. "Oxygen" has an inkling of a social message (America! It's complicated!), but it's a much more generic and less actionable message than the harsh, pointed "Close Your Eyes" video. Also — and this is important for the Video Music Awards — it's just not a very good video. A few minutes of Rihanna dancing in front of an American flag inter-spliced with archival and stock footage of Apollo 11 and Klan rallies isn't all that impressive, especially when compared to RTJ's physical, darkly beautiful brawl. Rihanna seems like she's playing with the idea of having an important message to convey — Killer Mike and El-P live in that world, and the "Close" video is just one of the latest, most affecting works of their very timely, very political career.
So why was Rihanna nominated and Run the Jewels weren't? The answers aren't that hard to surmise. For one, she's Rihanna. Despite massive critical acclaim and substantial recognition, Killer Mike and El-P have a fraction of RiRi's popularity — especially to the MTV crowd. And while we're being cynical, generic footage of far-away, past wrongdoings are much more palatable than a topical, bloody fight between cops and black men. Their social message was perhaps just a bit too raw to fit alongside "Blank Space" and Beyoncé's Kale sweatshirt.
That, though, is kind of the point of the video, and it should be the point of the award. As Rojas explained, "It is important that the way we feel when we see these events in real life has an effect on us. That we resonate with what we know to be right and we don't numb ourselves out so those feelings can simply be swept away, we must confront them and take some action, however small, or we'll be stuck in the same cycle of violence and hate."