New Paltz, New York duo Diet Cig's Over Easy EP earlier this year was a sugar-rush of careening art-pop miniatures, but they're already back again with news of their next release, a two-song 7-inch, due this fall. The first single "Sleep Talk" arrives today, and like the EP standout "Harvard" (one of SPIN's 63 Best Songs of 2015 So Far) this one's a collection of bratty vocals and heart-sleeved sentimentality, with singer/guitarist Alex Luciano singing interpersonal anxieties and sugary romanticisms with a skyward thrust.
The "Sleep Talk" 7-inch, which also includes another single called "Dinner Date," is out September 18, but "Sleep Talk" the track will be available digitally on July 10. For now though you can listen right here.
Physical copies are available for pre-order through Father/Daughter and Art is Hard.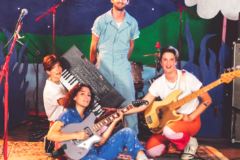 Diet Cig tour dates:
September 1 – Seattle, WA @ Barboza
September 2 – Portland, OR @ Bunk Bar
September 3 – Reno, NV @ Holland Project
September 5 – San Francisco, CA @ Hemlock Tavern
September 6 – Los Angeles, CA @ Bootleg
September 8 – San Diego, CA @ Hideout
September 9 – Phoenix, AZ @ Rebel Lounge
September 12 – Denver, CO @ Lost Lake Lounge
September 14 – Kansas City, MO @ Record Bar
September 15 – Dallas, TX @ Double Wide
September 16 – Austin, TX @ Mohawk (inside)
September 17 – New Orleans, LA @ Gasa Gasa
September 18 – Tallahassee, FL @ Florida State University (w/ Diarrhea Planet)
September 20 – Atlanta, GA @ Purgatory (Masquerade)
September 21 – Memphis, TN @ Hi Tone
September 23 – Detroit, MI @ UFO
September 24 – Grand Rapids, MI @ Founders Brewery (w/ Vamos & Ponyshow)
September 25 – Cleveland, OH @ Mahalls (w/ Sheer Mag)
September 26 – Cincinnati, OH @ Midpoint Fest