UPDATE: Today, Deafheaven have announced that the title of the record is, in fact, New Bermuda. It'll be out October 2. Frontman George Clarke says that the title represents "a new destination in life, a nebulous point of arrival, and an unknown future where things get swallowed up and dragged into darkness." Check out the cover and track list below.
The sweeping black metal auteurs in Deafheaven are back. Nearly two full years after their breakthrough Sunbather, one of the best metal albums of 2013, the San Francisco aesthetes have shared a trailer for their third album which seems to suggest more of their now-trademark mix of placid guitar lines and gale-force drum blasts. The trailer's only a minute long, but paired with waves lapping at a rocky coast and some tense in-studio footage of the band, even the brief bit of new music is enough to recall the skyward mire of their best work.
The only other official news is that the record will surface sometime this year on their new label Anti-. But if you look really closely, the words "New Bermuda" appear in the final seconds of the visual, so that could be a track or album title — or maybe nothing at all. Check out the visual here.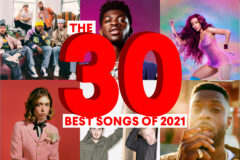 New Bermuda track list:
1. "Brought to the Water"
2. "Luna"
3. "Baby Blue"
4. "Come Back"
5. "Gifts for the Earth"