There were hints throughout the weekend that something special might happen during Bon Iver's inaugural Eaux Claires Music and Arts Festival on July 17 and 18. There was his comprehensive interview with Grantland, in which Justin Vernon alluded to the possibility of playing his shimmering, evocative "dad-rock" vehicle's first new songs since 2011's Bon Iver, Bon Iver. Following his onstage stint with Kanye West at Glastonbury last month, Eaux Claires attendees wondered about the possibility of a Yeezus cameo; one person even carried the rapper's laminated face on a stick on Saturday night. Other guests were hinted at, too: when Vernon took the stage with Sufjan Stevens during the National's Friday performance, he coyly asked the crowd, "Where's St. Vincent?"
Neither of those people showed up, nor did it seem like that was ever the plan for Eaux Claires, which SPIN's 2011 cover star told Billboard earlier this year was planned to be something like a hometown block party, just with 20,000 people. "I've always wanted to throw a big party with everything I would want at a place, and assumed other people want the same people there," said the 35-year-old of the lineup — which spread, across three stages, friends like U.K. sister singers the Staves, Yeezy affiliate Allan Kingdom, and everyman country hero Sturgill Simpson. "It's self-centered, but at the same time we got the opportunity to do it, so here we are."
Indeed, everyone who shared the stage with Bon Iver received a personalized shout-out. Local author and deep-voiced, deadpan festival emcee Michael Perry was Vernon's "biggest mentor besides my parents," while No BS! Brass Band earned "MVPs of Eaux Claires" honors: After playing with many acts throughout throughout the weekend, they blasted through the festival grounds to the bitter end with impromptu, ebullient performances of songs like a-Ha's "Take On Me." Creative director Michael Brown was even compared to Green Bay Packers fullback John Kuhn, which, as anyone who's ever enjoyed cheese curds hot from the heartland fryer knows, is high praise. The town of Eau Claire itself also got some love: "This song is about me almost breaking into the new RCU [Wisconsin and Minnesota Credit Union] building downtown," Vernon said of delicately undersung Emma cut "Blindsided." "I didn't make it."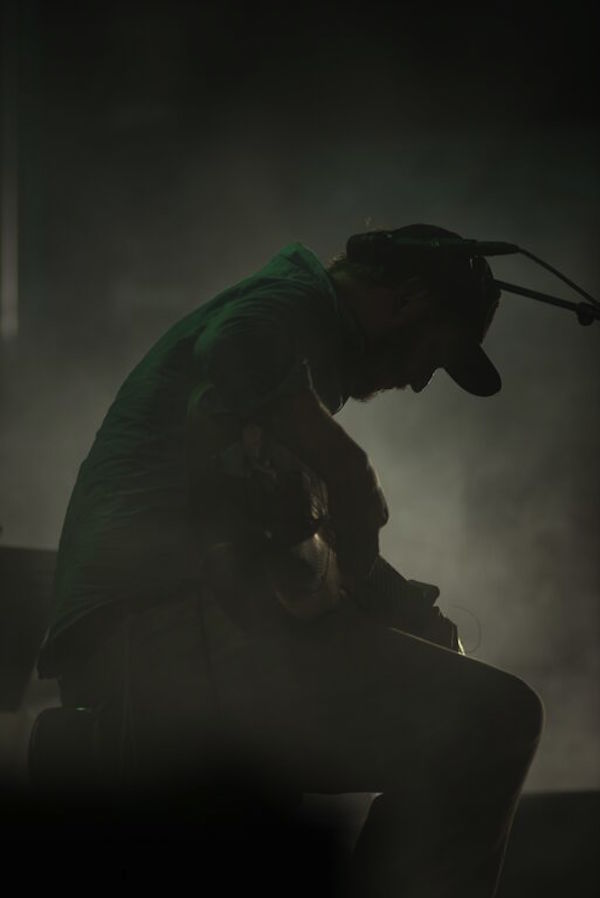 Prior to the headliners, Perry warned the audience they were about to receive a benediction, and Bon Iver's hour-and-a-half performance — which spanned the outfit's last album, their stirring 2008 debut For Emma, Forever Ago, and his 2011 EP Blood Bank — certainly left a satisfied afterglow. You could see it on fans' sweat-streaked faces, who seemed to have come to terms with the fact that this might be the last time they could shed a tear and howl an approximation of a falsetto to the heart-wrenching acoustic strums of "Skinny Love," which naturally closed out the evening. Though the comparison to a religious experience was a touch of a stretch — unless the Staves' hair-raising harmonies on "Lump Sum" qualified for you — the overall mood of those performing and the rest watching was definitely more muted and reverent than on his extravagantly decorated, emotionally blown-out 2012 tour behind Bon Iver, Bon Iver.
Vernon sequestered himself stage left in a studio-like setup, with headphones on and keyboards and synthesizers mounted in front of him, almost shielding him from everyone else, even as he jovially bantered, and proudly introduced collaborators like  baritone saxophone master Colin Stetson and the National's Dessner twins. At times, in his trucker hat and slightly rumped, untucked shirt, it seemed like Vernon enjoyed playing the man behind the curtain, mouthing to tech that the guitars be turned down, then turning up the low end later on diamond-in-the-rough cut "Flume," as if rumbling through what little was left of an exhausted yet elated crowd's emotional reservoirs.
"This is the part where we usually walk offstage and then come back on," Vernon said with about 15 minutes left until the end. "We're not gonna do that." What they did do is play, as promised, two new songs — just titled Song 1 and Song 2 for now. The first one featured bread-and-butter guitar riffs favored by Tom Petty, horn blasts, and squawking synth work as the singer sang low and crystalline the chorus, "I heard about it." The second slowed everything down to the clothes-peeling 69 BPM tempo of Minneapolis supergroup Gayngs. Atop minimal, breathy horns, Vernon sang, "Can't leave you alone / Don't want to leave you alone / Will never leave you alone." Despite Vernon's insistence that he doesn't know what's going to happen to Bon Iver, it seems like he can't quite leave his project alone — and neither will his friends and fans on the East, West, or Great Lakes coasts.
Bon Iver set list:
"Heavenly Father"
"Lump Sum"
"Towers"
"Calgary"
"Flume"
"Blindsided"
"Brackett, WI"
"Babys"
"Holocene"
"Perth"
"For Emma"
"The Wolves (Act I and II)"
New Unreleased Song
New Unreleased Song
"Skinny Love"
All photos by Graham Tolbert