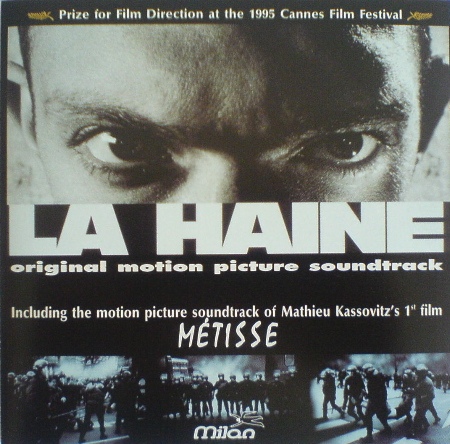 20. La Haine
(Milan/Virgin)
Chart Peak: N/A
Hits: Plenty of quality funk jams from days of yore on the soundtrack to this acclaimed French youth-in-trouble drama, including enduring R&B smashes from the Gap Band ("Outstanding") and Zapp & Roger ("More Bounce to the Ounce").
Misses: None really within the seven-song mini-accompaniment to La Haine, but on CD it was issued along with the hip-hop-and-jazz-oriented soundtrack from director Mattheu Kassovitz' earlier film Matisse, making the entire album the strange-flowing one on this list.
Deep Cuts: Good call by Kassovitz unearthing 1978's "The Beat Goes On," a mostly forgotten Salsoul Records gem from the Detroit funk band Ripple.
19. Tales From the Hood
(40 Acres and a Mule / MCA)
Chart Peak: No. 16
Hits: Domino's typically slow-and-low "Tales From the Hood" theme cruised to the top ten of the rap charts, but the rest of the predominantly horrorcore fare on the soundtrack was a little too rough for radio.
Misses: After a fairly dynamite A-side, the soundtrack begins to bleed together a little in the dreary second half, with only the veteran presence of MC Eiht to really elevate from anonymity.
Deep Cuts: Non-album cuts from both Wu-Tang Clan ("Let Me at Them" — really just Inspectah Deck solo) and Ol' Dirty Bastard ("Ol' Dirty's Back") alone make Tales From the Hood essential, and Spice 1's ghoulish "Born II Die" is a transifixing G-funk nightmare.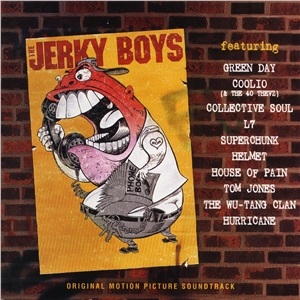 18. The Jerky Boys
(Atlantic)
Chart Peak: No. 79
Hits: Collective Soul, essentially the Winger of '90s alt, had the only radio hit with the splendidly stoopid "Gel," but otherwise the soundtrack is surprisingly loaded with winners — including the high point of Green Day's Kerplunk album ("2000 Light Years Away"), a great lost Superchunk cut ("Shallow End"), and a as-fun-as-it-sounds Blondie cover from L7 ("Hanging on the Telephone").
Misses: There is indeed a reason why you haven't seen the Jerky Boys around much these days — it's a testament to the strength of the songs here that the groaningly dated dialogue snippets from the movie sprinkled throughout the track list don't submarine the whole thing.
Deep Cuts: Say what you will about Tom Jones, but dude always goes hard, and his audibly red-faced Lenny Kravitz cover here ("Are You Gonna Go My Way") is no exception. And don't miss an unbilled Beastie Boys, providing support to their touring DJ, Hurricane, on a rare lead cut for the turntablist, "Four Fly Guys."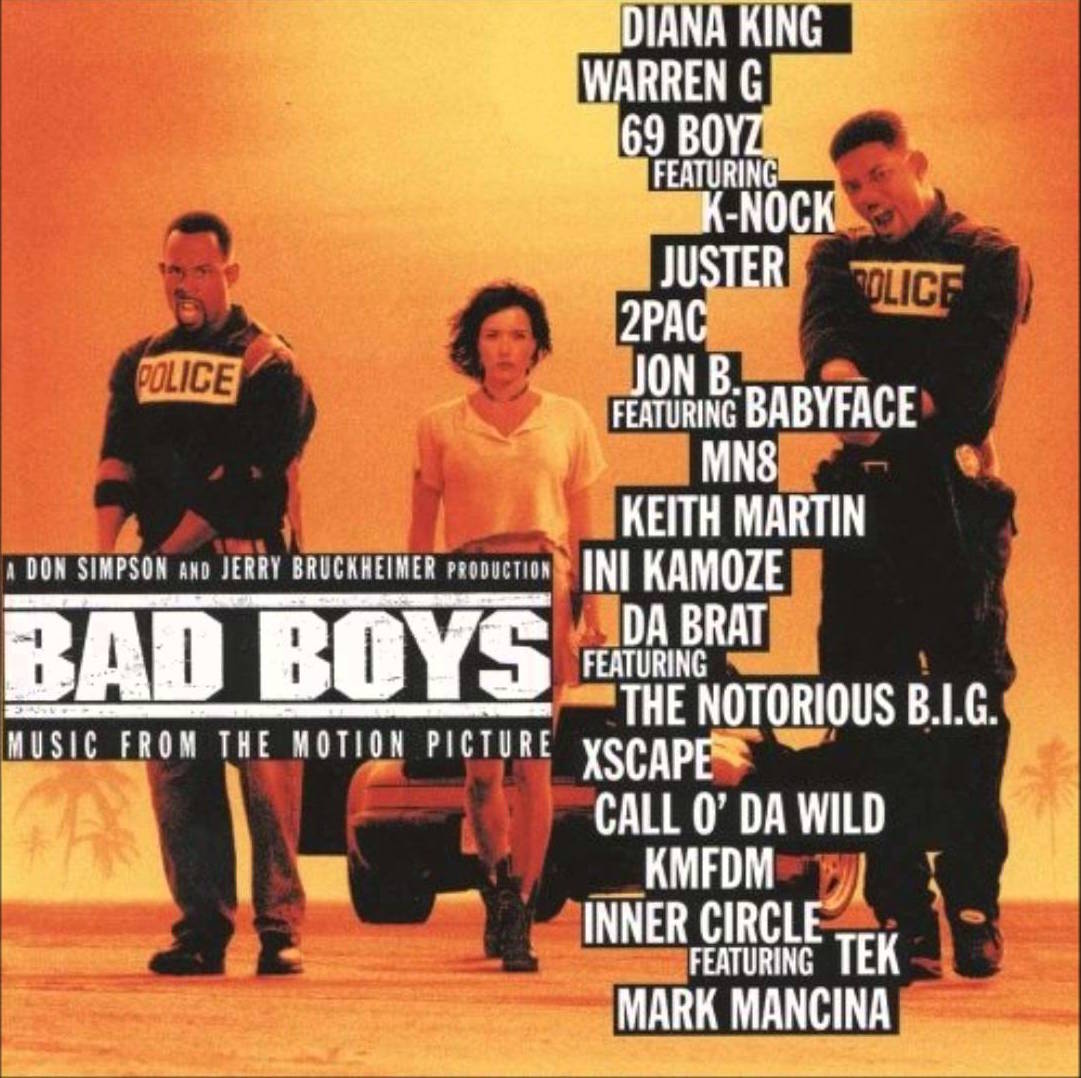 17. Bad Boys
(Work/Columbia)
Chart Peak: No. 26
Hits: R&B crooner Jon B. technically had the biggest crossover here, with the Babyface-featuring slow jam "Somebody to Love" (No. 10), but reggae-fusion singer Diana King easily had the best one, with the irresistible love song "Shy Guy" (No. 13). Landing the title cut to 2Pac's chart-topping Me Against the World album in the same month as that LP's release isn't a bad get either.
Misses: Well, the most obvious miss here is what's not on the soundtrack at all: Inner Circle's original, title-inspiring "Bad Boys," present here only in the dubbier recut "Bad Boys' Reply," clearly no substitute for the real thing.
Deep Cuts: Another B.I.G. appearance, along with Da Brat and Jermaine Dupri on the fun-if-frivolous "Da B Side." And not technically a deep cut, since it was a minor modern rock hit in its own right, but man does KMFDM's "Juke Joint Jezebel" come out of nowhere amidst the hip-hop, R&B, and reggae of the rest of this soundtrack.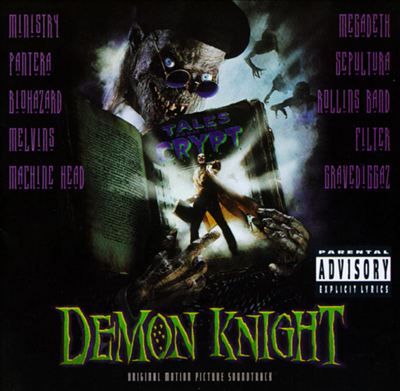 16. Demon Knight
(Atlantic)
Chart Peak: No. 157
Hits: Rather than going the horrorcore route of Tales From the Hood, Demon Knight mostly rounded up industrial and alt-metal heavy hitters for its accompanying album, including Ministry, Melvins, and Rollins Band. Ironically, though, the only real hit came courtesy of the least-known act on the bill: Filter, whose Budd Dwyer-inspired "Hey Man, Nice Shot" became an unlikely modern-rock smash.
Misses: Not sure we really need Gravediggaz to round things out here, though at least it's with the KRS One-sampling "1-800-SUICIDE," the closest thing they had to a radio single.
Deep Cuts: Sepultura's under-two-minutes hardcore blast "Policia" gives the soundtrack a jolt going into its home-stretch — and really, brevity is a strength throughout here, as the collection runs a scant ten tracks and 41 minutes, standing in stark contrast to the 17 tracks and 74 minutes of too many OSTs of the time.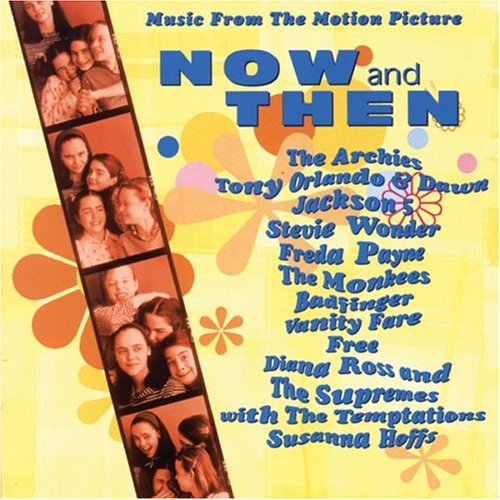 15. Now and Then
(MCA)
Chart Peak: No. 103
Hits: If you want hits, you came to the right place: 11 solid-gold late-'60s and early-'70s chartbusters here, the overwhelming majority of which were among the best and biggest of theirs (or really any other) time. The Monkees' "Daydream Believer," the Archies' "Sugar, Sugar," Badfinger's "No Matter What," two timeless chart-toppers from the Jackson 5 ("I Want You Back" and "I'll Be There")… Now and Then got more hits than Al Kaline, truly.
Misses: Good luck finding one, though you could say they maybe erred slightly by including the Supremes and Temptations collaboration "I'm Gonna Make You Love Me" instead of any of either group's myriad superior contemporaneous smashes.
Deep Cuts: Only one: The soundtrack-closing title cut, written and performed for the film by Bangles frontwoman (and noted period enthusiast) Susanna Hoffs. Not as good as "Sugar, Sugar," natch, but appropriately sweet nonetheless.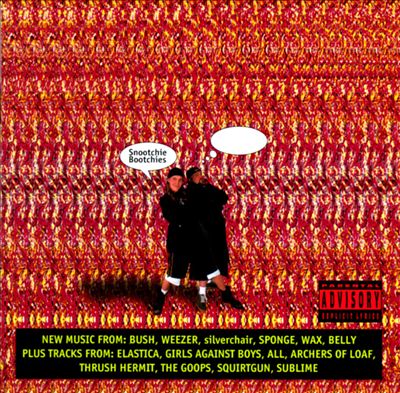 14. Mallrats
(MCA)
Chart Peak: No. 151
Hits: No huge hit singles, but plenty of hitmakers: Weezer ("Susanne"), Bush ("Bubbles"), Sublime (Bob Marley's "Smoke Two Joints"), and Silverchair ("Stoned") among them. Not to mention one of the all-time great indie-rock songs in Archers of Loaf's "Web in Front," albeit a solid two years after it was released on AoL's Icky Mettle album.
Misses: Dear lord, 11 separate tracks of film dialogue — and you only need one or two tops to remind you how insufferable most of the screenplay (and actors delivering it) from this movie really was.
Deep Cuts: Don't forget about Girls Against Boys and All on this thing — two of the least-popular bands included, but providing two of the soundtrack's highlights in the sludgefest "Cruise Your New Baby Self" and the power-poppy "Guilty."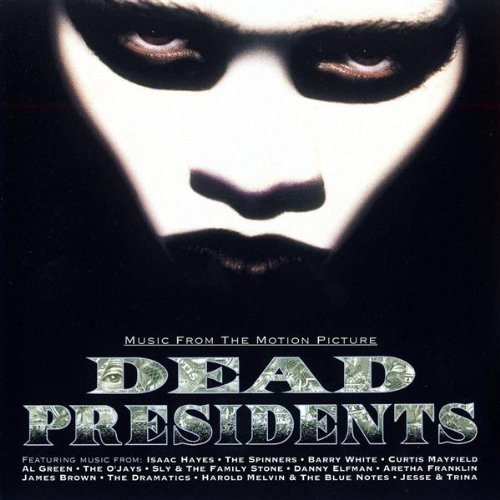 13. Dead Presidents
(Capitol)
Chart Peak: No. 14
Hits: The dark side of the late '60s and early '70s presented in Now and Then, the Dead Presidents soundtrack collected the best in heartbroken, disillusioned, and preternaturally funky soul classics: James Brown's "The Payback," Curtis Mayfield's "(Don't Worry) If There's a Hell Bellow We're All Gonna Go," and Isaac Hayes' "Walk on By" among the best.
Misses: The modern update of "Where Is the Love?" from Jesse Campbell and Trina is probably unnecessary, as is Danny Elfman's set-closing theme — especially when there were enough legit period jams included in the movie to spill over to a second (and nearly as narcotic) soundtrack volume.
Deep Cuts: Not all that deep, but good of the soundtrack to pair Hayes' gold-standard "Walk on By" rendition with his slightly less-heralded version of Burt Bacharach and Hal David's "The Look of Love," sampled by Jay Z a year later for the Reasonable Doubt live staple "Can I Live?"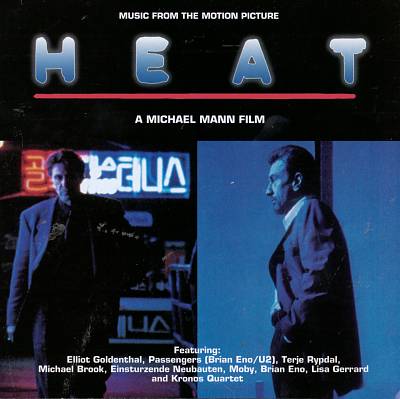 12. Heat
(Warner Bros.)
Chart Peak: N/A
Hits: No chart success, but if you've ever seen Heat, you'll never forget the strains of Moby's "God Moving Over the Face of Waters" soundtracking the fallout to Al Pacino and Robert DeNiro's final showdown, and it packs a similar wallop after an hour-plus of gorgeous atmospherics here.
Misses: The flow of the Heat soundtrack is too fluid to really be disrupted by anything here, though Moby's other contribution — his oddly tone-deaf cover of Joy Division's "New Dawn Fades," faded out less than three minutes in here — does certainly make a try for it.
Deep Cuts: Brian Eno's "Force Marker," an almost unbearably tense ping-ponging instrumental, and just about the best early-stage heist music imaginable. (Also, possibly the inspiration for Caribou's eerily similar Our Love jam "Mars"?)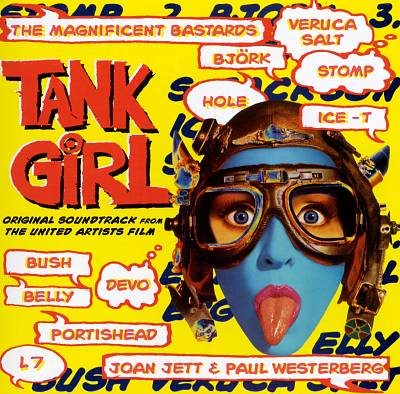 11. Tank Girl
(Elektra)
Chart Peak: No. 72
Hits: Scott Weiland took a break from fronting one of the most popular bands on the planet to make the jangle-pop lark "Mockingbird Girl" with his two-off side project the Magnificent Bastards, and earned a top-20 modern-rock hit for his troubles. Björk also received minor airplay for her industrial juggernaut "Army of Me," though after the movie, um, tanked, she supposedly had all clips from the film pulled from the song's music video.
Misses: The list of artists on Tank Girl is too often more impressive than the songs that represent them: Joan Jett and Paul Westerberg are wasted on a Cole Porter duet, Devo's "Girl U Want" re-recording strips the song of its energy, and Bush's "Bomb" was probably the worst track on their Sixteen Stone album. And yes — it's that Stomp behind the clangorous opening track.
Deep Cuts: Hole ("Drown Soda") and Veruca Salt ("Aurora") come correct with their soundtrack contributions, the latter in particular an unfortunate omission from the group's American Thighs LP.