The idea of Rudimental recording on a studio tour bus started off as a joke. "Then we found out you can get a studio that has a drum kit, mic room, vocal booth, and beds to sleep on," DJ Locksmith (a.k.a. Leon Rolle) tells SPIN from the British electro-house crew's East London studio, Major Tom's. After tourmate Ed Sheeran introduced them to singer Foy Vance, the five of them holed up in the mobile music-making device and recorded "Never Let You Go," the soulfully jittery first listen off of Rudimental's forthcoming sophomore album, We the Generation. "It was exciting to produce a song like that from start to finish on the road," adds the 29-year-old.
They didn't have much choice. Since the runaway success of their 2013 debut, Home — which nabbed them a Brit Award and nearly unheard-of platinum record sales overseas, and spearheaded a U.K. garage revival along with Disclosure's Settle — Rolle and his bandmates Piers Agget, Kesi Dryden, and Amir Amore (who all share songwriting and instrumental duties) have been going pretty much nonstop. We the Generation was recorded mostly in transit with Sheeran on their mobile studio and in brick-and-mortar outposts in Los Angeles and New York.
"It was weird at the time when the bus was actually moving, and you found that your chair was moving from side to side, but like most things you get used to it," Rolle tells SPIN. They also got used to some, ah, unusual working conditions: While in Arizona, the air conditioning on the bus stopped working, so the boys stripped down to their underwear to record. "There was a point where you had four guys in a studio tour bus with their tops off and their trousers down to their ankles, making music," he says.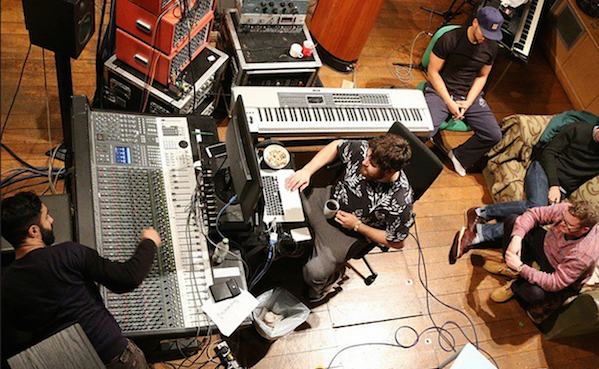 When they weren't abroad, Rudimental stuck around their recording studio in Hoxton, East London. "We love the area, we've grown up there all our lives," Rolle says, adding that friends often swing by. "Sometimes it's a bit too much, it's like a social club and we have to tell everyone to go home, but that's one of the benefits of having a studio close to home. Rudimental are all about family and positivity, and if we get the chance to have our mums screaming down the mic in the vocal booth, then we'll do it."
Which did, in fact, happen: "We've had an occasion where Piers' sister, she came by the studio and sang vocals on a track, and now the track has made the album," he says. If history is any indication, that actually seems to be the way to stardom for Rudimental's associates. Rising singer Anne-Marie, who's been associated with Jessie J and Elton John and sings on tour with the group and provides scintillating vocals on trumpet-blasted thumper "Rumour Mill," is the first signee to their new label, Major Tom's. "We're really excited about showcasing her to the world," says Rolle.
Rudimental's success has allowed them to give a leg up to artists whose position they were once in; it's also given them the humbling opportunity to work with "old-school legends." Though Rolle can't say which of these bucket-list names will appear on We the Generation ("Me not telling you is frustrating me, because I really want to express it as much as you want to hear it," he says, "but it's some of the best artists we've worked with not only in America, but in the world"), he still sounds positively giddy when talking about remixes by house icons Todd Edwards and Roy Davis Jr. "It's amazing to be in the position we're in, if we can get some of the heroes we were listening to when we were really young, to be doing remixes for us now," he says.
How far they've come, and the large part they've played in a burgeoning music scene including such artists as Clean Bandit and Jess Glynne, is especially evident with their insanely popular Wild Life Festival with Disclosure, which Rolle says sold out 70,000 tickets in three days. "It's a testament to not only how we've grown, but how the scene has grown," he adds. "No one's fighting for a piece of the pie — it's more like we're all working together to reach the same goal: to spread our music as wide as we possibly can."
Still, there's one more tiny little thing that would really make all of their dreams come true. "Lauryn Hill is the female vocalist we all desperately want to work with," he says. "We want to bring back the Fugees. If she reads this or listens to this… I hope we get to work with you."