SPIN Rating:
Release Date:
June 16, 2015
Label:
Entertainment One
After six albums and 17 years of existence, High on Fire have made their blueprint transparent. The Oakland trio starts its construction on the firm foundation of drummer Des Kensel's volcanic clatter. Jeff Matz' intricate bass-work functions as steel girders holding the whole thing upright. Singer-guitarist Matt Pike offers stoned and dethroned riffing as the marble floors and his sulfurous vocalizations and conspiracy theory-filled (or "Conspiracy fact" as he corrected in a recent interview) lyrics as off-kilter decoration. Like a slightly more sinister Levitt & Sons, the band has made its name crafting heavy, weedy records in the organized manner of an assembly line.
Those component parts are the same on the group's latest LP, Luminiferous, but the record's careful careening represents a honing of their better impulses, resulting in a full-length that's both leaner and more imposing than anything else they've released to date. For an album that marries Motörhead's neck-snapping tempos and milk-curdling guitar tones to a penchant for rail-hopping solos that'll warm the cockles of the Guitar Center set, it seems strange to praise its subtlety. Both sonically and conceptually, High on Fire is able to resist their more convoluted impulses and make a single-minded, lead-footed re-imagining of the music they've been making all along.
https://youtube.com/watch?v=hf9EX2IBaGY
From the ghost-train chug of opener "The Black Plot," the trio makes evident their process of fine-tuning the familiar. And the work of fine details make Luminiferous's kidney punches even more surprising. Kensel's double kick drum rumble ignites the afterburners on a guitar part that'd otherwise feel at home on any of their other relentless records. It's technically showy, but it's placed in such a way that it serves the song's black-tar atmosphere rather than acting as mere self-indulgence. The same goes for any of the albums many wending solos. With Kensel and Matz supplying thunderous heft and purpose to the rest of the instrumentation, Pike is free to punctuate tracks like "Carcosa" with a bevy of exclamation marks.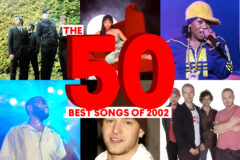 There's really no understating the degree to which editing seems to have helped Pike in particular. For all its fireworks, 2012's De Vermis Mysteriis was bogged down by a totally inscrutable concept involving a time traveling twin of Jesus Christ (yes, really). Here, he's still offering lines about chemtrails ("The Sunless Years"), but without a labyrinthine narrative to get lost in, the unstable lyrics feel a little more coherent. Given his general paranoia, Muse's Matt Bellamy, with his nail-biting fretting about drones, runs a parallel lyrical course — but Pike is able to avoids those sorts of cornball pratfalls by concerning himself with non-specifics. Waking dreams and other mundane anxieties cloak the whole LP in a paranoid atmosphere more enveloping than any concept album could be.
But it's not that there aren't any new wrinkles on Luminiferous. Pike and Co. decide to offer a bit of respite from their outsized assault on "The Cave" a track that fractures into an astral acoustic section that could easily find a home on a dusty Pink Floyd album, then dives into a viscous ooze that's more reminiscent of Pike's other iconic band, Sleep, than anything he's recorded under this banner. It's a welcome but small detour before the band jumps straight back into meat-and-potatoes (or Doritos-and-Mountain Dew, if you prefer) stoner metal with the distressed drumming that powers the entire set— from the title track through the overstuffed closing moments. Like all of High on Fire's efforts, Luminiferous is an extravagance, no doubt, but it's their most refined. And everyone can afford a few of those every now and again.