When Ratatat were writing new music at a Long Island beach shack, the Brooklyn-based instrumental duo decided something needed to be done about the kitchen. "This house had a really hideous kitchen," says guitarist, producer, and multi-instrumentalist Mike Stroud. "Was it neon green?" asks his bandmate Evan Mast, who shares production, percussion, and synth duties. "No, it was just old and dirty," Stroud corrects. "It was hideous in there."
Using their visual-art skills, the duo sketched an assortment of people's faces and plastered them all over the walls. Their drawings — mostly fictional, with occasional representations of actual icons like Roy Orbison, Al Pacino, and skateboarder Lance Mountain — eventually became the Revolver-meets-Sgt. Pepper's Lonely Hearts Club album cover of their upcoming fifth LP, Magnifique. Though the artwork is as engrossing as the album itself, it's almost an anti-metaphor for the back-to-basics take on their signature sound, which for the past decade has seamlessly straddled the increasingly thinning line between rock and electronica.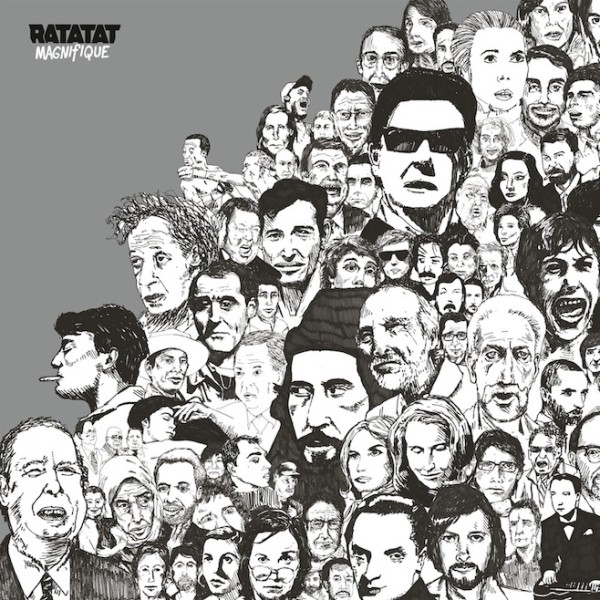 Following their breakout sophomore LP — 2006's singular, diverse Classics — Ratatat deviated slightly from their mercurial but melodic six-string wails, somewhere between a high-pitched Mick Jones freakout and Hawaiian steel guitar music. They recorded 2008's LP3 and 2010's LP4 in the Catskills' Old Soul Studios, which was also "the first time we had access to a million different instruments," says Stroud. As might be expected of musicians with a bunch of shiny new toys to play with, those records seethe with grumbling, gurgling synthesizers and vibrate with beat-boxing percussive vocal samples.
"The way we made those songs was kind of throwing everything into a pile and sorting it out later," adds Mast. "This record's a little more organized and deliberate, maybe. It's mostly just guitars and bass and drums."
Such a seemingly simple formula took a little longer to re-master than they anticipated — about four years longer. "Because it's instrumental music, you can't just be half-assed with the music and then like, 'Oh someone will sing on this,'" says Mast. "It makes it a bit more of a challenge."
The self-criticism and pressure the two felt stifled creativity to the point of annihilation: "We were really hurting ourselves about it," says Stroud. "Like, this is going to be so good, so catchy — if the next part didn't live up to it, we'd work on it for a week and then have to scrap it." From the 50-odd tracks left on the cutting room floor, however, came moments of inspiration that eventually made it onto the record: Mast decided to add twittering bird calls to lazy river ballad "Supreme" after hearing them while listening to the song's original mix on his headphones.
Aside from fortuitous moments like those, Ratatat also did their time at studios in Brooklyn, upstate New York, and Jamaica, where friends of Stroud's wife offered to let them use their house for a few months. There, Ratatat worked through writer's block by swimming in the ocean — or, when that got old, the pool. "That was a great routine," says Stroud, laughing.
https://youtube.com/watch?v=dO10H-ueDog
Sashaying first single "Cream On Chrome," hydraulic jam "Countach," and the sparklingly screeching "Pricks of Brightness" are representative of the band's return to their self-titled 2004 debut's stripped-down aesthetics, if not arrangements. ("We didn't know what we were doing as far as recording," Stroud says of Ratatat. "Everything was just plugged right into the computer. We didn't have a microphone.") That's not to say they don't take risks, though: "Nightclub Amnesia," named after a highway sign the two passed on their way upstate, boasts early-'00s Black Keys grit, and the lead guitars on "Abrasive" might have been a demo instrumental from the Strokes' Room on Fire sessions.
"We finally figured out that if you thin out the sound of the guitar, you can have way more layers," says Stroud. "Instead of doing an arrangement of one guitar melody, and keyboards, and all this other stuff, it's all just guitar with different tones and ranges."
"We tried really hard to not have any moments on the record where you're waiting, like, 'The next part's cool!'" says Stroud. "Like, the part you talk over and start talking about how the next part is good."