Before Walshy Fire was known for unleashing bashment bangers as one-third of Major Lazer along with Diplo and Jillionaire, the producer cut his teeth in Black Chiney, a Miami-based Jamaican "revolutionary sound system" — a collective of DJs, MCs, and engineers — "doing mashups," he tells SPIN over the phone, adding that like them, Major Lazer is "a genre-blurring, future-fusion group. The influences are all there, even if they're not directly in a specific song."
Major Lazer's seemingly disparate musical worlds — on what other album would you find Shaggy, Ezra Koenig, and Bruno Mars? — continue to collide with the sound of drops that could level a concrete piling on their third LP, Peace Is the Mission, out June 2 via Mad Decent. At only nine tracks (a follow-up, Music is the Weapon, is expected in late 2015 or early 2016), it's their most contained full-length even as it bounces between horn blurts and husky croons on album opener "Be Together," high-pitched ululations on a remix to Ariana Grande's Hunger Games soundtrack contribution "All My Love," and the aching ballad "Powerful" featuring Ellie Goulding and dancehall legend Tarrus Riley.
Goulding joins other big names like 2 Chainz, Pusha T, and Travi$ Scott, but Riley appears alongside other reference points that at least a few listeners might not be familiar with: Mad Cobra, whose 1996 soundclash with Ninjaman is essential viewing, according to Walshy Fire, a.k.a. Leighton Walsh; King Jammy's canonical futurist-cartoonist album artist who designed Major Lazer's artwork; Chronixx, notable mostly because of his young age ("he's the most important voice in reggae music, which has been an older guys' sport for a long time," he says); and Ranch Entertainment, Shaggy's Kingston studio, where most of Peace Is the Mission was recorded. "It's just crazy to see the legacy of these reggae artists, man," Walshy Fire says.
We talked to him about some of the behind-the-scenes influences that also make Peace Is the Mission rattle and boom with such universal appeal, including East Indians in the West Indies, weekday cocktail parties, and German producers.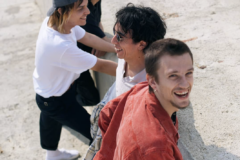 The Coolie Dance
Walshy Fire: One of the of the biggest riddims ever is called "The Coolie Dance." "Culo" is a popular song by Pitbull that was on that riddim. That Mr. Vegas — "Culo!" — that was the biggest song on the riddim [from his 2004 song "Pull Up"]. "Coolie" is a derogatory term for an Indian person, but it's something that Caribbean people have embraced, so it doesn't have that same sting anymore except if you're saying it in a mean manner. For the most part all of my Indian friends have no problem calling each other "coolie" — something like Coolie Trevor. There's a heavy influence because there are so many East Indians living in the West Indies.
Jamaican Street Parties
WF: My favorites are Mojito Mondays at a place called Susie's. The reason I like this street party is it's the ultimate gathering of classes. The richer kids mix with the middle and lower classes, and it doesn't take away from the authenticity of it. It doesn't take away from the raw energy of 100 dancers in the middle of this parking lot doing the latest dances. The outside of that circle is just watching, and then you have another couple people on the outside of that circle in their own one, smoking, drinking, having a good time. It's early too, starts at 2 p.m. and ends at midnight, so you find that people that have work still go because they can go to bed early.
Japanese Reggae Culture
WF: Here's the key to Jamaica, the secret to Jamaican dancehall parties, no matter where you are in the world. If you do not see Japanese people, you're at the wrong party. They source authenticity like no other culture I've ever seen. They seem to understand and actively seek out the hardest, hardcore parts of a culture. You go these parties like Mojito Mondays and you see these Japanese people doing the latest dances. There's a dancer, Junko, the dancehall queen, from Japan. It's not like a guy doing reggae in Japanese where you don't get it; with dancing, you don't have to get it. Dancing doesn't have a language. I would say Japanese and Germans, because in Europe, Germany is where the dancehall culture is.
German Dancehall
WF: Junior Blender is a hardcore dancehall head. He's in Supersonic, which is one of the top soundclash sound-systems in Europe. When he got into production, he got into it just to win clashes, and on our album, that's what you want. You want that raw feeling, like you're at a party and it's gritty. Dancehall culture in Europe is very close to Jamaica. Europe and Japan have a very close link to Jamaican dancehall culture, where it's all about sound-systems and horns and girls dancing all crazy — that happens a lot in those places. These German and Japanese guys, they go to Jamaica several times a year, they go to street parties and see what's happening. Then they bring it back to their country and everyone's watching YouTube videos.
The Quad Nightclub
WF: I'll tell you why I won't go into a club: Japanese people are not there. The clubs are wack. If you're going to a club in Jamaica, they're trying to be American, so they're gonna play all the Top 40, all this bullshit for a certain group of people. That's not what you go to Jamaica for. You don't go to Jamaica to hear Ed Sheeran; you go to hear Tarrus Riley and Chronixx and Mad Cobra. I don't go to clubs at all and I won't DJ at them, either.
Zip103 FM
WF: All the DJs are really dope. If anything, I might have influenced them, because I had a radio station here in Miami that was doing that kind of style. Before, Jamaica wasn't like that — it was like ghetto music and commercials. Now it's more like live DJ sets on the radio 24-hours-a-day. It's still going on, I just went over to our hip-hop station [Mixx96] but I did the reggae show over [at 103.5 The Beat]. There's always been radio and pirate radio, the only thing I did is bring a Miami style to reggae, like DJ Uncle Al, the Jam Pony Express DJs, those guys. There's a certain style of Miami DJs — just talking over the music in a certain style, lyrically linking the song to something different. By talking over the song, you completely change the meaning of it.
Brooklyn Soundclashes
WF: ["Roll the Bass"] was originally a dubplate that I heard at a soundclash where the guy was testing out the speakers. It was in Brooklyn in, like, a parking lot, and that sound won by a landslide. He played it at the very end and was, like, "All right, let's test out the bass, and then when all you could hear was the bass, he said, "Let's hear the treble," and all you could hear was the treble. I had never heard nothing like that. It was split and produced in a way that was so dope. I was like, "That's a dope f–king dubplate." Everybody's going, "This is more than a dubplate, this is a whole song." Randy Valentine is the guy singing over it.