Never refer to L7's rehearsals as jam sessions. The iconic grunge four-piece is and always has been built around guitar, drums, bass, and tight tracks that clock in between two and four minutes. "L7 don't jam," Donita Sparks says over the phone in early June, before departing for her band's first international tour in nearly 20 years. "We play our songs."
The candid and affable frontwoman is shaking off a cold – the result of an immune system crash following L7's first gig in 18 years, a sold-out show at the Echo in Los Angeles on May 28. The band seamlessly channeled their 30-year-old selves throughout the performance, head-banging, pogo-ing, and leaning into the stage-crushing audience. "When we got off the stage we said, 'Hey, that went pretty well.' My neck hurt a little afterwards, but that's just par for the course," Sparks says.
Originally launched in 1985, L7 recorded six studio albums comprised of clever, hooky hard rock that mixed furious righteousness with a wicked sense of humor. A consummate but subsequently neglected component of the grunge scene, they broke ground for women in punk and alternative rock and inspired scores of future bands, before falling off the grid around 2001. As Sparks describes it, the entire music industry "got weird" at the end of the '90s, "signed a bunch of shit bands" and big labels dropped many of their talented artists, including most of the all-female rock acts.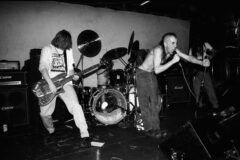 But now L7 is back, largely due to popular demand. Following a Kickstarter campaign for a forthcoming documentary that significantly overshot its goal (yielding $130,480 in pledges, well over its $97,000 benchmark), the original members of the Los Angeles-based outfit — singer/guitarists Sparks and Suzi Gardner, bassist/vocalist Jennifer Finch and drummer/vocalist Dee Plakas — agreed to a comeback tour.
"The first phone call I made to each one of them was weird," Sparks says of the initial reunion proposal. "I cut through the chase and said, 'Look, there's a lot of interest in a reunion. If it's something you're interested in, we could make this happen.'"
According to Sparks, Finch had more or less been awaiting that call for the last decade and was on board immediately. Plakas, who played for Sparks' solo project for a few years, had put her drum set in storage in 2008 but didn't need much arm-twisting. Gardner was the hardest sell. She hadn't touched her guitar in 14 years — it had been gathering dust under her bed while she pursued a career in documentary filmmaking — and hadn't seen or heard from anyone in the band throughout their long hiatus, even though she and Sparks live within a few blocks of each other in East L.A. Sparks gave her several weeks to consider the offer, and she eventually signed on. The two met before rehearsals to re-familiarize with the material.
Once all four members were in same room for the first time in nearly two decades, the awkwardness only lasted a few seconds. "There was a lot of laughing, a little nervous laughter, but mostly genuine laughter," Sparks says of the first rehearsal. "Our vernacular kicked in immediately."
They spent the spring meeting twice a week for dynamic, four-hour practice sessions. By the time the first of the reunion tour dates rolled around, things were tight.
"The sound has a lot of muscle," Sparks says. "Dee is playing fantastically. She is so solid, it holds up even if we fall off the rails. The first few rehearsals my voice was cracking like Peter Brady when he was going through his life changes. Then it got lubed up. When I hit the higher register on 'Shitlist,' I think I sound gnarlier than I ever did. The scream on 'Fast and Frightening'… it was like, holy shit. I sound gnarly."
L7's handful of U.S. tour dates include a couple more club stops in L.A. and New York City, then Philadelphia and Toronto in September. They're also on the roster for the Riot Fests in Chicago and Denver and the Fun Fun Fun Fest in Austin. This month, the band is in Europe playing a few club shows and a series of large hard rock festivals. As for their set lists, they are sticking to what Sparks refers to as "meat and potatoes L7." They played 18 hits and deep cuts at the Echo – opening with 1994's hammering "Andres," moving through the majority of 1992's Pretend We're Dead (including the never-played-live "One More Thing"), and finishing with "Shitlist."
"There are some on the must-play list. We locked in on those," Sparks says, adding that she prefers club gigs because of easier-to-control sound-harnessing, but "loves it all" and is looking forward to the festival shows, too. (One of L7's most notorious moments came at such a festival, when Sparks famously pulled out her used tampon and threw it into the mud-slinging Reading crowd in '92.)
"The festivals will be a trip because we're playing some hard rock festivals," she says. "There aren't many women on those, but we've always been embraced by that community. They're loyal, hard rocking and they don't care if we're chicks or not. With that crowd, it's like do you rock or not? And we do. So it's cool."
Although Sparks concedes that the band "is in no position to spend two months on a tour bus" — primarily because they all have other jobs they can't give up at this point — they are looking at the possibility of adding more West Coast shows and touring South America. Also, the prospect of recording new material isn't off the table. "We may decide to do a new record … I don't know. We just want to play our songs really, really well right now. We want to rock that catalog. We want to play stuff fans are familiar with. We want to play the songs they've been waiting 15 years to hear."
Sparks says the onslaught of support for the band's reunion has been heartwarming and also gratifying. It feels like they might finally be getting a little credit that is long overdue. "It has been very moving to all of us. Sometimes in the media, other people have gotten the recognition for the same era and it's been like, 'What about us?' Now it's kind of happening. Our fans have taken control of that."
"We've taken control, too. Everyone is kind of realizing that they want to rock. We're going to bring the rock. It sounds clichéd but it's fucking true."