Jason Derulo is, first and foremost, an editor. The 25-year-old Miami native edits his torso in a gym routine so rigorous that it won him the cover of Billboard's "Body" issue. He edited his surname phonetically so that his journey to the top is never interrupted by someone misspelling "Desrouleaux" or asking him how to pronounce it again. He even asks to see the photographer's camera a few times during our interview.
"You think s**t is not going to go places and then the worst picture gets circulated like a motherf**ker," Derulo explains. "It's like why the f**k would you post that? Out of all the pictures. So every picture has to be dope."
And the pop star's newest (and best) album Everything Is 4 takes a lithe, aerodynamic 39 minutes to run his every titanium hook and aural trick through your mind-body continuum. Like his own discerning digestive system, he didn't allow any snacks on it, weird little cheats, or indulgences. It's 11 square meals, all radio-ready, all far better for you than a shrewd campaign to be the best at everything would suggest. (Except maybe "Trade Hearts.")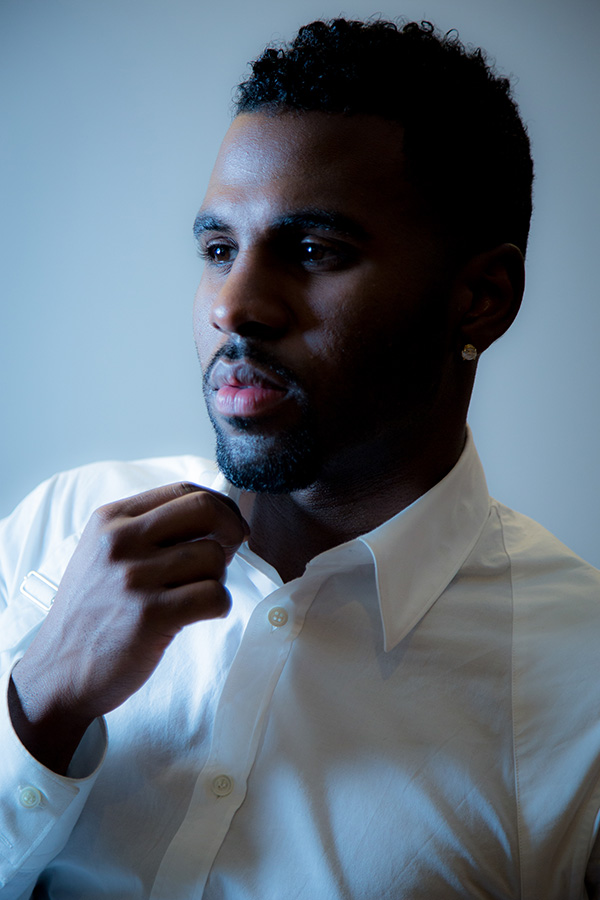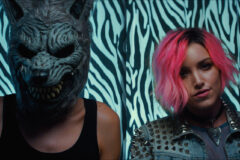 The interesting syntax of his hit single, "Want to Want Me" (as in "You're the one I want to want me") is aimed at a girl (he told Time that "every single song" on this album is about someone), though it has a campaigning feel to it. He wants us to want him, a pop trope we've heard before, though on my first attempt to interview Derulo, via phone, he pled ignorance when asked about the Cheap Trick hit. He was on his way to America's Next Top Model Germany and kept our call connected as he put me through a baggage scanner. I heard someone ask if he has a laptop. More distorted flushing. There is no doubt he could turn the various musique concrète from this exchange into hooks.
The second time we speak is at Warner Brothers HQ, in a comfortable living room of sorts, next to a foosball table, the day before Everything Is 4 is released. My review of the album went live earlier in the day, and Derulo is editing that. "I felt like that one was just jab after jab after jab. Like, I thought you were the worst review that I've seen thus far," he tells me, trying to pull it up on his phone. (I gave it an 8 out of 10 and called it the pop album of the year.)
"It mostly mentioned, like, fourth-grade lyrics, and, Michael Jackson being eons and eons away. It was just unnecessary jabs," he says. We have to agree to disagree on the cleverness of linking the juvenile lyrical content of his Summer of Ass-defining 2014 hit "Wiggle" to the recorder flute behind it, an instrument typically taught in elementary school. "But you didn't make that clear though, not the way you wrote it!" he says. His eyes are gigantic.
After some back and forth where I surprise even myself, we reach a détente where I'm not convinced he understands that a review isn't a press release, but he does seem to realize I'm a fan. "When I heard you singing song lyrics," he observes — caught me singing along to Everything Is 4 over the stereo when his crew arrived — "It seems like you listened to the album and spent some time." This exchange is a lot more polite and charitable than it reads, but every bit as intense.
"I like to hear what other people have to say," Derulo relents. "Not that it actually matters, because you know at the end of the day, I'm really f**king successful."
A self-described "arts kid" who discovered Michael Jackson at age four and spent hours in front of the TV trying to emulate his dance moves, Derulo was quickly enrolled in summer camps and performing arts schools, studying classical and learning piano ("music theory like the back of my f**king hand," he puts it), even sight-reading music in national competitions. He thought he was going to be famous by the time he was eight, when he wrote his first song, "Crush on You," for a girl named Amy Hume. By seventh grade he was in a two-singers-one-rapper group called JDX with two classmates, DeAndre and Xavier. They practiced every day after school at Derulo's behest, but "they didn't want to be heard as much as I did." He treated every talent show like it was going to be his big break.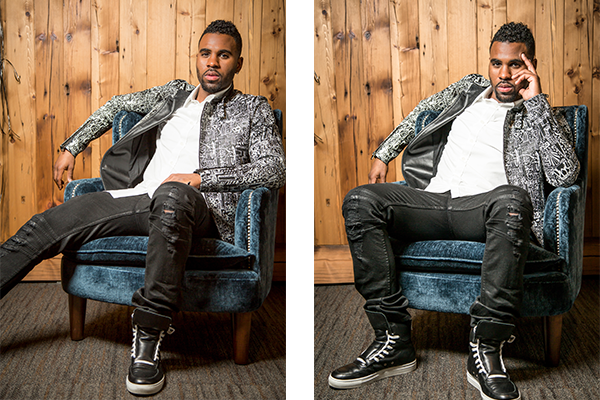 "We would go to clubs, me and two of my cousins who are twins," Derulo says. "My brother maxed out the credit cards to try and look like I was famous. He'd go see different DJs and try to make it seem like I was already on, so that when I gave them the CD, they took it seriously. We would literally go to all these different clubs and pass the CD to the DJ, a song called 'Hush.' I tried to build a buzz and then I was able to get Pitbull on it. I must have been f**king 16 or 17. I was f**king nobody."
His MySpace started getting traction and then he got calls to write for Birdman, Cassie, Diddy's Making the Band series, and — this being Miami — Pitbull himself. Derulo started racking up his own hits after his own "Whatcha Say" was turned down for Sean Kingston, with Derulo even mimicking Kingston's patois on the demo. Various chart hits ("Ridin' Solo," "It Girl," "Don't Wanna Go Home") accumulated over the course of two albums, but Derulo's actual presence became more well-known for his practice of singing his name as an intro for tunes. It even became somewhat of a Bob Dole-esque meme when one YouTuber spliced together a whole hour of Derulo singing his own name.
"So many people have done that and have the tags," he says, trying to not sound like he gets asked about this every day. "You could go down the list from Akon and Lady Gaga to Usher, but for some reason [sings] 'Jason Derulo'… maybe the jingle was just right, but it just became the biggest s**t in the world."
Sensing the possibility that it might be overshadowing the songs themselves, Derulo has mostly barred The Jingle from his last two records, though Meghan Trainor "begged" him to let her do it on their Everything Is 4 collaboration "Painkiller." He balks at the suggestion that a different guest singer should take up the tradition on each future album, à la the opening themes from Weeds or The Wire: "She's the last."
His interest in collaborators has grown, from the cavalcade of horny rappers (Tyga, Snoop Dogg, 2 Chainz) on 2014's Talk Dirty, to contributors as varied as Jennifer Lopez, Keith Urban and Stevie Wonder, the latter two appearing on the same track, "Broke."
A guy who says things like "Songwriting is a muscle," Derulo admires country for its craft, and utilized Urban's skills as a banjo player, while Wonder was tapped for his famous harmonica abilities. One thing that isn't that far-fetched about Derulo is his claim to be re-popularizing the live instrumental hook. Talk Dirty contained not just that recorder on "Wiggle," but actual trumpets on "Trumpets" (take that, Social Experiment), and most famously a Klezmer-gypsy horn break sampled from Balkan Beat Box saxman Ori Kaplan on "Talk Dirty."
"I got the ["Talk Dirty"] beat and I wrote to it the first night," he remembers. "I didn't like what I wrote to it and I don't usually write two songs on one beat. Once I do it, I just stop. But for some reason the next day I tried again. I don't know if it was lack of beats that night or what it was, but it just all clicked the next night. I knew it was special."
The song's influence can be felt on "Worth It" by Fifth Harmony, which flips a near-identical sample that Derulo has mixed feelings about.
"I love Fifth Harmony," he says. "I have nothing negative to say about them. Stargate on the other hand… Yeah I'll just leave that alone." (Kaplan himself actually co-produced the song with Stargate.)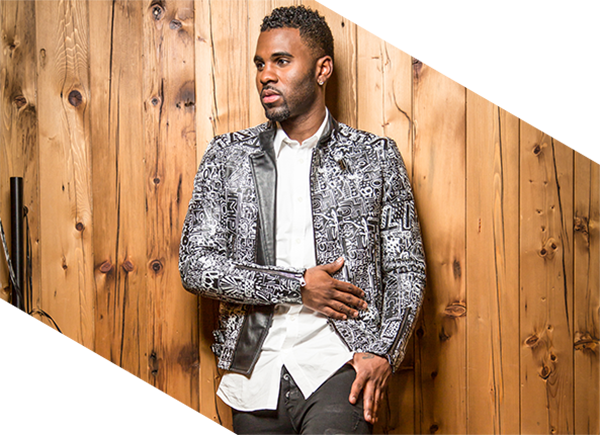 It's less that Derulo claims to have singlehandedly brought instrumental drops into style (they've been popping since at least "Yakety Yak") than his serious interest in (no "Wiggle" puns here) the back end of his songs as well as the front: Every sound on 2014's "Bubblegum" came from Derulo's mouth, while the new album's "Get Ugly" enlists his security guard Big Mac for the hook. Unafraid to let the music do the talking, Derulo's musical reference points become a whole other game: "Get Ugly" doesn't actually sample Bo Diddley as its "diddly diddly diddly" chorus would suggest, while "Try Me," a Carribbean update of the "Sexual Healing" chords, actually does have a Marvin Gaye credit, though in a post-"Blurred Lines" world, maybe people have just learned not to f**k with the Gaye family. "Try Me" features a ravishing vocal from Jennifer Lopez herself, whom Derulo describes as "an absolute sweetheart."
"She's one of my favorite people," he gushes. "No ego, the nicest f**king girl in the world. We danced the whole night away. That one just has a Caribbean vibe that just reminds us both of our roots and where we are from. It's J. Lo, bro."
Between Lopez and Wonder ("Not just the fact that I got to watch him work and do his thing but the fact that he was working on a record that I did,"), Derulo's bucket list is getting pretty cleaned out. No surprise that he freely describes Michael Jackson and Prince as his biggest influences, which is easily discerned from "Get Ugly" and "X2CU," respectively.
"You definitely hear that more than ever on this album — you know, that falsetto," he says.
When I ask him if it's harder to write a serious love song than it is to make, say, "Wiggle," he responds, "I think any great song is difficult to write in some aspect. It's just difficult to make somebody feel something. That is the main goal. How do you make somebody want to get up and dance? How do you make somebody feel okay after their breakup? It's like a movie. Is a comedy easier to do than a chick flick?"
"Wiggle" took a week, Derulo says. "The melody was amazing and it started out with 'You know what to do with that big black truck…'" Truck?
"Big black dick," he says without missing a beat, which causes the room to erupt in laughter. "But see, the fact that you didn't know what it is means it's not good. It took weeks to figure out what line was powerful enough to carry that melody, because there is that pause. What is big enough for you to make that large-ass pause?"
With more interplay from female duet partners than ever (his ex Jordin Sparks was the only one on his last album), Everything Is 4 tones down the commercial fervor ever so slightly for a personal touch on troubled laments like the unusually specific "Cheyenne," which is keyed to the phrase "I never meant to fall in love."
"[The album's about] failed relationships and brand-new relationships in my life. Just learning from the mistakes and my downfalls, learning to enjoy life and just trying to find a balance," Derulo explains. "Life throws curveballs… I am just trying to continue on the same path. I feel like my growth has been consistent, and it's been the weirdest f**king rise but I'm not going to stop."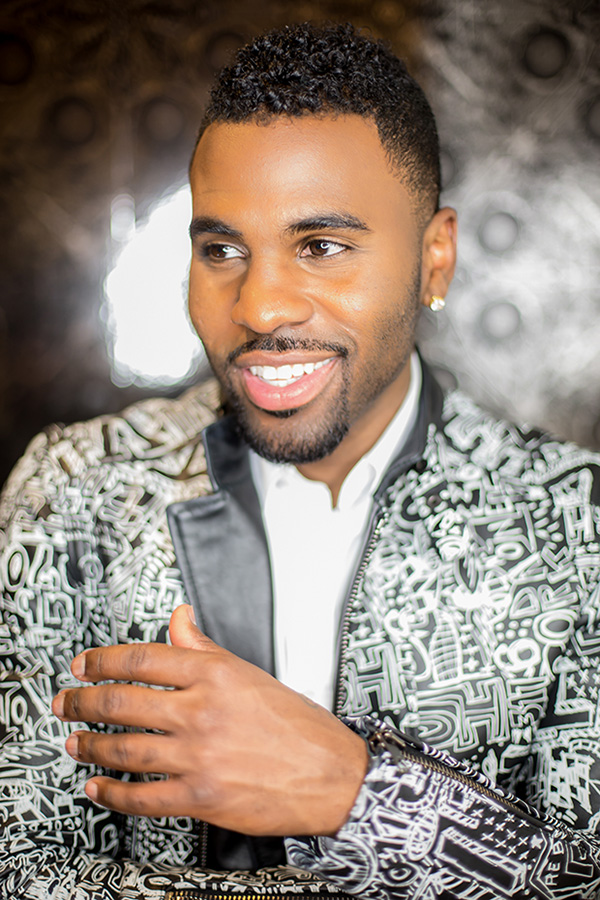 So what about that title, which feels like it's missing a word?
"'Everything is four' is a phrase that has been coined before me," he says. "Four is a number of completion. Four is a number that's literally all around. Four legs on a chair, to me, represent a strong foundation and always knowing where I come from. Also four seasons, four states of night. It represents change and being able to accept change. But also, the double meaning is everything is for a reason. Everything is for my mom. Everything is for my family. Everything happens for a reason."
But not one to get too deep, Derulo quickly starts soliciting from me ideas for the second single: "The problem is there is no clear-cut song right now."
He's already shot a video for "Cheyenne," while Big Mac favors the squelchy "Pull Up," a worthy, horny successor to "Wiggle." He's thinking about flipping a coin. I'm partial to the pinballing riff of "Get Ugly" and the Pacific bounce of "Try Me." He shakes his head at me. "You should have the answer. See you've given me, like, four songs, you don't even know. It's okay, I don't have the answer either." The J. Lo pairing is racking up views so he thinks hard about the game he wants to win most.
"It would stick out on the radio, right?"
https://youtube.com/watch?v=4OeP53BeYPs
All photos by Jason Shaltz for SPIN.