Lately, Hudson Mohawke has been talking about his TNGHT, his rattle-trap, boom-bap duo with Montreal producer Lunice, a lot. He's also been discussing his production duties on G.O.O.D. Music and his 2009 debut full-length, Butter. Though that's not what he really wants to talk about — after all, he is making the press rounds behind his sprawling, shimmering sophomore LP, Lantern (out now on Warp Records) — the Scottish producer good-naturedly realizes he has to re-hash his past in order to move on. "It's very important to make sure that people are aware that [Butter] was released six years ago, and some people have only become aware of me for my work with the TNGHT project or myself being involved with the Kanye West stuff," the producer tells SPIN over the phone.
With such a sterling resume and the connections it spawned, Mohawke (real name Ross Birchard) was able to establish an audience that appreciated him for his inclusive yet discriminating tastes, not just his penchant for bangers like "Higher Ground" or his dark, refracted thunderclap beats on Yeezus. "I'm in quite a lucky situation to have carved out this little niche for myself where people will be accepting of whatever direction I choose to take," he says. "I can go to a festival in front of a massive audience and play a bunch of ambient music and people won't be horrifically offended or shocked by it. They'll just be like, 'That's what he wants to do.'"
Another new thing for HudMo, as he's nicknamed, has been writing actual songs — rather than laying down tracks and having people sing over them — with such bucket-list artists as Miguel and Antony Hegarty of Antony and the Johnsons. "I was very keen to work alongside people in person as opposed to making an entire, fully-formed instrumental and then sending it online to someone to sing over," he says. "It was very much a joint effort from the ground up kind of thing."
Below, Birchard elaborates on his and Lunice's solo careers, recruiting family members to do voice identifications in song, and how happy he is to play instrumentals people are happy to listen to.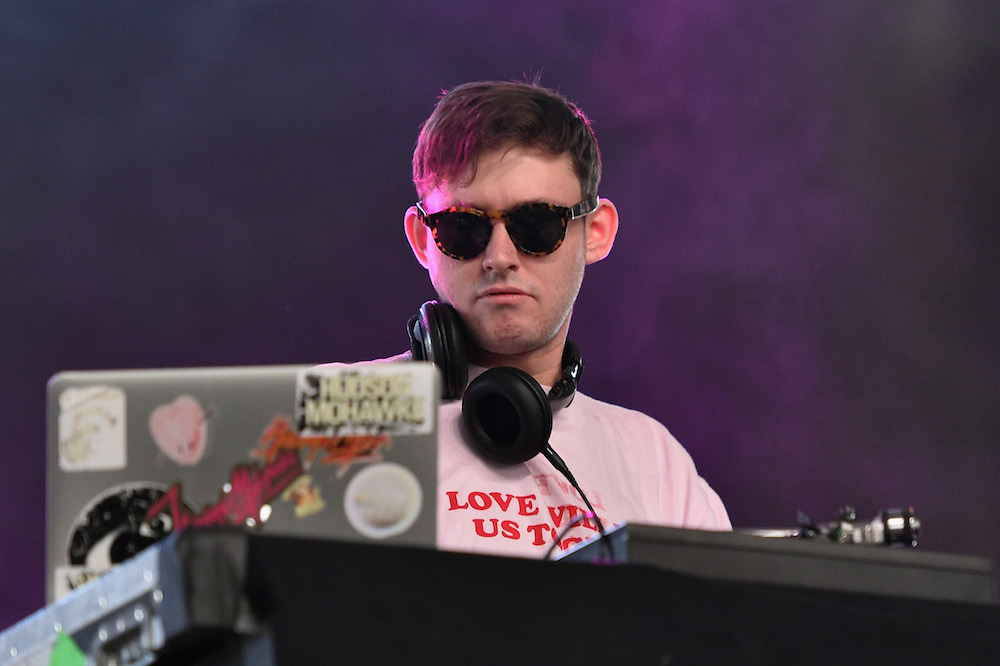 Has it been more tiresome for you or cathartic to continually have to refer back to TNGHT in these interviews, for this record, as you're trying to move on?
The thing is we're not really trying to move on. The TNGHT project is still ongoing. It's just more so the fact that we needed to release solo records; Lunice is coming out with a solo record this year, as well. We wouldn't have had the time to work on these records. As far as referring to the TNGHT stuff within interviews, I'm aware that that's where quite a lot of people only know me from. But as I said earlier, this is more of an introduction for the people that only know me from that to my kind of wider palette of tastes, and reintroducing the people who initially had my original material to that kind of sound again. Someone made the analogy that TNGHT was my Seinfeld in order to allow me to make this record as my Curb Your Enthusiasm.
Who's the child that says your name in the very beginning and the very end of the album?
I have three younger sisters, and one is right about the same age as me, and one is a year younger than me; I have two younger sisters who are both a decade younger than me, so I guess when they were maybe, like, about 10 or 11. I recorded lots of their little sound bytes. There is another recurring sound, which is just [makes aaahhh sound], but it kind of sounds like a child singing as well. I use that in quite a lot of tracks as well but it's my younger sister. So they did all the little voice identifications and song sounds that have become kind of signature sounds within my record production as well. That's been on every single release that I have ever done, that particular aaahhh sound. I should probably give them some royalties. [Laughs.]
Some of the other collaborators — Ruckazoid, Irfane, and Devaux — are obviously much lesser known names than Miguel or Antony, so how did you find them? How does it feel to be in a position where you're giving these artists a leg up, like what Kanye did for you in a lot of ways?
Ruckazoid is someone I was aware of from my background as a scratch DJ, from the competitive DJ scene I used to be really involved in. He was one of the legends over in that scene, but I had no idea he had this incredible voice as well. I just knew him as this champion scratch DJ, which is a pretty niche world as well. It must have been around the same time that we both got a little bit fed up with that sort of, you know, technical or technically focused competitive DJ'ing. We wanted to do something a bit more creative rather than the one-upmanship that the competition circuit is based on. We've done maybe three or four songs together, so some of them will be forthcoming as well. It's funny that you mention me giving him a leg up because he's something I grew up viewing him as one of my idols.
And then you've worked with so many different people: Drake, Antony, Björk, Azealia Banks, Lunice. What have you learned from each of them?
It's a funny situation with Azealia: We used to do shows together in New York for, like, 200 people, and she would be like a support act for me and Lunice. It's been amazing to watch her become this superstar. As far as Antony, when we eventually were put in touch, it turned out that I wanted to see if my kind of production would potentially work with his vocals; it so happened that he wanted to experiment with different styles of production, so I feel like we kind of learned from one another. His approach to songwriting inspired me, because I am obviously someone used to sitting down and working on an instrumental track, rather than sitting down and trying to write a song with a piano. That's a whole different approach to music-making: to just sit down and work out some chords in front of you on a keyboard, work out a melody that's an entirely from the way that I previously worked, which was just to, you know, knock out some beats and loops or whatever. I can go on rambling here…
You've been very much associated with Glasgow, but now you have a studio in London. Do you think of yourself differently as a part of a different geographic music origin?
It's worked out quite nicely because I moved to London about five or six years ago, and since then a lot of the people [Rustie, Koreless] who were involved in our little music scene that we built up from 2006 to 2010 are now in London as well. It's kind of like we've all relocated down here. We all visit Glasgow because you can get on a plane and it's only 40 minutes away or something like that. I find myself in Glasgow quite frequently. I'll be back there next. I think I was there maybe two weeks ago. It's not like I'm moving to a new continent.
I'm curious about the name of "Lil Djembe," which is an African drum — kind of a new instrument, even in theory, for you. Where did that track come from?
I wanted to make something on the record which was not necessarily a melodic lead, but more drum-focused, and just something that was based on purely rhythmics. Even though there are little melodic aspects of it, I wanted to make kind of more fucked-up rhythmically; there's a little bit of  Neptunes-inspired drum programming and that type of thing. I wanted something that was kind of darker and little bit more off-kilter, just to balance the record out.
The track that maybe balances it out is "Kettles," which is incredibly cinematic and completely unlike anything I have heard from you before. 
That was just really experimenting with the freedom to not only release that, but go to play that to a festival crowd. That feels incredible, to have people appreciate that on the same level as they would appreciate a track like "Chimes," which is much more of overt banger, as it were. I feel very fortunate to be in that position. But that track really came from me experimenting in terms of trying to do some film scoring or something like that. That's something that I am working on at the moment as well. But I wanted to try and see if I could make "classical" music, so it was just an experiment to see whether it was possible for me to compose something like that as opposed to making beats.
You're working on Antony Hegarty's reportedly NSA-inspired album, so I'm curious to your thoughts as a producer who likely has libraries of unreleased tracks, is that something that you think about? Internet security and privacy and all that stuff?
Well, it does have themes of that running through it, but obviously it is not entirely anti-NSA. It's something I consider, but at the same time, it's something that I, as far as being able to have immediate, direct contact with as far as SoundCloud, it's something I kind of embrace as well. Being able to finish a piece of music for someone in the States or South America, to have it in their inbox ten minutes later, is obviously a huge advantage. Obviously, I'm not keen on being spied on, and I know plenty of people who have pieces of tape over their MacBook cameras. [Laughs.] It's a bit of a worry, but it kind of has its up and downs, I guess, because the sort of convenience of it in terms of connecting your music with friends is almost equivalent to the downside of potentially being spied on.