Kevin, Dantiez, and DaMarii Saunderson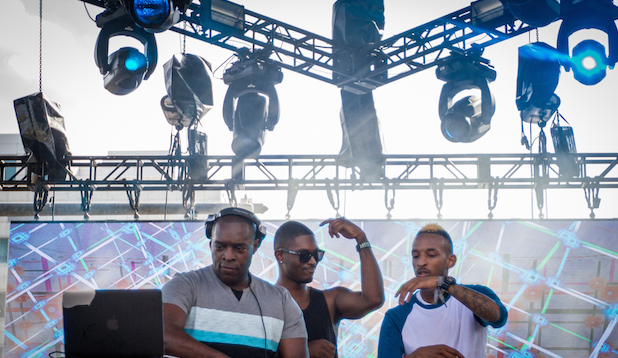 When did you decide you wanted to become a DJ?
Dantiez Saunderson: Three years ago were the first serious words "I want to be a DJ." I probably said it once or twice when I was two, like [high voice] "I wanna be a DJ," but that was the first time it really mattered. I kind of fell into it. Obviously I was always around it and I vibed to it, but I was never actually involved. There was a competitive brotherly edge: I remember my earliest thoughts of becoming a DJ was my bro DaMarii saying actually saying he wanted to learn to DJ first, so I told my pops that less than a day — less than 20 minutes — after, "I want to make music." So he kind of kick-started me off. I was like, "Oh no way, not before me!"
DaMarii Saunderson: For me, after so many years of catching different vibes, eventually I turned around and went to [Kevin] and said, "I want to try." I had been traveling with him, too, seeing the different reactions of different crowds, their happiness and enjoyment; seeing different kinds of people involved of all races, ages, everything, rocking together.
So, you guys used to go on tour with Kevin?
Kevin Saunderson: They toured with me. I did this American tour where we went for seven different dates. It was [Moby's] Area Festival One and Two, I remember. We went in a camper, the whole family was there camping. They started traveling with me around the world to different places, and that's when they got serious into music.
Dantiez: There are pictures of me with Paul Oakenfold —
Kevin: — At like five, six. I probably kept their ears protected with headphones.
Dantiez: I don't remember that. I was probably just a rebel, like, "I don't want to listen through this, I want it full blast." I don't do earplugs.
Do you remember listening to techno in the house when growing up?
DaMarii: Non-stop. We didn't know why. Eventually I figured it out, but at first I didn't know what it was. Sometimes I might have thought it was loud noise… I couldn't explain it.
Kevin: I'd be messing around sometimes in my home studio, but I pushed them more in sports at that time. DaMarii actually played pro [baseball], got drafted out of high school. That's how much we were a baseball family. Dantiez, he was basketball. It's got a lot of similarities with music: you still want to do your best, still want to practice, still want to make sure your stuff is sharp. Music was just my job, like going to work. They didn't even know what was going on. I'd leave them back in the house, hanging around. I'd go off and work in the studio, be in my own world.
What was the first track you heard and thought, "This is what I want to do."
DaMarii: It wasn't a track, it was a DJ and a vibe, music throughout the night. There've been plenty of [Kevin's] DJ sets, but one that really stood out was three or four years ago at WMC [Miami's Winter Music Conference]. I saw Luciano and it blew my mind.
Dantiez: What's that song that goes "Rain rain rain, rain rain rain, rain rain rain" —
Kevin: — That's one of mine.
Dantiez: That's not even one of the more popular ones. I remember so long ago, when I was in the car as a kid, I remember just jamming to it. I wouldn't hear it on the radio or anything. I was like, "This is techno? This is the dope side of techno!" That was my first flash-forward into the future. I must have been ten, 12.
When you guys started making music, did you go to Kevin for advice?
DaMarii: When I went to him for advice, he told us to look it up on YouTube.
Kevin: I didn't want them to jumping in; I didn't want to waste my time, either [laughs]. I was like, I got a busy schedule, and there's a lot cool you can find out on YouTube. Once you get serious about it, come talk to me. I also have lots of information: Books downstairs on learning how to record sounds, music theory. I put them to websites like Dubspot, macProVideo, so I said, "You have all the information right there. Feed off of that first and then get serious. You gotta put the work in."
Dantiez: I moved to New York for school at Dubspot. That was cool. I learned a lot of technical stuff that I would have missed — that anyone could miss — a lot of basic stuff you should know like compression or effects. You should never stop learning.
What have you learned from your sons?
Kevin: New technology. They use and have every plugin. I'll read something about it and get excited about it, or somebody will tell me about it, and I'll have Dantiez and DaMarii show me. They already know the plugins, so that kind of helps. Some techniques, too, like Ableton and stuff like that. I learn that from them.