SPIN traveled to the 2015 edition of the long-running Bonnaroo festival in Manchester, Tennessee for four straight days of all manner of musical bliss. Begun in 2002 and named after Dr. John's Desitively Bonnaroo, it's been touted in this very publication as the "Best Festival of the Summer," with good reason. Sustainable environmentally and curated for the best attractions possible — are Kendrick Lamar, Slayer, D'Angelo and Kacey Musgraves not leading lights of their respective genres? To say nothing of Robert Plant — it's a wonderful place to otherwise not have bathroom access for half of a week. Here's the best stuff we saw, which sadly didn't include Jon Hamm's sneaky appearance with Belle and Sebastian or Chance and Kendrick's impromptu freestyles with Earth, Wind and Fire. Rest assured, there was plenty, plenty more.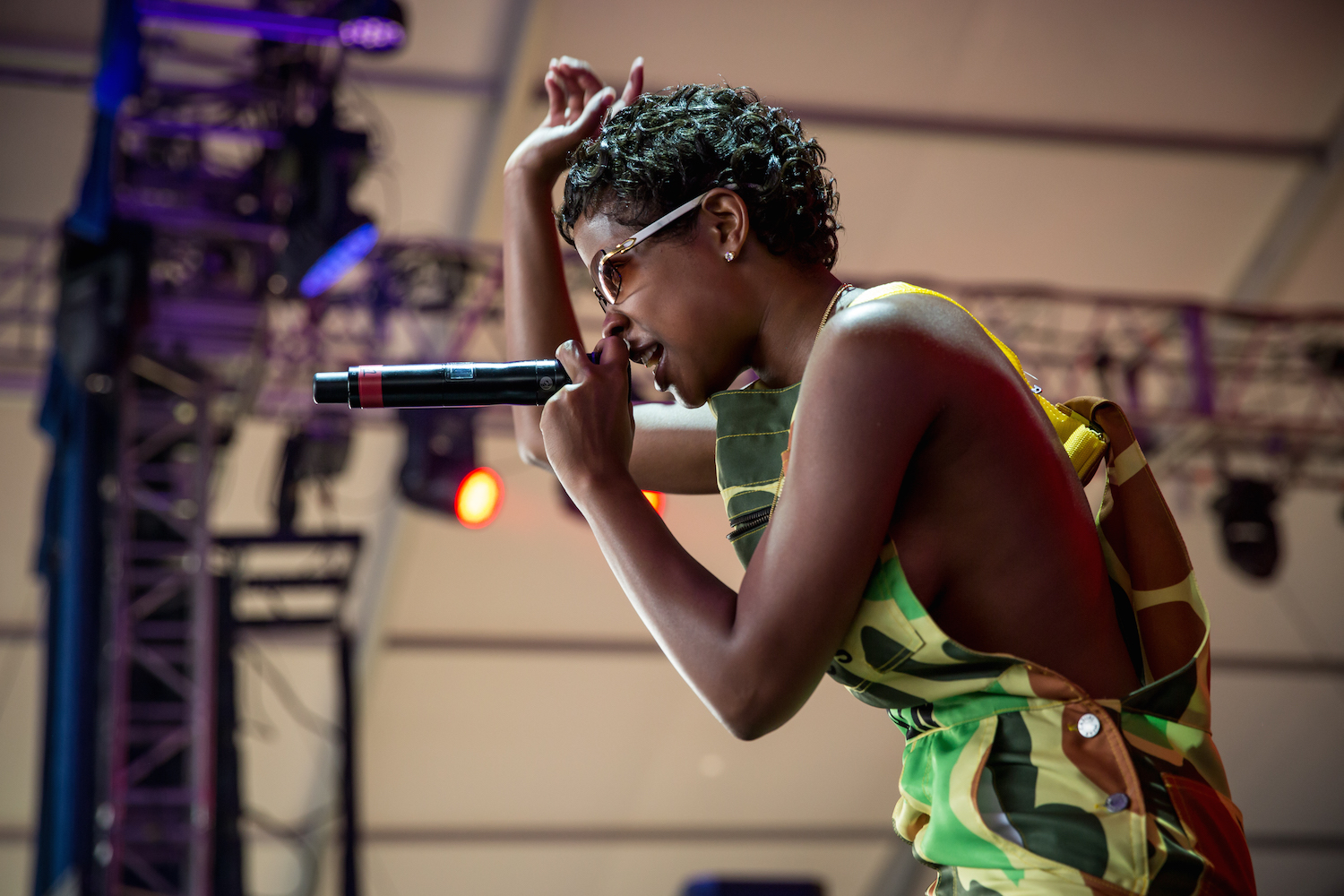 DeJ Loaf
Deja Trimble has seized her moment pretty quickly and effectively: The 24-year-old XXL Freshman came out guns blazing for the first standout set of Bonnaroo in camo overalls and shades with a burly, magnetic hype man in tow. She can't afford Auto-Tune live yet, so her signature "Try Me" (which earlier in the set she teased a cappella) sounded tougher and less studio-polished — a good thing — and elsewhere she brandished impressive metaphors ("Shot like B-rolls"), boasts ("My bitches have a rider"), and soon-to-be retweets ("I lost my main to a drug deal / I need a bitch who understand how a thug feel"). And her own spins on the ubiquitous "Trap Queen" and "Post to Be" ("I'm gonna make him eat this pussy appropriately") proved she knows how to make a tentful of unconverteds erupt. Wait till she has the material of her own.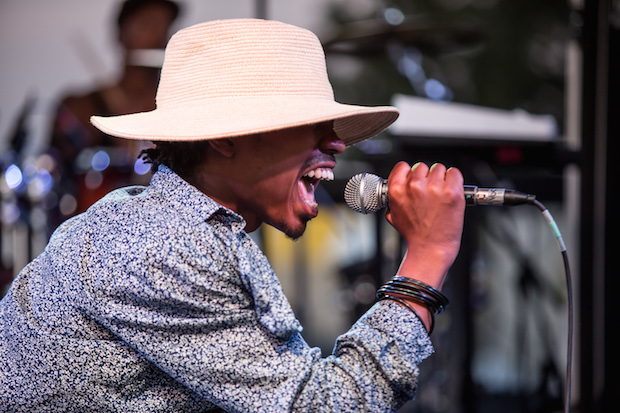 Raury
It's a shame that that up-and-comer Raury's set — which garnered an absolutely packed crowd for one of the tiny stages — was plagued by delays and sound difficulties; someone needed to turn dude's mic up. The wide-brim-hatted 19-year-old dove and spun onto stage like it was his birthday (which was Wednesday) and spit barely audible but obviously intricate rhymes over a live band who emulated everything from "Sabbath Bloody Sabbath" swing-metal to EDM. Still, when he demanded, "I need you to be joyous," it was hard to refute.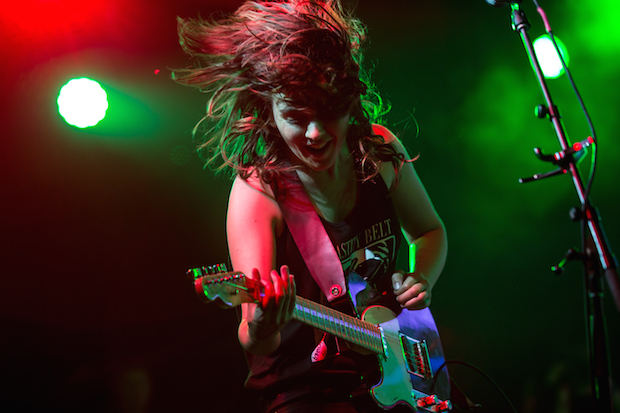 Courtney Barnett
Conversation Behind Me at Bonnaroo: A One-Act Play
"You like Courtney Barnett? I read a little bit about her. My dad says she's good! What kind of music does she play?"
 FIN
It's definitely weird but not unwelcome how this Melbourne 26-year-old's Return of the Normal has captivated my fellow critics (and their dads), and soon I fell for her too, despite dismissing her upfront as yeah, pedestrian at best. Thing is, great pedestrians have been around forever, from the Go-Betweens to the Mountain Goats. Block chords and good stories have been long overdue for their 8.6/4.5 stars/9 in SPIN what have you. Still, take away the album's faux-'60s organ and her g-b-d power trio rips hard enough to make those ridiculous Nirvana comparisons not sound on the moon entirely.
In a black Chastity Belt tank top, black left-handed guitar and dark-brown bangs lightly headbanging, Barnett made "Elevator Operator" and "Lance Jr." pound between dry, almost PC Music-like intros ("Let's do this, this is our next song!") and finished off "An Illustration of Loneliness (Sleepless in New York)" with a scrape of feedback, as balloons Sharpie'd with her name in cursive bounced throughout the crowd. Then things got funnier ("This next song is about driving in Australia and dead kangaroos, kind of reminds me of Bonnaroo") and grander, as her early-career highlight "Depreston" moved up a few heartbeats from a swirling Velvets ballad to a breakneck pound that had the whole crowd clapping the bridge, and after kneeling into a growling vortex of feedback that sprang up from "Avant Gardener," she launched into "Pedestrian at Best," thrashing her hair and nearly screaming the climax. Nirvana was in the house — but so was Harry Nilsson's "Jump Into the Fire."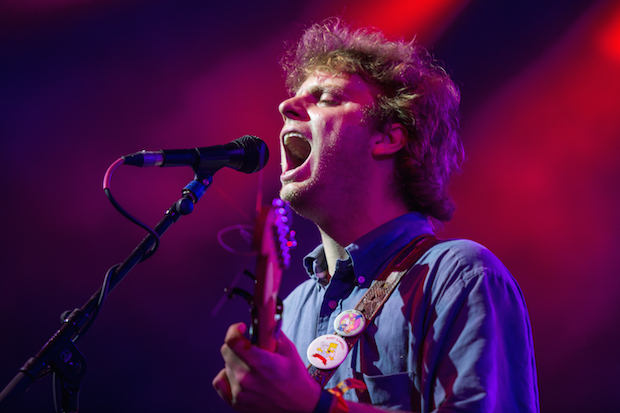 Mac DeMarco
Even with his awesome live reputation, Mac DeMarco's late time slot made no sense to me until his opener "Salad Days" had me singing along after just one la-la-la-la-la refrain. Respectfully avoiding his recorded output because Ween-flanged "yacht rock" is neither funny nor entrancing to me, I'd made note of Salad Days' tricky, surf-like guitar leads and was still surprised by how well his songs not just held up but roused a tent (no pun, though Mac would appreciate).
It helped that the indie Jimmy Buffett bounded out the gate introducing his band with a quick "We're gonna play some songs for you, don't worry about it motherfucker!" and turned "Ode to Viceroy" into an attempt to break the world record for the number of people on other people's shoulders ("Apparently we didn't break the record but nice try everyone,"), but even the songs where he growls, "Okay we're gonna feel the vibe now" in various Muppet cadences achieved presence. "This Coors Light's for you!" he crooked-smiled at one point. Ironic or not, his entertainer's dedication was real and he made a new Parrothead.
Unknown Mortal Orchestra
Otherwise known as Untamed Impala, Ruban Nielson is another psychedelic auteur who works far less universally, between his layered sonic intricacies and his new album Multi-Love about his experience with two simultaneous long-term partners. Typically studio-bound, the patrol-capped Nielson's bass- and falsetto-driven new songs sounded less like a DIY project in between frantic miniature drum solos onstage while crowd members hoisted up uh, a giant Pikachu-topped cupcake. At the behest of an audience, his stuttering, tricky beats and snaky basslines recalled N.E.R.D. and his squeaky-hinge wah guitar sounded un-oiled as ever as he crouched repeatedly to make those effect pedals sing.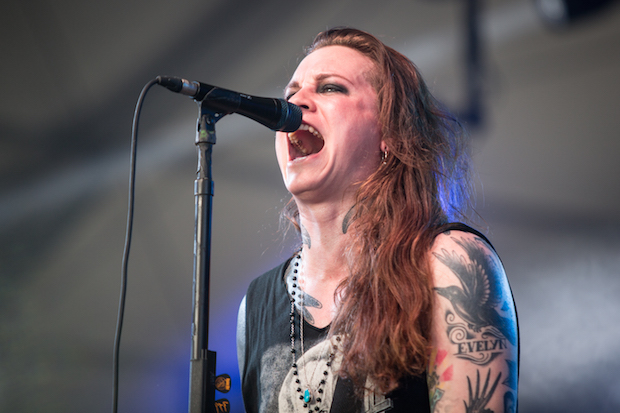 Against Me!
No one currently working writes anthems like Laura Jane Grace, who strung ten perfect ones in a row for 2007's New Wave and 2010's White Crosses and last year's precedent-free Transgender Dysphoria Blues come close enough. Once her songs were too big for the constraints of a punk contingent that probably preferred Iceage's horrible set; now, with Grace's newfound, belated ubiquity due to being one of the most well-known and outspoken trans musicians, we'll take it. There was nothing new about the shattering, shoutable power of "FuckMyLife666," "Thrash Unreal," and "Drinking With the Jocks" in her set on Friday, just that their author finally seems to have hired a worthy successor to the departed Warren Oakes on drums, and that they finally regain life as proud standards by a fearless inclusionist.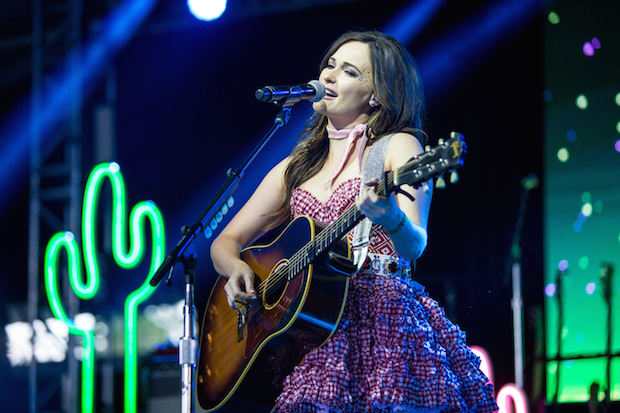 Kacey Musgraves
Ever so slightly unfazed by her constant campaigning to be lovable, I didn't move an inch when Musgraves in sparkly dress or her Lite Brite-festooned cowboy cavalry (to say nothing of the neon stage cacti) opened with the hokey "Silver Lining" either. But quickly the excellent "Stupid" and "Blowin' Smoke" and the both-hokey-and-lovable "Biscuits" followed, and now she's campaigning for president. She also treated us to her own hit for Miranda Lambert, "Mama's Broken Heart," (downpaced to a speed more akin to "The Guns of Brixton") and previewed some of the best songs off of the upcoming, excellent Pageant Material.
"I'm from a very tiny little town in Texas; we've got a sweet potato festival and we've got a pretty decent Mexican food restaurant… and that's about it," was how she cued up "This Town," which among other things lists, "This town's too small to cheat," and for "Family Is Family" she saluted some aunts and uncles "in jail et cetera." She has too many you-do-you songs — crowd went nuts when she sang "Nothing to see here / Go back to your trailer" — but she makes up for it with provocations that could only possibly troll Nashville in 2015, like covering "No Scrubs" and waving around a paper fan at the end, or recasting her own "Step Off" as reggae leading into Bob Marley's "Three Little Birds." "Smells good out there!" she chirped, and later didn't admonish the crowd when they cheered for the line about her brother's pot addiction in "Merry-Go-Round." Too nice is a thing, you know.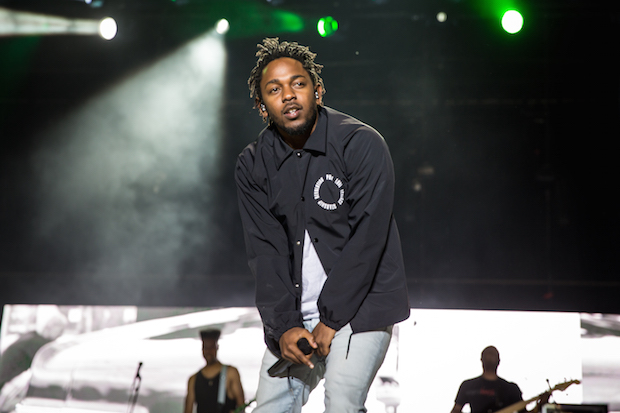 Kendrick Lamar
Cautiously embracing his total domination of 2015, K-Dot still stalked the Bonnaroo main stage like a pro, live band behind him turning not just "King Kunta" and "Bitch, Don't Kill My Vibe" into heavy-hitting aural quicksand but "Sing About Me" and "Money Trees" as well. These were bangers in the landmine sense; Lamar isn't forcing himself to memorize "For Free?" or "Mortal Man" anytime soon, though he underestimates the fact that a festival audience that helped him reach No. 1 on the Billboard 200 wants to hear "Wesley's Theory" as much as "Fuckin' Problems."
Still, he's a master of everything you've already read about: sleight of hand with voices, seeker of previously unheard pockets in g-fusion beats. He pulled that yak-yak-yak refrain of "m.A.A.d. city" like taffy until confetti shot out of the rafters and honored George Clinton with one pounding "We want the funk" finale before requesting a moment of silence and proclaiming that we gonna be "Alright" for his final trick. A class act who makes you want to think. Even when surrounded by war bonnet-sporting festival goers. Hell, especially when.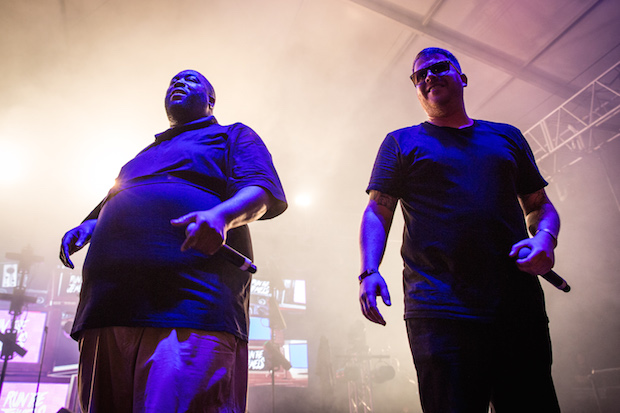 Run the Jewels
"Victory lap" is an overused cliché but say this for the perpetually pissed Killer Mike and El-P: They did not expect to win. As such, it's goofy fun watching the underdogs adjust to their new position of power while they forcefully rap about others who've abused it. "There's a lot of people you could've seen but you came here and we love you so much," said El-P, who's beloved by crowds but not at all what you'd refer to as any breed of "pleaser." Nevertheless, dubstep-paced goods like "Oh My Darling Don't Cry," "Blockbuster Night, Pt. 1," and "Love Again (Akinyele Back)" all blurred together in the best way on Friday with Mike's car-bomb voice and El's brick-on-the-gas-pedal beats spreading the anti-fuckboy gospel.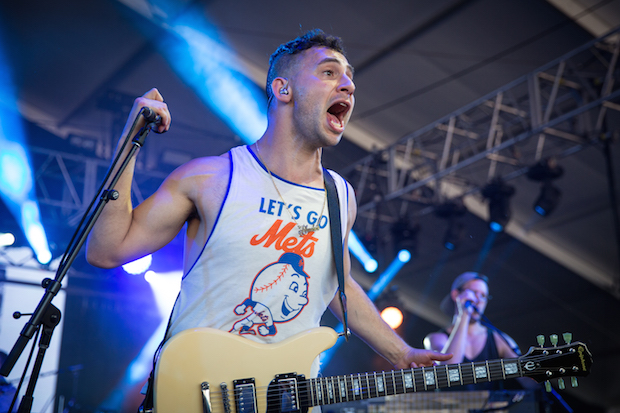 Bleachers
Bleachers are so sunny that the band walked out to goddamn "Tomorrow" from Annie. Jack Antonoff jogged out in a "Let's Go Mets" jersey, staggered around with a mic stand, rocked two drummers, and threw his guitar into the air at the end of (not to be confused with Miguel's) "Wild Heart." He came off like a guy who just launched a festival of his own, and in a less self-serious, even goofy context with this crowd, it was much easier to enjoy his Lionel Richie percussion, and Bryan Adams synth-workout tunes. "I know you're sweating," the OCD sufferer teased. "I don't know what you're sweating out but you're the shit." I can't believe he captured my heart.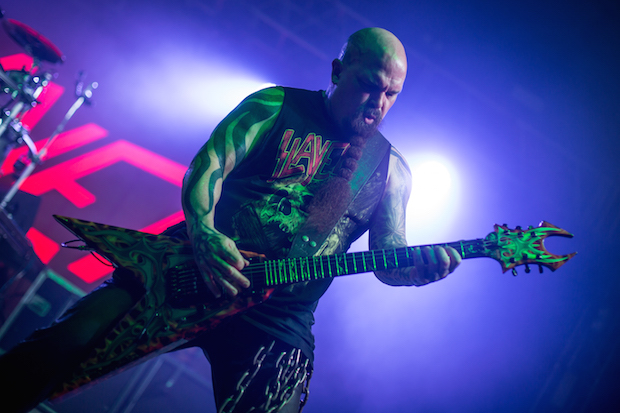 Slayer
Something about Slayer is just so… efficient. There's a viscera-soaked warmth to their reliability, that "World Painted Blood" and "Mandatory Suicide" coexist years apart, that they've weathered no loss of speed at 34 years despite the tragic loss of guitarist Jeff Hanneman, that even when they slow down on "South of Heaven" or flirt with nü-metal on "Disciple," none of it strays far from the blitzing thrash they perfected on 1986's Reign in Blood, whose twin peaks "Raining Blood" and "Angel of Death" drilled home an incredible Saturday set by a quadrant of kick-drum-battering 50-plus-year-olds right through your oozing skull. After four neck-breakers, singer/bassist Tom Araya howled a goofy "Howdy doo, Bonnaroo!" before more gutturally bellowing "WARRRR ENSEMBLLLLE," and blazing through the band's 1990 hurricane of the same name. "You won't hear this on the radio," he promised later. But the airwaves were probably one of Satan's first hostages.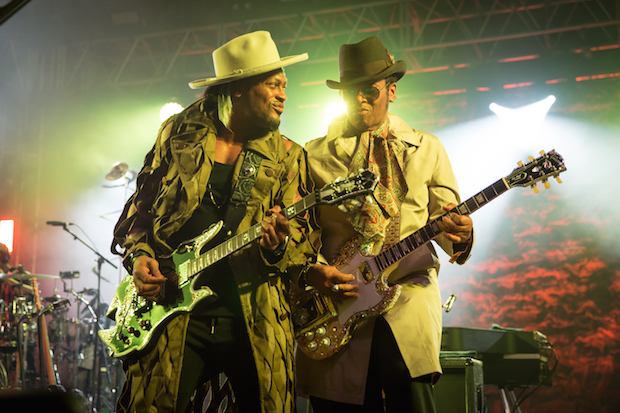 D'Angelo and the Vanguard
If anyone has a right to diss contemporary hip-hop with "no comment" it's the hardest-working recluse in show business, R&B Jesus himself, whose only competition in Manchester this weekend used to front a band called Led Zeppelin. But even starting too late to finish with his planned "Untitled (How Does It Feel)" encore, Michael Eugene Archer, known to you and your present and former bedmates as D'Angelo, ground the place up for a movie-length, two-hour set, in no actual contest. Now 41 and so sorely missed that December's Black Messiah won Pazz and Jop with a mere single week to process it, D'Angelo is as hungry as his fans and showed it without exception on Saturday as he took the stage to the metal-fried soloing and whip-crack snares of "Ain't That Easy," making several perfect uses of the James Brown/Prince elongated pause with false ending and even shuffling a few wardrobe changes throughout the 1 a.m. show. D's unburied falsetto swam through a thicket of horns much more effectively than on the more layered album, for highlights like the mournful "The Charade," which he dedicated to Michael Brown and other victims of a failed, racially unjust chain of command.
The crowd didn't seem to recognize that his 1995 "Brown Sugar" was a huge hit; such is the huge gap between his career moves, though the swirling organ and extended Brown-style shouts and sudden stops turned this update into a new highlight all its own. I'd had no idea that the clicky claps in "Sugah Daddy" were actually performed by tap dancers(!), and it was faster, almost punk. D made the goofy "hang loose" sign as the tune became a double-time roller coaster with humungous bass thumps vibrating the tent. Despite his reputation for unquestionable jamming, it was way easier to distinguish between tracks than you might have feared; on this new evidence, Messiah may even be his song-iest record. On "Another Life," he and his three backup singers synchronized a side-to-side dance like an early-'90s Bell Biv Devoe video, except that the leader was in a coat of hexagonal net holes and a bandana tied like Rambo. The "encore" alone mutated over the 20-minute mark, traveling from "Left and Right" (for which D himself strapped on a chrome-spackled guitar) to a Rick James-style groove, a call-response of "Say hell no / Hell no," a sax solo, and more false endings than Wayne's World and Wayne's World 2 combined. No comment is right; D has nothing to tell if he can't show. And he can, better than any other mortal who performed this weekend, and maybe some of the immortals too.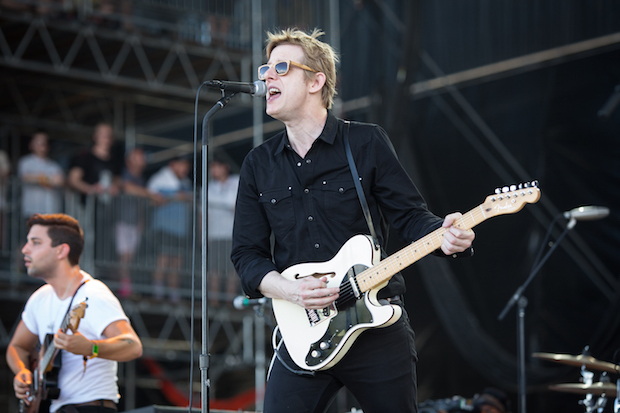 Spoon
In lean black and shades, Britt Daniel has significantly emerged as a capital-R rock star since I last caught Spoon in 2006. At the time, they seemed willful — didn't play "The Way We Get By" at the Pitchfork Festival for instance. On Saturday, it was the third song of what was basically a greatest-hits set on the fest's biggest stage: It's amazing how single piano notes and tambourine hits could reach half the same number of people Billy Joel does with two men on keys and four saxophones. But from the opening organ-into-feedback drone that hardened into Jim Eno's flat-gutted beat and the shattered, one-Stones-chord whomp of "Rent I Pay," these ex-major-label-haters have become entertainers above all.
Which means replicating the album when necessary (meet Jim's furious maraca on "Don't You Evah"), or recasting altogether: "Small Stakes" has transformed from a minimal rave-up to a metronomic anthem worthy of Wire, and Daniel ended it by gracefully jumping off the drum riser (has he not heard of the leg breaking curse?). His herky-jerk guitar motions, held note on the title of "My Mathematical Mind" and total avoidance of the underrated Transference in the set list aimed to please, one and all. To quote "The Beast and Dragon, Adored," which followed a new ballad they snuck in, I got to believe it come from rock'n'roll.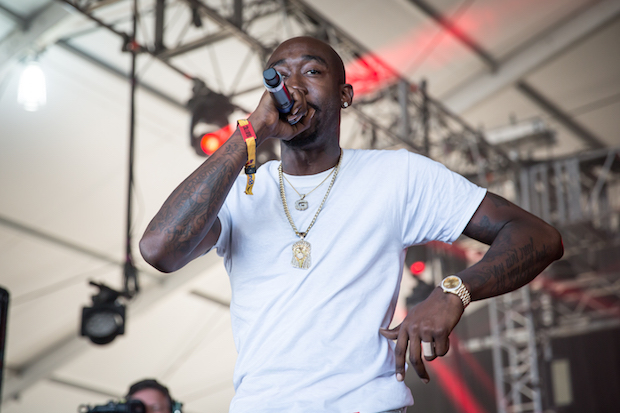 Freddie Gibbs and Madlib
Saturday was Freddie Gibbs' birthday; "Nah nah, for real, today is my real birthday!" he exclaimed, walking out with a big smile and a victory pose in Nike gym shorts. But is dude ever negative. With standout lines like "Same city, same hood where we kill each other for a dollar 'cuz we want it in the worst way" and "What you know about kidnapping?" in clipped, impressive blocks of stiffly-parted rhyme, he's a challenge of relatability in 2015, a dusty anachronism like his rightfully co-billed producer. For all the talk about his magic flows, Gibbs either loves stopping his momentum to say things like, "You want me to rap? I'll rap this dick around those titties," or he really was as drunk as he claimed.
Every single break was accompanied by a siren-accompanied chant of "Say fuck police / Fuck police!" or "When I say E-S / You say G-N" and I wondered if renowned DJ Madlib, the true star of last year's beauteous Piñata, was getting itchy. Gibbs promised "real motherfuckin gangsta rap," which sounded great during the actual rapping of highlights like "High" and the Jeezy-trashing "Real," and (per the laws of gangsta rap), pretty awful on the live-action "skits" where he dissed "big, sloppy titties" or thought a joke about a topless audience member ("You squat? You can squat on this dick!") was so funny he had to repeat it twice.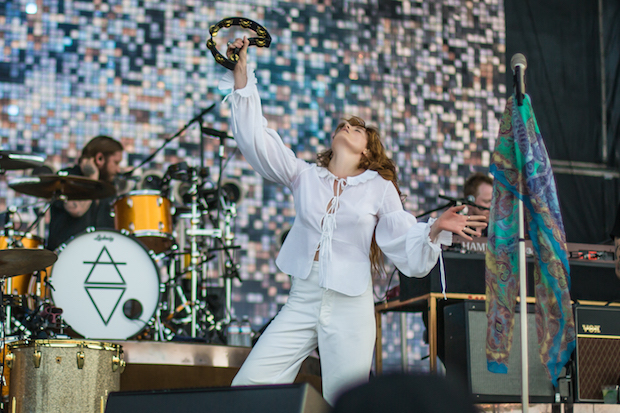 Florence + The Machine
The meteoric rise of Florence Welch from Eat. Pray. Love. hitmaker to Larger Print Than Robert Plant on the Poster was lost on me until I saw her fight for Jumbotron screen time with an inflatable hammerhead shark. Opening with 2011's "What the Water Gave Me" (which is inspired by both Frida Kahlo and Virginia Woolf, jesus), the swampy-pretty "lay me down" choruses and spooky glockenspiel pattern accompanied by an 11-piece Machine (give the harpist some!) quickly broke into spell-casting hand motions and Welch leaping and skipping around the stage. Suddenly it's much easier to understand why her whole world fell apart over a bum foot — standing still is not her thing. From there her Buffy Sainte-Marie-cum-Patti Smith vibrato graced a bluesier "Ship to Wreck," her first song I've really liked, now outfitted with roundhouse kicks, and a crowd-assisted "Shake It Out," which I've since caught up with. "Is everyone drinking enough water?" she asked. "I'm so proud of you!" No, thank you, Florence Ex Machina. Or at least, Florence Ex Tambourina. She went hard on that thing.
Robert Plant and the Sensational Space Shifters
At 66, Robert Plant's mic stand choreography is better than yours. Seeing him perform, and I mean perform, "The Wanton Song" out of the gate in 2015 is a treat not afforded every greatest-singer-alive-or-dead and him slamming the stand down like a gauntlet with a shriek at the end put a boldface punctuation mark on it. What you wouldn't guess is that the rockabilly Afrobeat (yes, sticking with that description) of his solo "Turn It Up" was just as strong following it. Then Tennessee was treated to "Black Dog" as a half-time hip-hop beat; the crowd went with it, even sang the "Dreams of you all in my head" part.
Plant's "Oooooooh" still cracks with youth, or at least fish oil supplements, not to mention he's funny as shit, like when he introduced Howlin' Wolf's "Killin' Floor" as "a song that was taken from the archives of the elves on the side of the misty mountains" (the guy still loves his hobbits!). He loves playing with his extraordinary voice, too, moaning various calls for the crowd to respond to as "Going to California" jangled to a close, ad-libbing comments like "Shondells! That's the Shondells!" and "Come on, Sesame Street!" It couldn't all be Zeppelin ("This is a song called 'Little Maggie'; She hates it") but Plant's set moved shockingly and titanically even when it wasn't. Which is not to say that a planet-splitting "Whole Lotta Love"/ "Who Do You Love" medley couldn't make Bo Diddley rise from the dead. Best old-dog/new-tricks moment: a West African ritti (kind of like a one-string violin) solo made "Dazed and Confused" sound like the Pogues.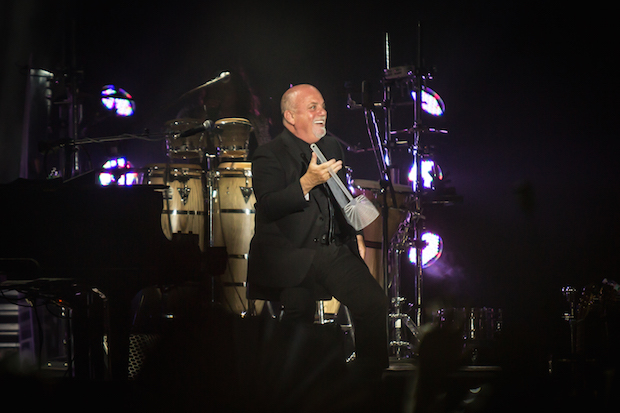 Billy Joel
Maybe it was Action Bronson sampling "Zanzibar" (and paying for it with Mark Ronson's money) or the shook-up goodwill from Plant's set but I'd never been readier to give Billy Joel a fair trial and luckily, his excellent re-evaluation barely required one. Joel kicked off with "My Life" and "Pressure," which both share a drive that splits the difference between Randy Newman and Steely Dan more than any of the Tin Pan Alley stuff he's more known for. That is, he capped a weekend of proudly professional winners with two hours of purely pleasurable studio rock and late-night talk show-style patter and recurring gags, many involving a flyswatter he brandished all evening. He did a song from his very first record ("I don't even have a copy of that album"), and after playing "She's Always a Woman," brusquely commented, "That was for one of my ex-wives."
After being spooked by glowing balloons in the sky, he played the Twilight Zone theme with his right hand. But mostly he made an incredible case for sticking with his catalog, refusing to update that too-shiny keyboard patch on "We Didn't Start the Fire" and probably unaware that Twin Shadow is frantically searching for it this instant. At one point his backing band treated us to three-and-a-half saxes playing at once; one of the sax players was holding two. At another their collective "whoa-ohs" sounded more like the source material for the Hold Steady's "Chips Ahoy!" than anything Plant played.
He got a riot reaction when he put on a guitar and a roadie he introduced as Chainsaw sang "Highway to Hell," all the way through, with Joel playing the stomping Angus Young. During "River of Dreams," a different sideman broke into ZZ Top's "Tush." Maybe the point was to convince the crowd Joel has been cool all along; maybe it was a subtle admission that he leaves the rocking to the other guys. But he'll never be cool and he made a compelling case for it, joshing the wealthy kids up front ("So are these the rich people tickets here? It's okay, just rattle your jewelry") and then himself, following the climactic "Only the Good Die Young" and ending the entire festival with words of wisdom that no one can follow: "Don't drink and drive, drink and take a big limousine."
All photos by Jason Shaltz for SPIN.