Apple Music is here! Well, technically it doesn't arrive for a few more hours, but in the meantime, SPIN had the chance to explore the service. The good thing is that everyone has the chance to test it out with a three-month free trial before incurring the monthly $9.99 fee that, as Taylor Swift made sure, still pays artists during that period. "There has to be some sort of balance where fans feel like they're being treated respectfully, and being given something with terms and conditions and formats that they like, that isn't just artists giving everything away for free," Trent Reznor told SPIN over the phone about the idea behind Beats Music, which was eventually acquired by Apple and transformed into the service being launched today.
The first thing that happens when Apple Music launches actually looks pretty familiar to anyone who used Beats Music: circles representing different genres (Indie, Electronic, Oldies, Alternative, etc.) float into view on the screen, and users tap or double-tap the ones they like and love, respectively. Once those categories have been nailed down, the artists in them — Tame Impala for Indie, Porter Robinson for Electronic, and B.B. King for Blues, to pick a smattering of options presented to me —and then, ideally, you're done. For Apple Music's intents and purposes, your musical identity has been established, at least until if/when you decide to change it later. And through Beats Importer, Spotify and Rdio users can import their playlists to Apple Music through their pre-existing Beats Music accounts (if you don't already have one, you may be out of luck).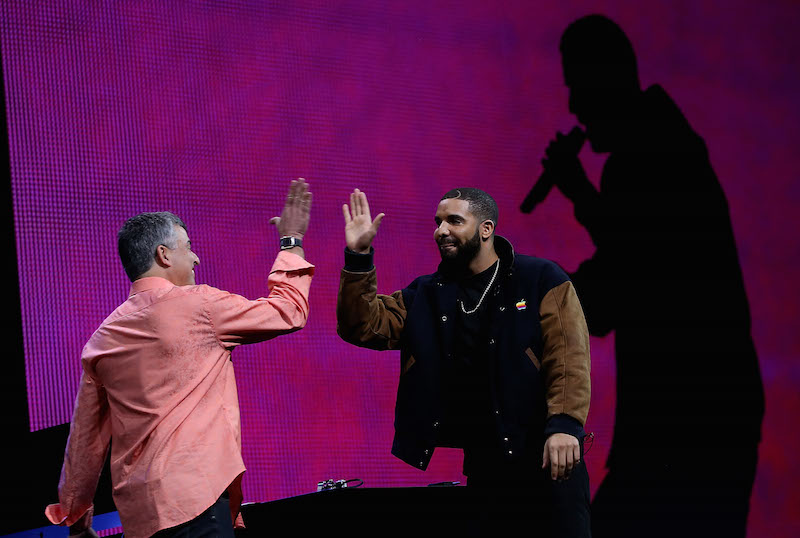 "For You" is the section that suggests playlists curated by Apple Music's editorial team based on choices you made in the first stage; it's probably the simplest to navigate (except for "My Music," the final category made of your own personal iTunes library) compared to what follows. "New" spotlights the best new albums and "Hot Tracks" based on both Apple Music's streaming charts and the traditional iTunes charts, which track purchased songs; scroll down and you're presented with literally hundreds of thousands of playlists, grouped into selections according to Apple Music Editors (e.g. "Americana," which filters down into playlists like "It's a Lazy Day" and "Southern Gothic Americana"), Activities, and Curators including Rolling Stone and Pitchfork. While "Radio" includes streaming services with songs organized into playlists by the editorial team, its centerpiece is Beats 1, a 24-hour station featuring channels curated by artists like Ellie Goulding and Q-Tip, in addition to daily shows by Hot 97's Ebro Darden, ex-BBC personality Zane Lowe, and newcomer DJ Julie Adenuga.
One of the most interesting features is Connect, symbolized by the at (@) sign. It's like a pre-populated, personalized Instagram/Tumblr feed of users' favorite artists, much like following tastemaking musicians on Spotify or Shazam and seeing what they're listening to. Artist adoption of Connect is clearly something that still needs a little work: Though SPIN was following probably 100 artists, only two — FKA Twigs and Sonic Youth — had actually posted anything. Also, one of the biggest complaints from some of SPIN's preliminary, limited, informal crowdsourcing has been that Apple Music is too cluttered, even if presenting so many options to attract both "lean-forward" and "lean-back" listeners is one way of avoiding iTunes Radio's failure.
On that note, below SPIN has compiled a basic list of features that work, don't work, and kind of work in Apple Music. And, even if you decide not to try it out, have faith, at least if you're a Nine Inch Nails fan: Reznor revealed that he will upload to Connect (through which artists can make products available to listeners even without Apple Music) a new version of The Fragile, including outtakes, instrumentals, and alternate versions. "That'll be waiting for you when you update your iOS," he promised.
DOESN'T WORK: There are still some kinks in the system that our Apple Music tour guide said would be resolved with continual software updates by launch time (he admitted, somewhat wearily, that things were getting down to the wire). Among them: FKA Twigs posted on her Connect feed about her friend's choreography to "In Time," but when you click on the clip's "Play" icon, an "unknown error" message appeared. And when SPIN tried to play Al Green's "Lay It Down," an Item Not Available pop-up was displayed.
MIGHT NOT WORK: While some icons are intuitive — a heart represents the "You" section, or for favoriting an item, a vibrating dot symbolizes "Radio," and users' musical libraries can be found under iTunes' signature musical note — the star icon for "New" might take some getting used to, since it has usually been used as a ratings metric for songs (and for flagging important emails, but we won't bring Google into this). Usability in general, while remarkably streamlined for such a complex product, might still prove to be a challenge: SPIN was walked through in an hour and 15 minutes and there were still some matters that needed clarification, while users have online guides as a resource — and, of course, the ever-helpful Geniuses.
https://youtube.com/watch?v=02H3vfFW3xg
SORT OF WORKS: Synchronizing music libraries is always a huge pain in the ass, but Apple Music makes it a little easier. There's the Apple Music cloud library, and then there's Match. Let's start with the latter: for an annual $25 subscription fee, Apple goes through your collection and identifies redundancies, which it then unlocks in the cloud by swapping lower-quality songs in your library for iTunes' higher-fidelity ones, and adds any songs it the service couldn't match, no matter where you got the song from. And it unlocks a DRM-free version of the song, which means users can keep them even if they decide to end their subscription. With Apple Music's cloud library, once you end your $9.99 monthly subscription, you lose access to those songs that the service stored in the cloud for you.
WILL MAYBE WORK: "We're trying to bring back FOMO," joked a senior project manager, referring to Apple Music's radio service Beats One, which will not archive its shows… at least in the beginning. "In fact, we're kind of hoping you miss Drake's first show," said another senior executive (all of these Apple team members spoke on background), only semi-seriously. While some prospective users might be irritated if they miss Eminem's interview with Zane Lowe, others SPIN spoke with said they liked the idea of Beats One as traditional, terrestrial radio. For similar reasons, the radio service will not post its daily schedule online: ideally, that will force listeners to push their comfort zone by accidentally tuning into Henry Rollins' show or St. Vincent's hour of music for those who requested personalized mixtapes from her.
https://youtube.com/watch?v=BNUC6UQ_Qvg
SEEMS A BIT POINTLESS BUT LOOKS COOL: Songs are shaded according to the album artwork, or whatever image the artist chooses to accompany their iTunes avatar; though each color doesn't tell you anything about the type of music it represents, as it does with intelligent lights, the display sure looks nice when the Album Leaf's In a Safe Place projects soothing blue next to Merriweather Post Pavilion's bright white and Anna Calvi's chocolate brown. Generally speaking, the colors, much like the Beats Music-derived floating genre circles, gamify the music listening experience — and may, SPIN speculates, have a tiny bit to do with one-upping Spotify's new, extremely polarizing color.