This year marked the third iteration of Red Bull Music Academy Festival, which touches down in New York City for a series of shows almost every night during the month of May. Every year, its lineup varies wildly between themes and venues — last year's shows included a block party celebrating legendary DJ Larry Levan's legacy and a hardcore show at Queens' Knockdown Center — and the 2015 installment was no different. Events included a one-night-only resuscitation of Venus X's underground party GHE20G0TH1K and a sequestration inside collective PC Music's avant-Pop Cube.
Because I fear FOMO more than death, I tend to over-exert myself to the point of illness, but that didn't stop me from deciding to attend as many RBMA events as I could. For the sake of my well-being, my editor whittled the planned month to a week of consecutive shows I would review while drinking Red Bull to have enough energy to go to all of them. Is it promotional? Sure, but then again what isn't these days? As the highest-grossing energy drink brand out there, Red Bull is putting its music-sponsoring money where its mouth is in a less obtrusive way than some other brands that shall not be named.
Below, I have chronicled my seven-day journey through elated highs and exhausted lows, fueled by a drink I shall can never let pass my lips again. But for all the music I saw, it was worth it.
Day 1: George Clinton at the Brooklyn Museum
The first day of my week-long endurance test also began with my first Red Bull in close to a decade; or, if you must know, since I drank one with vodka at Dave Matthews Band at Fenway Park in 2006. And yes, both this and that one are sugar-free. I bought it at a kiosk in Herald Square, on my way to the subway, crack it open, and wince at the first few sips. Maybe I can add some of those leftover packets from my Soda Stream, I thought. By the time I get on the downtown/Brooklyn-bound 2 train, I'm already used to the taste of carbonated, Jolly Rancher-flavored cough syrup and feeling jittery.
No outside food or beverages allowed inside the Brooklyn Museum's lecture hall, so I kept my second can for later and await a fashionably late George Clinton. Thirty minutes later he rolled in wearing striped black-and-white socks, a fedora, and a brown-and-green plaid suit jacket. Writer "Chairman" Jeff Mao interviewed the Parliament-Funkadelic head about his colossal career, including working with Kendrick Lamar ("We was high as hell, and he's not, but he's out there in the same space," he said. "I have no idea how to explain what he's talking about"), whether Bootsy Collins drummed on the 1978 classic "One Nation Under a Groove" ("It's possible," Clinton admitted, "but if it was successful at the time I was fucked up") and Detroit brethren MC5's certainly illegal, likely insane antics ("We said, 'If we're going to do that shit with y'all, we're going to jail").
The hour-and-a-half conversation proceeded only somewhat chronologically, centering more on how P-Funk's career has lasted so long. The answer? Adaptability, especially to incoming new musicians. "We immediately got rid of our suits," Clinton said of Sgt. Pepper's Lonely Hearts Club Band's release in 1967, which introduced the world to four snappy, well-dressed Brits. "We realized we had to be hippies when hippies became hip: holes in jeans, patches that say, 'Fuck You.' We majored in making people cool." Then, in 1970, the arrival of sultry, funky "I Bet You" "turned the tables" on the Temptations, which Clinton et al. had previously idolized. As for how he feels about today's artists: Clinton loves Chief Keef, first of all, and added, "It's corny if you start hating on the [young musicians]. You can't be corny." Plus, P-Funk is already working on the follow-up to last year's First Ya Gotta Shake the Gate.
Though Clinton deflected Mao's compliments about his aptitude for puns and bizarro lyrics by calling Smokey Robinson the "king of wordplay," the 73-year-old musical and sartorial icon was just as sharp as he's always been, maybe even more so now that he's sober. When Mao asked what he does with his time now, Clinton jokingly snapped back, "What, you mean like feed the birds and shit? Watch squirrels in the backyard? I've always done that. It's just that now I'm aware of it." He also has thoughts on the current state of copyright law, which he says is due for a governmental re-examination. Clinton, whose first experience with royalties was a $100,000 check from De La Soul for P-Funk's "Knee Deep" sample in "Me Myself and I," foresees that performance rights distribution agencies BMI and ASCAP are due for a day of reckoning, just like the big banks in the early '00s.
Perhaps the most poignant moment came, surprisingly, during the Q&A portion. Between attendees telling Clinton about how they've seen him four times or that he should look for their hot new track, someone said the Mothership's racially unifying universal message of love and acceptance would be especially helpful now, following the unrest in Baltimore. "If you're waiting for the Mothership," said Clinton, who had earlier said their iconic vessel was finally coming to rest in a new wing of the Smithsonian, "you won't be waiting long."
Day 2: Nothing Changes: Raw Sound Transgressions at Output
This time I started drinking earlier in the day because it's always noon somewhere, right? I drank the previous day's leftover can during an artist listening session at 4 p.m. and then went back to the office and drank the free Orange and Wild Cherry editions we had sitting around HQ. My tolerance for most addictive substances waxes and wanes, but I wasn't really feeling anything at this point, which was mildly concerning. Then I went to a mixer for Red Bull Music Academy's publicity firm, where I had two vodka Red Bulls (sugar free, since I used to have a fondness for whiskey sours until a co-worker tasted one and asked me, "How's that diabetes?")… and then, dear reader, I had another. I'll get to the morning after later.
It was all in the service of fuel for Nothing Changes, a weekly noise and experimental show usually held at a small venue on the Lower East Side; on Wednesday (May 13), however, it took place at Output, a club that typically hosts DJs, producers, beatmakers, and other purveyors of electronic music. Even though it was a school night, the line stretched the longest I've ever seen it, down the block almost to the East River. It was unseasonably chill outside and nearly as cold inside inside: The space wasn't nearly full enough to absorb the blasts of air conditioning and dry ice wafting over the crowd. "Do you have earplugs?" asked the woman checking the guest list. "You're going to need them."
Hardly, I thought, as I maneuvered my way onto the balcony and watched the guys behind the DJ booth mildly headbanging to Slayer's "South of Heaven" and Ministry's "Burning Inside" as they blasted through the speakers. A metal playlist seemed like a poor use of the venue's bespoke Funktion One soundsystem, with bass strong enough to make the fluid in your ears tremble. I didn't have to worry long. Noise savant Prurient, a.k.a. Dominick Fenrow, celebrated the release of his latest LP, Frozen Niagara Falls (which had dropped the day prior), with a set surprisingly suited to Output. The Doppler-like undertones of his 2006 album Pleasure Ground, which he played from start to finish, rippled insistently through the air; I felt it in my alveoli. A less-than-committed mosh pit started making waves through the crowd, prompting a security guard's momentary investigation, but for the most part everyone remained calm as Fenrow thrashed and screamed on a dais in the back of the club.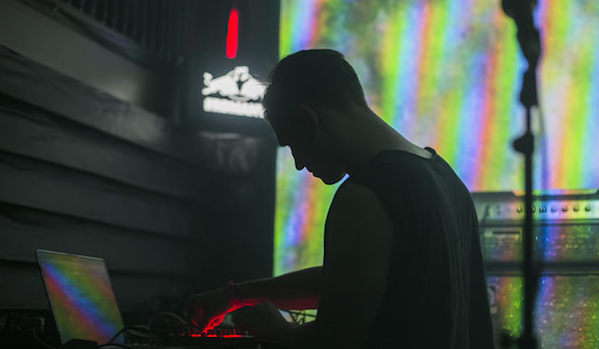 Still, in the search of music a little more familiar (a theme that would crop up again just a few days later), I ventured to the Panther Room, a swanky, '60s-like lair with fuzzy walls and a fireplace. For tonight's occasion it was festooned with spindly skeleton arms, which looked classier than they sound. There, Arizona-based DJ Jock Club (real name: Andrew Flores) spun a throbbing mix of industrial techno icebreakers that lured people onto the dance floor, bringing in more and more from the adjacent room. Turns out, I'm embarrassed to say, I should have had much more faith in RBMA's curatorial abilities: of course Output's team could handle a lineup that deviated from the typical boots and pants, boots and pants beat, one that spans the industrial noise continuum. After all, it's one Fenrow himself embodies wholly by making music like 2013's Through the Window, three extended tracks of darkwave, borderline techno workouts.
At around 1:15 a.m., I remembered what my editor told me when I said I wanted to cover the entire month of RBMA events. "I'd also like for you to be functional at work every day," he said. With that in mind, I made my final exit.
Day 3: Studio Talk: Beatmaker Roundtable at Red Bull Studios
I very much regretted all decisions made the previous evening. Not only was I hungover, but I felt parched and sticky and unnatural, as if my blood had been siphoned out during the night and replaced with Red Bull's special Red Edition (one thing I will say for their novelty colors, which included Yellow and Blue: they taste much better than the original flavor, and Red Bull Orange, which tastes like this). After a 20-minute power nap in the marketing department's lounge, I left the office for the Beatmakers' Roundtable at Red Bull Studios in Chelsea.
Clumps of stylish people with immaculate haircuts and dark, manicured nails rotated around each other near the open bar in the lobby area, and when I checked the event's time on my phone, I saw it started at 17:00 — not 7:00 p.m., as I had originally read it. Blaming my fuzzy head for the screw-up, I ordered another Red Bull-vodka and tried to figure out how to spin this in my review. Then, everyone started heading downstairs. Apparently, cocktail hour was actually cocktail two-and-a-half hours.
Chairman Mao moderated this discussion as well, which included producers 9th Wonder (The Black Album, Mary J. Blige's The Breakthrough, and EPMD's We Mean Business, to name just a few in a storied and varied career), Just Blaze (The Blueprint and The Blueprint 2, Eminem's Recovery, among others), Khrysis (Justus League, Little Brother, Sean Price), and Che Pope (G.O.O.D. Music, The Miseducation of Lauryn Hill, and the Fugees and Wyclef Jean). Though their conversation revolved around Native Instruments' MASCHINE sound-editing devices on the coffee table in front of them — and the ASRs, SBSs, MPCs, and laptops that got them there in the first place — the topics began more abstractly.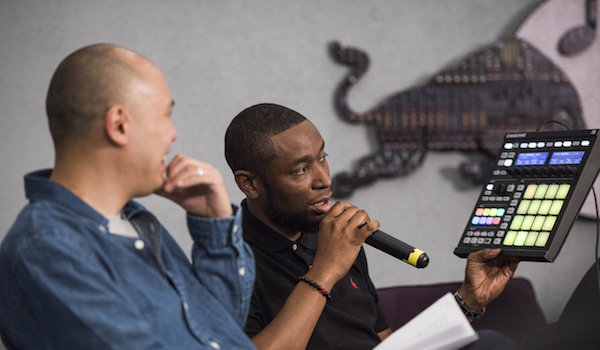 "Where do you look for inspiration?" Mao asked to get things going. Blaze said it could be the sound his phone made while a girl was blowing it up at the bar; or it could be a "fuck you" to an ex-girlfriend, which he admitted was the case for T.I. and Rihanna's "uplifting anthem," "Live Your Life." In Khrysis' case, it was a little rooted in the corporeal. "Depends on what I ate," he said, "what I smoked." As 9th Wonder established, there were indeed a lot of self-professed weed smokers in the audience, and he told them that finding the right beat is like chasing the feeling of getting high for the first time.
I kept getting too engrossed in their stories to take notes; like how Che Pope flipped Hans Zimmer's Catwoman theme into the Game's "Higher" from 2005 ("If I played you the original song, you'd be proud of me," he said) or how Blaze chopped up his extended 12-inch of Rick James' "Superfreak" into a MySpace song that ?uestlove discovered and found its way onto the title track to Jay Z's Kingdom Come. The takeaway, though — especially for aspiring studio geniuses in the crowd who applied to this year's Red Bull Music Academy — was that there is a difference between those who make beats and producers.
"The producer's job is to deliver the finished product," said Blaze. "If there are live guitars: 'I know a guitarist.' Or, 'The drums here could be a little bit better." Che cited Brooklyn's Deputy, who made the knife-sharpening edge to Rihanna's "Bitch Better Have My Money," but who wouldn't have gotten the beat to her in the first place if it hadn't been for him and the G.O.O.D. Music crew laying it down in front of Omar Grant at Roc Nation. "You have to cut the record, sell it, and close the deal," he said. "Take it from A to Z. Beatmakers can only get half the way there."
Day 4: Tri Angle Records' Fifth Anniversary at 23 Wall Street
Tri Angle Records is one of the most innovative, challenging, and consistently excellent independent labels putting out music today, and 23 Wall Street (the former headquarters of JP Morgan and backdrop for a scene in 2012's The Dark Knight Rises) was the perfectly decrepit and grandiose space to celebrate their fifth birthday. After walking in through hallways of gauzy curtains and rotating light fixtures — courtesy of Björk's contributing producer on Vulnicura, the Haxan Cloak — attendees descended to the basement, where an art film was being shown in an abandoned vault and the Icelandic goddess herself spun an eclectic hour-long DJ set in a separate room. After seeing her at RBMA's Electronic Africa the week prior and at a Lower East Side album release party some days before that, I'm sad to say I was a little inured to the novelty of her presence at this point.
Though Björk spun skillfully in a likely vision-obscuring gilded and beaded mask/veil, the real stars of the show were the staples of Tri Angle Records' roster. Guitarist, producer, multi-instrumentalist, and relatively new singer Matthew Barnes' project Forest Swords led with cuts from his entrancing 2013 LP Engravings, rich with melodies of wood flutes redolent of misty, mossy forests and guitar riffs vibrating through chests like a thin metal saw.
It's not unfeasible to imagine that the Haxan Cloak, who followed, might have to do some kind of method acting to get into the nightmarish frame of mind his music inspires. Buzzing as of thousands of bees descended upon the crowd, vibrating the air so much that my voice sounded chopped up, as if I were facing a window fan, when I tried talking to people around me. The deep grooves that his low-end murmurs carved through the air bore down so heavily I had to bow my head and close my eyes to absorb the full effect. Even slitting open my eyelids was no escape, as the blindingly flashing klieg lights illuminating the brutalist concrete space reminded me of a Saw-style torture chamber.
Evian Christ was a bit easier to handle; even Kanye thought his screeching, drop-trap thunderclaps of beats were "too poppy" when he signed him to a publishing deal with G.O.O.D. Music to work on Yeezus. 'This is not experimental enough," West reportedly said of Evian Christ. "Make something else. The other guys are like, 'We don't get it.'" The crowd definitely did, though, moving limbs free from the Haxan Cloak's crushing weight to bob and weave out to post-apocalyptic yet lounge-ready bangers like "Fuck It None of Y'All Don't Rap" or the gunshot blasts of "Waterfall."
I left on the later end of the early hours of the morning with my ears ringing and bones singing.
Day 5 (morning): Brooklyn Flea Record Fair at Smorgasburg
The thought of drinking another Red Bull-anything upon waking made me dry heave, so I decided to take a breather from the beverage this evening, especially since I was going to two RBMA events. In fact, anything other than water, even seltzer, tasted foul. As rainclouds gathered overhead (the forecast promised Storm Rave-appropriate thunderstorms later that evening) I meandered down to the Williamsburg waterfront to check out the record fair. All of my favorite labels and stores were represented — RVNG Intl., home of Holly Herndon's futuristic meditations on body-moving music; Captured Tracks, which will see the release of the new DIIV record hopefully soon; and Other Music, the Lower East Side's indie retail stalwart.
At Brooklyn dance label Mister Saturday Night's table, a gentleman approached with his daughter. "Do you have the new Taylor Swift record?" he asked, facing down towards her as she demurely licked an ice cream cone. It was hard to tell if he was being sarcastic — their bin featured cryptically marked 12-inches going for $45 and albums of obscure jazz breaks and Japanese avant-garde pop from 1975 through 1988, so one might think probably not — and the representative there assumed he was. "Oh, yeah, we sold out of that one," he joked. The man took his business, and his young charge, elsewhere. "That's the guy who runs this place," he said a few minutes later. "I hope I didn't accidentally offend him." It started to sprinkle shortly thereafter.
Day 5 (evening): Storm Rave at Secret Location
I hesitated briefly before saying this was one of those You Had to Be There moments, because I empathize with FOMO and the fact that PLUR (shorthand for the American rave mantra "peace, love, unity, respect," popular in the '90s) transcends space/time, etc., but you truly had to see the woman swirling her hips within the glowing hula hoop and watch the older, just-past-their-prime men cyber-goth dancing in parachute pants — some of whom, I heard, came all the way from the the Poconos for this one show — to fully understand the cosmic ramifications of Storm Rave's descent upon a random Bushwick warehouse that any other night might host, say, a hipper-than-thou Blkmrkt party.
It's best to start with electronic-dance-music journalist Michaelangelo Matos' informative primer on Frankie Bones, the DJ who has been credited with the creation of PLUR and who introduced Stateside audiences to rave culture with his Storm Raves in the early '90s. He was playing RBMA's one-night-only iteration of Storm Rave along with techno peers like Lenny Dee (whose breakneck pace stayed consistently at 180 BPM, not uncommon at these types of events then or now but unlike Bones on Saturday night, who incorporated elements of house into his set a little more) and Heather Heart.
Almost as soon as I arrived, I was pulled into a dance circle of about six people holding hands and staring vacant-eyed, glistening with sweat; clearly not on the same level as them, I pulled out and stood off to the side. Probably a good thing I did, too: two female friends said a man moved between them as they stood opposite each other, talking, and spread his hands wide enough to touch them inappropriately as he did so. PLUR, indeed (on that note, when I asked another friend how he was doing, he replied, "Well, I took a crystal that I hope was molly [or MDMA, a form of ecstasy], but you never know." I bought him a bottle of water and he paid me back).
Like many things, I only fully appreciated Storm Rave after it was over. Berlin-via-U.K. DJ Scuba was spinning an extended set at a club near my apartment, and after the time-warp mindfuck of Bones' genius I was ready to hear some techno I knew how to move to. But the wasted weekend crowd there was, to put it mildly, not PLUR; or at least, not nearly as devoted to the music as the girl sharing her glowing poi with Storm ravers who wanted to try it, or the French teenager at Storm Rave who asked for a sip of my water while he stared into my eyes.
At Scuba, after being repeatedly accosted by a gentleman dressed up like Cee Lo Green and just as insistent, I sought refuge in the smoking area. "Scuba? Are they playing at Output?" asked one girl who came in from Long Island. "No," I said, as politely as I could. "He's the DJ who's playing right now."
Day 6 and 7: FKA twigs' Congregata at the Brooklyn Hangar
"You're seeing FKA twigs two nights in a row?" asked a former colleague over email. "Okay… Why do you need to see her twice?" asked another. "Just watch the Billboard Music Awards with us, don't go see the same show again," said a third. Excessive? Perhaps, but I committed to an assignment and if any show is worth seeing twice, it's "Congregata."
"Congregata is a coming together of my closest and most talented collaborators who I met since moving to london when I was 17," FKA twigs, a.k.a. Tahliah Barnett, wrote on her Facebook page. "It's an insight into my mind, my roots, my inspirations." Her releases — 2012's EP 1, the next year's EP 2, and last year's revelatory LP 1 — seamlessly blend vocal contortions (as on the hair-raising "Preface") with creepy visual clips ("Video Girl") and unapologetic lyrics ("Feel your body closing/I can rip it open/Suck me up/I'm healing for that shit you're dealing" on "Two Weeks"), all wrapped in her anaconda's embrace of creamy falsetto and cloudy trap beats.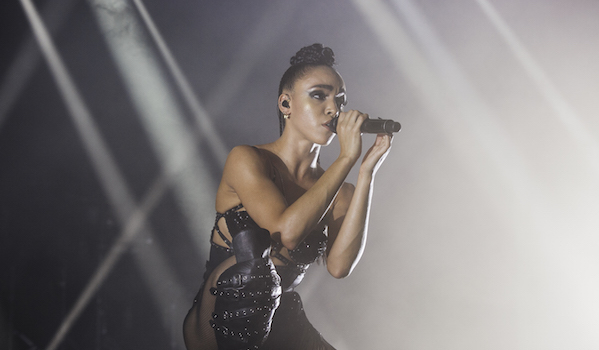 Both of her performances swelled that heart-constricting rapture to include 12 dancers (though technically backing, they often took center stage), a four-member backing band, and silky-tough costumers galore on a grand stage in an enormous, 2,000-capacity venue deep in Brooklyn's Sunset Park neighborhood. Some of their movements were nearly stomach-churning — so-called "bone-breaker" dancers Kaner Flex and BATS spun and snapped their limbs in strobe-lighting, their eyes white in the blue lights, like possessed Anansis — and others breathtakingly beautiful, like when FKA twigs' sparkly vest caught red beams of light slanting downwards like jail bars, refracting it out across the audience. And some parts were just fun and sassy: "Miss FKA twigs" was shooed offstage shortly after she started vogueing, replaced by the "legendary vogueing" of members of the House of Ninja and the House of Mizrahi, and Benjamin Milan.
https://www.youtube.com/embed/MwG8Ff3lfyU
I decided it would be okay for me to drink another Red Bull-vodka, and on the recommendation I tried the Yellow Edition, a "nice tropical, citrus-y flavored" one they were giving away for free. With a jolt, I realized I was standing next to FKA twigs' boyfriend and Twilight star Robert Pattinson (for the more critical cache-minded among us, Evian Christ attended the second night), a relationship that comes with media exposure FKA twigs has often expressed discomfort with. After such a sweeping performance that rocketed her up to another level — in her New York Times interview, she said she seeks the high-stakes production value of  Drake or Beyoncé — it's clear who wears the leather bustier in the relationship.
As for my drink, I left it half-finished because I got a sore throat halfway through that kept me somewhat bedridden for the next two days. So long, and thanks for all the caffeine.