Like a movie that is good (in his words) Juan Wauters' songs require your attention. The Queens-via-Uruguay singer songwriter has one of the year's best new albums on Who Me?, his second LP since leaving punk group the Beets to go solo and his most fully-formed work yet. The collection features 13 mostly-autobiographical but relatable tales: daytime insomnia on "There's Something Still There," vicarious parental living "This Is I," and relationship limbo on "Woodside Queens." They're all endearingly direct but cleverly detailed. Even the couple of songs performed in Spanish are unmistakably imbued with his winning personality, playful and intimate and as cool as the album cover, an arresting image featuring Wauters calmly holding up traffic on New York's Queensboro Bridge.
Listen to the album below — performed entirely by Wauters, minus the sax outro on closer "El Show De Los Muertos" — which is out May 12 on Captured Tracks, currently available for pre-order in digital and physical form. Check out SPIN's Q&A with Juan as he discusses writing in two languages, attempting to make a living with his art, and trying to make nice with cokehead fans in Miami.
I read while you were touring for the last album that you wanted to take on a more improvised quality for the next album. Did any of that end up getting recorded?
Actually, maybe it wasn't. Maybe I said that I wanted to do that, [but now] I actually want to do that with the next album [laughs]. I recorded everything really quickly. Most of the takes are first takes, and I recorded every instrument on top of each other. For the next album I would want to record everything alone again, and also record it with a band. I want to record a lot and then make a "Best Of," like a nice mixtape.
Is the album mostly autobiographical?
Yeah. That's also something that I'm dealing with right now. I've been playing music for quite a while — the first time I played live was in 2005, which is like, "Holy shit, ten years? That's crazy." I've never really wanted to be… I don't want to say serious, because I've always been serious, but I've never given myself an opportunity of taking it more seriously in a way which I can take it further and [tour in] Europe. With the Beets, the band I had before, we had many opportunities to go to Europe, but we never took them.
Why is that?
Well, it's like I was saying before, I was very ambivalent about playing music full time. Since we live in a capitalist society, being a musician also has to do with… you have to find a balance of making music and making money. I guess the best artist is also the one who knows how to sell it. These are the things that I'm dealing with.
And going back to the [autobiographical] question you asked me, [music] has always been a tool for me to express myself and something to do with my time. But then, when it becomes open to the public, more outward like that… I was always outward, but not as much. Now I'm aware that I have an audience and I want my audience to grow, so I'm a little bit more self-conscious about what I sing about, and also I think about what songs I want to show to people. Some songs are very personal, they're like secrets, you know?
Did you actually spend a winter relationship in Woodside, Queens?
Yeah. That's a very special song. Also that was, for this album and especially for the next one, I felt that it was important to release a second album [quickly]. I've been playing all these songs that I've had now for a whole year. People will be like "Oh, is that off the new album?" And I'll be like "No, the next one." Perhaps by the time the next one comes out, I won't like those songs anymore.
With Who Me I wanted it [to be like that], because now I'm playing under my name. I have to think of myself as a person and as how people see me. I think about a bunch of things, but I also didn't want to make it all about me, so I put in a lot of songs I wrote with friends. "Woodside, Queens" I wrote with another friend, named Rob, and that one talks about how I lived in Woodside for a little bit.
Is the reason you only want to play new stuff live because you feel like you lose the emotional connection to the songs if you play them too many times?
Emotion? No, I want to be honest to myself, and what I want to play is what I play at home. Right now, I'm trying to figure out classical pieces on the guitar. Perhaps I won't play that live, but it makes sense to me. The song I'm writing at that moment, whatever song I'm happy with, is what I play live, because that's how I communicate. Also, the way I play music is not always the same. If I play an old song and I play it the same way, I can't do that.
When you write a song, how do you decide whether to sing it in Spanish or English?
Yesterday, I was thinking about a song, and it was in Spanish because when I was thinking about it, it was in Spanish.
So it's whatever comes to you unconsciously?
Yeah. This past year, I made more of an effort to write a little more in Spanish. I was very glad to go out there and see kids like me. People that came here from another country, from a Spanish-speaking country, which I guess is the majority of immigrants nowadays. Also, first-generation Americans were really glad I was singing in Spanish. That inspired me a little bit, but also, sometimes I write in Spanish when I'm dealing with themes that I don't want the majority of people to understand.
I saw you DJ'ed a show in Miami recently. How did that come about?
It was Record Store Day, and they asked me to come down there, and part of the deal was that I would do a DJ set in the afternoon and play at night. It was really weird because sometimes I do this, but not very often. To go somewhere alone, completely alone, I went to Ft. Lauderdale and hung out there all night completely by myself. I met some people there, but I was like, "Holy shit, I'm here all by myself, I better watch my ass." I ended up getting into some really bad stuff.
Really?
Not like, bad bad, but I went to Miami, and they knew I'm from New York, and it's very different. After the show, this group of people come up to me and say "Juan!" and they're all excited, "Juan, you want to go on a boat ride tomorrow?" And I was like "Sure, yeah." I've never been on a boat ride before. Then I said, "I don't have a place to stay, so I would have to stay with you tonight, and then tomorrow we go on the boat ride." People in Miami you know, they party hard. I'm not a crazy party guy. I hang out, but I get to a point where I just get tired… Then we go there, these people were like, "We're going to our friends' house and then we're going to go home." So I said, "I think I'm going to hang out here, I'll catch up with you guys later." And then she was like, "We can't come pick you up later, you have to come now."
So then I go, and it's this lame place, and people are really uptight. I'm having a good time, but, I realize that they were doing coke, and I'm not judgmental about anything, but I realize they're coming down because I've been around it. Everything started getting a little dark. "So what are you going to do?" they [ask] me. I'm not in Miami anymore, I'm a little bit outside. I said, "I thought we were rolling together." And then they said "Bro, you can't stay with us." And I said, "You said we were going to hang out together," and then they said "No, we told you you're going on the boat with us." And I was like "I don't have a place to go." Then they all went, like, over there, whispering to each other, and I'm like, "What the fuck's going on?"
I don't want to talk shit, but I'm not an annoying guy. If you invite me to your house, I'm respectful, I sit down, if you want to eat at the table, I can do that. I'm not gonna open the fridge and go through your shit, I'm a respectful person. I don't know what turned them off, it must have been that they had just come down from the coke, and the excitement wore off and they didn't want to deal with me?
But did you still go on the boat?
Well, after that they were like, "Do you still want to go on the boat tomorrow?" and I was like, "No way." I asked him to drop me off in South Beach, like the downtown area, and I just had a coffee and didn't sleep all night. Just waiting to go on this boat ride. But yeah, it was pretty crazy.
The bass is a lot more prominent on this album. Did you work with somebody new?
That's me [on bass]. I went out to Rock Island, IL. The Quad Cities over there by the Mississippi River, I had just gone out there to do a Daytrotter session, and I recorded and I liked the recording studio, and I liked the guy there, so I said "I'm trying to make a new album, can I make it here?" So he said yes. They had a really good bass, it's one of those Teardrop Vox basses. It's like a hollow, Rolling Stones kind of bass. I just wanted to give it a swing. I'm a big fan of reggae music and rap music, and the bass is super-prominent there, so maybe it's because of that.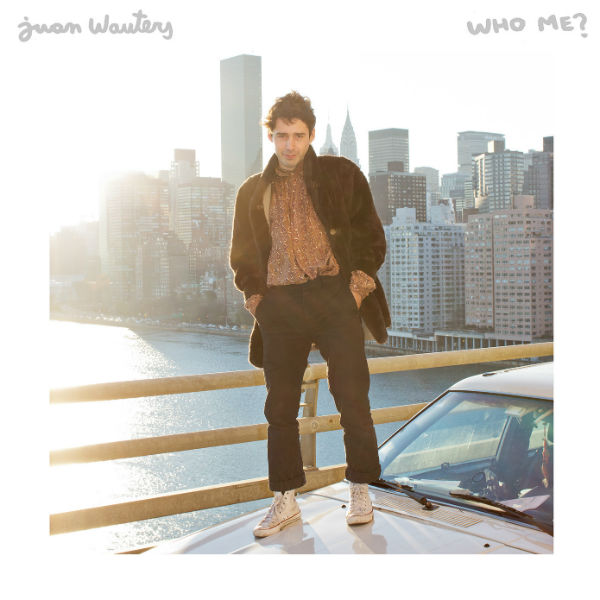 How did you get to shoot on the Queensboro Bridge for the cover? Was that tricky, during the day?
I really like that picture, but you can tell I'm a little bit uncomfortable. We stopped traffic. So you stop the car, my friend got out of the car to take the picture in the middle of the road.
Right, because there's no shoulder there, really.
Yeah, no shoulder. And you know, when you come from Manhattan, you can take the bridge coming from the actual island coming east, but also, if you come at like 59th street a little bit west, when you're going into Queens, there's just one single lane over there [that's] a little tricky to get on. I usually take that, there's less traffic. We just stopped the car, I got on top of the car, and we took the picture.
Did people pile up behind you?
Yeah, we did three rounds. We maybe took three or four pictures each time. A couple times, people were honking, and a couple times people were happy we were doing it. New Yorkers are very supportive when someone is doing some crazy shit, they're just like "let him do his thing."
Who are you listening to these days?
I listen a lot to this guy Alfredo Zitarossa, this guitar player from Uruguay. Then a lot of hip-hop. I have a car, so I have whatever [albums are] in there.
What's on rotation right now?
I'm listening to a lot of [Snoop Doggy Dogg's] Doggystyle right now. It makes me want to make an album like that.
In what way?
Not in the sound. I wouldn't be able to make something like that, but perhaps if I push myself to write that kind of music, I could. But also, the production is so tight and so good, but I don't work like that. One day, I want to make an album like that, because if you make the album and you do production, it sounds great. Sometimes, though, over-production sounds really bad. Like Doggystyle, that's over-produced.
Yeah, not in a bad way.
No, like Phil Spector, that's over-produced [too]. I guess "over-produced" has negative connotations.
Out of curiosity, are you a Lou Reed and Velvet Underground fan?
Oh, of course. I was very much into the Velvet Underground at some point.
The album, your album, it reminds me the most of the VU self-titled one. It's got the same kind of ambiance to me. It just sounds like people hanging out at home, playing guitar.
That's cool that you think that. I don't know how people are going to take this album. I really like that Velvet Underground record, I heard it a lot. This last six months have been a little bit rough for me. Personal stuff, trying to figure out what I want to do and who I want to be. I'm pushing myself to go through a change. Like I was telling you, I've always played music, but I've never wanted to involve my music with any other sort of outside powers.
You're trying to make a leap?
I'm exploring, I'm trying to find things out about me and different things about the world. I land in France and then I have to play a show for French people, what the fuck's going on here? So yeah, December was a rough time. I had just recorded the album, so when I hear it, I still hear a little bit of that in me. I guess that's the good thing about an album. It documents what I'm going through.
Juan Wauters Tour Dates:
May 9 — Brooklyn NY @ Shea Stadium ^
May 29 — Louisville, KY @ Headliner's *
June 4 — Burlington, VT @ Signal Kitchen *
June 10 — Annapolis, MD @ Rams Head Tavern *
June 18 — Cleveland, OH @ Happy Dog at Euclid Tavern
June 23 — Missoula, MT @ Stage 112
June 24-28 — Calgary, AB @ Sled Island Festival
June 30 — Vancouver, BC @ The Fox Cabaret
July 1 — Seattle, WA @ Sunset Tavern
July 2 — Portland, OR @ Mississippi Studios
July 4 — Oakland, CA @ The Night Light
July 8 — Phoenix, AZ @ Valley Bar
July 10 — Austin, TX @ The Mohawk (inside)
July 12 — Columbia, MO @ Cafe Berlin
Sept 2 — Brighton, UK @ Bleach #
Sept 3 — London, UK @ Victoria
Sept 5 — Manchester, UK @ Gullivers
Sept 6 — Glasgow, UK @ Broadcast
Sept 7 — Leeds, UK @ Brudenell Games Room
Sept 8 — Leicester, UK @ The Cookie
Sept 9 — Bruxelles, BE @ Botanique
Sept 10 — Charleroi, BE @ Rockerill
Sept 11 — Amsterdam, NL @ De Nieuwe Anita
Sept 12 — Groningen, DE @ De Oosterpoort Basement (Take Root Fest)
Sept 13 — Berlin, DE @ The Monarch
Sept 14 — Prague, CZ @
Sept 15 — Vienna, AT @ Rhiz
Sept 22 — Madrid, SP @ Teatro Del Arte
Sept 30 — Lugano, CH @ Studio Foce
Oct 1 — Dudingen. CH @ Bad Bonn
Oct 4 — Dublin, IR @ Whelan's Upstairs
^ Record Release Show
* w/ Hurray For The Riff Raff
# w/ King Khan & BBQ Show