The first sound on Nate Ruess' debut solo LP, Grand Romantic, is the sound of raspy, maniacal laughter: the kind of deliberately articulated cackle that makes it clear you're not in on the joke. It's a bit surprising coming from a singer with as notoriously wide and ready a smile as Ruess — and one who wrote such a thoughtful note to doubtless disappointed fans regarding the indefinite status of his main act, fun. — so he explains.
"It's a mixture of Lindsey Buckingham and Queen," the 33-year-old, Iowa City-born singer-songwriter tells SPIN over the phone from his house in Los Angeles, where he's recuperating from pinkeye and watching the Cleveland Cavaliers on TV. "I first looped that laugh on my last tour with fun., and decided to make it into a kind of crazy, Kanye laugh."
In general, Grand Romantic — for which Ruess wrote six or seven songs while on fun.'s tour behind their breakthrough sophomore LP, 2012's Some Nights — turns up the emotional pomp even more than the trio's arena-rock ebullience. The 11-track effort features bombastic organs and emphatic na na na HEY!s on "Nothing Without Love," doo-wop snaps and tambourines shaking through "Take It Back," and walls of background vocals and strings bolstering "A Great Big Storm." Those orchestral flourishes come courtesy of longtime fun. producer Jeff Bhasker (speaking of West, Bhasker has also perhaps most famously helmed My Beautiful Dark Twisted Fantasy and Watch the Throne). "He'll sit down with me at the piano, and it's great, because he already knows what chords I want to play," Ruess says.
Bhasker and producer-cum-singer-songwriter Emile Haynie served as Ruess' main support during the making of the album — Red Hot Chili Peppers guitarist Josh Klinghoffer ("I really want to get back in the studio with him," says Ruess) rounded out an all-star roster of guests that included Beck and Jeff Tweedy — a process that took six or seven months at Bhasker's Santa Monica studio. Working with Haynie, a close friend and collaborator, was especially mutually beneficial for Ruess: Still raw from a breakup, the former's solo debut, this year's We Fall, grieves loss of love as Ruess was rejoicing in his relatively new romance with fashion designer Charlotte Ronson (yes, that's Mark Ronson's little sister). She was such a part of the process, in fact, that she contributes backing vocals to album closer "Brightside," which Ruess maintains is not a Killers reference. "I didn't think about it until after the fact," he says. "It's a great fuckin' song, I just hope Brandon [Flowers] doesn't come after me for publishing."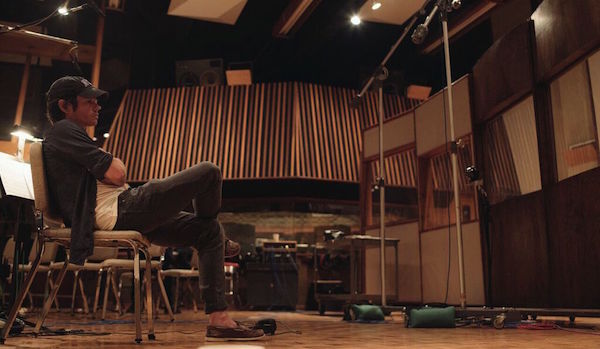 Another novelty for Ruess and listeners is Grand Romantic's slightly religious undertones. "Yeah, I noticed I was using the words 'Lord' and 'God' a lot," he says. "And 'What the World Is,' my song with Beck, is all about the afterlife… This is the first time I'm not directing all my resentment towards religion, or being blasphemous on a record. This is the first time in my life that I've been happy."
He's also finally content with his musical abilities, admitting that he always starts with Moondance when he's about to start something new — "It never really shows, but when I listen to Van Morrison I want to write music," he says — but he doesn't want to be him. "Van is Van," adds Ruess. "When we were in the Format [Ruess' first band] and we released out first album [2003's Interventions + Lullabies], I thought, 'Well fuck, I'm never going to be the Beatles.' It was depressing but then I realized, 'Well, what else can you be?' And then at some other point I was like, 'I can't be Van Morrison so I have to be myself.'"