It was raining by the time thousands of bodies started streaming onto Randall's Island on June 8, 2013, the first day of New York City's third annual Governors Ball Music Festival. During the mid-day set by California beach-rock duo Best Coast, lead singer Bethany Cosentino gamely attempted to wrap things up as spectators covered in ponchos and garbage bags stood shivering in slushy, ankle-high puddles. The Icelandic folk-pop outfit Of Monsters and Men tried (and failed) to be heard over the splattering beads of water slamming the main stage's pavement. Inside the Skyy Vodka Tent, the electro-thrashing Crystal Castles howled atop the sound of dancers mucking their way through the unforgiving mud as the remnants of Tropical Storm Andrea battered the tri-state area and moved its way up the coast.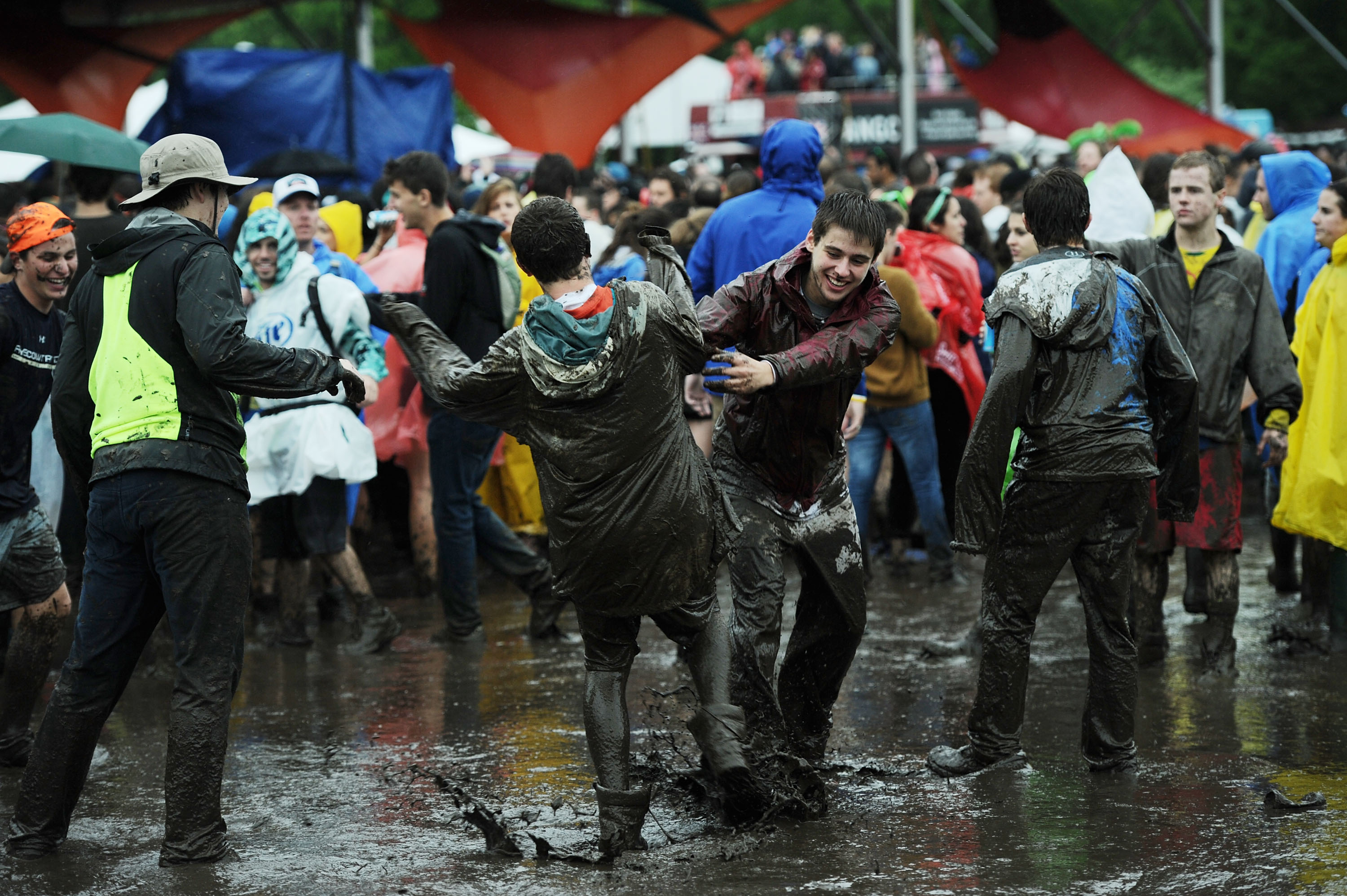 That's when the trio behind Founders Entertainment — Jordan Wolowitz, Tom Russell, and Yoni Reisman, who conceptualized Governors Ball in 2009 — decided it was time to shut down for the night, which meant the cancellation of performances by headliners Pretty Lights and Kings of Leon. The next day, sludge craters littered the grounds, soon to be filled with flip-flops and sneakers once people discarded any pretense of normality — or cleanliness. "That tropical storm literally and figuratively put a damper on everything," Wolowitz says, sitting in the Founders conference room in downtown Manhattan nearly two years later.
A day after the deluge, emerging as the sun waned, Kendrick Lamar brought his monumental sophomore album, 2012's now-classic good kid, m.A.A.d city, to life on the island. Playing a late afternoon set, the Compton rapper radiated his way through the widespread, weather-born disappointment. "He just went out and slayed the crowd," Russell says. "That was the moment where I knew he was going to be big. I saw him and thought he could be the biggest."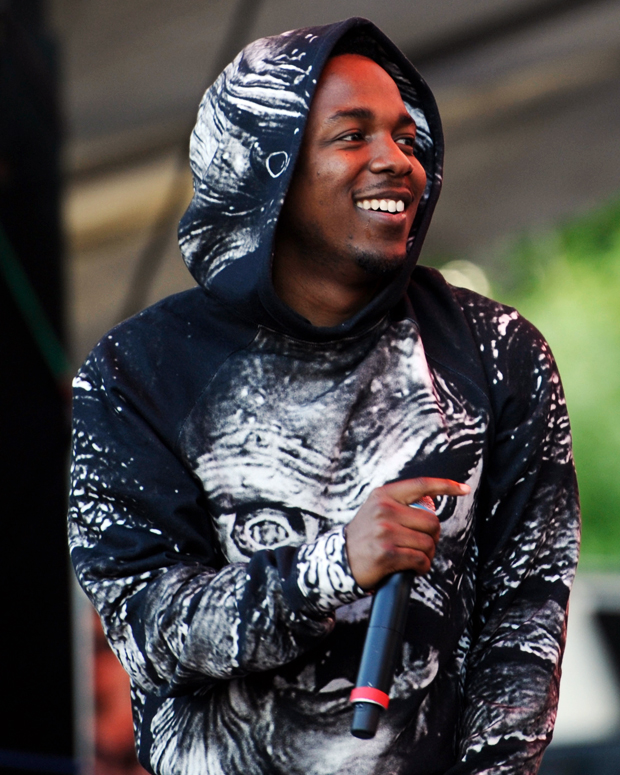 Lamar's performance was one of many that proved the trendsetting Governors Ball could be the biggest festival of its kind on the East Coast. This year's proceedings — held June 5 through 7 — promise to be Founders' most gargantuan yet, with a lineup that blends longtime critical favorites, blockbuster pop acts, and bubbling-under newbies, anchored by Björk, Florence + the Machine, Deadmau5, Drake, "Weird Al" Yankovic, Lana Del Rey, and the Black Keys. The annual three-day showcase has, in only five years, emerged as a top-tier North American festival, and to exceed the already high expectations spurned by that success, the Founders team will launch FarmBorough — a three-day country extravaganza, the first of its kind in the area — just three weeks after Governors Ball takes place on the same island.
Since its birth in 2011, Governors Ball has secured a reputation as a weekend for budding artists like MS MR, Banks, and Haerts to make noise alongside more seasoned talent including Kanye West, OutKast (on their only New York City date last year), Skrillex, the Strokes, and Guns N' Roses. Early in their partnership, the three organizers landed on a theme they wanted for the event. "We called [it] 'indie electronic,' that [encompassed] the Pretty Lights, Girl Talk, and Empire of the Suns of the world. We saw that hip-hop meshed well with that genre and that age demographic, and it was untouched in the market," Russell says. "We didn't want to come at it just featuring hardcore EDM. We wanted to feature music that we liked, and [we wanted] to put together a collection of acts that nobody else was putting together."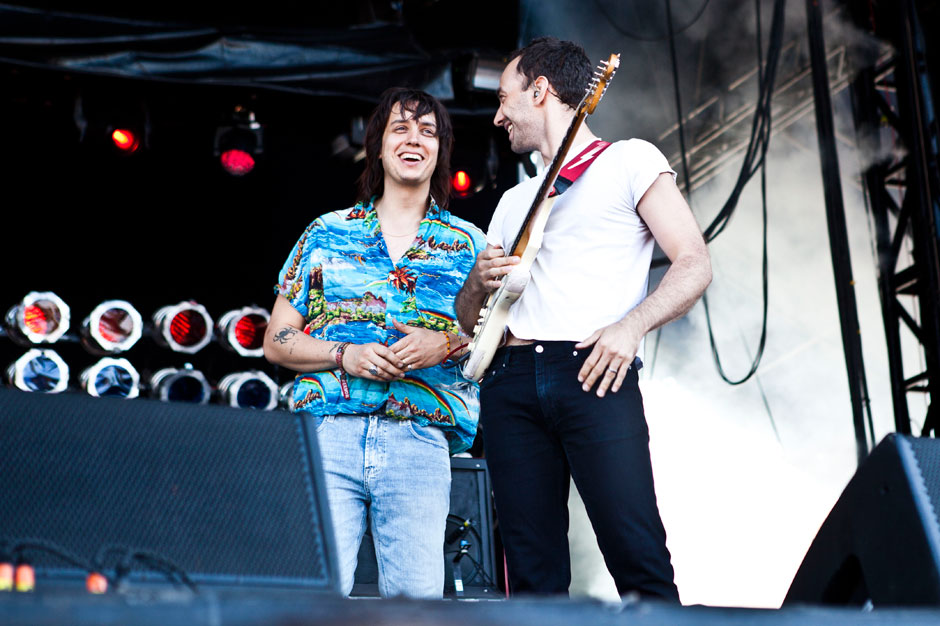 Keeping that all-encompassing mentality in mind, this June's lineup looks only somewhat similar to the acts playing other big festivals, which is a rare victory considering that the last major independent holdouts in the game, Austin City Limits and Lollapalooza, recently fell under the unspoken monopolization of Live Nation's ownership. It's a testament to the company's own investment in what sounds good live, no matter what, that Governors Ball manages to maintain that standalone sensibility in booking.
What started as a one-day festival, held on an island nearly ten miles south of Randall's, has now blossomed into a three-day event with more major-league performers, four stages, and 150,000 annual attendees. In its growth, Governors Ball is benefitting from and contributing to the festival explosion of the past decade, a trend that a new Eventbrite study (on the "Top 2014 Music Festival Trends and Insights") claims has resulted in one in every five millennials attending at least one festival per year.
Though big, multi-day productions have thrived longer in Europe and South America — think Glastonbury, Primavera, and Rock in Rio —  than in the United States, festivals' worldwide presence continues to expand, with locally based boutique shows like the Bon Iver-booked Eaux Claires and the biannual, two-stage Boston Calling sprouting up yearly. As the names and figures involved suggest, live music itself has become a vitally lucrative industry in the past decade: Corporate sponsorship of music (including festivals) ballooned to over $1.3 billion last year alone, and with live show attendance numbers now in the hundreds of thousands annually — Austin City Limits draws the biggest crowd with just under 200,000 patrons in 2013 — the festival boom hasn't even come close to peaking.
Liz Nistico of the brat-pop duo HOLYCHILD, who'll make their Governors Ball debut this June, believes festivals have exponentially sprouted in popularity over the past five years because they force people with (at least tangentially) shared interests to interact. "These days, you post a photo, you get tons of likes on it, and then two hours later you're onto the next thing," she says. "I think that with festivals, the connection is so prominent. It's such a high that you can have with other people, a connection with the music, and it's in your face."
Like Nistico suggests, when all the world's music — sans a few big name holdouts — is available via Spotify just a few clicks away, its easy to forego interacting with other people when it comes to soundtracking our day-to-day lives. Governors Ball is one in a trend of large-scale events with diverse lineups — which reflect the varied, blurred tastes and genres that've emerged in the wake of the web-driven democratization of music — pulling people in, making them more likely to dive into a mud pit in the middle of the day.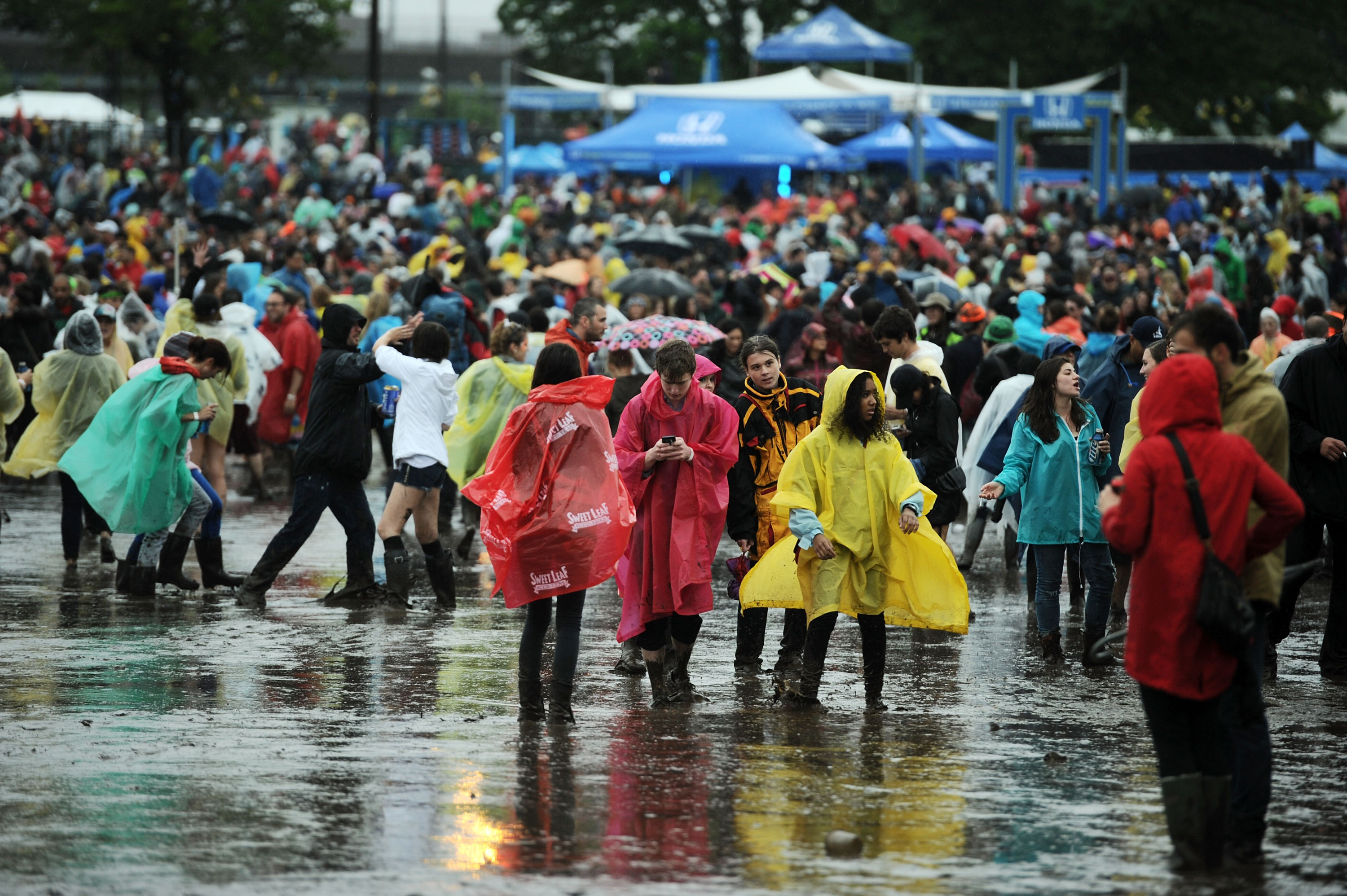 "A festival set like Governors Ball is about keeping people up and bouncy, in the moment," Welsh pop star Marina Diamandis says. "You know people are there to party and have a great time."
This year, Gov Ball organizers are taking advantage of the nation's current festival obsession by branching out for the first time with FarmBorough. Like Gov Ball, its whiskey-swilling cousin will call Randall's Island home in June (from June 26 through 28). It's New York City's first country music festival ever, produced in part by Live Nation, with both major headliners (Luke Bryan, Dierks Bentley, Brad Paisley) and smaller singer-songwriters (Sturgill Simpson, Mickey Guyton, Dallas Smith) filling the bill.
"Country is a more than burgeoning market," Founders' Yoni Reisman says. "If you look at what sells the most tickets, it's country. The idea that country can't work in New York? There's no way. Why can't it work in New York?"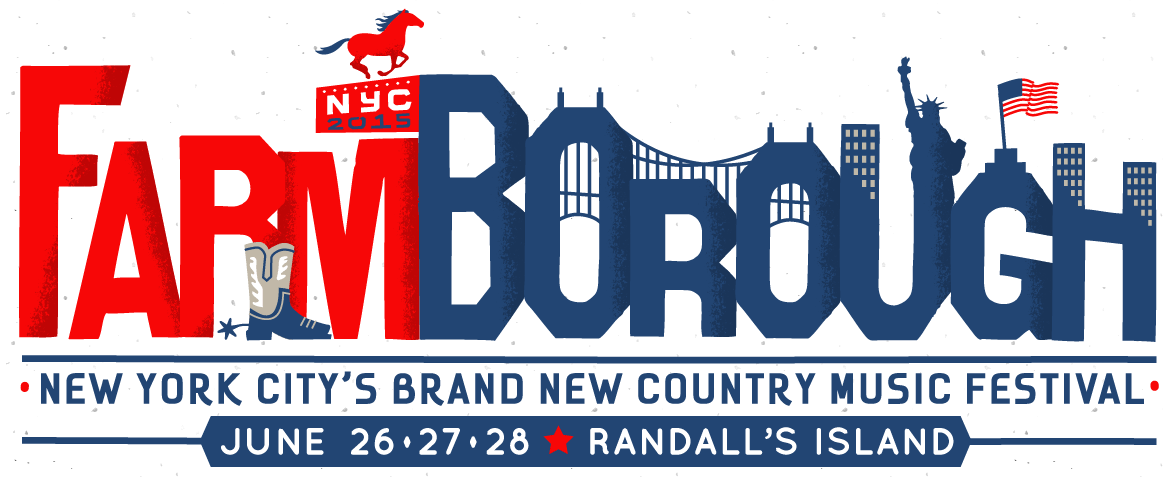 Just a two-hour flight north of Nashville, New York is actually the number one sales area for country music in the U.S. — according to Nielsen Soundscan, nearly one million country records were sold in the city in 2011, a sizable percentage of the nationwide total (31.8 million that year). Country radio also recently made a resurgence in the five boroughs with the 2013 launch of NashFM, New York's first all-country FM station in 17 years. In the past year, rootsy superstars Miranda Lambert and Luke Bryan drew sold-out crowds at two of the Big Apple's largest venues: Madison Square Garden and the Barclays Center, respectively. "To have [FarmBorough] now in the city really justifies the moment that country music is having," Dierks Bentley told Today Show hosts last fall when he appeared to announce the diverse, 25-act deep lineup.
Country's untapped potential in New York City is primed for Founders capitalization. With headliners selling out 18,000-seat arenas in Manhattan and Brooklyn, expanding was the next logical step. Country's former queen, Taylor Swift, notably assumed the role of NYC Tourism Ambassador in 2014, beckoning fans and foreigners to the city's shores with the allure of her pop-leaning influences (she'll play New Jersey's 82,000+ capacity Met Life Stadium on her 1989 world tour this summer), when in reality, the timing couldn't be more ideal for the five boroughs to stake a flag on the shores she left behind. Noticing that gap in the market, Founders pounced.
"The mission is pretty simple," says Live Nation's Brian O'Connell of FarmBorough's first year, who was Founders' partner on the project. "[We're going to] bring a world class country music festival to New York City."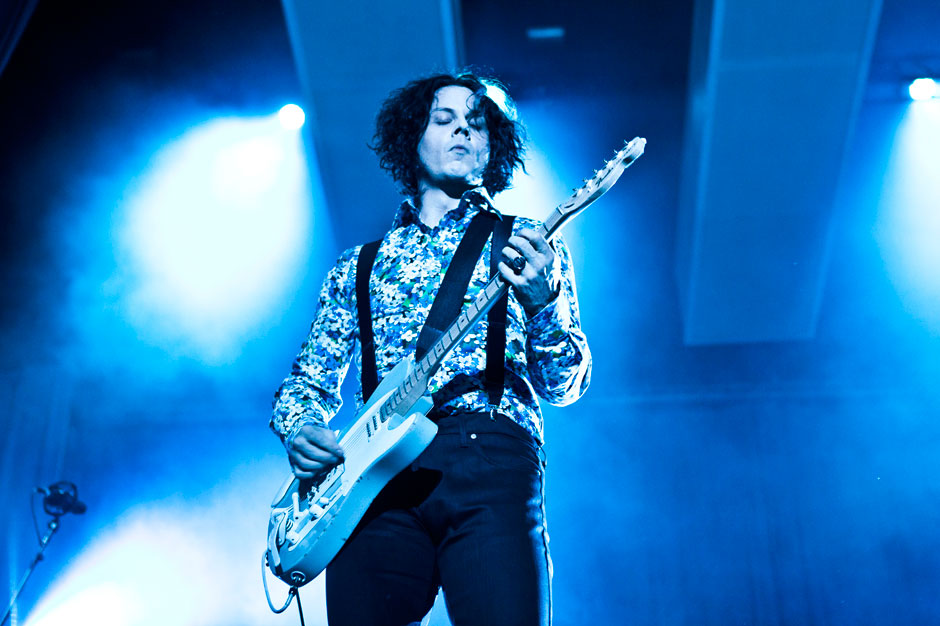 Though there've been plenty of sprawling, multi-day festivities in the tri-state area before — as far back as the 1964 World Fair in Queens, as regular as the Warped Tour's yearly New Jersey stop — the area hasn't always been the most hospitable towards larger, outdoor shows. In 2009, All Points West — billed as the East Coast equivalent of Coachella, boasting such banner headliners as Radiohead, Jay Z, and Yeah Yeah Yeahs — fizzled out after only two years at New Jersey's Liberty State Park due to low ticket sales, expensive and difficult transportation, and top-heavy lineups.
Three years later, the Catalpa Festival attempted to conquer Randall's Island with the help of Snoop Dogg and the Black Keys (who'll play Gov Ball this summer), but never made it past its inaugural run in 2012 thanks to unforgiving rain and pricey tickets. There've been other attempts in the past 15 years: Vineland (another Liberty State Park failure, neutralized in 2008 amid projected low ticket sales), Bonnaroo N.E. (canceled in 2003 after headachey permit issues), the Hudson Project (2014, more a storm-riddled mud pit than a festival, which stranded attendees and their vehicles for days last summer), Field Day (discontinued after two attempts in 2005), and more — but none have achieved Governors Ball's sustained success.
"If you look at the other major music festivals that have tried and failed, they had some good bands, but they're not as well-rounded and robust, " Russell says. "In New York City, you have to put together a really compelling, unmissable package, because there's a million other great things to do. When All Points West was around, they had some great headliners, but the middle and lower parts of the lineup really weren't that great, and it was in Jersey, which not a lot of people had experience going to. [We'd rather] deliver a good experience than charge seven bucks for a bottle of water. Nobody likes that."
Back in the Founders headquarters, the Governors Ball architects say the festival is something they'd always imagined creating. While all three men grew up in New York City, two of them — Russell and Wolowitz — met at a Connecticut boarding school in their teens, bonding over their love of live music before parting ways for college. Russell wound up at Tulane University, where he started his career in live music production.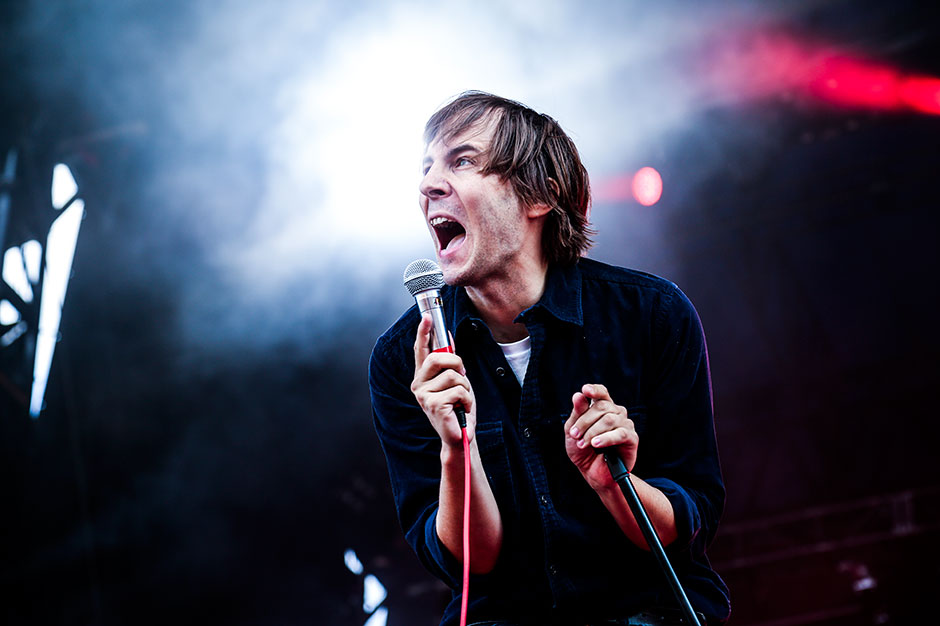 "While I was in college in New Orleans, I was going to all of these concerts in and around the city during Jazz Fest, and I ran out of money," he says with a laugh. "I realized all of these concerts that I was going to were being put on by this one company called Superfly Presents. So I reached out to them and I said, 'Hey, I'm going to all of these shows, I ran out of money, so how do I work for you? How do I do what you do?'" The company gave Russell an internship in the fall of his junior year, inviting him back for the spring, then eventually hiring the 22-year-old fresh out of college. Soon, he climbed the promoter's ranks, ascending to the role of National Events Director, which allowed him to assist with Bonnaroo, the New Orleans Jazz Festival, and the folksy Life is good in Canton, Massachusetts.
A thousand miles northeast, Wolowitz was immersing himself in the booking agency aspect of live music. Following his graduation from George Washington University, he landed a gig at mega-talent agency Paradigm. Wolowitz later jumped to the competing agency International Creative Management, where he fine-tuned his skills under industry all-star Marsha Vlasic, handling live booking for Neil Young, Muse, and the Strokes.
"When I came back to New York to work for Marsha is when [Tom and I] first planted the seeds of doing a festival here," Wolowitz says. Russell adds that he and his boarding-school buddy quickly realized that the best solution was to break off from their respective jobs. "We thought we could do it, but we needed a third partner," he says. "We needed somebody to help bear the burden of starting the company. We couldn't do it all ourselves."
That's where Reisman, the third piece of the Founders equation, came in. Independently, the UT Austin graduate had been working as a contractor for music festivals like Bonnaroo (run by Russell's Superfly Presents), Wakarusa, Wanderlust, and more. After New York's cost of living priced him out in the late aughts ("It got very expensive here, but it's always been very expensive here," he says) the freelance contractor moved to Atlanta, where he continued to work the live-music circuit with his own company, Civil Muse Productions. After starting on the MBA track at Georgia State University, Reisman got a phone call from his former Superfly employer.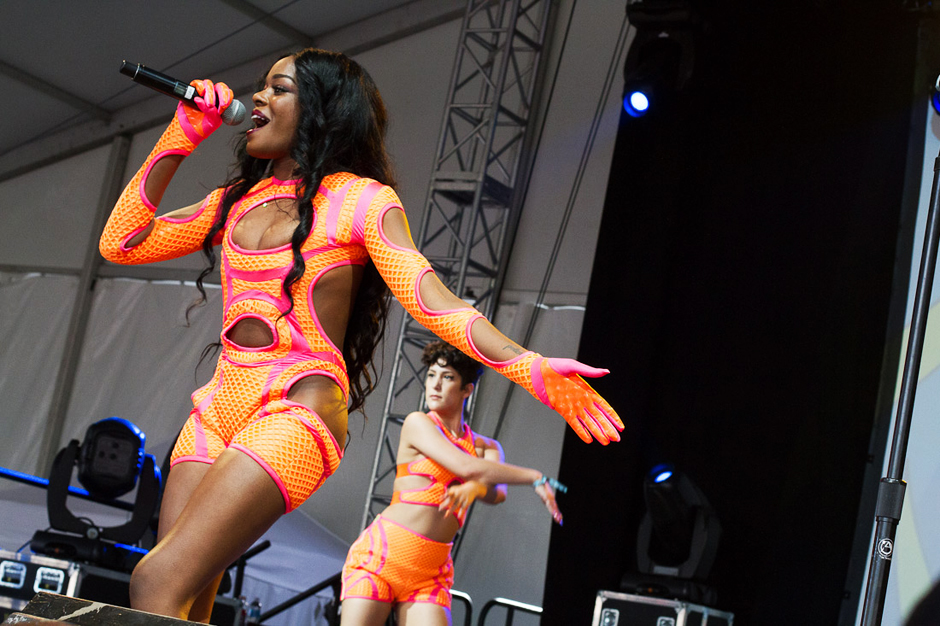 "Yoni was a very close friend of mine who knew the industry inside and out," Russell recalls. "I knew he had an amazing work ethic and a great attitude. So I called him up and said, 'Hey, we're thinking about doing this, what are you doing?'"
In an instant, Reisman was sold. "School was not something I enjoyed," he says with a grin. "[Launching a festival in New York] was opportunistic. It was like, 'Why does New York City not have this? Let's do that.'"
Featuring an eclectic bill that interwove genres, the maiden Governors Ball was held, true to its name, on Governors Island in June 2011 just off of the southernmost tip of Manhattan. Girl Talk, Pretty Lights, Empire of the Sun, and Big Boi served as headliners for the then-single-day event, with pysch-pop producer Neon Indian, stoner rapper Mac Miller, and a DJ set from Boston exports Passion Pit more rounding out the bill. While it was thrilling for native New Yorkers to have a well-booked, easily accessible festival nearby, there were hiccups. Food and drink lines stretched out into the middle of crowds watching the acts onstage, and organizers weren't properly prepared to handle the inescapably scorching sun, failing to provide enough shade options.
https://youtube.com/watch?v=-VELVJ5xdT4
The partners chalk the first year's shortcomings up to unavoidable restrictions. "There was one exclusive production company for the island," Russell recalls of the Governors Island contractor. "I brokered a deal with them, and [while] it got us the relationships and the meetings that we had to have in order to do a show there, we were kind of backed into using one team, which was tough."
That partnership lasted only a year. "And actually," Reisman interjects, "year one was successful. We weren't sure that was going to happen… We were prepared for a loss, but it worked out great."
Governors Ball expanded in 2012, cutting ties with the park's production company, adding an extra day, and moving home bases to Randall's Island off the eastern coast of Harlem — "after the first year, we found out that Governors Island was going to undergo a multi-year, multi-phase renovation, so we didn't really have a venue anymore," Russell says — a location they've stuck to ever since the second year's success.
For their sophomore outing, Wolowitz and his partners decided to musically diversify too, keeping Saturday for their signature "indie electronic" acts but booking crowd-pleasing closers Beck and Modest Mouse for Sunday night. The weekend drew larger hordes (over 40,000 by one estimate) and mostly positive critical acclaim ("Organizers seem to be embracing the fact that Gov Ball could eventually become the Big Apple's signature summer indie music event," Prefix wrote at the time).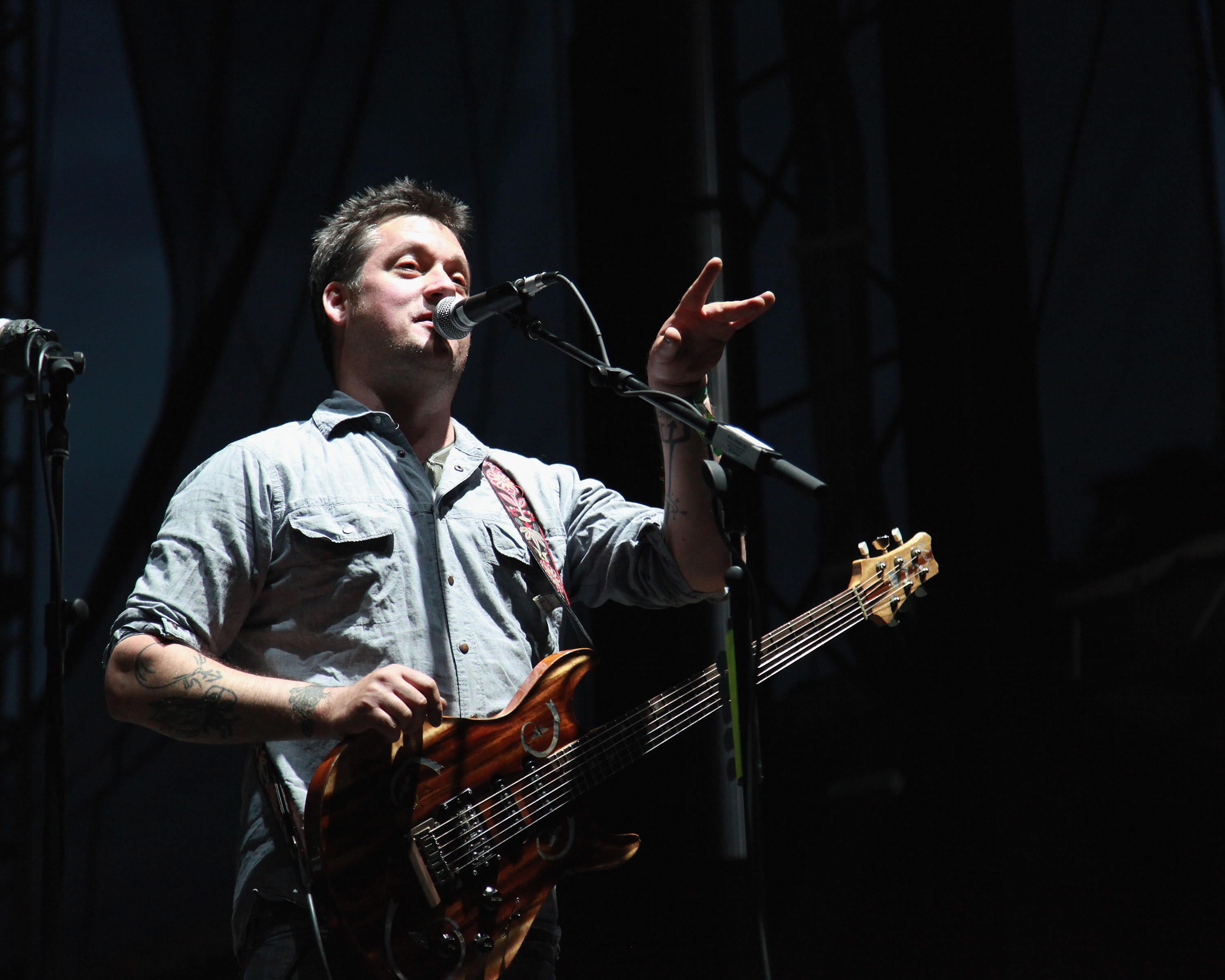 "After the second year, we were like 'Fuck it, let's go for it. Let's do a major music festival," Russell says with a hearty laugh, adding, "It was always our goal."
Year Three saw the festival's biggest expansion yet, spread across three full days on Randall's — adding extra space (a massive driving range on which the team installed two new stages) — and spearheaded by Kanye West, Kings of Leon, Nas, Feist, Kendrick Lamar, Erykah Badu, Azealia Banks, and more. Growing meant more difficult problems: Slamming the event with monsoon-like winds and whipping rain, a massive storm hit the island on Friday afternoon, forcing the event's shutdown that night. Within hours, though, the organizers made schedule readjustments and handled things with a sense of humor: booking Kings of Leon, canceled the night before, for a blistering early Saturday afternoon slot instead, and tossing hundreds of floating rubber ducks into the murky ponds that littered the island. Last year, the Strokes, Vampire Weekend, and Jack White brought more than 150,000 fans to Randall's Island yet again, establishing Governors Ball's status as a vital east coast live music force.
"Being born and raised in the city, I would argue that we want to be [on the top of people's minds]," Russell says. "We are New York City's music festival."
To continue their five-year momentum, the team plans to introduce a series of big-ticket rollouts next month that'll make operations smoother and faster. Attendees shilling out more than $250 for regular weekend passes — or $2,000 for those springing for the Super VIP option, which includes three snacks a day, an endless open bar, special viewing privileges, and more — will finally forego printed tickets. This year, Founders will instead implement electronically chipped wristbands meant to quicken entry. "We went to Lollapalooza this past year to do some market research on how their RFID cashless and wristband system, and it was incredibly seamless," Reisman says. "We want to follow the fans and do what they want to do and make their experience easier."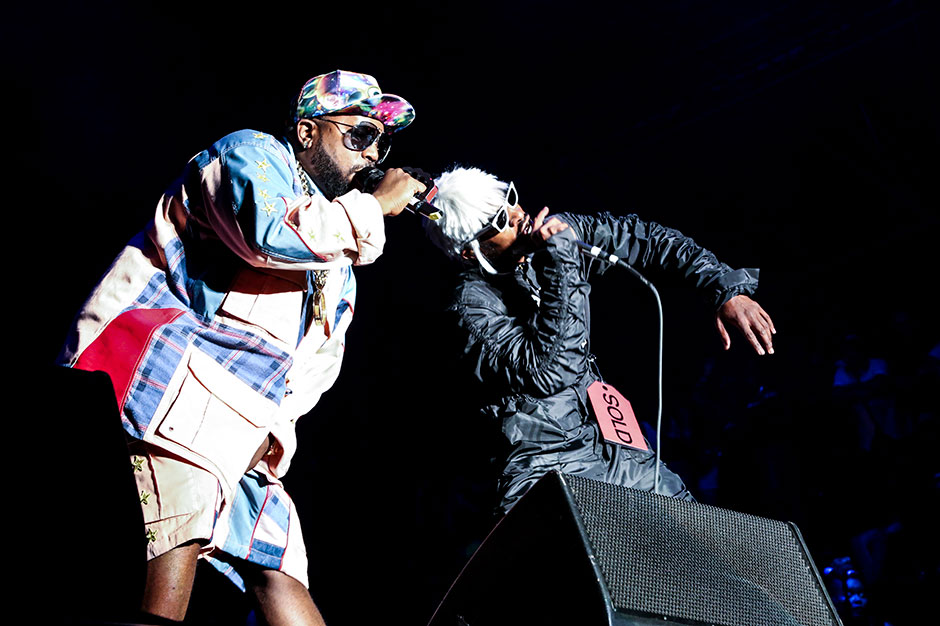 With Live Nation on board as partner on FarmBorough, the three 31-year-olds who've been there since the beginning know the stakes are higher, especially since their new venture launches with three full days rather than just a single-day trial. When asked about future growth, Russell is quick to note that the company intentionally started small to be able to show "proof of concept"; that is, Founders needed time to grow and learn before growing their marquee event. In that way, FarmBorough stands on the shoulders of an esteemed brand and carries with it the weight of a major, nationwide player.
"I have the utmost respect for what they have built in Gov Ball, and I think they have respect for what my team has built," says Brian O'Connell, the president of country touring for Live Nation and Founders' key partner in FarmBorough. "I like collaborations, and I love to have my ideas challenged. That doesn't mean I necessarily welcome it, to be clear, but who does? We have very productive conversations about the collective mission and vision of the festival, and we don't always agree, but we do listen open-minded and with a common goal in mind."
"It's just a smart business decision on our end," Wolowitz said of the company's new venture. "Country music in the live sector is doing incredibly well, and there wasn't a country festival in New York, even though millions of people are listening to it in this market. We have the economies of scale on our side, already having all of our [Governors Ball] production up, so it just made a lot of sense."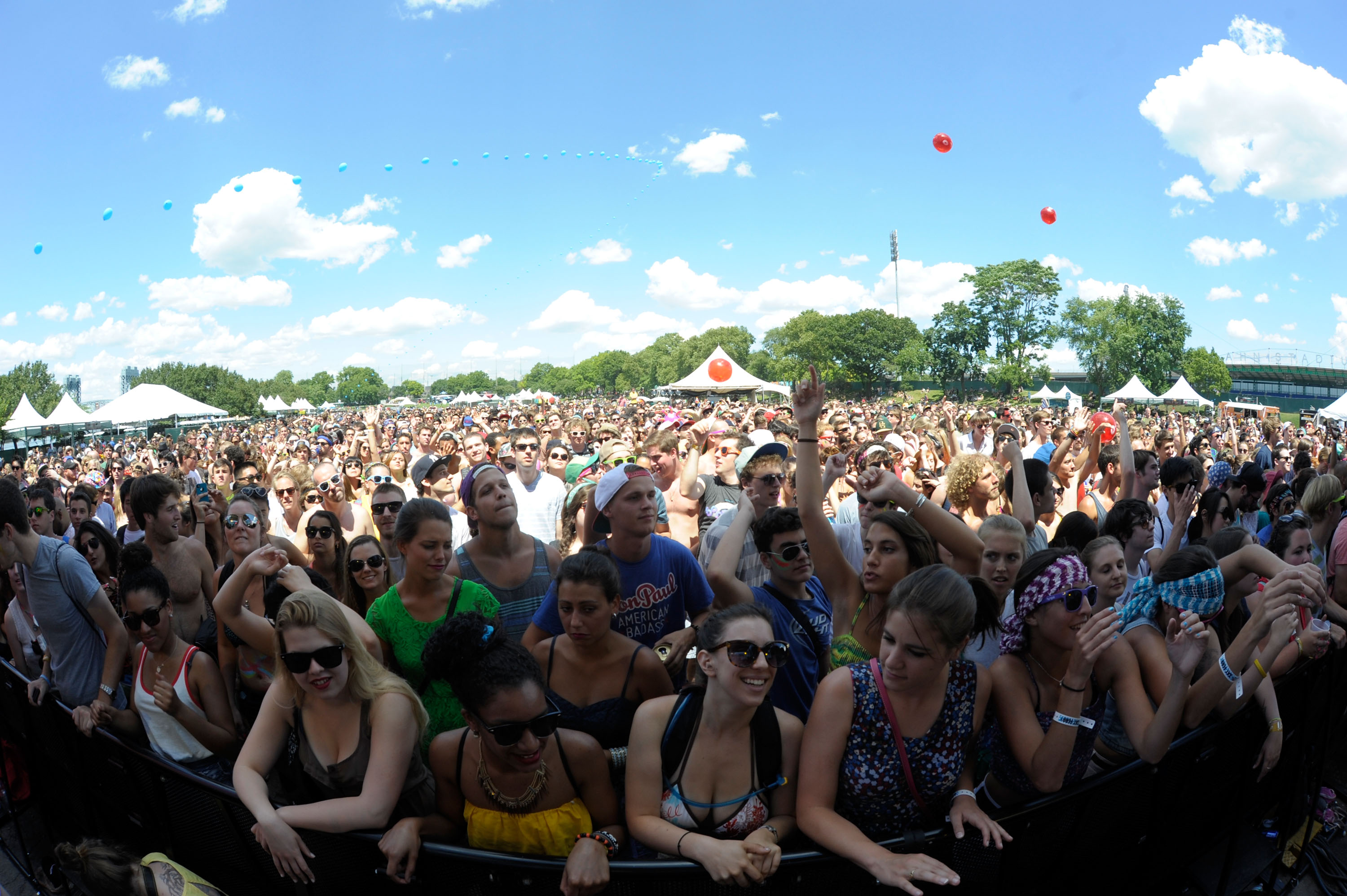 Though FarmBorough does take place on the same location as the company's main venture, the grounds won't necessarily look the same when fans enter the island's gates just three weeks after Governors Ball. "We're only using those two stages the first year: the top and the tent," Wolowitz says. "There'll be thirty-ish bands over the weekend, when at Gov Ball and the other ancillaries, we're booking almost three times that much."
The two June weekends are rapidly approaching, but the Founders partners are ready. "When you boil it down, what we're really trying to do is create and harness a vibe in a festival environment that is just so fun that people want to come back every single year, regardless of who's playing," Russell says of both Governors Ball and FarmBorough, adding, "Otherwise, nobody's winning. That's exactly it: You've got to set a tone. It's about creating an environment where people are happy and everything's good. It's a little break from reality. We all need that."