Read Dreamers' Tour Diary From Their Time on the Road With Stone Temple Pilots
Brooklyn Indie band Dreamers got a big break recently when they were selected to tour across the country with Stone Temple Pilots. Drummer Chris Bagamery gave SPIN excepts from his tour diary, along with several photos documenting their trip. Read below to see how Bagamery and bandmates Nick Wold and Marc Nelson survived a hectic schedule, long stretches of time on the road, and a bout of projectile vomiting. 

April 8 - Seattle, WA @ Paramount Theatre

Kicked off STP tour today. We're driving from PA across the country to Seattle, where Nick [Wold, singer/guitarist] and I grew up and everything got started in a moldy basement with mushrooms growing out of the carpet.

Day two of driving: The Jiffy Lube in Pittsburgh did something unspeakable to the engine, because every mile gets louder and more struggle-y. It's becoming clear it's almost backyard shotgun time.

Day four of driving: Van hobbled into Seattle, gasped and died, having finally completed its task. We parked it at a curb and told it we were going for cigarettes and would be right back. It was easier that way.

Day five of driving:  Forget the van, it's showtime in our first 2400+ capacity venue, the very one we'd been dreaming of playing since age 14. Someone yelled at us to stop gaping at get started.

We met the guys from STP today, and they made it clear that they were glad to have us. That in itself was a huge gesture, but here they were being friendly and helpful as hell. Rob [DeLeo, bassist] said, "We're not about ego and bullshit, let's just have some fun and play some rock and roll".

The month on the road had us greased so the show went well. I dropped down and signed as many ticket stubs and CDs at me as I could, gave out some sticks. Gave a kid my drum key, he was wearing a Paiste shirt. The tour is officially rolling.

April 10 - San Francisco, CA @ The Fillmore

Awesome to be back on the highway again, because the 39 hours of driving over the last four days just didn't satisfy our love for sitting in one fucking spot all day.

Got to the city. At this point we were pretty unkempt and road-weary, so we all got haircuts together at a salon that looked like it should have had the word 'artisanal' in its name.

THE Fillmore was something else entirely. That one scrape could've been Mitch Mitchell's cymbal stand. That burn could've been from Janis's cigarette. When I picked up my sticks it felt like other hands were lifting them with mine.

April 12 - Anaheim, CA @ House of Blues

This place happens to be smack in the middle of Disneyland, which meant we took the day to wander the premises, being ignored by loud-shirted park goers and getting accosted by sticky-fingered kids. We signed our first record deal right there.

I was standing out back gazing at STP's giant Prevost bus and the elevated track behind it as a shuttle whizzed past, when out of nowhere an explosion shattered the night sky -  I screamed like a girl until I realized that this was Disneyland's nightly fireworks show.

April 13 - West Hollywood, CA @ House of Blues

So this is Hollywood. Sunset Boulevard. Gaped at the Capitol Records building like you're supposed to. Don't have a lot of time today.

First show complete. House of Blues have their shit down. It's like we've been going to Supercuts for months, and now we're reclining on leather and Santino is giving us the cut and razor shave with warm scented cream and a hot towel.

We also got a great shout-out from Chester [Bennington, STP singer] at the show. It's impossible to exaggerate how great the guys have been to us. They got us on the bill, they chose us.

Finished the second show of the day. Had a couple interviews before, might have had some food, things are getting hazy. Setup was sabotaged by gleeful misdirection from staff.

No time to sleep. We're headed through the desert for the mountains, passing through Vegas and continuing onward to the land of thin elevation, parkas, and legal weed: Colorado.

April 15 - Denver, CO @ Fillmore Auditorium

We stopped in Vegas for a night. Then, like a haunted house, we turned a certain corner that triggered the lever for "Blizzard Hell Destruction" and just like that went from a peaceful night zooming along to a roaring gale of hail and snow.

Dense burnt-purple smoke cloud consumed the stage as soon as we plugged in. Cymbals started reflect shimmering images of death and pain and the beautiful shredded sheets and pillow feathers of all the young love in the world when I understood that I was almost certainly extremely high, like I was aggressively, all-encompassingly high as shit.

The hotels, that's worth saying again — we had spent the pre-STP month's nights either on the floors of faraway friends or in every version of Tarantino motel there is, huddling together on whatever patches of bed we could find with the least amount of bloodstains and jabbing murder springs. Chester lifted us out of that.

April 17 - Dallas, TX @ House of Blues

We arrived at House of Blues. This being Texas, the venue gave us a bottle of whiskey and for some reason Nick decided to have a drink. This was the first projectile-vomiting party of the tour, and some of the retches were so violent it seemed like most of it was squirting out of his eyes.

This morning Nick has said very little, at least until we started driving again. Three times and counting. I'm getting out and circling around the car with a water bottle to douse the side of the van, then back to my seat to wait for the next round of the old stop n' plop.

We'll be shipshape by showtime. We're professionals, damn it.

April 19 - San Antonio, TX @ The Aztec Theater

If you've played some GoldenEye 64, you're going to want your Aztec Theater to be a certain kind of way, and they nailed it. It was like the Temple of Doom with a huge stage in the middle. The hotel was just as impressive - huge sandstone pillars, a sparkling fountain, Ferraris lining the curb.

The audience at the Aztec deserves an award for their energy. They were rowdy, happy, receptive. Audiences may not realize how much power they have.

April 20 - Oklahoma City, OK @ Diamond Ballroom

Holy shit. Holy SHIT. No one had let us know that this would be a wide-open rock n' roll bar from way back, the size of an airplane hangar, one of its walls covered with signed portraits of Nashville greats, country stars, Willie Nelson, even ICP. Some of the pages were older than we are, the ink of the signature almost gone, its author long dead and buried.

April 22 - Chicago, IL @ House of Blues

Fourteen hours back to the wintry north. Long stints spent driving, then the off hours a surreal mixture of jostled dozing and best-intentioned work and reading and listening to music, staring at the towns sliding past.

Parked and walking to the FOX News studios in Downtown Chicago, overdressed but undercoated, shivering violently against the freezing gusts of bullshit. It's early, we haven't slept, we're going to do a TV spot, and it's morning TV, which means beaming faces with beaming teeth and dead eyes. That's just the fatigue talking. I'm getting a coffee.

Alright, caffeine. Let's do this. I feel bad for the above, because of course they turned out to be great, warm people, genuinely interested in what we're doing and what we're here for, which is really more than you could ask for.

Back offstage again. That thing about colder climates being more reserved?  That holds true so far. It's a strange thing to contend with.

April 24 - Silver Spring, MD @ The Fillmore

It's "morning"!  That's a great thing about the pace of life on the road. Energy reserves kick in, and a full night's sleep feels like spinach to Popeye. (Doesn't work, I tried it.)

April 25 - Montclair, NJ @The Wellmont Theater

With precious little time in the green room, we run the new songs with unplugged guitars and sticks on pillows, trying harmonies in hushed voices, then as the song blooms we forget about manners and start singing in full voices.

The Wellmont was great, subtle acoustic benefits. The sound changes immeasurably with the shape of the room. It's why you sing in the shower.

April 27 - New York, NY @ Irving Plaza

Back home to a blessed night off. We hit the neighborhood, unloaded the van, and got the hell out of there, making a beeline for our wives and children, neither of which exist yet. Girlfriends, then.

April 28 - Boston, MA @ House of Blues

We pulled onto a narrow cobbled street in the shadow of Fenway Park, easing the van through crowds of bulky, drunken Red Sox fanatics. Hands slapped the side of the Volvo, the trailer shuddered as fists pounded its walls, and everyone was shrieking at us "Go SAHKS" .

April 30 - Philadelphia, PA @ Theater of the Living Arts

We're headed to Cambridge Sound Studios, where Y-Not Radio broadcasts from. We head to the building, feeling excited, but the road is doling out some damage - we're starting to feel a little bit raspy, hoarse, tired and aching.

It makes all the difference when the interviewer is having a conversation with us, rather than reading out what's on their list and waiting for silence before reading the next question.

Before getting on the highway headed south, we looked back for signs of outrage and violence. There was a guy sitting on the curb and eating a little box of Cheerios. The city would be safe without us.

May 2 - West Palm Beach, FL @ Sunfest

The last show with Stone Temple Pilots, the first big festival, our biggest opportunity yet. The staff are a new level of dead-serious about the No Fucking Around guidelines. There are 250,000 people are wandering the streets on the waterfront.

This is gonna be an intense one in the time leading up to stage, lots of moving parts. We have two songs that we've never played onstage before. This is the hour-plus set. This is the big-time.

And the stage isn't really a stage, it's an amphitheater. We huddle on the side, just out of sight of the crowd. Less than ten minutes. My fly is down. I get it. I'm ready.

First of all, I was wrong, it wasn't a crowd. That was a sea of people. The set flew by, and we were sick and raspy and contagious through it all. We played our hearts out through sore throats, singing out into the setting sun, its pink rays setting past the glittering horizon over the pier.
Dreamers on the road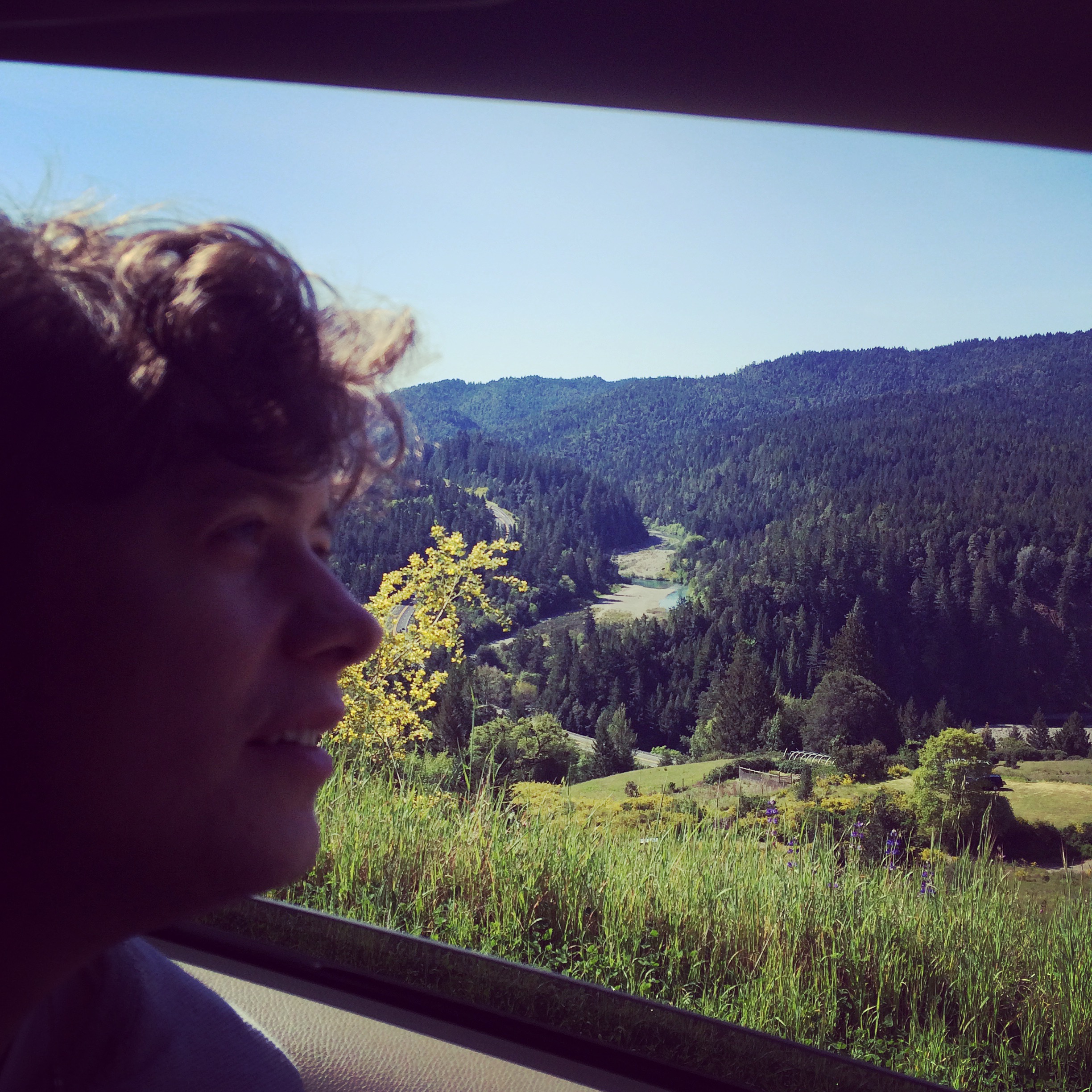 Dreamers in a car that's too small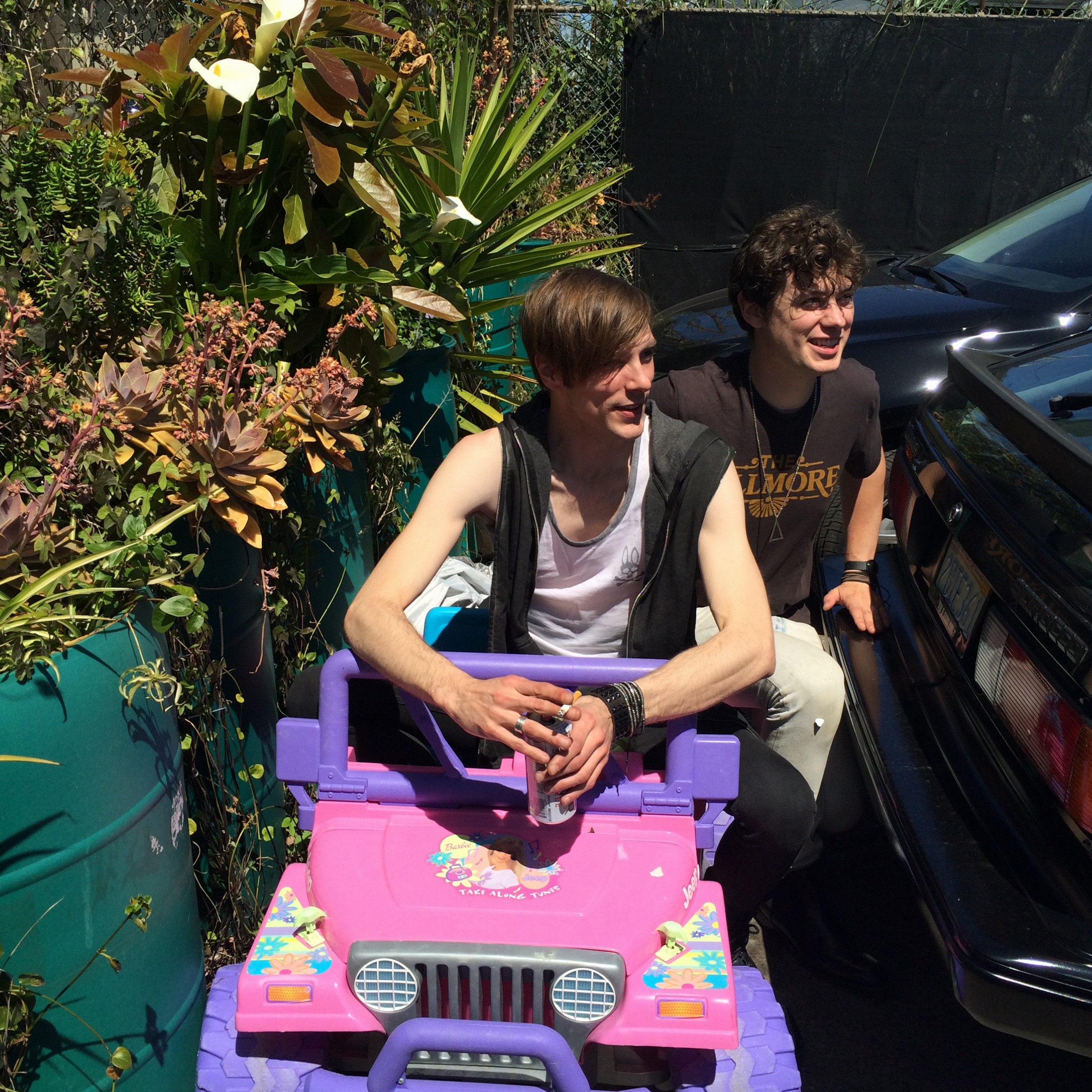 Dreamers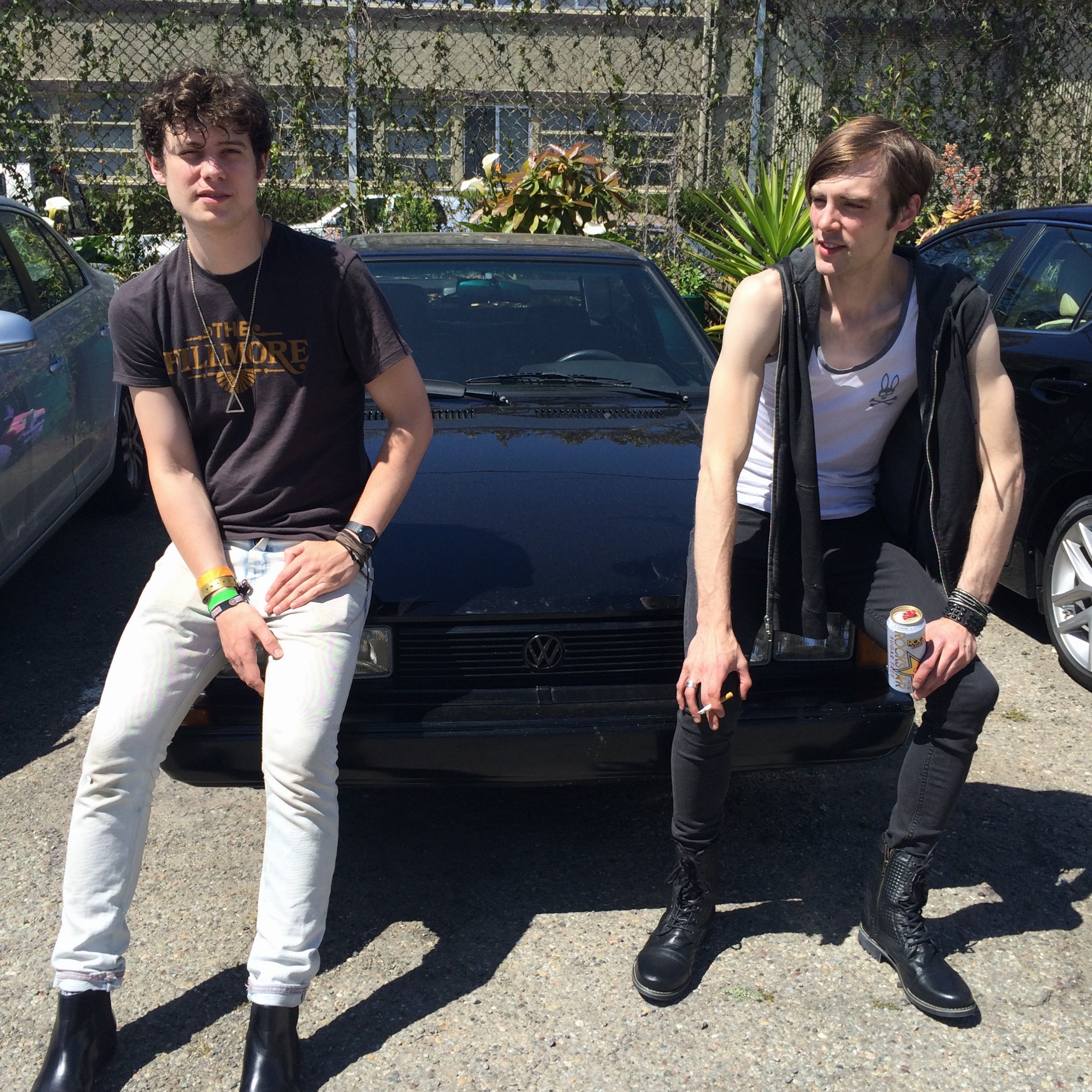 Dreamers in NYC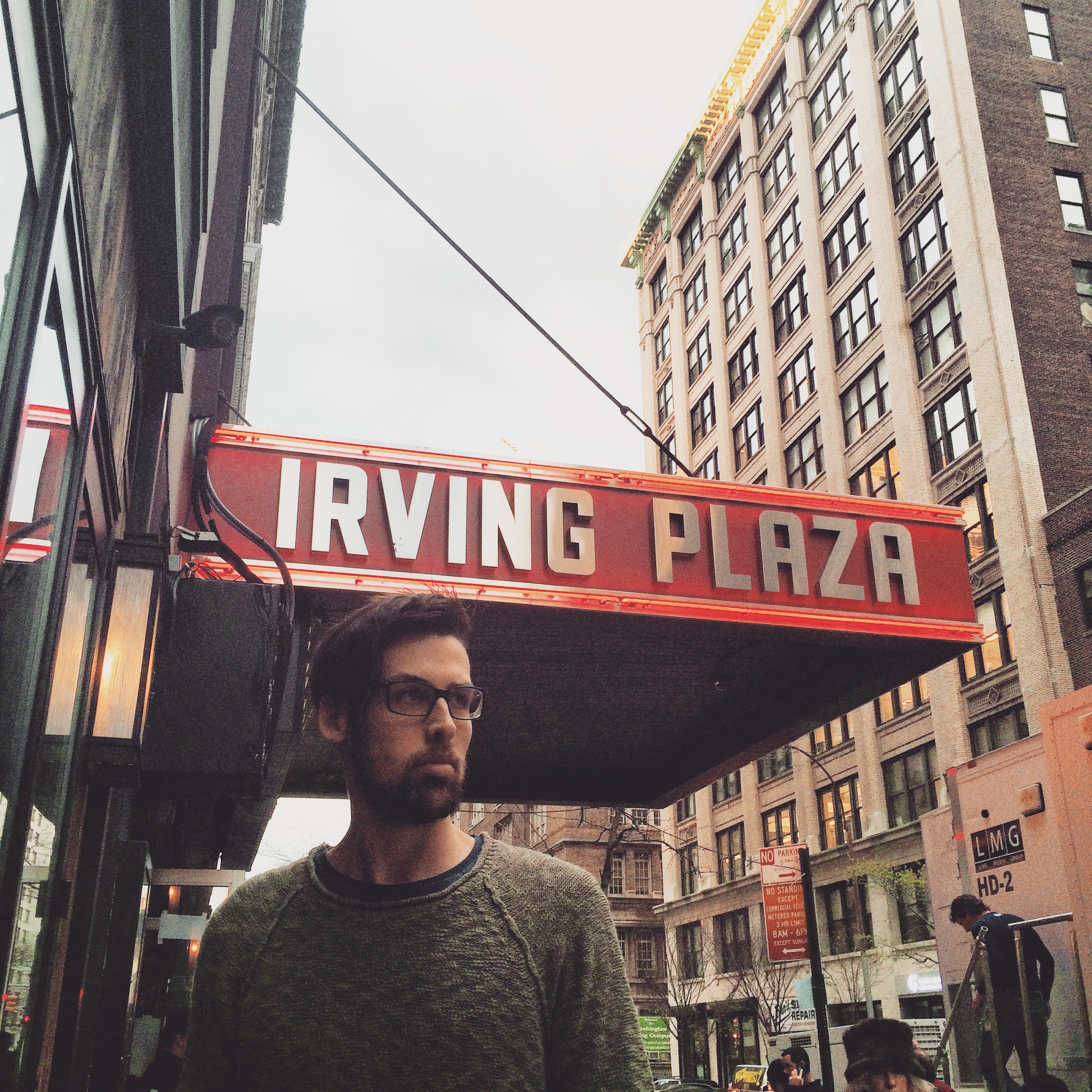 Dreamers make a TV appearance in Chicago
Sleepy Dreamers on the streets of Anaheim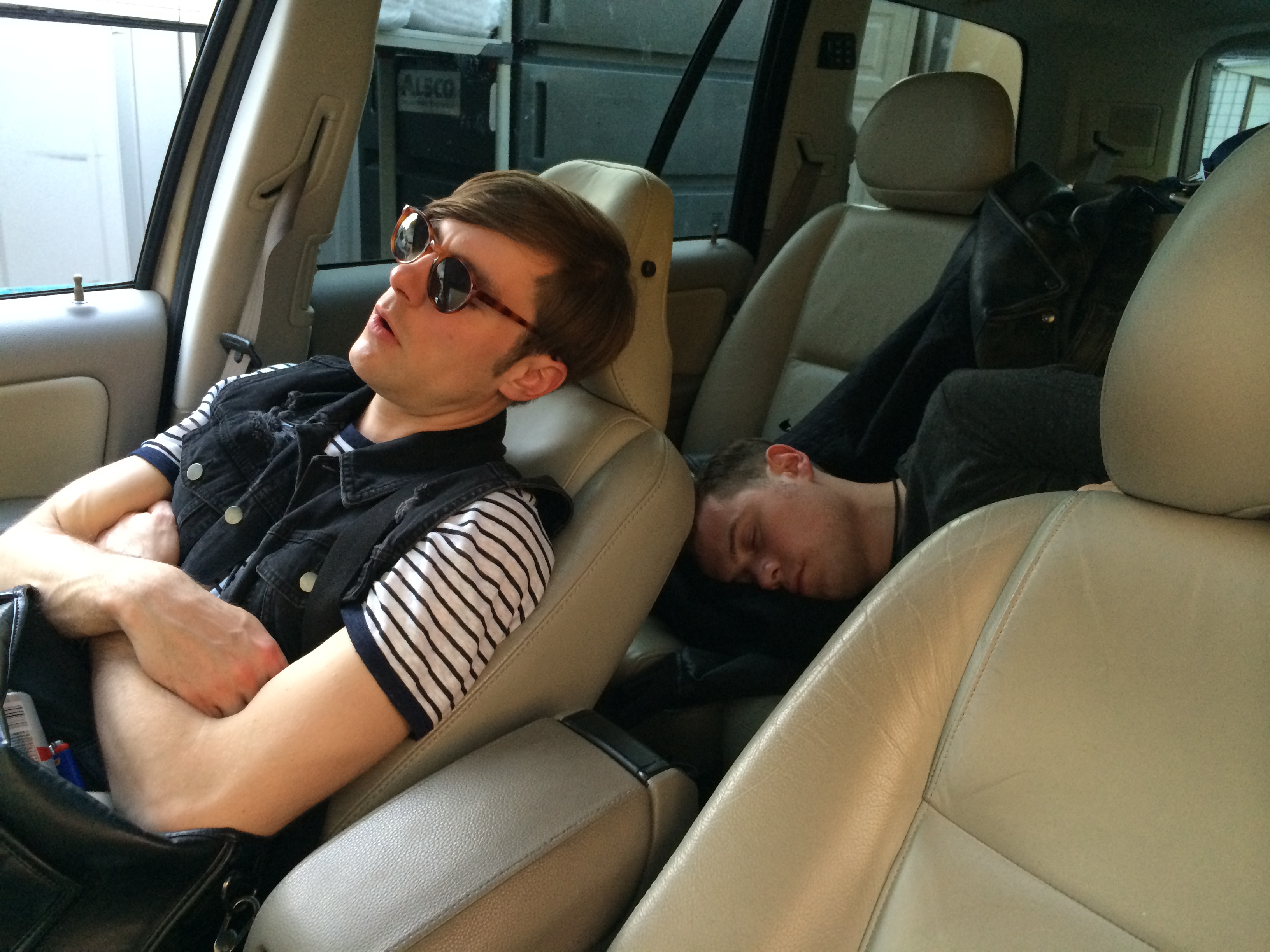 Dreamers in their Seattle dressing room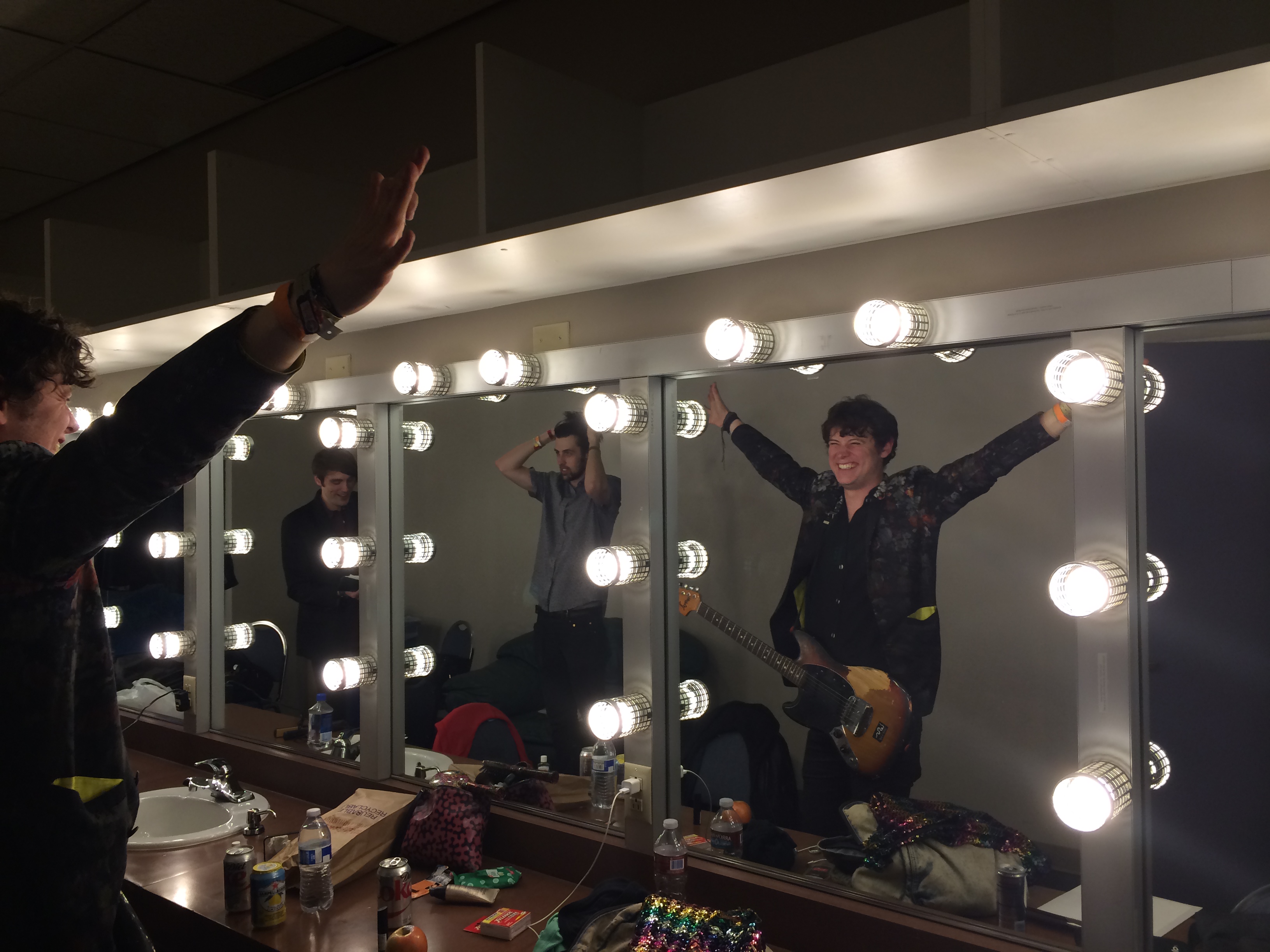 Dreamers in Maryland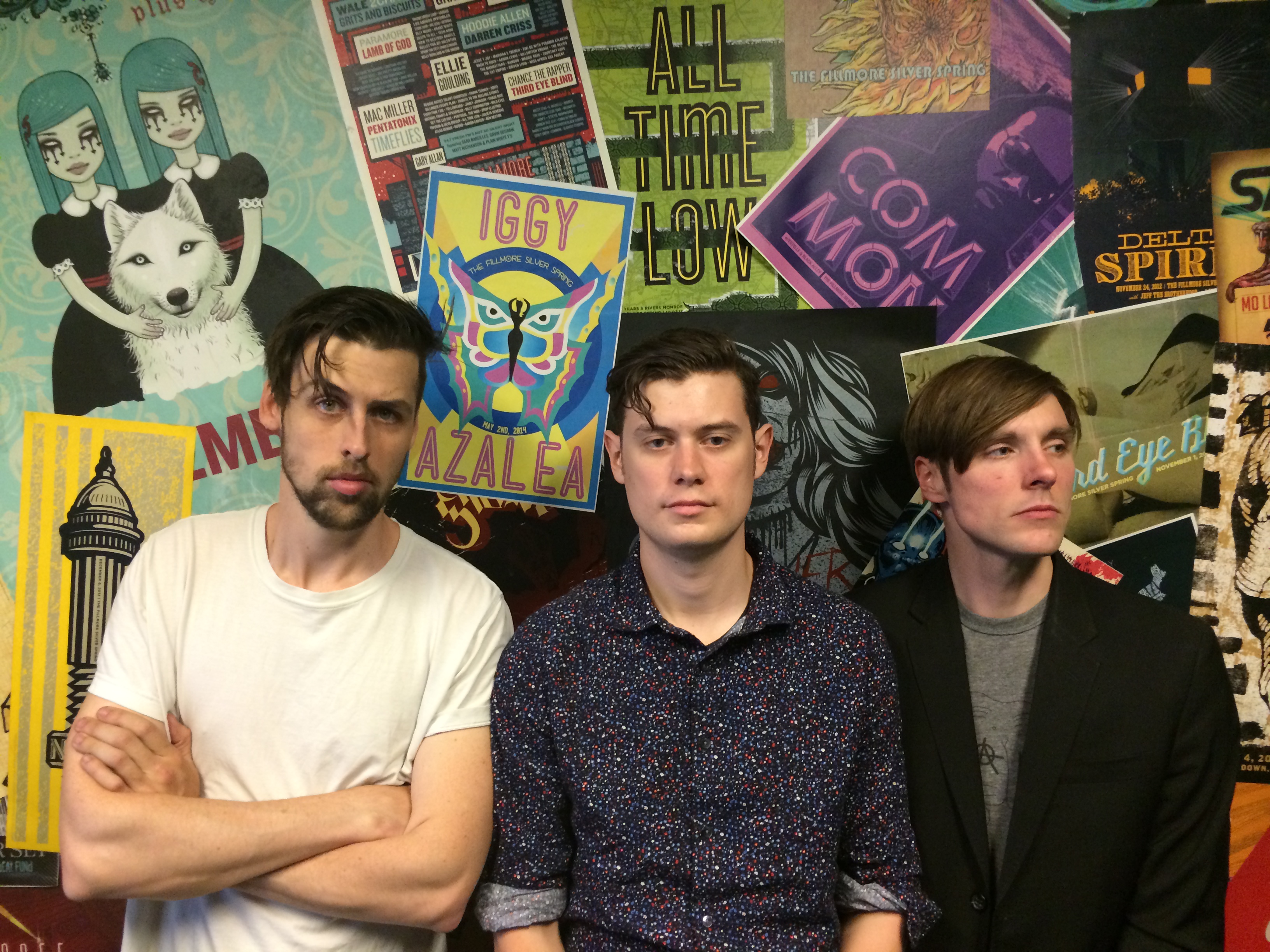 Florida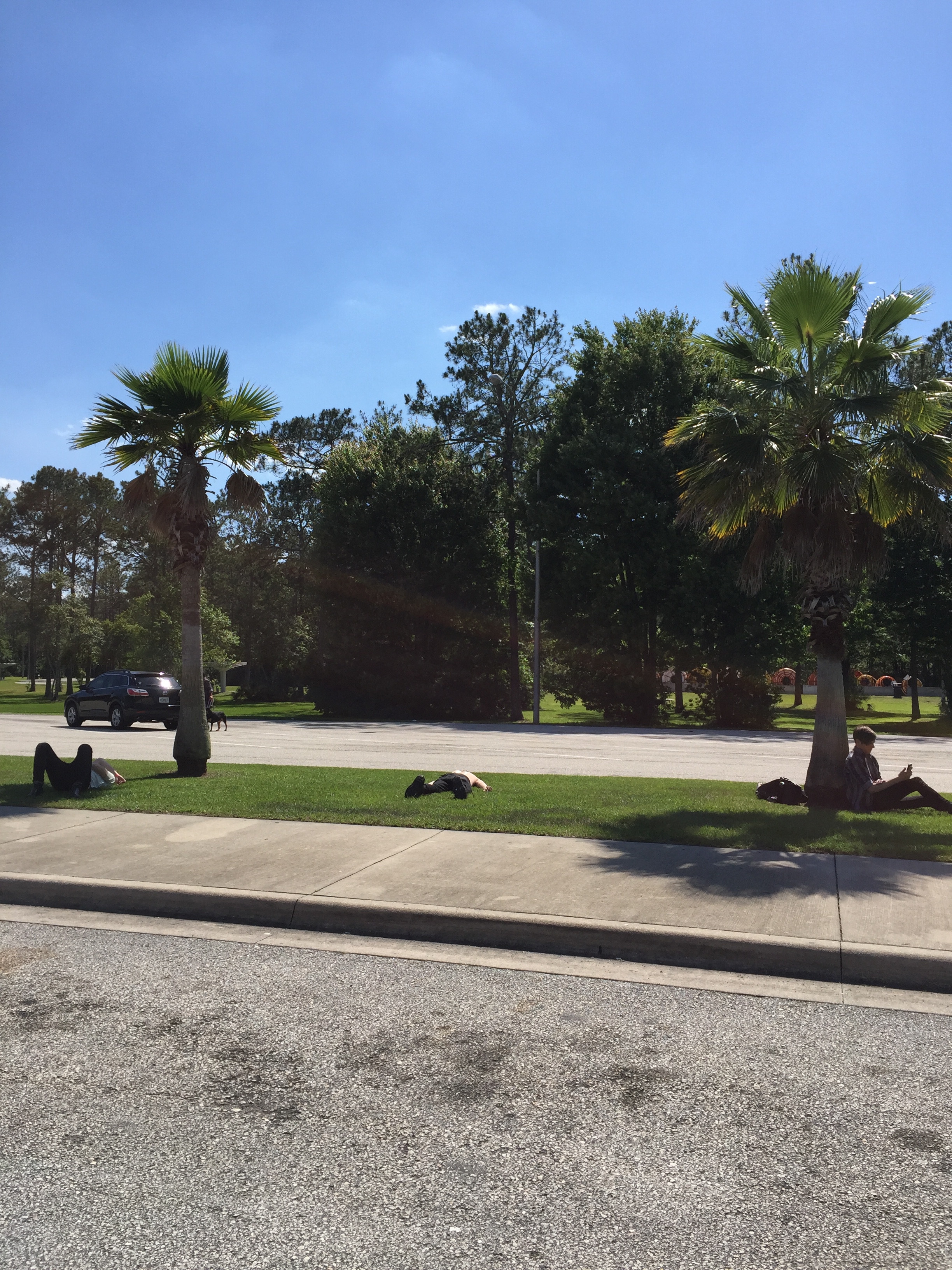 Dreamers in Maryland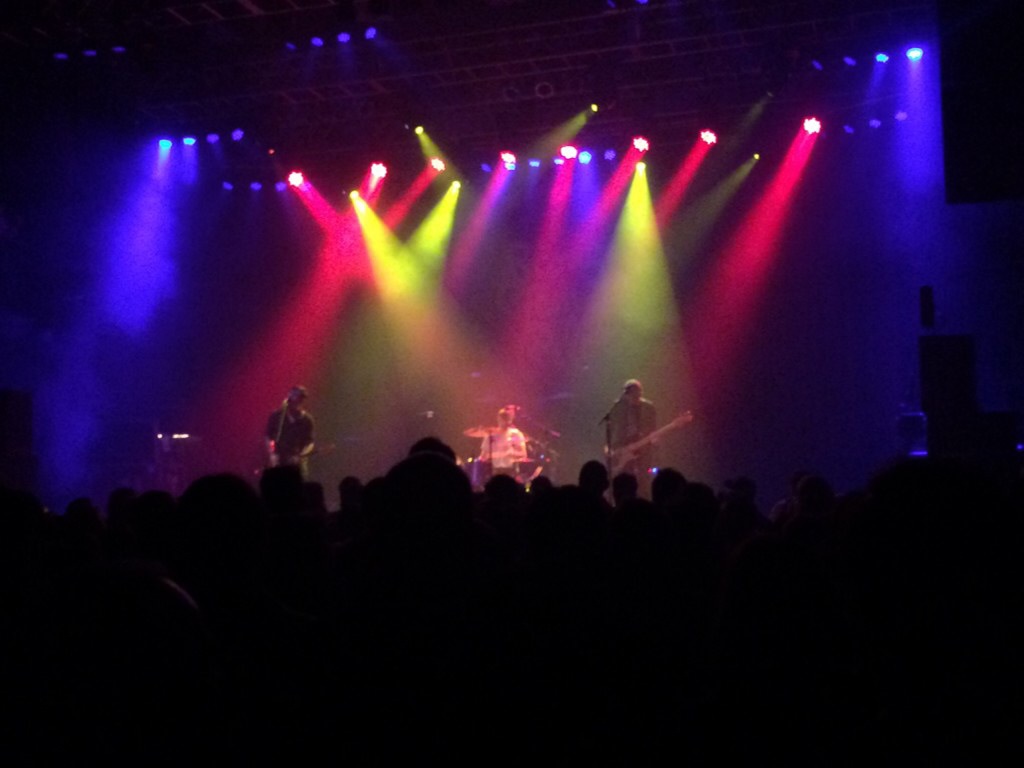 Dreamers in West Palm Beach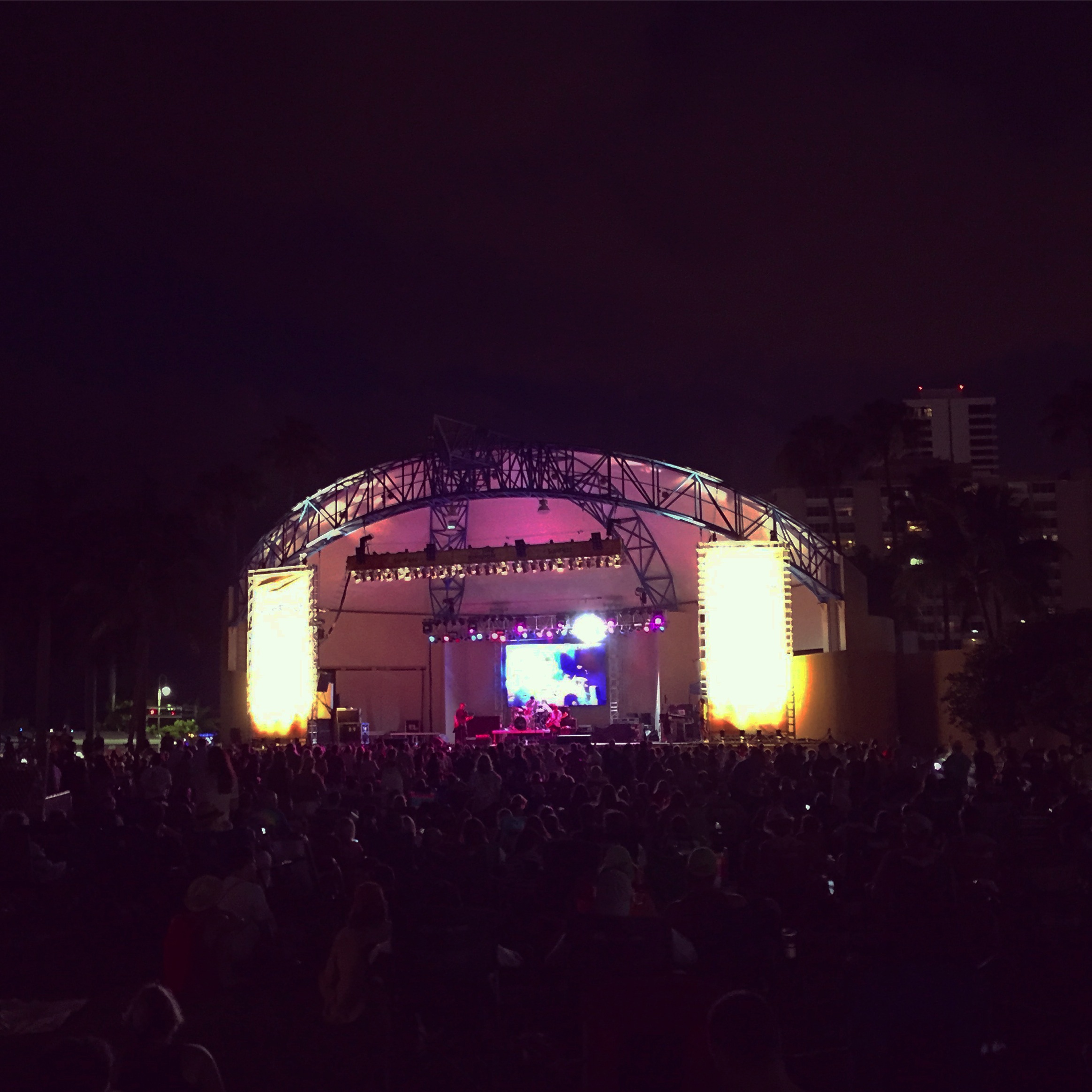 Dreamers outside the venue in Philadelphia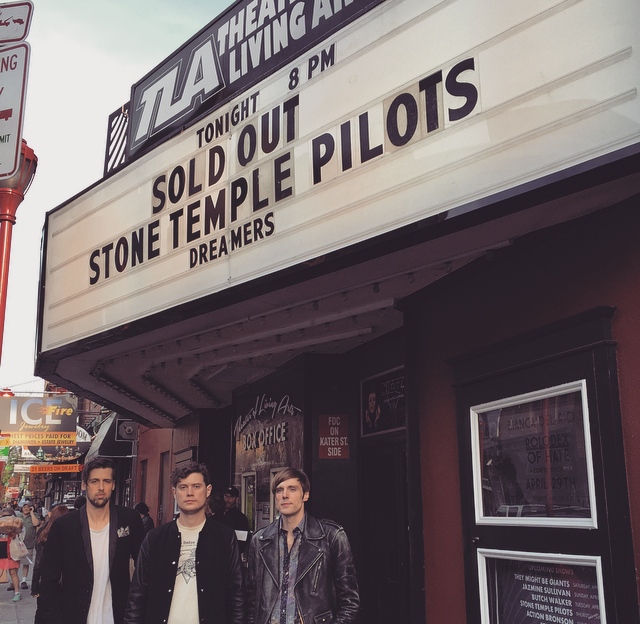 Dreamers in Anaheim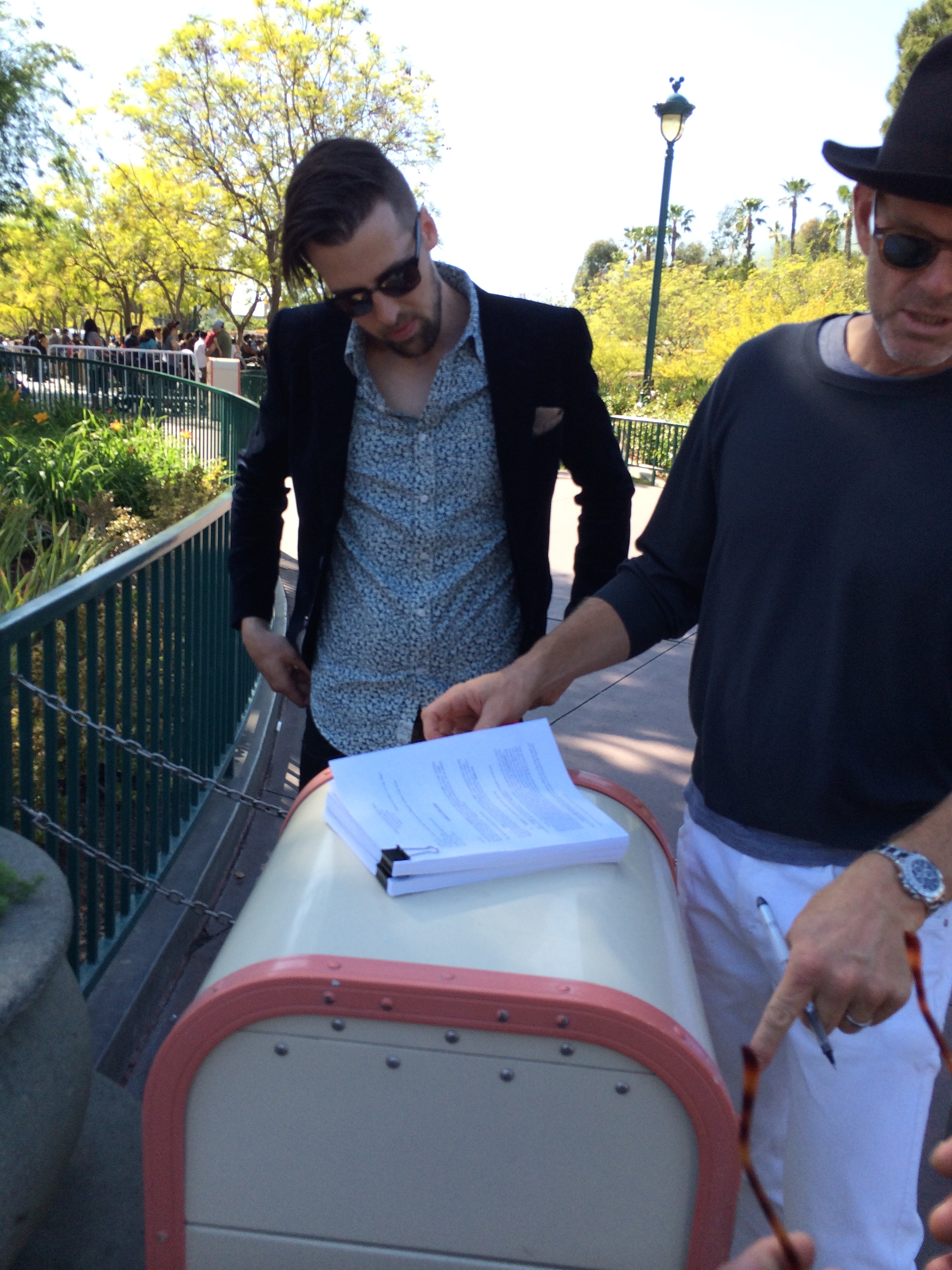 Dreamers in Seatle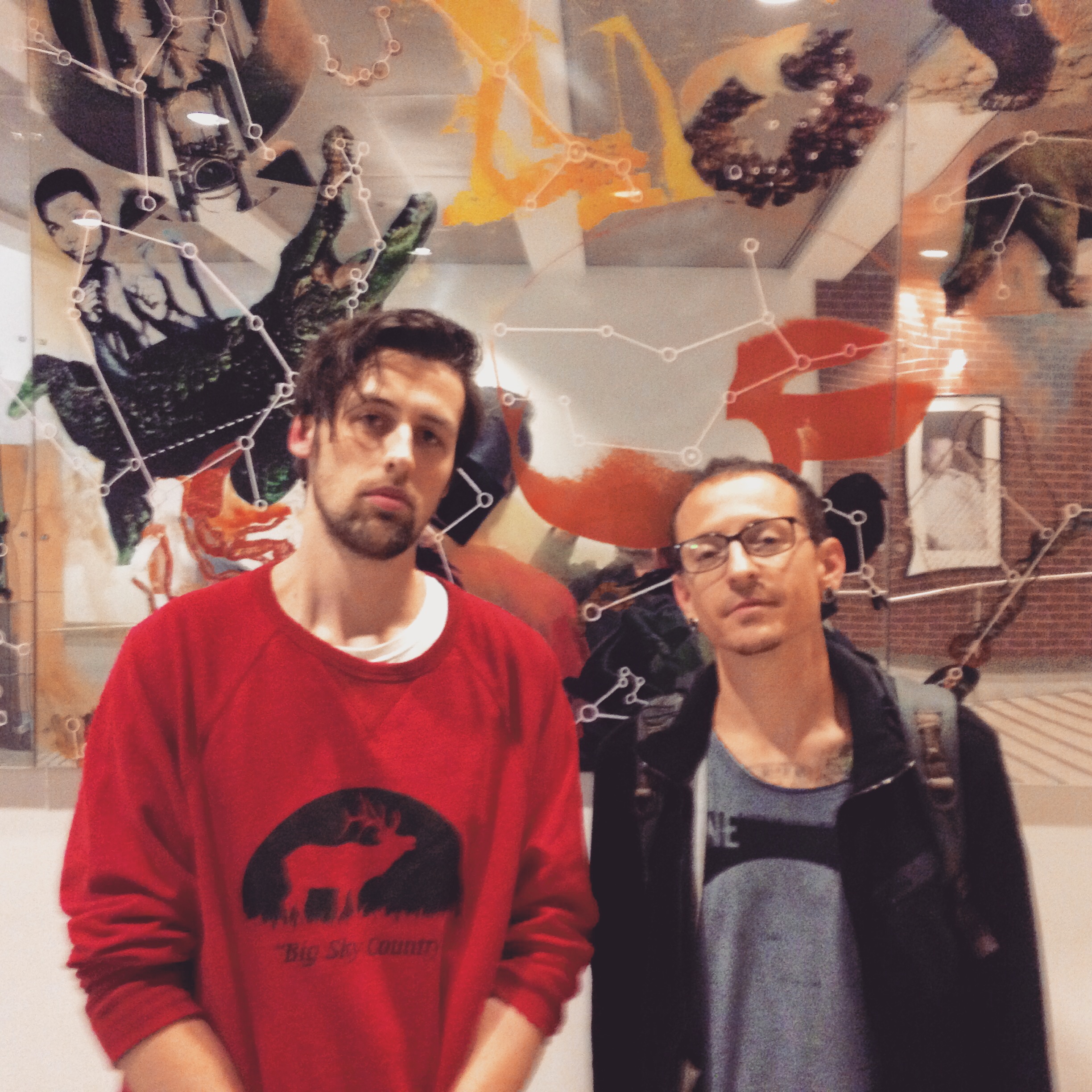 Dreamers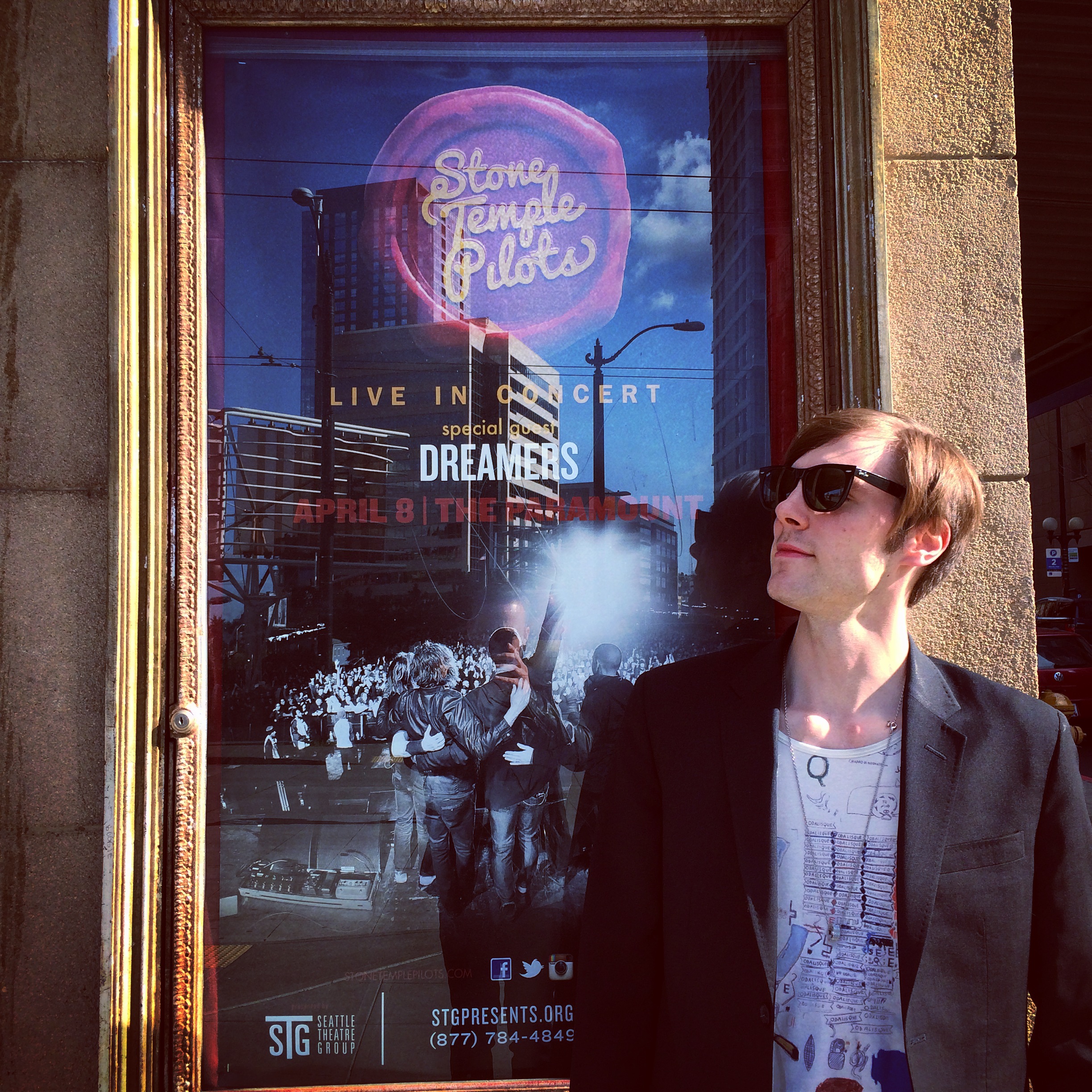 Dreamers backstage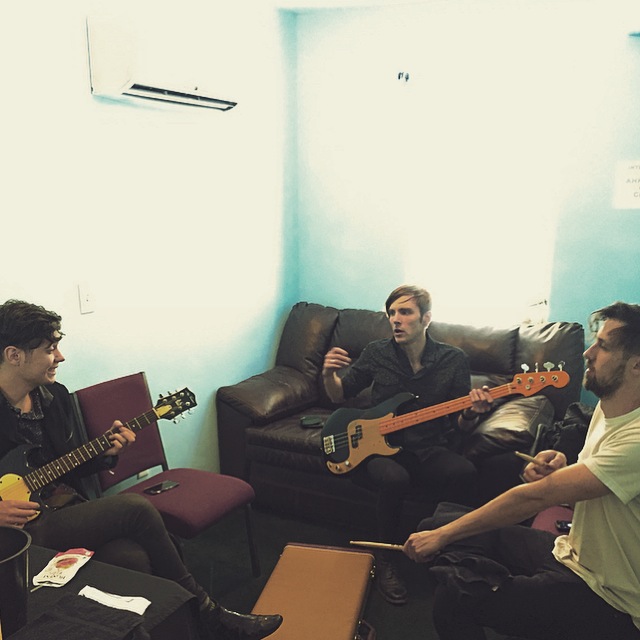 Chris Bagamery on drums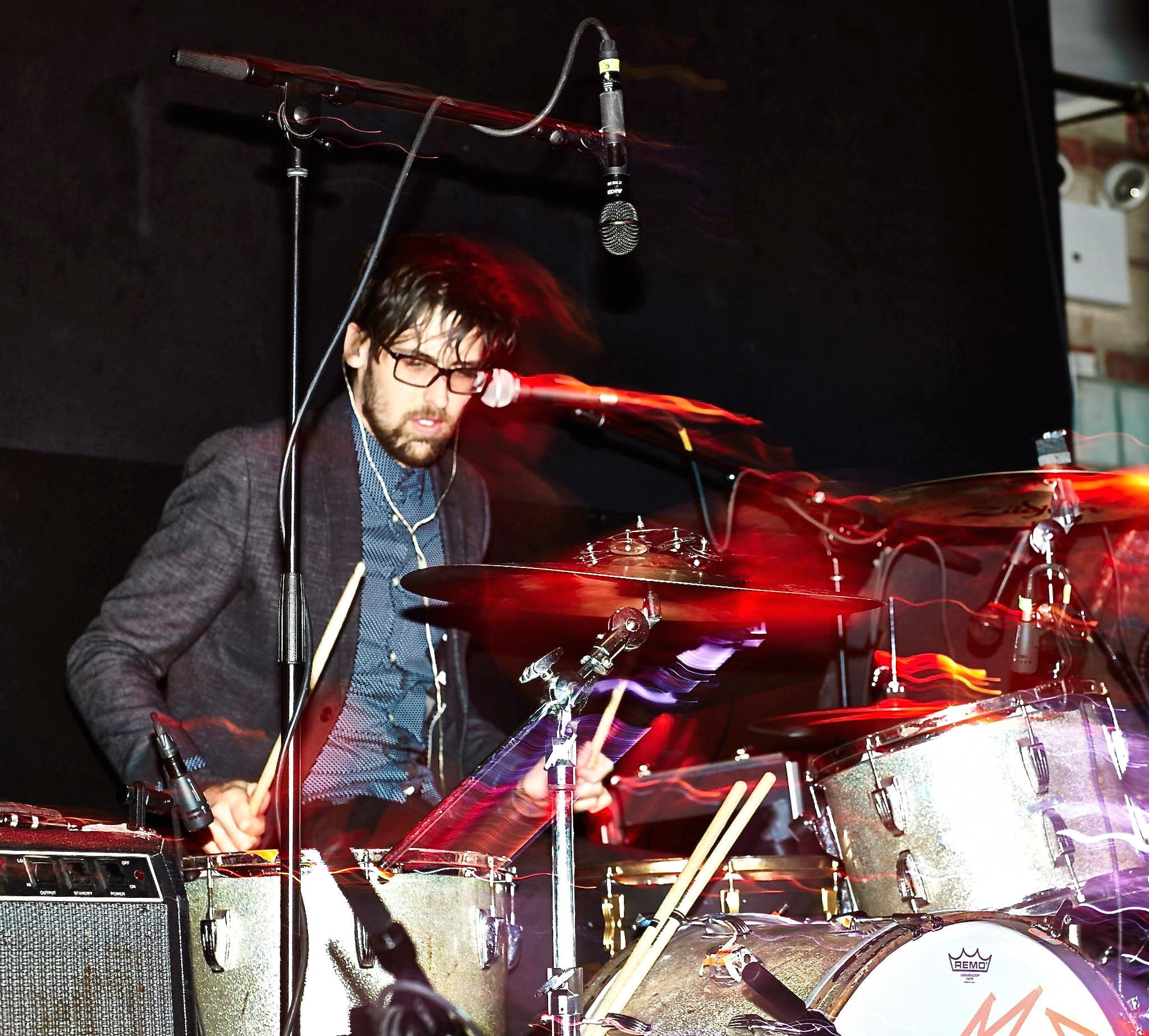 Bagamer's view in San Francisco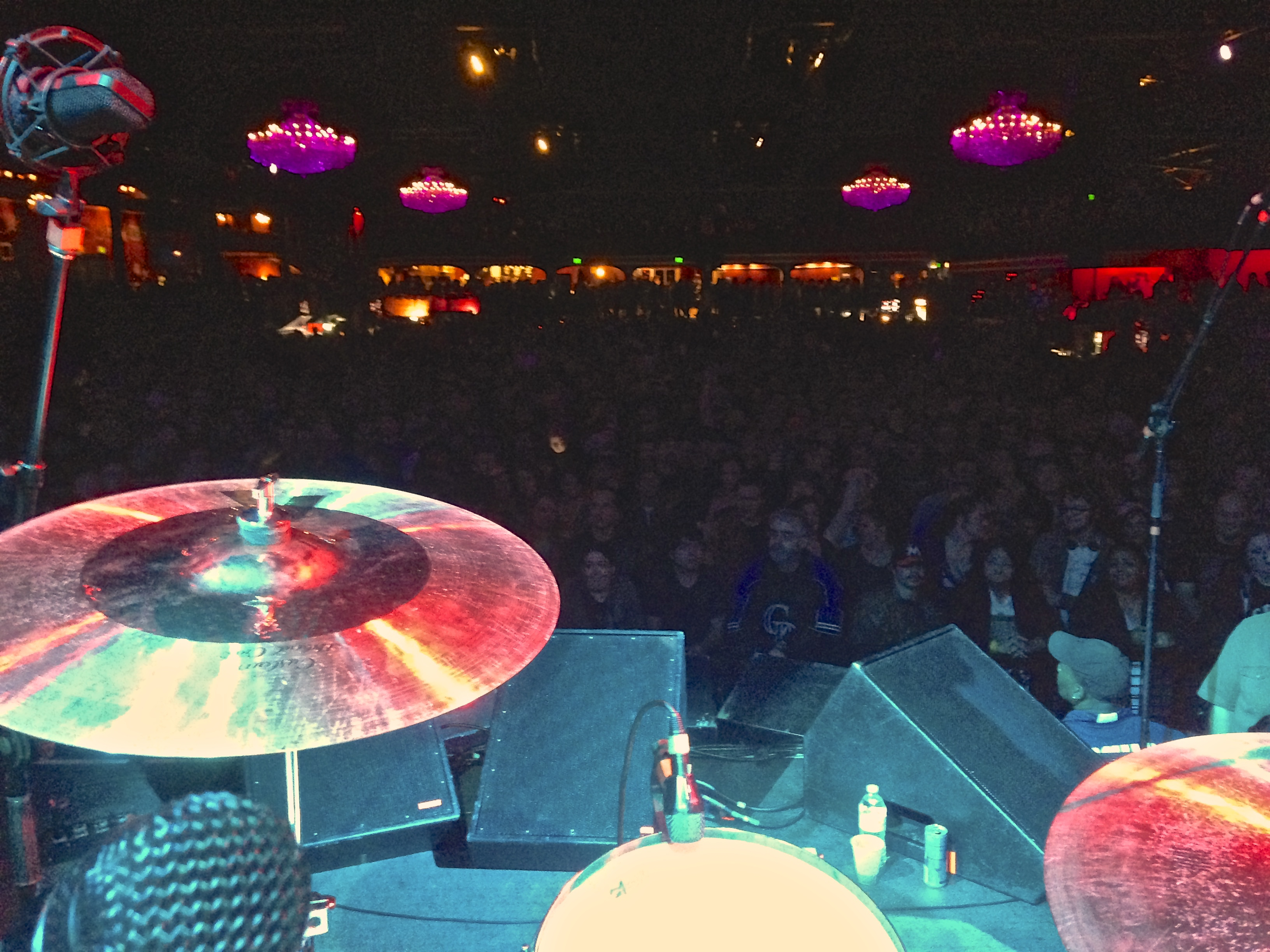 Dreamers in Oklahoma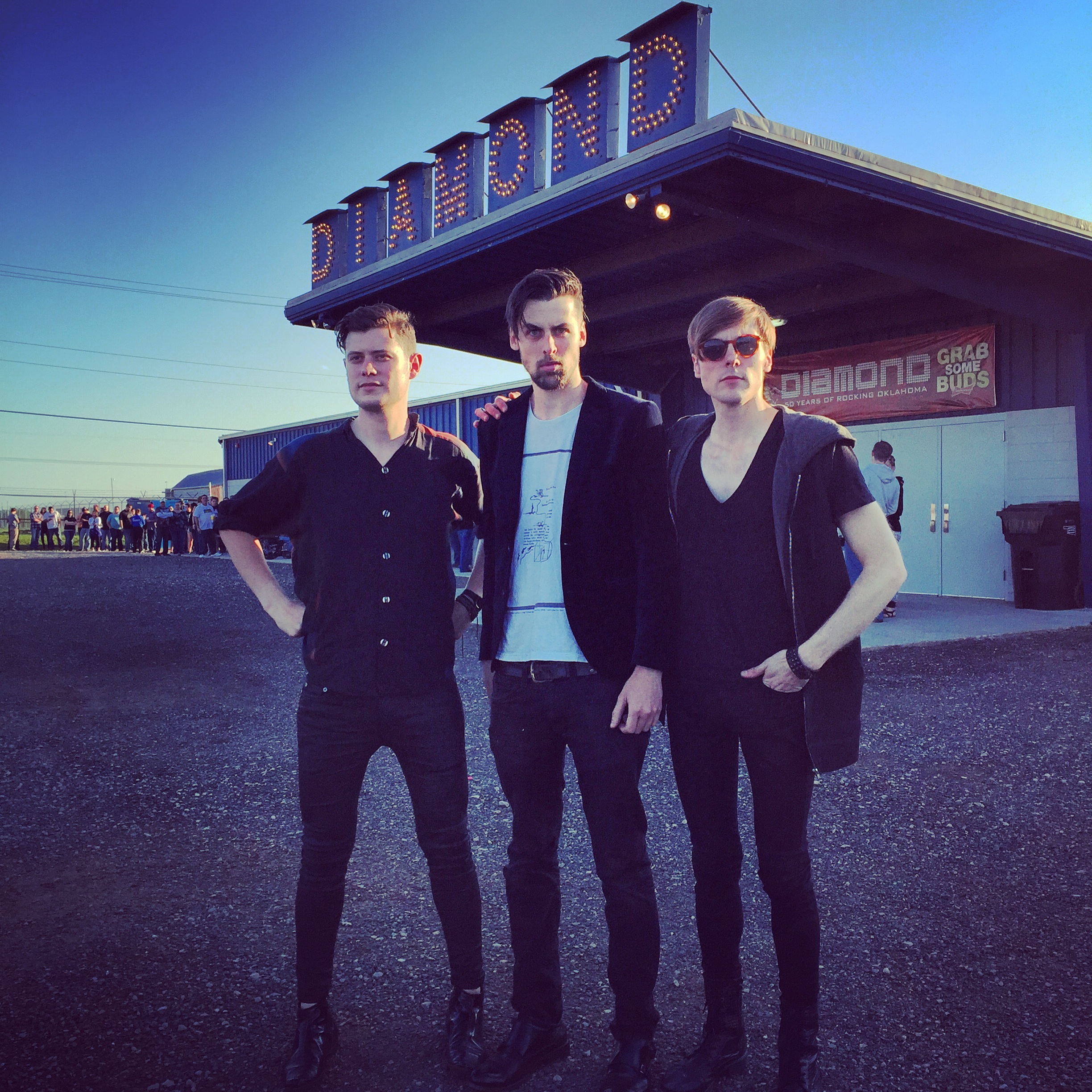 Dreamers in Philadelphia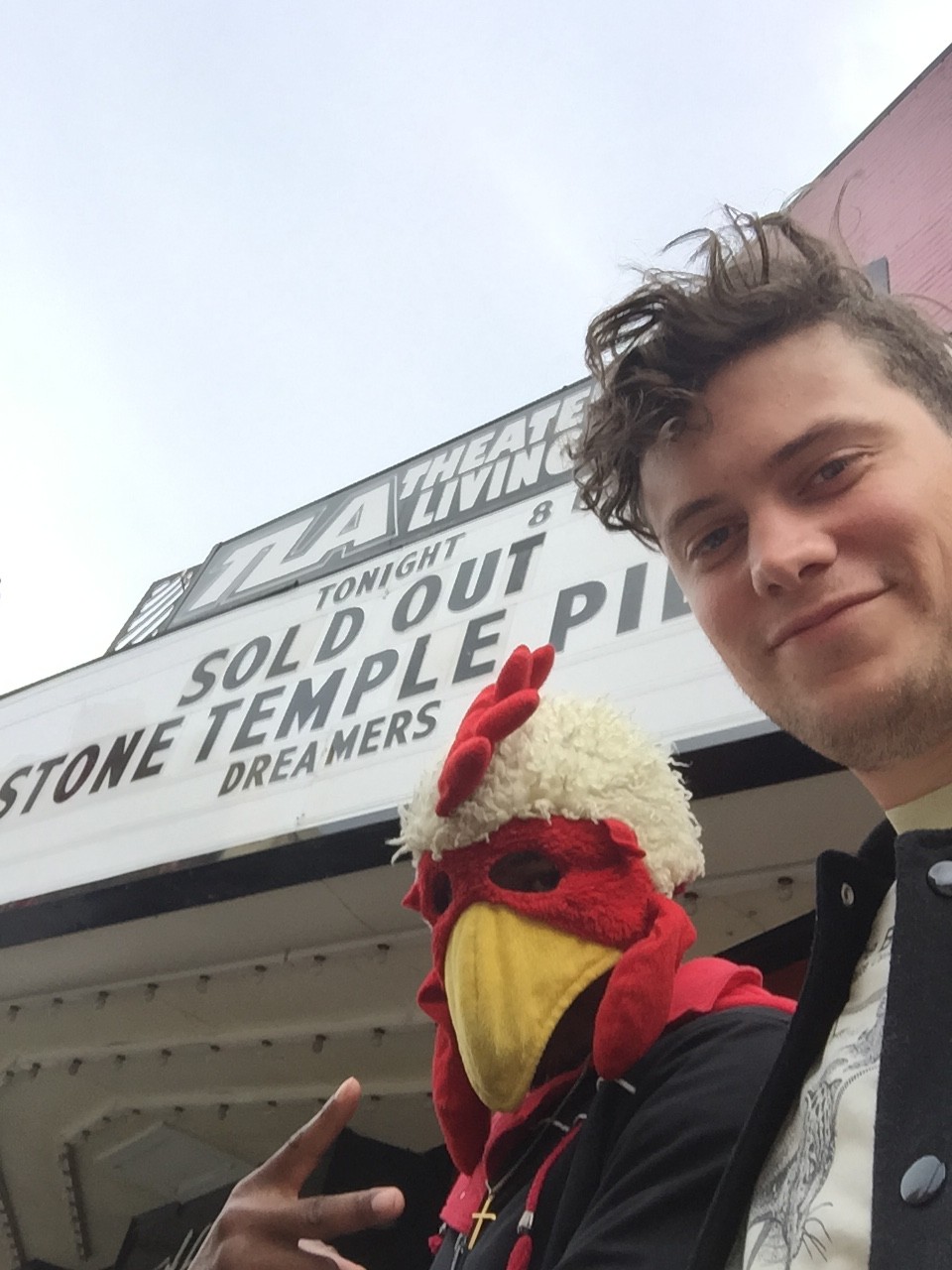 Dreamers take the stage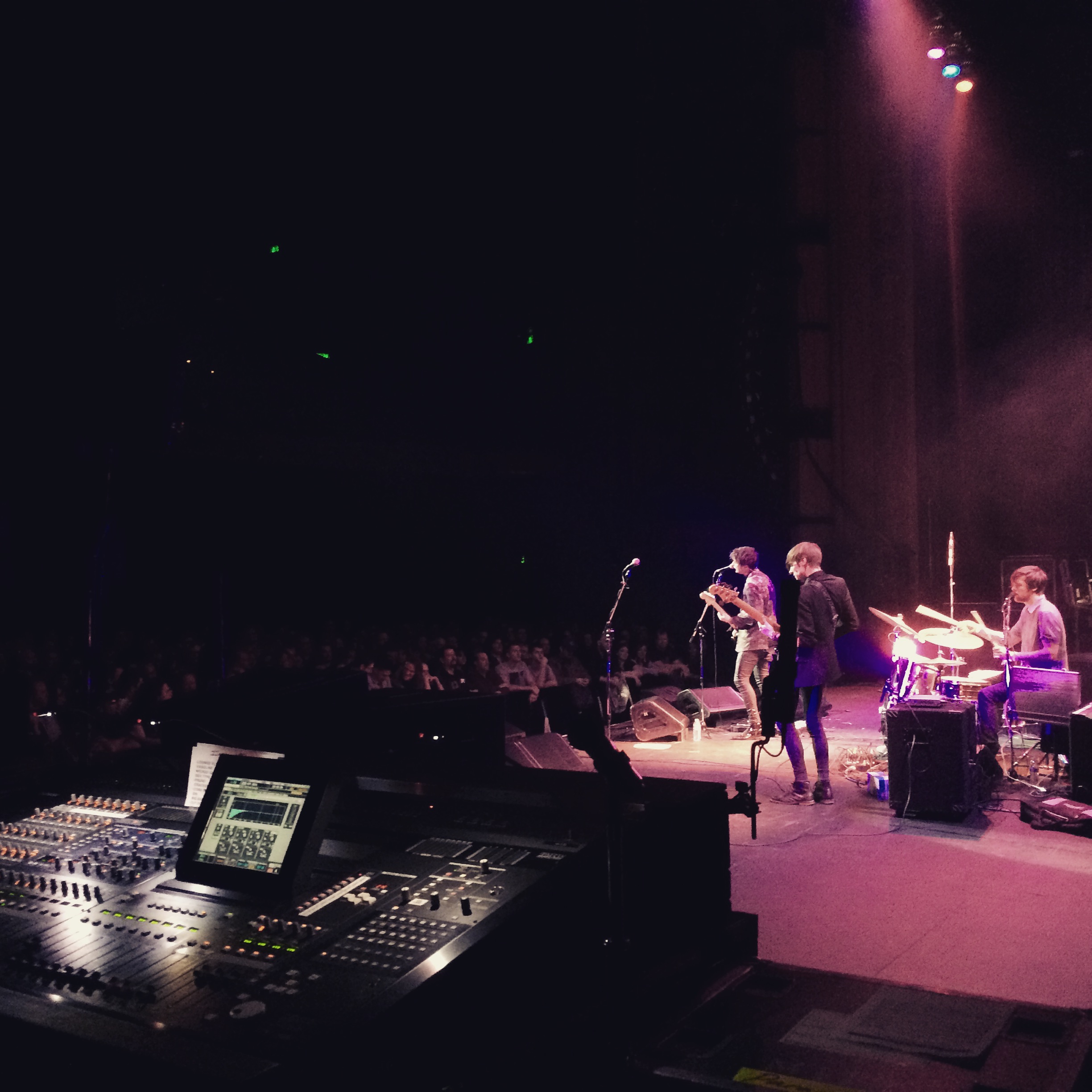 Dreamers in Texas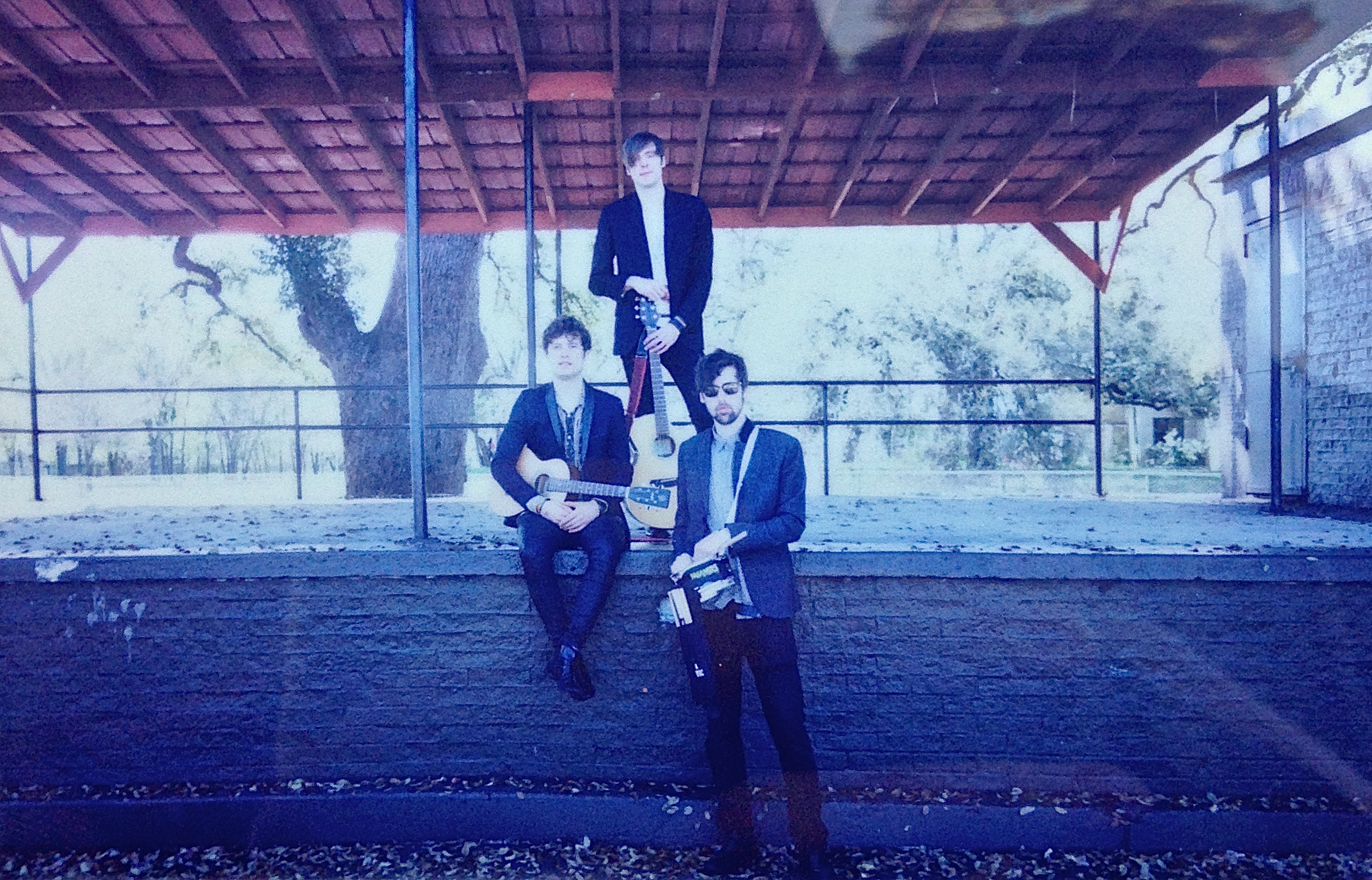 Sound check in West Palm Beach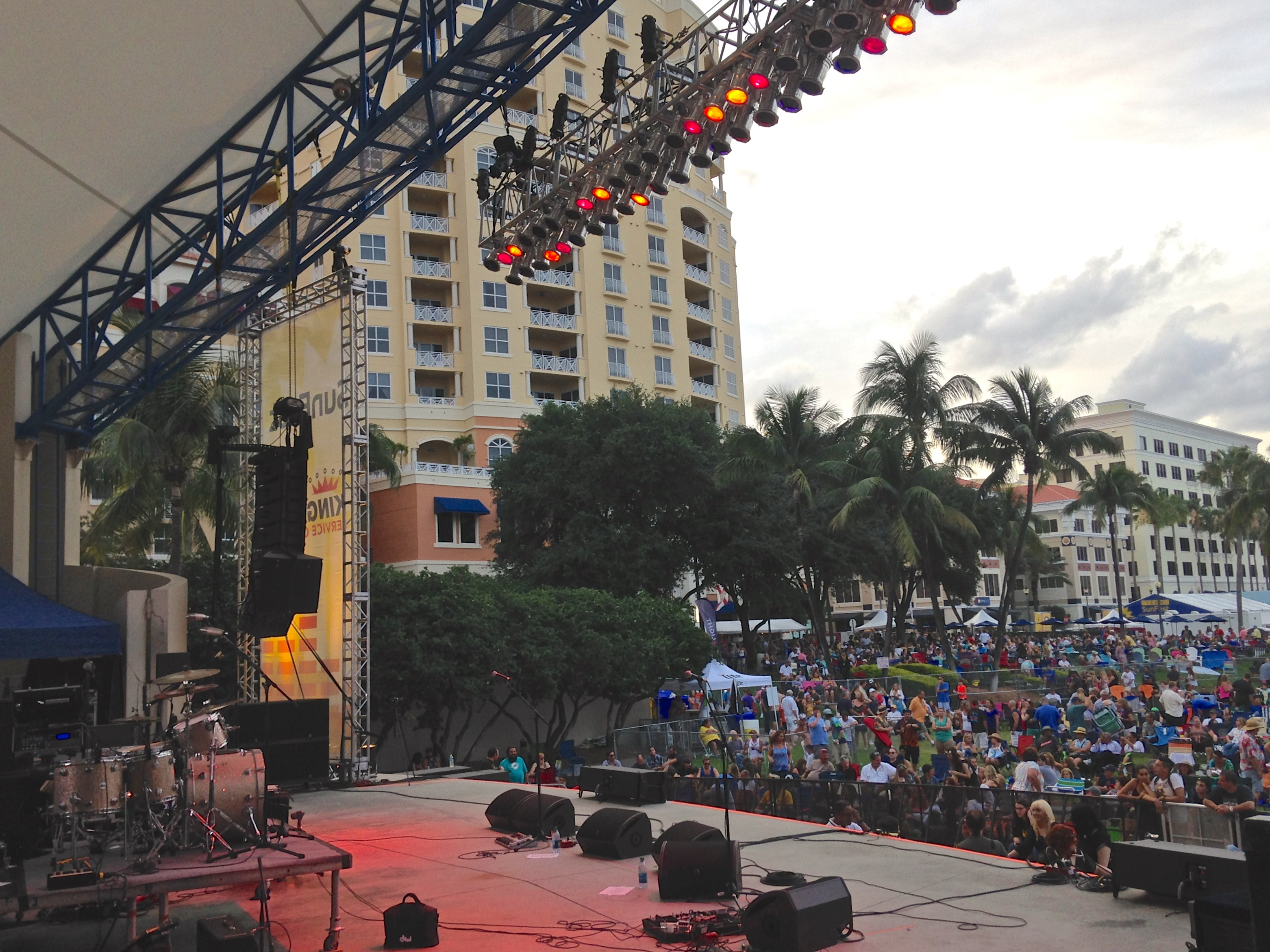 Dreamers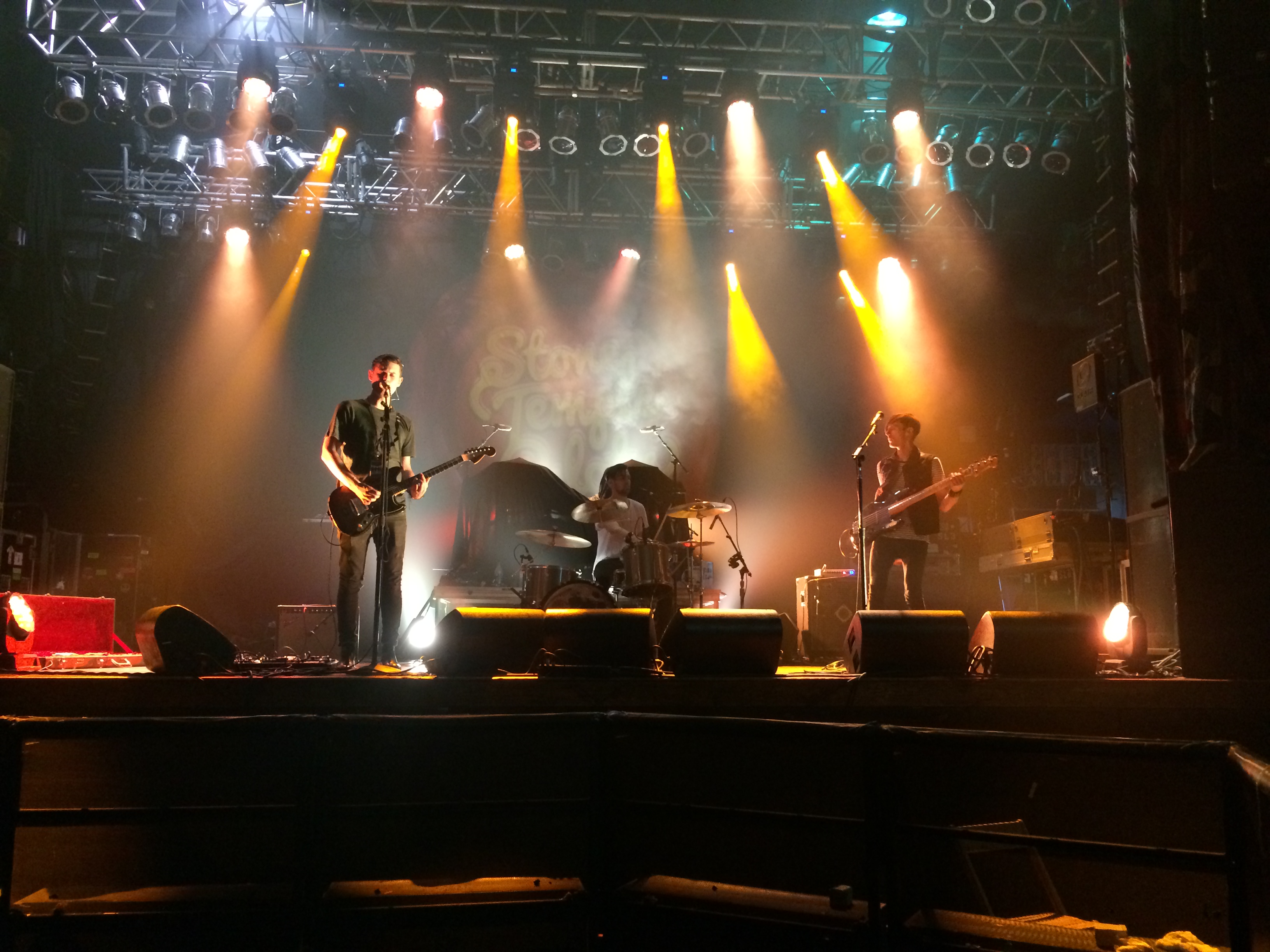 Nelson at the Aztec Theater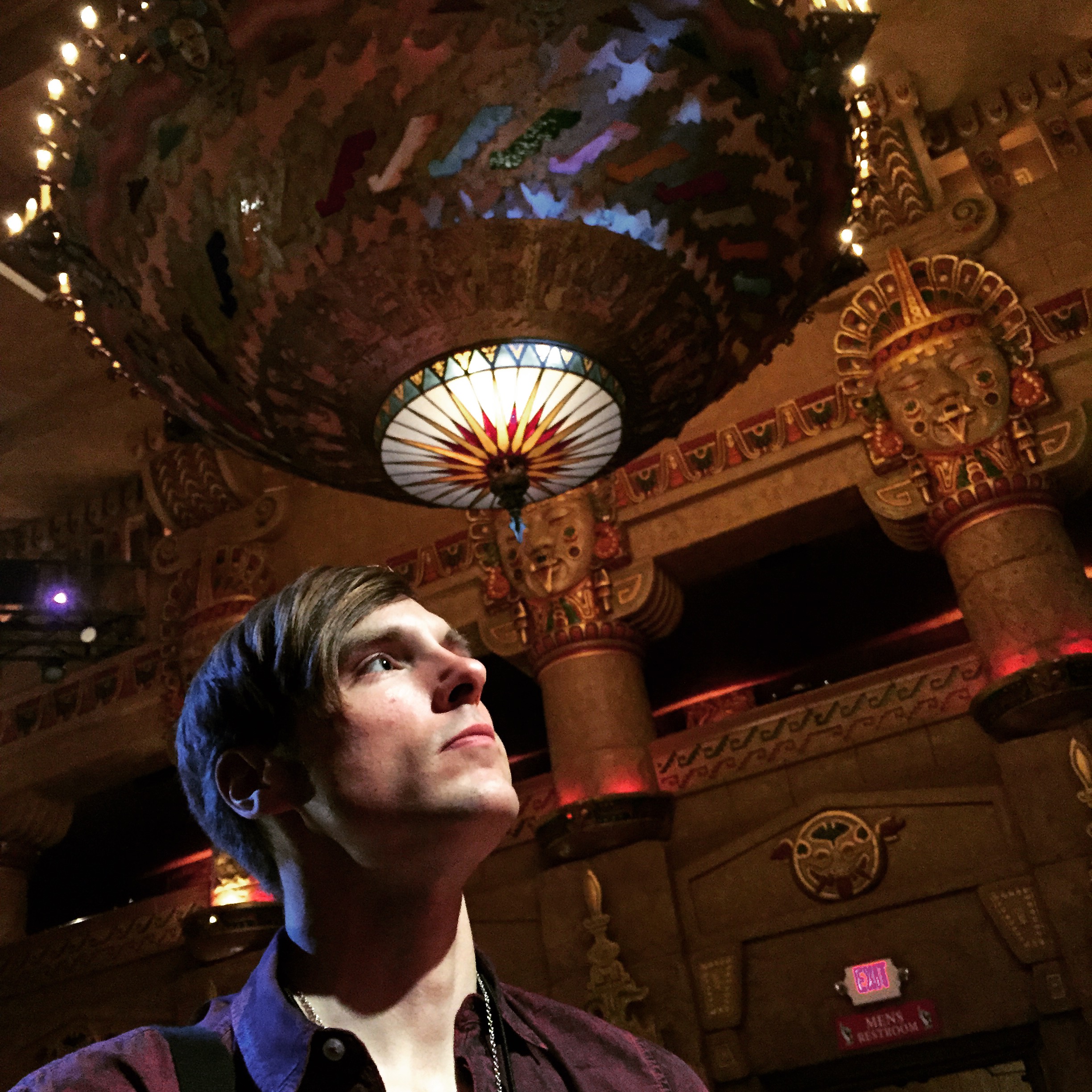 Nick and Nelson in New York City