When TIDAL rolled out a couple of weeks ago, it was met with some short-term excitement (Jay Z, Beyoncé, Rihanna, Madonna, Jack White, Deadmau5, and Kanye West congregating on the same stage? When it's not an award show?!). Following a somewhat vague, flashy rollout came some blank stares and question marks from the industry — "SERIOUSLY WHAT THE FUCK IS IT THO," tweeted New York Magazine music critic Lindsay Zoladz, probably referencing the new service's promise to "put the power back into the hands of musicians" without fully expanding on how they intended to do that.
Now that the service itself has been out for a bit — with a previously unheard of promise to offer FLAC/lossless audio for a monthly fee of $19.99 — has tossed out a couple of exclusive musical tidbits, courtesy of their super-famous shareholders: After giving her Facebook followers a sneak peek at her new song "Die With You," Beyoncé told them to visit TIDAL to watch the rest of the video. Later, TIDAL hosted the world premiere of Rihanna's new video for "American Oxygen." Obviously there's little doubt that TIDAL is well-connected, but it's worth asking: Is there anything behind the celebrity-fueled glitz? Can TIDAL fulfill its promise to change the streaming landscape, or is it just another cog in the already crowded streaming machine?
SPIN spoke to experts in the field — representatives from Google, YouTube, Rhapsody, Pandora, and more — to get their take on the situation.
What did you make of TIDAL's celebrity rollout?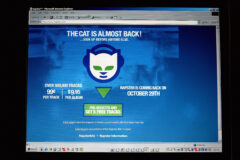 "The video was really compelling. The live stream, not totally. I could tell that they were all very impassioned about something, but there was so little detail about what the service or the product is or what the specifics of what it's doing in the market. That was the part where I was left with a little head-scratching. The big goal that they have about really making it about the artists and supporting artists — we are high-fiving them all day with that one." — Source familiar with Google Play
Do you think the streaming market is too crowded?
"We've been in this industry for 13 years and have seen many new players leave as quickly as they've entered. It's easy to want to be in the streaming music industry. But once you arrive, you realize how complicated it is to not only license 34+ million songs, but build a product that people want to use and pay for. That said, streaming music doesn't have a competition problem. It has an education problem. Along the way, consumers lost the connection to the value of music and that's the biggest threat to music today." — Ethan Rudin, CFO/head of label relations, Rhapsody
"That remains to be seen. In such a crowded marketplace it's critical to establish your own unique, stand-alone, web presence, like a website. Bands of all types are looking to stand out and be recognized, to foster community, fans and audiences. Their choice of marketplaces in which they market their music may vary, but the need for a website as a focal point for their unique brand is essential." — Eric Mason, Director of Strategic Marketing Communications, WixMusic
"The pie is growing, and that's the case for the Internet in general. When Hulu founder Jason Kilar was creating Hulu, he used to trash talk YouTube endlessly, saying 'Who wants this short-form amateur crap?' Everyone was like, 'Hulu is going to kill YouTube,' and none of those things happened. No one is going to kill anyone. The space is getting bigger. There's room for HBO and Netflix and all this long-form stuff. There's room for YouTube, and there's even room for Vine. [It's about finding] an audience." — Source familiar with YouTube
"We think all the activity in the space is really exciting. Clearly, businesses understand that consumers are looking for these types of services and want a breadth of content. We'll continue to watch TIDAL with great interest." — Tim Westergren, founder, Pandora
Does the average consumer care about higher quality audio?
"It's still early days. According to industry analyst Mark Mulligan, only a fifth of consumers consider high-quality audio an important part of music services and can actually tell the difference. That being said, there is an education issue around streaming music. We're at a moment when we need to reeducate consumers about the value of music and see offering a high-quality experience as one path to making some progress. If 16 influential and revenue-producing artists want to be in my business and are making it all paid for $19.99, I say go for it. It's a great message for consumers." — Rhapsody
"We believe 'lossless' streaming music will eventually be a feature of many music services, but it addresses a small audience as the difference in audio quality is imperceptible without a very expensive combination of speakers, audio equipment, and network bandwidth." — Rdio
"Quality is always important, but frankly the tolerance and demands for sound quality vary listener to listener and situation to situation. Listening on-the-go while commuting on a noisy subway is very different from listening in a quiet room or sound studio with an expensive set of over the ear headphones. Music fills rooms and spaces in very different ways so talking about 'quality' is really a moving target." — WixMusic

Does TIDAL offer a realistic way for musicians to earn more money from their recordings?
"Absolutely. What TIDAL is offering mirrors closely to the model that we first introduced in 2001. Rhapsody has always believed that subscription is the best model to ensure artists remain incentivized to continue to make great art. We expect to see even more experimentation over the next six to twelve months as the industry continues to consolidate." — Rhapsody
"At this point, it is unclear how the service's concept will affect the broader music industry and how it actually differs from other services in terms of how royalties are paid to labels, artists, composers, and publishers. At Rdio, we advocate for providing artists with more control over how and where their music is offered as well as for giving them a variety of opportunities to participate in and benefit from streaming." — Rdio
"The actual pricing structures and how much engagement TIDAL will ultimately garner will determine how effective that streaming and marketplace is for musicians. Every musician and band is different, and the channels they use and find effective for their unique marketing will vary widely."— WixMusic
"I think it has totally yet to be seen. It's a nice talking point, but we'll see if it's actually true. I think all we can say is, in our case, ad-supported revenue for all of our partners — and not just music — is growing 50 percent year after year. Watch time for YouTube is growing 50 percent year over year, and this is to the tune of hundreds of millions of hours of video per day. So I think if they're introducing a new model that will also bring artists even more money, and that's a part of growing the whole pie, then that's great. I think if they're trying to do it at the expense of other services, or launch their service just off the backs of these artists and not bring them more value then that's not what should be done." — Source familiar with YouTube