Welcome to SPIN's Singles Mix! The SPIN staff has rounded up their favorite, must-hear tracks for your personal playlists. Collecting the finest from French electronic enchantresses, club-ready British producers, Nirvana-referencing punk-rock scalawags and more, these are the songs you need to know right now.

Du Blonde feat. Samuel T. Herring, "Mind Is On My Mind"  (Mute)
It takes a promising act to secure a guest spot from Future Islands' gravel-voiced frontman — not that the artist formerly known as Beth Jeans Houghton, who appears nude on her upcoming album artwork, needs help getting noticed. Du Blonde lets her erratic octaves soar on this all-too-brief British post-punk banger from the upcoming Welcome Back to Milk, out May 19 via Mute. She's later joined by Herring himself, whose signature soulful grunt, leads "Mind Is On My Mind" to a shuddering finish. — RACHEL BRODSKY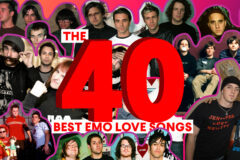 Lord Huron, "Fool for Love" (Play It Again Sam)
"I was born to lose / Cause I'm a fool for love" hiccups Ben Schneider over the most tuneful alt-country racket of the Head and the Heart era. His jittered voice matches the jumpy rhythm in a way that suggests hip-swiveling Elvis Presley like no other indie band in some time, and the lyrics aren't hard to picture coming out of that peanut-butter-and-banana breath either. — DAN WEISS

Marie Davidson, "Insomnie" (Holodeck Records)
Too little do we hear from women in the indie electronic scene, but Montreal's Marie Davidson does her part to shatter the glass ceiling with this darkwave-tinged, French-sung track. Sliding into the senses with noir synths and chilling keys, Davidson's "Insomnie" will no doubt instigate exactly that. Listen to this one with the lights on. — RACHEL BRODSKY

SBTRKT, "Roulette" (Young Turks) 
The British producer's been on a weirdly productive SoundCloud hot streak this week, churning out entirely instrumental singles just half a year after the release of his teeth-gnashingly throbbing sophomore LP Wonder Where We Land. "Roulette" is the best of the bunch, a grab bag of sounds sewn together with messy edges and harmless-but-suspenseful dips and dodges. It's a club track, yes, but mostly as a pre-dawn game-changer. — BRENNAN CARLEY 
Tanlines, "Invisible Ways" (True Panther Sounds)
The melancholic strain that ran through the otherwise ecstatic dance-pop of earlier Tanlines jams "All of Me" and "Real Life" now gets put front and center for their dolorous new single "Invisible Ways," the latest transmission from their upcoming sophomore album Highlights. Gorgeous country-twanged guitars and reverbed tambourine rain on singer Eric Emm as he moans "And it's all the same to me / It's just important you see / That I've given you everything," losing all vocal conviction by the time he gets to the lushly sympathetic chorus. Not exactly the jump-start to summer festival season we'd tend to expect from the Brooklyn duo, but impressively affecting nonetheless. —ANDREW UNTERBERGER

Tei Shi, "Go Slow" (Mermaid Ave/Mom & Pop)
Sensual R&B/electro songstress Tei Shi has dropped the new and addictive "Go Slow" in anticipation for her new EP, Verde, out on April 14. Showcasing her celestial vocals, the new track is spacious and packed with overwhelming harmonies against electronic syncopation. The Brooklynite's delivery is whimsical and romantic ("Go slow/ Baby, won't you reach out to me?") — rather like electronic glitter. — MARGARET FARRELL

Turnover, "New Scream" (Run For Cover Records)
Virginia's Turnover have a lot to mull over in this pained '80s synth-rock throwback. This is pop melancholia at its finest: Jingly Smiths-sounding guitar-work, troubled Sunny Day Real Estate-vocals, and a sweet-natured, bouncy, Pains of Being Pure at Heart tempo carry "New Scream" along, before it halts to a sighing close. — R.B.

 Warm Soda, "I Wanna Go Fast" (Castle Face)
It's hard to avoid a musician's public reputation when listening to their music, and sometimes, you want to listen to Ariel Pink without thinking about how questionable his views about women are. Voila! Warm Soda's new single is lo-fi, buzzing and humming with the familiarity of early Strokes. It's the sort of record you'd play at beach blanket bingo,  zipping by like the breeze that carries it. — B.C.

The Weaks, "Frances Quinlan Will Have Her Revenge on Philadelphia" (Lame-O Records)
The Weaks appear to have anointed a patron saint to their hometown — for those not in the know, Frances Quinlan is the singer in fellow Philly band Hop Along. Referencing Nirvana's In Utero tune, "Frances" starts characteristically angry and sardonic, but moves to a more genuine and concerned warning: "Who's going to pull your weight if I leave you behind? / Please stay with me." Their debut record, Bad Year, drops on April 7 via local D.I.Y. label Lame-O Records. — CONNOR O'BRIEN