On March 19, 1985, the first issue of SPIN hit newsstands. To celebrate our 30th anniversary, we're revisiting a handful of records that the staff has previously awarded "Album of the Year," a distinction the magazine started giving out in 1990. 
In 1997, British-Asian iconoclasts Cornershop were the transcontinental sonic melting pot for nearly every genre that bewitched the U.S. and U.K. undergrounds in the mid-'90s. The group's breakthrough album, When I Was Born for the 7th Time, stirred indie rock, Britpop, hip-hop, trip-hop, big beat, Dust Brothers sampledelia, and Stereolab-orious retro-lounge — as well as less-timely touchstones like country, folk, easy listening, and (of course) the classic Indi-pop of their home country — into an impossibly rich musical stew. It was simultaneously retro, futuristic and quintessentially current, and represented a kind of ideal of Buzz Bin-era cross-pollination and general feeling of inclusiveness.
Of course, ask anyone today about the most important music from 1997, and the first thing they'll mention will almost certainly be Radiohead. At the time, Born achieved critical and commercial success roughly equivalent to OK Computer, finishing just one spot behind it in the year-end Pazz & Jop poll and spawning a hit single ("Brimful of Asha," which eventually topped the U.K. charts after being reincarnated by Fatboy Slim) that was arguably bigger than any Radiohead single of the period. But the time-stamped eclecticism of 7th Time may have ultimately come to hurt it, as the memory of Cornershop's album has been somewhat frozen in the era of the Spice Girls and Oasis' Be Here Now, while Radiohead's masterpiece continues to grow in public estimation.
We spoke with frontman Tjinder Singh about Cornershop being a band for their time, how he sees them as being in opposition to the likes of Thom Yorke and Co., and why he thinks 7th Time is only the group's third-best album.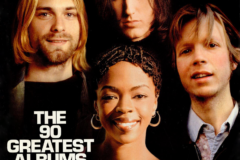 Let me start by asking, do you remember getting the number one album from SPIN back in 1997?
Yes, yes. We were over in America quite a lot at that time.
Do you remember any top-five albums at the time that it beat?
Radiohead.
Yeah, OK Computer was a big one. You guys also beat out Sleater Kinney's Dig Me Out, Björk's Homogenic, and Bob Dylan's Time Out of Mind. So was that sort of stuff important to you back then, getting those kind of critical hosannas?
Yes, it was, because we then started getting them back in England after that, and at that time things were just moving up and up, and the recording was going well and the touring was going well. And then when the album came out, that was going very well as well. It was all rather positive at the time as I recall.
So what was more exciting to you and the rest of the band, getting the number-one album in a publication like SPIN or somewhere else or having a song like "Brimful of Asha" go to No. 1 on the U.K. charts?
I think SPIN was probably more important to us because it just represented a bit more, and we've never really cared for the charts. Also, it put focus on the whole album, and that's the thing — it was doing very well as an album, and then all of sudden "Brimful" went off and sort of overshadowed its other songs. Which was unfortunate for us because we were doing quite well and that sort of took a bit of the shine off that.
Which did you find more surprising, the album's critical or commercial success?
Personally, I don't find either of them surprising. Obviously, they go hand in hand. For us, I think getting further in that list than Radiohead was a very good thing for us. That's probably the one we were happy to have beaten, because in a way we've always seen them as part of what the music industry already stood for, and we still do, whatever novelty things that they reel out. And they do reel them out.
Were you guys fans of OK Computer?
No.
What about it did you not like?
Well, in a way, it's a bit parallel with what Pink Floyd did. In America, people thought that Pink Floyd were very normal sort of kids but in England, they were quite posh, and the success was going to come to them whoever was the lead singer, and whatever they did. And the documentaries on them were going to carry on and make sure that whatever happened in the future, it would bolster them up and they would be a legacy there. We saw groups like Radiohead as part of that, and certainly there's a sort of class element to that, and we were the antithesis to that. There was a lot of politics to it, and that all fed into how we worked within the industry and how we went about our things.
What were you guys listening to back in those days?
We were big record collectors, especially in America, because we were digging all the time. I think there was a lot of Premiere Symptoms — early Air stuff, we loved. Daft Punk, definitely loved at that time. Dan the Automator, Kool Keith. And then there was just a whole heap of old stuff, old funk and Stax. I think that in terms of the old stuff, we were listening to everything that the people weren't listening to. But that was a good thing because there was so much variety going on. And that was another good thing about the mid-to-late '90s, because you could just get away with doing whatever you wanted, and I think in the start of the century that sort of went, and started to go back to the basics of boy bands.
https://youtube.com/watch?v=afjKpY9G4ps%3Flist%3DPLRlMa9jTByeCuef1_7l-nzErLLC0bL0ct
Was there anything that you were listening to that influenced the eclecticism of When I Was Born for the 7th Time, that showed you guys that this is a cool way to structure an album, to weave in instrumentals and sing songs in different languages?
I honestly don't think there was. We really just went for whatever we went for in an idea of a song, and then moved onto something else. We didn't think about it, and if we did, I don't think we would have got something like "Good To Be On The Road" next to something like "Candyman." But it was a very great time for us. We would give the CD of a track that was done and we'd play it in the office and it would get a standing ovation. That's the sort of stuff that inspires you to just carry on. And in a way I think that sort of variety held us in good state in the '90s, but has taken a bit of the shine off of us as the years have gone on. Even though people are starting now to come back to us.
Do you remember getting much blowback from the punk or indie community because the album had such a diverse and expansive sound?
No, as I said, we sort of came from the riot grrl sort of background, and we got absolute support for what we did. We've really got a lot of support from lots of different factions. It was at that time that Asians started to get more into what we were doing, because it wasn't done before. A few years before that no one would have latched on, Asians wouldn't have latched on, to what what we were doing. It was a bit too out there for them. That's why we were very pleased that SPIN had the bottle to go out there and do something different, and so it is one of the things that we certainly remember.
What was meeting Allen Ginsberg [who provides guest vocals on "When the Light Appears Boy"] like?
It was wonderful. We were very, very lucky because he was frail. But we walked in and there was a Beatles Anthology going on… actually, no it was a talk that he had done with Paul McCartney. His flat was very modest but just packed wall-to-wall with books and posters. He was very down to earth. We had a cup of tea in the kitchen and we recorded onto a cassette player. It was all creaks and hiss and it was as close as we could get to how he would have recorded in the past. He was very lovely, very giving, and very kind.
And you actually got the approval of Yoko Ono and Paul McCartney to do a cover or "Norwegian Wood"?
Yes. We did. That was quite nerve-wracking because to change [the song] to that extent you need to get the permission. Luckily, we met Sean [Lennon] in New York and he  would have helped out as well, in speaking to Yoko. But yeah we did, and that was quite tense. It was very good of them to oblige.
Did you think at the time that there was gonna be a follow-up to "Brimful" off 7th Time that took off the way that "Brimful" did?
Well, we would have hoped so. But you see, "Brimful" was so big. It was a bit too much for other things to compete with. We had "Good Shit" beforehand, and maybe if we'd held "Good Shit" it would held us in better state after "Brimful." But "Sleep on the Left Side," it did okay in England. You listen to it, and to me, it still strikes something to me quite big. Especially with Dan [the Automator]'s beats it has basically not aged a lot. Then with the next album, we certainly thought that it was criminal that "Lessons Learned" didn't make No. 1 — and we're still hoping that that's gonna do it.
In retrospect, if you had the opportunity to to switch the success that "Brimful" had with a different song on album, would you do that? Or are you comfortable with "Brimful" being the standard-bearer for 7th Time?
You know, I probably am. There's a lot of reasons for that, because if there is ever a song that represents us, it's that song. Especially on the album version, because the album version is just a great version. But the reasons why I'm saying that it represents us as a group is it's all about vinyl. It's all about politics. It's all about pushing against the governments. It's all about not taking what governments will give us. It's got references to French music. It's got references to Hindi music. It's got a whole heap of everything in there. There isn't really a better song that could represent what we were doing so expansively. With the politics and with the record collection, it's pretty much what we were all about and that's good enough for us.
Were you guys happy with what Fatboy Slim did with it?
Yes we were. As soon as we heard it, we knew that it was going to be big. We loved it. I loved both versions. I've got a lot of fondness for the original, especially when it comes to the album because, you know, when it first came out as well, it did quite well on its own. John Peel's Festive 50 listed [the original] as number one. It was the version that was used on Friends. There's a lot of different elements [to the remix] and yet there's loads of elements of the original  version.
This is another reason why I like [the original] — people didn't understand it. Also, the instrumentation of the album version is very weird with the strings coming in for a few seconds with a breakdown where there shouldn't be a breakdown and then the middle part just takes it somewhere else. It's a very obscure track and I think it was quite a brave song and then the album was pretty brave as well.
It's been a fun song to kind of go back to as I grow up and I understand more of the references as I go, but I'm still finding out new things about it, even just preparing for this interview.
Well, this is it. This is why it's such a great song for us… it's very complicated, just the journey of the track. Also, the record labels that were represented, like Argo records, which we sort of know more for its field music, but then there is also artists like Etta James. And then there's Trojan Records with Lee Perry and what have you. It mentions vinyl. It mentions RPM. It also mentions labels that we respect.
So yeah, there's a lot to turn over in that song and it will take a long time to do it. It's what makes it interesting. And I think the album also does that as a whole cause, because it's full of references that people wouldn't necessarily know.
Was there a lot of pressure to follow up the album, either external or internal, that weighed on you guys in the five years in between When I was Born and 2002's Handcream For a Generation?
Well, we then went on to do a Clinton album, so we sort of took pressure off ourselves with that. But the only pressure that was put on us was our own and we knew that we had to do a lot to put out an album that was going to stand next to that one. And I think we did it. Handcream for a Generation for me was better, and I actually think [2008's] Judy Sucks a Lemon is even better than that. I think Handcream was just a bit of a step up in terms of the whole production side of things, but the variety was there. I think people had moved on in terms of what they were doing with music. As I was saying, the record companies had certainly moved on to different things.
So you think it was just bad timing that befell those two albums?
Well, I think bad timing befell Handcream. Starting off with Otis Clay and ending with "Heavy Soup," and then in between totally going wherever we wanted to go — if that's reggae, or even stuff like "Wogs Will Walk"… that's about cassette music, and that's also about terrorism, and that's also about checking the borders, and that's also about living and different communities. People don't write those songs. When it came to this new century people went back to a boy meets a girl in a car park. We've not really moved away from that, but that's the industry and so be it. You know, I like country music, I don't mind that sort of stuff, but yeah, a "Give me a truck" song — come on.
And you guys are about to re-release your first album [Hold On It Hurts] in a disco style?
It's not disco, it's big band. Easy-listening. Easy-listening is something we've always liked, whether it's the more funky stuff like Johnny Harris or a more percussive, orchestral thing. We've always thought that that would be a good thing to do. Whilst we've been doing the albums, we've talked about horn musicians. And certainly with the first album we thought the songs were there but the recording was really not very good. The execution of the recording was pretty bad and I think that's also why as a group it's sort of worked because it's always changed. It's never really stayed the same. It's always lived. We've lived. The songs have lived.
I certainly didn't envision it in an easy-listening style. It's something that could be done now and so it has been done. We're quite happy because the melodies that were there, regardless of anything else, do stand out. We've had it for quite a bit, so we're not really pushing it the way we would a normal Cornershop album, but it's gotten quite a nice response.
Would you ever think of re-recording anything off of 7th Time?
Yes! Yeah. There is a stylophone version of "Brimful" out there somewhere. But yeah, I don't think it's a bad thing nowadays, to do that, to give it more life, and also to have more ownership of it.