Even though it's been close to a month since Kendrick Lamar released his dense, jazzy opus of a third album, To Pimp a Butterfly, currently a frontrunner for album of the year, the record remains exceedingly fresh after repeated listens. New discoveries can be made on each and every pass — whether it's a specific meaning gleaned from one of Kendrick's countless knotty verses, or a production flourish that proves to be deceptively complex. If anyone, outside of Kendrick himself, can be credited with forging the album's direction, it's the Los Angeles-based producer Sounwave, a.k.a. Mark Spears, who has been Top Dawg Entertainment's exclusive in-house producer for the better part of a decade.
He's been responsible for making some of the label's most memorable beats, including ScHoolboy Q's "There He Go," Ab-Soul's "Soulo Ho3," and, of course, Lamar's "Bitch Don't Kill My Vibe," and has been present since work on Butterfly first began in 2012. His talents are in demand from artists outside of his circle, but he remains steadfast in his loyalty, or as Spears says, "I'm in a great place right now. Everyone at TDE keeps me busy. Some other folks have reached out, but I gotta make sure everybody here is straight first."
And in addition to producing, Spears has also taken on an A&R role, vetting a slew of collaborators to work with Lamar, and functioning as the veritable gatekeeper/master curator responsible for keeping the script straight on all of the different drafts and versions of the finished tracks that appeared on Lamar's third studio album, on which he boasts production credits for nine of the 16 songs. Via phone, Spears walked SPIN through some of his favorite moments on the record, discussing the intricacies, patience, and unexpected moments of brilliance that go into making a soon-to-be classic.
"King Kunta" (Produced by Sounwave, Terrace Martin)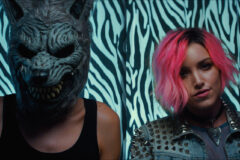 Spears: We were listening to a whole lot of Parliament on the tour bus, and you would have thought it was a tour bus for someone over the age of 55. The original version of "King Kunta," a lot of people don't know this, but it was like the jazziest record in the world. Me, I was like, "This is it! We got it right here." Me and Kendrick, we always work very hands on together, and this track, I just knew it. And I was waiting for his reaction as he was listening to it, thinking, "Yes, this is it." And he's like, "It's cool… but… I want it a little more nasty." And I was like, "What are you talking about? This is like the most beautiful thing I've ever made." And he was like, "Just, trust me on this. Simplify it."
I ended up stripping a bunch of stuff off; I took all ten guitars off, and it just left one little bass line, and once I did that, I understood 100 percent exactly where he wanted to go with it. He's a genius, he really should have got credit on it, but he was being modest — as long as the art was there, he was happy. A lot of people will never hear the original but it was, like, the jazziest record in the world. And it ended up being one of the nastiest records in the world.
"Alright" (Produced by Pharrell, Sounwave)

https://youtube.com/watch?v=Z938ya2fbPo

That beat… I don't think Pharrell was even going to play it for us, but one of his close friends, [who is also] of our close friends who set up the session, was like, "Pharrell, you gotta play them that beat." And he played it for Kendrick, and it was there, but it was not all there, vibe-wise, so that was my job to layer in the drums, get Terrace [Martin] to throw some sax riffs on it, and make it us. It's a completely different song than the original…you'd understand if you were able to compare them, but that's probably never gonna happen. You just have to have your ears open for every little sound that has potential.
Would you ever release the alternate versions of the beats on this album, or are they locked up for good?
You never know, I just might. I might do a whole project like that, I might not. It might be locked in a vault.
What's it like when you bring in outside collaborators to work with Kendrick?
Kendrick really trusts my ear. If I present somebody to him, he's really going to respect that and give it 100 percent attention because of how much respect he has for me. Everything that I did pick out, I knew it would fit Kendrick perfectly. Whether it's a singer, production… but if things I do pick out aren't 100 percent there with the vibe he's at, that's where I come in and have the instinct to tailor fit and steer the sound in the direction we're driving for.
"Hood Politics," (Produced by Tae Beast, Sounwave, Thundercat)

https://youtube.com/watch?v=xaB2g_eF6T8

The beat was from Tae Beast [of Sounwave's Digi+Phonics producer crew]. He sent me a batch of beats, but that one, I just heard something in it. It was super early in the process, so it was just a little riff. But, we go through so many different phases making the album, we didn't revisit that beat until the last leg, and Kendrick started mumbling the hook — "It's been A-1 since day one, you niggas boo boo"— I was like, "Yo, that's it! Record that in your phone! Do not lose that hook!" He started laying scratches to the beat, then Terrace and I got together and started adding inserts to it.
"For Sale (Interlude)" (Produced by Taz Arnold, Sounwave, Terrace Martin)

https://youtube.com/watch?v=REDMPXa4hVQ

This is my favorite song on the album, but it changes every week. [Laughs.] Taz Arnold, he's another amazing producer who we just vibed out with in the studio. We went to his studio and took so many of his amazing records. At one point, we had way too many of his records, and every song we were making started to sound like "For Sale," and we thought, "We can't go this route all the way." He's an amazing producer, I don't know why a lot of people don't know about him.
As for "For Sale (Interlude)," it's my favorite song because no one else would do a song like that. Kendrick's talking about the devil, he's talking about selling his soul, he's fighting it; it just feels like this roller coaster of these great, mad emotions, and it was executed perfectly. The whole thing was originally a Flying Lotus track that Kendrick made his lyrics to, but we lifted so many of his things for the album, by the time we got back to this track, the sound was changing.
"Complexion (A Zulu Love)" feat. Rhapsody (Produced by Thundercat, Sounwave, Terrace Martin, Antydote)

https://youtube.com/watch?v=AH6qPuPSZHU

Thundercat came up with the skeleton for the track, definitely. We enhanced it of course, like we did to the other tracks, adding some drum layers here and there, and the last part was really me, and Terrace Martin on the bass, but the whole original part of the song was all Thundercat.
How did you guys hook up with Thundercat, and what did he bring to the studio?
I was always a fan of Thundercat. But, we had no contact really. I'm not big on social media. But of course, Thundercat and Flying Lotus work closely together. And Flying Lotus was on the Yeezus tour with us, and when the Yeezus tour came to L.A., FlyLo walked Thundercat back stage and introduced him to everybody, and he was like, "I want you guys to link up, I want you guys to make records together." We've known him, we've heard his music, but his vibe was something that draws you to him. He had everyone laughing back stage, and we were just like, "Yo, come to the studio, we need your energy around us."
And, to top that off, once he picked up a bass, everyone was like, super open, saying, "What is this instrument you are playing right now? This is amazing. This is exactly what we were looking for." But you just add that to his good vibes, his energy, making everyone laugh, we vibe off that energy, and now he's family.
"Mortal Man" (Produced by Sounwave)

https://youtube.com/watch?v=kmfWA3SdNpA

When you've been around somebody so much, you kind of understand what they like. So, for that track, I made it so I felt like every single chord change would connect with Kendrick. But at first, I gave him a drum loop by itself, because we were just working, and he needed something to work off of. But then I got with Thundercat, and he's a guy like, before you even say the thought you have in your mind, he will be playing it. I've never been able to connect with another producer like that. So we worked closely together on "Mortal Man" together and the rest was history.
Going into the Tupac part, that was literally the last thing we did for the album. Me, Terrace Martin, Thundercat, and a couple of other amazing musicians I'm having trouble recalling, we needed to score this amazing movie to close out the album. That's all of us taking turns, trading notes, changing different things, adding string sections, all these things to get the sound. We ended up putting together a jam session that produced two hours of stuff, that allowed me to take bits and pieces and fit it together, and really make it like a score-type movement.
Who dug up the Tupac interview that Kendrick used?
That interview was actually done in, I want to say Germany or far out some country like that [Ed. Note: The interview was performed by the Swedish radio station P3 in 1994]. It was a big fan of Kendrick's who reached out and was like, "Yo, I got this interview with Tupac, and no one has ever heard it before. I want you to listen to it." We listened to it and were like, "Yo, we can we use this for the album?" The dude, I guess he respected Kendrick so much, was just like "Take it, whatever you need from me, just go for it."
I remember the first time I heard [the version where Kendrick interviews Tupac], he just surprised me with it. He was like, "Yo, go check your email." And I was like, "Okay, it's the Tupac interview." But I heard it just like the world heard it. Hearing it for the first time, I got the same feeling like, "Yo, I don't know what you just did, but I have chills where I didn't even know I could have chills." [Laughs.]
I guess he wanted to test it out on us. He respected our opinions so he just gave everyone a surprise in their email and [waited] for our reactions. I think it was just something he really really, wanted to do. That was just him, no engineer work or anything. That was Kendrick, on his computer, chopping it up, knowing the questions he wanted to ask — that's how hands-on he is.