Welcome to SPIN's Singles Mix! SPIN staffers have rounded up their favorite, must-hear tracks for your personal playlists. Collecting the finest from knee-slapping electronic duos, droning hardcore heroes, Bay Area garage-rock lords, and more, these are the songs you need to know right now.

AraabMuzik, "Day Dreams" (AraabMuzik Label Group/Distrolord Digital)
The self-proclaimed "MVP of the MPC" buries the lead on "Day Dreams," which opens with a woman's slinky vibrato before segueing into his trademark "You are now listening to AraabMuzik" tag. It's suitably hazy escapism in the form of a noir-ish Eurohouse melody, over the former Dipset producer's ribcage-trembling stutter beats, topping a '90s techno breakdown with sprinkles of synthesized fairy dust. Compared to AraabMuzik's hard-hitting For Professional Use Only mixtapes, the first listen off the second of his Dream-themed LPs is a pleasure cruise. — HARLEY BROWN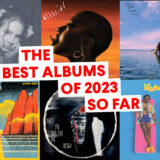 Galantis, "Peanut Butter Jelly" (Atlantic Records)
The computers have finally risen to power: The entirely robotized singing on Galantis' goofy new single "Peanut Butter Jelly" is the only way such outlandish lyrics could've made the EDM anthem soar. The track's a bit of a "Barbra Streisand" descendant, sticking to a core phrase (and then some) and building a synthetic string-driven melody around that concept. We should've seen it coming with Daft Punk, but if this is where electronic music's headed, we'll start polishing our helmets now. — BRENNAN CARLEY

Father John Misty, "Never Been a Woman" (Sub Pop)
Coming from his Record Store Day exclusive heart-shaped single, Father John Misty's "Never Been a Woman" paints him not as an indie shaman or slick lothario, but as a loping country singer. Using the absurdly obvious song title to confront his wandering eye, Father John expresses a loneliness that cuts deep: "I'm doped up on laughter, they always oblige / This emptiness in me with wet, glassy eyes." It sounds a bit like a later-period George Jones song, complete with beautiful, sliding acoustic guitar-work, and a heap of self-loathing. — CONNOR O'BRIEN
https://youtube.com/watch?v=KcbfW7V9odg

Fucked Up, "California Cold" (Deathwish, Inc.)
Remember when Fucked Up were just a hardcore band? Of course not: Even if that ever was true, it's been dramatically not the case for long enough that it's barely worth mentioning for context. Nonetheless, it remains stunning just how good this band is at dribbling out droning, expansive soundscapes that remain just as captivating as any three-chord, two-minute scorcher — here, singer Damian Abraham's vocals drop out barely two minutes in, and then it's just a sunny instrumental drive down the PCH for the remaining six, awash with flute and stereophonic reverb, as intensely chill as you'd want this time of the year. — ANDREW UNTERBERGER

Major Lazer featuring Travi$ Scott, 2 Chainz, Pusha T, and Mad Cobra, "Night Riders" (Mad Decent)
Following the lush and gently hooky "Lean On" (not descriptors typically associated with track co-creator DJ Snake), this latest knockout from Diplo's supergroup with Trinidadian traphall lord Jillionaire and Jamaican sound system Black Chiney member Walshy Fire continues to suggest that Peace Is the Mission will be Major Lazer's most cohesively bangin' effort to date. Over minimalist skittering, rattletrap bass that lets the track's distinctive guests speak for themselves, dancehall star Mad Cobra rides roughshod over Travi$ Scott's luxe-lite verses about YSL and model Maliah Michel with take-no-prisoners lines like "Tell dem likkle pussy deh nuh violate" and "Take a bullet through ya fuckin' vest, left ya chest exposed!" — H.B.

Misun, "After Me" (T&A Records)
"I try to hide the things I don't want to see /And if my mind goes crazy I will follow your lead," Misun Wojcik drones in a song that hints at lower serotonin levels than its mellow surface suggests. Nodding to '60s nostalgia with muffled drums and lo-fi vocal effects with a buzzy guitar solo tossed in for good measure, the vulnerability of "After Me" carries a sorrow-filled but spellbinding pathos that subtly worms its way into the forefront of your mind. — MARGARET FARRELL

Thee Oh Sees, "Withered Hand" (Castle Face Records)
Bay Area garage dwellers Thee Oh Sees return with a song and title that sounds like something Balzac might've dreamt up. The band sounds more than capable of overcoming a "Withered Hand," though, as they shriek and shred their way through this bass-addled, cymbal-shattering anthem.  — RACHEL BRODSKY

Unknown Mortal Orchestra, "Can't Keep Checking My Phone" (Jagjaguwar)
It's curious that a blatantly post-millennium song title — which evokes images of young folks willing their iDevices to bing with a lover's text — lines up so well with a ass-shaking '70s disco groove. Much like his last single, "Multi-Love," the new blends with the not-so-new, as mirrorball melodies are complimented by hi-tech electronic beats, while the positively ageless-sounding Ruban Nielson adds lush falsetto R&B tones into the mix. It begs the question: Who'd keep this guy waiting?  — R.B.

Willie Nelson and Merle Haggard, "It's All Going To Pot" (Sony)
At 81, Shotgun Willie isn't ready to retire at all; he's never done anything like a hiatus, and this ode to his herbal health secret might explain why. His 78-year-old duet partner's no slouch either — both are fully equipped for a rollicking, Mariachi-flecked duet in honor of 4/20 and that substance you smoke when "All the whiskey in Lynchburg, Tennessee just couldn't hit the spot." — DAN WEISS

Youth Worship feat. Wata from Boris, "Eternal Scene" (Self Harm Records)
The pairing of squalling axe men James Hanna (from shoegaze shamans Asobi Seksu) and Wata (from Japanese noiseniks Boris) dictates a scorched-earth policy on "Eternal Scene," smoldering at a low volume before suddenly exploding into incinerating walls of feedback. Their caterwauling guitars recall Queens of the Stone Age at their most feral, and increasingly strained, desperate shrieks that they're "burning clean" escalate to Vines "Fuck the World" levels before squealing to a close at the song's last gasp.  — H.B.