SPIN Rating:
Release Date:
April 21, 2015
Label:
Columbia
On a casual listen, pretty much everything Passion Pit puts out sounds joyfully, euphorically saccharine — especially when the glittery vocals are in such a high register that it can be hard to make out just what main man Michael Angelakos is singing. There are near-blinding levels of vibrancy to his synth-pop — so much so that one can't help but assume that his songs are meant to be upbeat, a surface-level reading that obscures darker lyrics about fraying relationships, alcohol abuse, and mental illness.
Passion Pit's just-released third album, Kindred, is different in that it really is happy underneath all the glitz — or, at least, optimistic. It's a big development for the frontman-turned-sole-member, who has been very public about his battles with bipolar disorder since he revealed them in the press cycle surrounding 2012's Gossamer. Whereas that record was a coming-out about the struggles Angelakos was having, Kindred suggests that he's made a marked improvement and change in attitude. He's not magically all "better" or working towards some impossible cure, but he's doing well, and the hard-fought health lends weight to the brightness here.
Take the opening track, "Lifted Up (1985)," where Angelakos, with the help of his wife, stylist Kristy Mucci (who was born in the titular year), triumphantly moves forward without ignoring the past. "Oh but yeah, I'm so tired / I've been away for so many years," the 27-year-old sings in his trademark falsetto, before declaring that he wants to live despite the weariness: "But I guess I'll just wait a bit longer / I'll stay 'til they open the gates."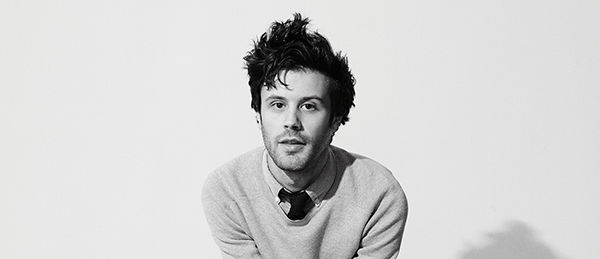 Angelakos announces this renewed sense of purpose over the course of ten concise, synth-juiced songs, with some fun forays into disco and '80s pop. The record's arguable mission statement, "Until We Can't (Let's Go),"  hat-tips more dire times while intending to make every effort to barrel past them: "So let's go, let's go 'til we can't anymore / Let's go 'til we can't." It's here that the over-saturated child in the album art starts makes sense — Angelakos is a tad jaded, but he's trying once again to look at the world with bright eyes. He's also looking back to his not-so-halcyon days (as evidenced by the peppy song "Whole Life Story,") and channeling an uncertain but hopeful anticipation for what the future will bring.
If the album has an unnecessary inclusion, it's the last track, "Ten Feet Tall (II)," a jarringly Auto-Tuned number suggesting a thematic link with "Five Foot Ten" that doesn't quite pay off. It feels tacked-on; like a bonus track at best.
Perhaps because of the hefty backstory, Kindred lacks some of the off-the-cuff spark of Passion Pit's lower-stakes 2009 debut, Manners. And Gossamer standouts like "Take a Walk" and "Carried Away," might reach greater heights than the best songs on Kindred, but as a whole, this latest effort is much more accessible, consistent, and bursting with positivity. We've seen how much work and toil it took for Angelakos to get to where he is in his life right now. He's both looking back and moving forward, attempting, successfully, to capture the nervous optimism of youth.