After 35 years of being the principle songwriter (and sporadic singer) behind new wave demigods and international superstars Depeche Mode — as well as a couple collections of covers, the VCMG collaborative project with old bandmate Vince Clarke, remixes of Garbage and ON — Martin Gore has finally released his first album of all-new solo material. MG, out this week, bears little resemblance to the blackly majestic, massive-sounding synth-pop with which Gore is best associated, but rather contains 14 grinding, minimalist instrumentals which end up sounding about halfway between ambient techno artist Andy Stott and Trent Reznor and Atticus Ross' scores for The Social Network and Gone Girl.
It's not completely unprecedented for Gore, whose albums and singles with Depeche Mode frequently contained his instrumental compositions (he calls the 1988 B-side "Stjarna" his favorite) and whose sinisterly pulsating synth ballads, and hard-hitting, guitar-stacked dance jams with Depeche Mode have proven hugely influential on the soundscapes of industrial artists like Reznor. The tracks on MG won't pack dancefloors or ring out in stadiums (Gore doesn't even plan on touring behind the album), but they make for an engaging, dramatically stirring soundtrack to everyday life. "I've been writing instrumentals over the years and I've ended up not using them, so I thought 'Oh, it might be a good idea to find a home for them,'" Gore explains. "And a lot of them were quite cinematic, so I wanted to carry that theme on."
SPIN spoke to the dark-pop pioneer a month before the album's release about the making of MG, his early love of ambient music, and whether he plans on ever doing an album of original material with vocals.
Why almost 35 years into your musical career why did you finally decide to do an album on your own, with all original material?
Well, when I was writing for the Delta Machine Depeche Mode album, I wrote about four or five instrumentals that we ended up not using, because me and Dave had so many songs written [for the album] that even the deluxe edition was fairly long. So I had all these instrumentals that didn't have a home, and a friend of mine said, "Have you thought about making an instrumental album?" And at the time I really hadn't. The more I thought about that, the more I liked the idea.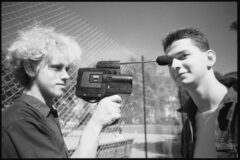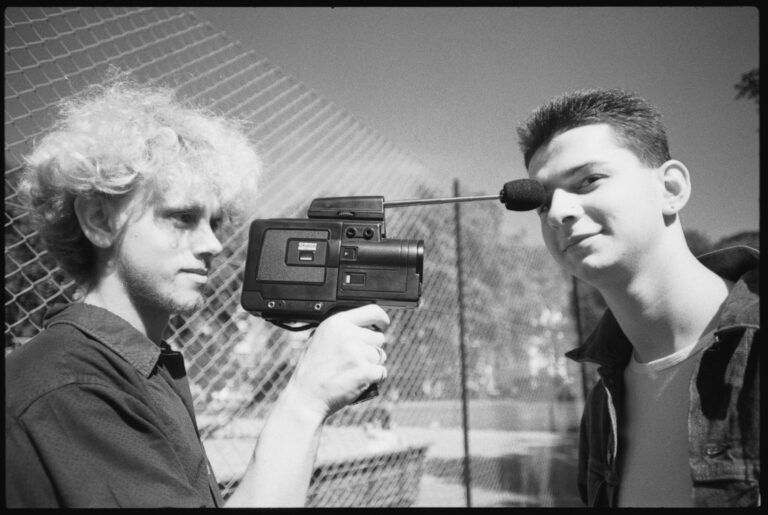 But then, of course, we went on tour, so I didn't think about it again until we got back at the end of the tour. As soon as I got back I thought, "Maybe I'll go into the studio and just carry on writing instrumentals and see where it goes." By the end of November, I had 16 tracks finished, so that was time to call it a day and say, "That's the album."
So doing the instrumental album was never something you had been tempted to do before?
It was something I never really thought about doing over the years. It's actually quite surprising. I mean, I never added up how many instrumentals I've actually written for the band. Even on our first album there was one instrumental, and there were quite a few instrumentals that are singles or interludes on albums and fairly early on in our career. In maybe the late '80s or early '90s, there was a Japanese box set released of [our] instrumentals, and there were quite a few.
The last project I did outside of Depeche Mode was VCMG, and that was really a dance album, a techno album. So I think it would've been very obvious for me to do another [dance] album on my own.
Did you ever have any push and pull with the rest of the band about including your instrumentals on the Depeche Mode albums? Was that something that you were invested in?
Not really, I think that as far as I know over the years they've been a fairly, I wouldn't say integral part but they've just been a part of what we've done. A very small part. They're interludes on most albums, but it's not really a push and pull. I think with this album it just came down to having too many tracks to find space for instrumentals.
So did you look at the four songs you already had and went from there in terms of crafting the tone of the album?
Yeah, and the only kind of template that I had was that I didn't want it to be a techno album or more atmospheric. I also had this idea that I didn't want the tracks to be too long, as an instrumental album I thought [each should be] around four minutes. I didn't mind it went over four minutes by a little but I didn't want songs to meander off into like the eight minute mark and I kind of thought it would be nice to keep them short, almost like little pieces of a film.
You mention the word "score" a lot — is that something you've ever been approached to do, or considered doing, just writing the music for a movie?
I've never really been offered anything serious that I've ever considered. If the right director had come along with the right film and said to me, "Are you interested in doing a score?" I would've been interested. But if someone comes along now, now is the time really when I have to get back to writing songs for the band, and then I'll get into the period where we have to record those songs for the band, and then that album will come out and we'll go on tour probably for a year. So it's timing really.
The right film and the right director have never really come at the right time and to be honest. I haven't really been offered a lot of stuff in the film world over the years. Maybe after this album, I'll get offered a bit more.
So has ambient music always been an interest of yours?
When I was a kid I remember buying [Brian Eno's] Music for Airports when it came out, and I think I was so young that it was the Roxy Music connection that made me go and buy it. But I used to listen to that over and over and over again. I know every single note on it.
Do you think you will ever do an album of original material that has vocals on it, either with you singing or guest vocalists?
I've always felt that I'm not a very prolific songwriter, and while I'm still part of the band I feel like it's not really fulfilling my job as a songwriter for the band if I'm writing songs for the band that I'm putting out on my own.
Do you think it's going to be difficult to toggle back to writing for Depeche Mode after writing for yourself for a while?
I mean, I'm hoping. I've been working on [so many] instrumentals that I've been bottling up the actual words, so I'm hoping it's going to come a bit easier. That's what happened last time, when I'd been working on the VCMG project, which is all instrumental. And I'm hoping that's going to happen again, but who knows.