What was it like to work at SPIN during the magazine's grunge heyday? Jump into this hot tub time machine with longtime entertainment journalists Lori Majewski and Jonathan Bernstein — best friends since the day they met in the magazine's office's back in 1992, and co-authors of Mad World: An Oral History of New Wave Artists and Songs That Defined the 1980s — and find out…
Lori Majewski: I was 21 years old when I applied for an internship at SPIN in the spring of 1992. Rolling Stone's midtown offices would've been an easy walk from my college campus at Fordham University in Lincoln Center, but I didn't think about applying there. SPIN, whose offices at the time were located on 18th Street between Fifth and Sixth Avenues, was more downtown in every way. Rolling Stone felt very old-school — and well, just old — whereas SPIN was cool. In existence for only about seven years, it was just hitting its stride.
Though earlier covers featured mainstream pop stars like Madonna (who fronted the inaugural issue, in May 1985), The Go-Go's Belinda Carlisle, and Duran Duran (their 1987 cover marked the first time I'd picked up the mag), by the early-'90s, SPIN had become a respected chronicler of alternative music and culture. It was edgier than RS, thanks to cover subjects like Trent Reznor of Nine Inch Nails, Dave Gahan of Depeche Mode, Perry Farrell of Jane's Addiction, and Morrissey. I also liked the cheeky cover lines (think: "Counting Crows: Bland Guys Finish First" and "Vanilla Ice: Oh God, He's Back"), as well as SPIN's sleek, black-and-white logo, which was usually accompanied by a doohickey. (For those of you who came of age post-vinyl, that's the plastic, swastika-looking thing you'd put in the middle of a 45" record so it could play on a turntable.) In the early '90s, SPIN was a music-loving Gen-Xer's bible.
Jonathan Bernstein: For British people, principally but not predominantly male, Thursday mornings in the latter part of the Twentieth Century were when the four weekly music papers— the New Musical Express, Melody Maker, Sounds, and Record Mirror — were published. Brits of this vintage consumed these inky rags like they were Das Kapital; they informed our musical, political and sartorial opinions. The records we sought out, the trends we adopted, the bands we suddenly despised, the slang we adopted; all of it came from our indoctrination at the hands of the UK music press. When I was sixteen, I couldn't have imagined anything more exciting than working at the NME.
In my late twenties, when I was living in Glasgow, Scotland, and my obsession with music had dwindled to an irritation, I got the opportunity to relocate to New York and work at SPIN as, primarily, the movie critic. A combination of the departure of the most prominent, most self-aggrandizing UK music journalists of the time — the Julie Burchills, Paul Morleys, and Danny Bakers — and the rise of Acid House ended my weekly addiction to the British press. But I was aware of SPIN: the lack of cohesion in its cover choices — Nick Cave one month, Soul II Soul the next — and the fact that its stories dug a little deeper than just getting incapacitated with its subjects, made it a more compelling read than the latest NME story hailing the heroic journey of Northside. So, yes, I tossed my brother the keys to the apartment I'd just bought and took the next flight to the first job I'd ever had in a city where I knew no one. Wouldn't you?
Majewski: I began my internship at SPIN a few months after the magazine had trumpeted the Seattle music scene with a cover that declared 1992 "The Year of Grunge." I, myself, never had much love (or any) for grunge's brash, macho guitars, its lumberjack attire or unkempt hair. A child of the new wave Eighties, I liked my rock stars fey and fashionable, and my music made with synthesizers. That's not to say I didn't realize how big of a deal grunge was, though. SPIN's New York City offices may have been thousands of miles from Seattle, but my flannel-sporting SPIN coworkers were obsessed with Nirvana, Pearl Jam, and Soundgarden, and I did my best to fit in.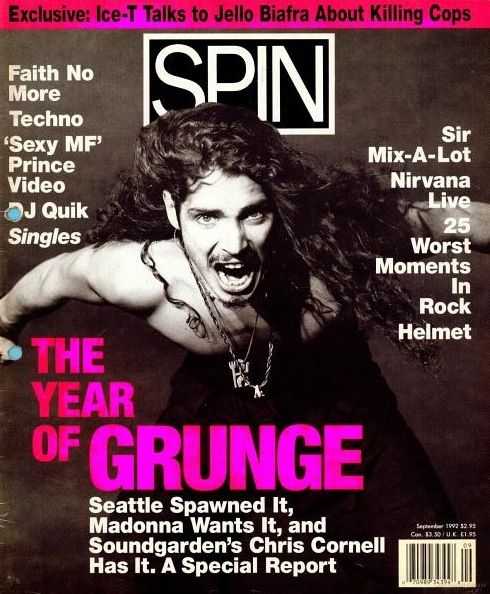 I reported for duty outfitted in Dr. Marten's and one of my many Betsey Johnson baby-doll dresses, which I topped off with a black leather motorcycle jacket and brown lipstick. Winona Ryder was my style icon. She was everyone's icon back then. I never did get why she was so into Soul Asylum's Dave Pirner, though. Or, for that matter, why she chose unemployed, chain-smoking Ethan Hawke over fast-rising TV producer Ben Stiller in Reality Bites.
Bernstein: I'm not going to lie. I was a snob. I was a pop snob. I was a soul snob. I was a punk snob. I was a dance snob. And I was definitely a rock snob. What America in general, and my new colleagues at West 18th Street in particular, was all about at that moment in time, was not my cup of tea. At all. I was brought up on glam rock, punk rock, and new wave. Brevity, big hooks and bright colors. This stuff my adopted homeland was eating up, and my place of work was serving them, was slow, sludgy, lumbering, club-footed and — to me — entirely personality-free. And I was not shy about letting people know how I felt about their terrible taste, which made me a lot of fun to be around.
Yet the halls of SPIN were filled with hushed whispers about the new Slint record that was about to shake everything up, or whether The Lemonheads should be on every cover of every magazine ever, or if the Gigolo Aunts had really lived up to their potential. Understand, I'm not heaping derision on these acts and the people who loved them. Well, I am, but I'm also saying I was the guilty party. I was in the right place at the wrong time and, definitely, with the wrong attitude.
https://youtube.com/watch?v=hFYFj5q8_Qk%5B
Majewski: One of the first issues I worked on was also what I consider to be one of the most important in SPIN history. The day that the boxes arrived containing the first-bound copies of the December 1992 issue, I vividly remember staring at it for what seemed like an eternity while standing in the intern pit. The glossy cover featured a gorgeous portrait of grunge's first family: Kurt Cobain, Courtney Love and their baby daughter, Frances Bean. His hair was combed. Her pimples were covered. It was well-lit and impeccably styled. It may as well have been a cover of Vanity Fair. Of all the photos of Kurt Cobain, to me, this one is the most haunting, probably because he looks so beautiful. Hard to believe this is the same man who'd spit in the face of a girl I know not about a year later. (She had asked for an autograph, he was no doubt off of his head…)
Looking at that cover again today, I'm also astounded by the coverlines, which serve as a reminder of what a strong year 1992 was for music: Pearl Jam, Red Hot Chili Peppers, Arrested Development, Ministry, Pavement, and, okay, Kriss Kross.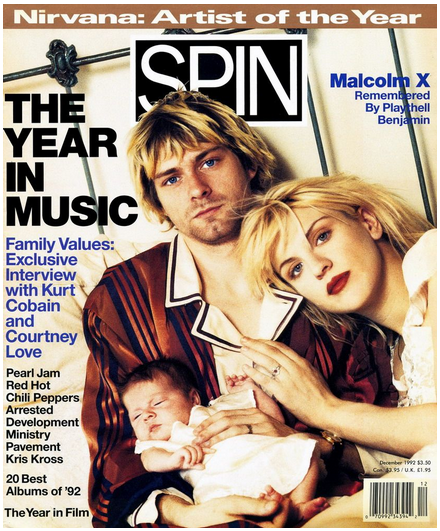 Bernstein: Looking back, probably my biggest embarrassment during those years was the enthusiasm with which I latched on to the burgeoning Britpop boom. I'm hardly alone in my delusion in making that particular mistake but I should have known better. In my desperation to like something, I didn't just latch onto the familiarity of Blur, Oasis and Pulp, I lost all sense of British perspective. "A trip to interview The Charlatans, you say? Sign me up!" "Dinner with Echobelly? I'm all about that!" "Fly to Scotland to talk to Superstar? You bet!" "Review the Menswear album? It would be an honor and a privilege." We all make mistakes but I don't think I ever mislaid my taste so egregiously as I did during that shameful period.
https://youtube.com/watch?v=hFYFj5q8_Qk%5B
Majewski:  Growing up, I'd dreamed of working at a music magazine, and SPIN didn't disappoint, even if my intern tasks were mainly menial. I spent hours opening packages containing advance cassettes (yes, cassettes) for upcoming albums by the likes of Smashing Pumpkins, Dinosaur Jr., Superchunk, and 2Pac. While manning the telephone switchboard at the receptionist desk, I intercepted calls from pretty much every member of Saturday Night Live (Chris Rock! Dana Carvey! Adam Sandler!) when they guest-edited the February 1993 issue. I helped to fact-check stories about President-elect Bill Clinton, the AIDS crisis, and sex in the '90s, the latter the subject of the April 1993 cover that was illustrated by the Lemonheads' Evan Dando sticking his tongue into the mouth of actress Adrienne Shelly. I recall seeing Dando around the office a few times. A then bubbling-under Moby also used to stop by a lot, befriending the editors and hoping for coverage. (It paid off, too: A couple of years later, he walked away with both SPIN's album and single of the year, for "Feeling So Real" and "Everything is Wrong.")
While I didn't make a red cent working there — and unlike some of today's media interns, I didn't sue for compensation upon leaving the company — a major perk was getting on the guest list for hard-to-get-into shows by Radiohead, the Cranberries, and Teenage Fanclub.
Bernstein: I was a shitty interviewer. I got grievously, completely lost on the way to do my first — and only — cover story (with No Doubt — well, with Gwen Stefani alone. It was the cover that inspired the "Don't Speak" video), necessitating a call to the morgue to see if my corpse had been hauled in. Really. Also, I'm the reason Adam Sandler stopped doing press. (Not actually my fault. My editor butchered the story.) I interviewed Brandon Lee on the set of The Crow weeks before he was murdered and I lost the tape. Not to entirely allay the blame but I believe I can trace at least part of my continuing incompetence to my very first week working at SPIN.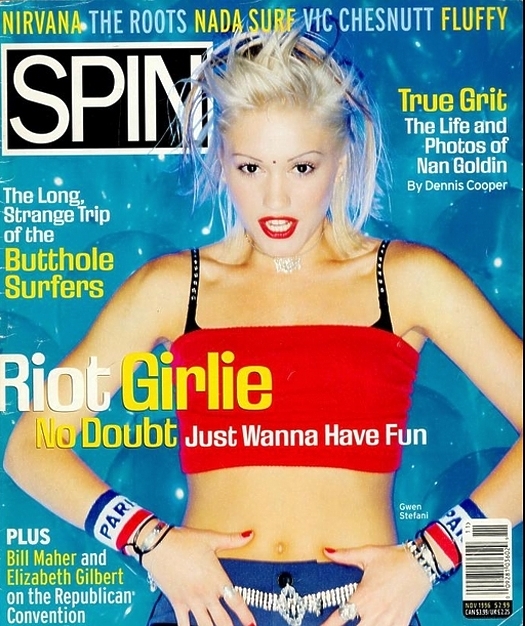 Oh, and there was that time I mentioned to one of my new colleagues that I was about to do a phone interview with Mike Myers. "You know he's gay, right?" was the response. "Are you sure?" I said. My new SPIN buddy, a seasoned writer and editor, gave me a long look that that spoke a thousand words. You're just a rookie fresh off the boat. I don't even need to be wasting my breath talking to you, and yet here I am giving you the benefit of my wisdom and you — you! — have the audacity to question me. "Yeah, he came out in the Daily News." So I got Mike Myers on the phone and we talked about the success of Wayne's World, about SNL, about British comedians we both liked, and, in the middle of our convivial chat, I said, "I understand you came out as gay?" To Myers' unbelievable credit, he remained as affable after that question as he had been before. "Where did you hear that?" he said. And that's when I realized my SPIN buddy had totally set me up. "Um, the um, Daily News? Or Post?" "No," he said. "That's not true."
At the end of the interview when I thanked him profusely for his time and his talent, he asked me again where I heard about his coming out. I dread to think of the calls his publicist then had to make to the Daily News or Post, and I blame my subsequent disastrous interviewing career on that hilarious hazing ritual.
Majewski: Though SPIN and the music business were still quite male-dominated in the early '90s, a number of strong women emerged while I was working at the magazine — Kim Gordon, the Deal sisters of the Breeders, Tonya Donnelly and Belly, Juliana Hatfield, Liz Phair, Tori Amos, D'arcy from the Smashing Pumpkins. But the smartest of all may have been Courtney Love. Although she struck me as a coattail-rider of her rising rock star husband when I first spotted her on the front of post-feminist teen read Sassy in the summer of '92, by the time the Hole front woman scored her first solo SPIN cover — the last issue of the magazine that I'd work on, it coincided with the release of 1994's Live Through This — she was very much deserving of her own spotlight.
When I look at that photo of Love in the pinafore and tiara, I'm reminded of a time when female artists got naked on their records, not in their music videos. Love scared the hell out of me. But then, she scared the hell out of everybody. For starters, she was 5'10." And she spoke her mind. The editors and writers at SPIN would share stories about how she'd phone them up to complain whenever they ran something she didn't like. They had to respect her, though — she demanded it. Love didn't hide behind managers and publicists. She was in-your-face. I saw her everywhere, most memorably at an MTV Video Music Awards after-party where she hung out on her own, without a body guard, and talked to anyone who approached her. Love was also one of the first artists to personally take charge her own social media. I recall her taking to an AOL chat board to communicate with (and chew out) her fans, myself included.
Bernstein: Weirdly, Courtney Love was my ticket out of SPIN. She had started a movie production company and read a screenplay I had a hand in writing. She managed to sell it to Miramax and, although quickly expired, she played a part in putting me in the screenwriting game, which was a whole new career I was about screw up.
Majewski: Sadly, Love's first solo SPIN cover came a month before her husband got his. Live Through This came out four days after Cobain died in their Seattle home, and the editors of SPIN scrambled to put together an In Memoriam for the June 1994 issue. By then I'd moved on to my first proper magazine job at the boy-crazy bible YM. SPIN and grunge were behind me, but the future still smelled a lot like teen spirit.