Besides the Foo Fighters' Record Store Day gig, the most in-demand ticket in Northeast Ohio this week was Green Day's Thursday night concert in Cleveland at the city's cozy House of Blues. Not only was this show at a far smaller venue than what the band usually play, it was also the band's first U.S. show in two years. The one-off gig was a precursor to this weekend, when the Bay Area trio are being inducted into the Rock and Roll Hall of Fame and Museum. Family members and band associates (including a live-tweeting Larry Livermore) were in attendance, while the occasional celebrity sighting (E Streeter and Soprano Steven Van Zandt) underscored that this show was something unique.
It's safe to say nobody in attendance went home disappointed. Perhaps because of the occasion and the abundance of attendees from Green Day's past, the concert had a sentimental, celebratory vibe throughout. As a result, the set list skimped on ballads and obvious hits (no "Know Your Enemy," "Welcome to Paradise," or "Good Riddance (Time of Your Life)," among others) and felt like a night tailor-made for die-hards who had been there since day one. That translated to rare airings of the buzzsawing Kerplunk tracks "One for the Razorbacks" and "Private Ale," and the Insomniac album track "Stuart and the Ave."— all of which were performed with the band's usual wiry, chugging gusto — and an amped-up selection of choice catalog cuts: a frenzied, earsplitting "Basket Case," a hotrodding "Burnout," and a shambling "Geek Stink Breath." Dookie hit "Longview" was also a highlight, between Mike Dirnt's searing bass and an amusing fan invited onstage; the latter — a member of a Green Day cover band who was sporting a Joker backpatch — ended up singing the last verse of the song while wearing bunny ears, kissing Billie Joe Armstrong, and stage-diving back into the audience.
Green Day also took the time to not-so-subtly thank some of the people who inspired them along the way. Most notably, Tim Armstrong came onstage for a gruff, frenetic cover of "Knowledge" from his band Operation Ivy, and then stayed to play another of his songs, Rancid's "Radio," a song he and Billie Joe co-wrote 21 years ago. During an extended version of the Isley Brothers' "Shout," which found most of the band bathed in darkness while crouching onstage, Billie Joe Armstrong took the opportunity to credit various family members for the bands to which they introduced him: Led Zeppelin, the Replacements, the Kinks, the Stones, Elvis Presley, Kool & The Gang. The gesture was significant: Although Green Day are inextricably tied to the Bay Area punk scene, last night's show underscored how their influences transcend pigeonholing; songs revealed inspirations from the British Invasion ("Waiting"), R.E.M.-ish jangle ("Are We the Waiting") and '50s rock'n'roll ("Jesus of Suburbia").
Despite these fond looks back, the show was decidedly not nostalgic. In fact, seeing Green Day in a smaller space simply highlighted what a ferocious live band they are. During the American Idiot song "St. Jimmy," Armstrong reprised his theatrical Broadway moves and commanded the stage — strutting, preening, and jumping on a platform and using exaggerated dance moves to disappear into the character. (Not to be outdone, drummer Tré Cool came out from behind the drumkit and did a mini-kickline and some other smooth moves during "King for a Day.") A strident "Boulevard of Broken Dreams" was also stretched out for maximum drama, with a slower tempo and more space between verses. During the latter, Armstrong spontaneously cried out: "We're still alive!" The catharsis was genuine: Green Day were thrilled to be onstage last night, performing once again and having a blast while doing so. "What a long, strange trip it's been," Armstrong said during the encore. "Right here, right now I know I'm where I want to be."
Perhaps to shake off any rust, Armstrong and Dirnt actually opened for themselves. In one of the night's most touching (and fan-geeking) moves, they dusted off the band's original name (Sweet Children) and early drummer (John Kiffmeyer, a.k.a. Al Sobrante) and did a set of tunes from their pre-Kerplunk days. Although the atmosphere of this set was decidedly loose (Kiffmeyer took to the mic to chat between songs and unleashed some unfrozen caveman chatter about not being able to find a payphone), jawing pop-punk tunes such as "Don't Leave Me," "Paper Lanterns," "Green Day," and "Sweet Children" benefited from the casual vibe.
The members obviously had a ball playing together again; Armstrong even wore a T-shirt from Rod's Hickory Pit, the first place the band ever played. At the end of the set, Kiffmeyer grabbed the mic and, in a joking reference to 39/Smooth's liner notes, said: "Say it with me, Billie Joe: We will never sign with a major label." Armstrong immediately shot back: "Not even I.R.S.!"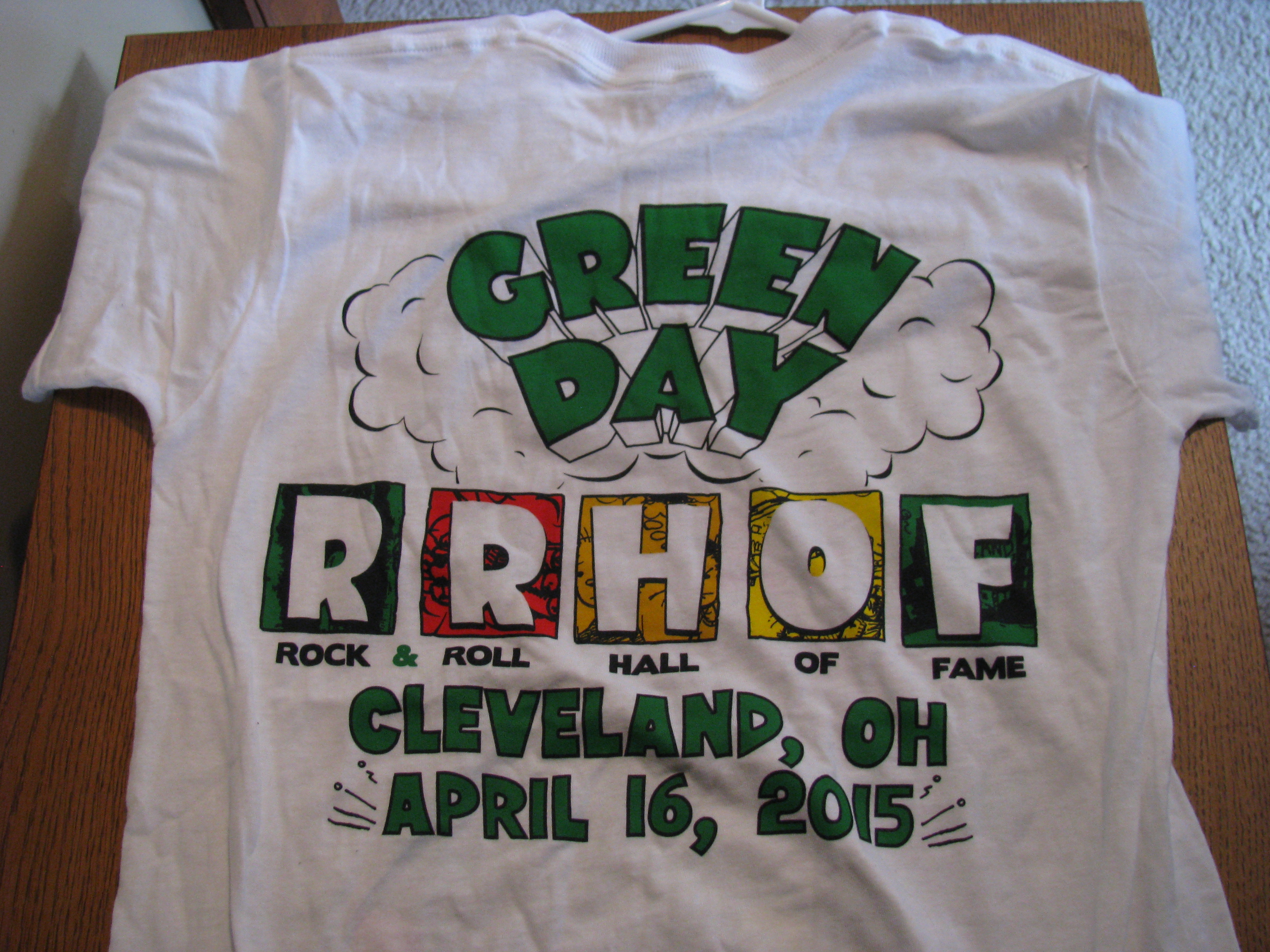 About the only person who could've opened this show was someone else who knows a little something about being a punk lifer with grander ambitions. That honor went to Jesse Malin, a teenage New York hardcore scene survivor who's since grown into a gritty, insightful songwriter. He and his ace six-piece band — which included a keyboardist, horn player, and saxophonist —opened the night with an energetic, positivity-preaching set heavy on songs from his stellar new album, New York Before the War.
Malin, who donned a natty newsboy cap and equally dapper suspenders beneath a leather jacket, merged punk, folk and ragged rock influences seamlessly, like a Lower East Side Replacements. Highlights included the brisk, bittersweet single "Addicted"; a loving '60s soul homage called "She Don't Love Me Now," which Malin dedicated to "the ghosts of Sam Cooke and Lee Dorsey and those motherfuckers in Green Day"; and a propulsive, roaring "Immigration Boots." To stir up the crowd, he also covered the Pogues' "If I Should Fall From Grace From God" and unleashed a stomping take on Ramones' "Do You Remember Rock'n'Roll Radio?"; the latter benefitted greatly from the auxiliary horn players, who danced in circles around each other as they performed.
"We're alive right now in this fucking moment!" Malin howled later in the set, before launching into a ragged take on the new "Oh Sheena." The night was still young at this point, but the sentiment was loud and clear: At that time, there was no better place on Earth to be but in Cleveland, singing along to Green Day at the House of Blues.